It is a demonstrable fact that learning a new language is far easier for young people than it is for adults. This is especially true if they are using the best apps for learning Cantonese for kids, like the Ling app. A child's brain is a sponge for new experiences. While adults have already soaked up far too much during their lives, leaving very little room for a new language, like Cantonese. So, if you want your ankle-biters to learn Cantonese, the sooner you get them started, the better.
But what are the advantages to your little one learning Cantonese instead of, say, Spanish or Arabic? Well, Cantonese is a stepping stone to learning Mandarin, the second most spoken language on the planet after English. Most words in both languages have similarities. However, Cantonese is easier to learn.
Our Top Picks for Best Apps for Learning Cantonese for Kids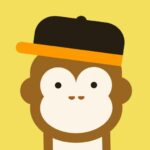 Fun and engaging learning
AI chatbot interaction
Flexible lesson plans
Interactive vocabulary lessons
Fun vocabulary games
Native speaker pronunciation
Everyday conversations
Crafted by experts
Listen on the go
Why Choose An App To Teach Your Kids Cantonese?
Signing your children up for Cantonese lessons in a classroom with a teacher can be an expensive commitment. There is also no way of knowing whether the little tyke will enjoy it. By kicking things off with a language learning app, you will have the chance to see if Cantonese is the way ahead for both you and the kids.
Most apps allow you to try out what they have to offer before you have to reach for your credit card, which makes apps to learn Cantonese, a no-brainer for beginners. So, let's dive in and check out our top picks for the best Cantonese learning app for you and your kids.
Our Top 7 picks for Best Apps for Learning Cantonese for Kids
1. Ling
The best simple-to-use app on our list is the Ling app. It uses the tried and tested match-the-cards and fill-in-the-blanks techniques for cementing Cantonese vocab into your children's brains. The Ling app's AI chatbot is always available to your children whenever they have a moment to converse about everyday subjects from counting to cooking.
There is also a quiz at the end of each section to assess how kids are getting on with their Cantonese. But you don't have to pass to go on to the next section. All the units for 60+ languages are available to take in whatever order you choose. All of the lessons on this mobile Cantonese tutor are short and sweet. So it's perfect for when your little one has five minutes to spare.
A fun app that uses games to teach Cantonese. It has a chatbot for kids to practice talking and quizzes to test their knowledge.
Features
Fun and Engaging Learning: Ling uses a retention-focused learning method where typical language learning exercises feel like games. This makes it enjoyable for kids.


AI Chatbot Interaction: This allows kids to interact and talk about various topics. It provides them with a conversational practice tool.


Flexible Lesson Plans: These bite-sized lessons make it easy for kids to learn in short, manageable intervals. This is ideal for children who might have shorter attention spans.

Devices: Android, iOS, Web
Customer Review
"Really easy to use with lots of lessons divided into neat categories from beginner to advanced. Reading, writing, and spoken exercises give a well-rounded foundation in your preferred language. Ling is probably my favorite app for learning languages on the go. The free version offers enough value to convince serious students to go pro. Give it a shot. I'm glad I did!" – A Ling app User
Pricing
Monthly: $14.99


Six Months: $39.99


Yearly: $79.99 (7-day free trial)


Lifetime: $149.99
2. Gus On The Go
Created by a couple of friends who wanted to get their kids interested in learning other languages, Gus on the Go is the perfect Cantonese course for kids aged between 2 and 6. By using stimulating auditory and visual lessons, your kids will soon be using Cantonese vocabulary for colors, shapes, numbers, and loads more.
Not only that, but your children will quickly fall for Gus, the friendly owl who guides them through the basics of the Cantonese language created by native Cantonese speakers. The great thing about Gus on the Go is that, as the title suggests, you can learn Cantonese with your children while you are 'on the go.'
This Cantonese app understands that kids have a shorter attention span due to so many distractions. So, being able to teach Cantonese to them in the few moments they have, like sitting in the car or waiting for a check-up at the dentist, is the way to go.
Teaches Cantonese to young kids using fun lessons. Gus, a friendly owl, helps kids learn words for colors, shapes, and more.
Features
Interactive Vocabulary Lessons: Kids can learn vocabulary through interactive lessons, ensuring they grasp the basics of the language in an engaging style.


Fun Vocabulary Games: After each lesson, kids can unlock and play vocabulary games, reinforcing what they've learned.


Native Speaker Pronunciation: The app teaches proper pronunciation by using native speakers, ensuring kids learn the authentic sound of words.


Devices: Android, iOS
Customer Review
"I am 6 years old. I love this game! It is awesome! (-K.S.) Very nicely presented. It's fun, well-paced, and well-thought-out for independent learning. I love that as levels progress, they mix and match previously learned vocabulary. It corrects wrong answers. Very addictive. At first play, my daughter wouldn't stop playing and learning for almost an hour! I hope they continue to make advancing levels to break into short phrases. Or verbs! Great job! – Mom"KS&Mom
Pricing
Gus on the Go costs $3.99/app with no free trial available. While the app requires upfront payment, their website offers complimentary printables. This can be like number flashcards and a vocabulary wheel. But in my opinion, these extras aren't a replacement for the app's content.
3. Mango Languages
Mango Languages is among the best apps for learning Cantonese for kids and is ideal for complete beginners. It starts at the very beginning and works its way through speaking Cantonese in a logical and child-friendly way.
There are ten chapters in the course for you and the young ones to work through with clearly defined language, grammar, and conversational goals. Each chapter builds on the ones that have gone before. With this, your kids get to reinforce what has already been retained. The app is designed for visual and auditory learners. This makes it great for children.
A beginner-friendly app that teaches Cantonese step by step. It has ten chapters with clear goals.
Features
Everyday Conversations: Mango focuses on the kind of talk kids might hear at school or with friends, making it relatable.


Crafted by Experts: The lessons aren't just thrown together. They're designed by language gurus to ensure kids get the real deal.


Listen on the Go: With its hands-free mode, kids can tune in while they're out and about, turning any moment into a mini-lesson.


Devices: Android, iOS, Web
Customer Review
"I can not express enough how helpful, engaging, and absolutely engaging this program is for learning a new language. My daughter and I are polishing up our Spanish. She is of 15 years old. And we plan to move on to Japanese! It moves as quickly or slowly as you need it to. You can record your pronunciation and compare it to the native speaker. The situations in which the language is presented, i.e. library conversations, Meet and Greet conversations, and even legal conversations, are quite relevant and give you a great start to being able to converse with someone in their native language. Please, please keep it free!!!" – A Gus on the Go User
Pricing
Free for the first lesson of conversation courses.


Single language premium: $79.99/year ($7.99/month)


All languages premium: $179.99/year ($17.99/month)
4. Simply Learn Cantonese
As the name suggests, this is an easy app for kids to use and is the best free app on our list for your kids to learn to speak Cantonese. The app is packed full of useful words and phrases with high-quality audio files recorded by native speakers from Hong Kong.
There are plenty of quizzes and tests to gauge your level of learning. The tried and tested flashcards are a great way for the kids to cement their Cantonese vocabulary. The app also allows you to choose the lessons you want to learn. So, if there is a topic the children are particularly interested in, they can jump straight to it.
Simply Learn Cantonese Overview
A free app that teaches Cantonese words and phrases. It has quizzes, flashcards, and lets kids pick lessons they like.
Features
Phonetic & Original Writing: Kids can see Cantonese words and hear how they sound. This makes it easier to remember.


Detailed Phrase Views: Each Cantonese word or phrase is explained in simple English, so kids know exactly what they're saying.


Vocabulary Flashcards: Fun cards to help kids practice and remember the words they've learned.


Devices: Android, iOS
Customer Review
"Yes! My grandma and mom were so proud of me for learning Cantonese in a really easy way!" Cantonese is me. – A Simply Learn Cantonese User
Pricing
The app is absolutely free to use.
5. Drops
Drops understand that a great way to master a new language is through vocabulary. Your kids will quickly expand their vocabulary word bank with Drops by associating the words with beautiful pictures.
Each lesson is delivered in a bite-sized chunk. So, there is no need to worry about your young ones getting bored. The app's micro-games are a superb way for you and your kids to assess how much of the language is going. This helps keep everybody interested in learning more.
Helps kids learn new words with pictures. It has short lessons and fun games.
Features
Custom Illustrations: Each word comes with a unique illustration, making it memorable for kids.


Game-like Lessons: Learning feels like play, keeping kids engaged and entertained.


Flexible Learning: Kids can choose what they want to learn each day. It's personalized and interesting.


Devices: Android, iOS, Web
Customer Review
"I love this app! I absolutely love this app. It is a great way to learn a language by keeping it simple yet interactive at the same time." – A Drops User
Pricing
Free for one topic per day for five minutes.


Monthly premium: $13.00


Yearly premium: $69.99 ($5.83/month)


Lifetime premium: $159.99
6. Kids Write Chinese
This app is for kids who want to learn to write traditional Chinese characters with an engaging character tracing program. Kids Write Chinese is aimed at younger children starting to learn how to write Cantonese.
The designers behind the app have been careful not to include the more complex traditional characters. They know how frustrating it can be for young learners to become overwhelmed. With this in mind, all the characters have five strokes or fewer. The gamified approach makes learning to write Cantonese easy and fun.
Kids Write Chinese Overview
Teaches kids to write simple Chinese characters. It uses fun games and has characters that are easy for young kids.
Features
For Young Beginners: Designed for kids four and under, with easy characters of 5 strokes or less.


Game-like Writing: Makes practicing with a pen or pencil fun and engaging.


Customize & Learn: Pick your child's favorite color and learn both Simplified and Traditional Chinese strokes.


Device: iOS
Customer Review
"Great Fun and Cute. This is the best writing app because it is fun. A friend recommended this app to me because her son is only willing to do this writing app. My daughter was unwilling to practice writing with other apps as well, but happily writing with this one. She loves to feed the little animals while writing." – An102
Pricing
The app offers basic content, but to unlock everything, it's a one-time fee of $0.99.
7. Maomi Stars
This gamified Chinese literacy app is geared towards younger children. Seven kitties guide your kids through worlds of words with different themes. Your child will earn rewards to give to the kitties every time a new word is written and spoken correctly.
The audio recorded for Maomi Stars is by kids. So, this app is more relatable to your own children. The opportunity to create your own word lists is another plus.
A game-like app where kids learn Chinese words with the help of seven kitties. Kids can also make their own word lists.
Features
Fun Themes: With seventeen different topics, there's always something new and exciting to learn about.


Pick Your Style: Whether it's Mandarin or Cantonese, or even the type of Chinese writing, you can choose what fits best.


Devices: Android, iOS
Customer Review
I love its comprehensive approach to learning new words – from how the words are pronounced, used, and written in proper stroke order. The recall/review aspect is essential, too. Having Simplified and Traditional characters AND spoken Cantonese options in one app is a serious dream come true. I can't say enough good things about this app!!" – Aster-X Mama
Pricing
Free with limited and basic features.


Silver Tier: $7.99/month


Gold Tier: $8.99/month


Gold Plus Tier: $14.99/month
Do You Agree With Our Picks Of Best Apps For Learning Cantonese For Kids?
We are constantly trying to keep up-to-date with all the new language-learning apps on the market, and as soon as they pop up, we will try to let you know about them. If you are looking for an app to help you master a new language, why not check out the Ling app? With more than 60 languages on offer, Ling will have you up and running in no time.
The app keeps learners interested through a raft of fun games and quizzes and has an AI chatbot available day and night to help you practice your pronunciation and conversation. Get the Ling app today from Google Play and the App Store, and you will know why it is the best among the best apps for learning Cantonese for kids!
Updated by: Jefbeck