Want to order like a local? In this post, we'll go over the basic Bosnian restaurant words you can use to make sure that you get served the food you actually want. After all, you don't want to be stuck with dishes you don't want during your travel to the country, right? Let's get started!
The food in Bosnia is a true reflection of its diverse culture and history, with a unique blend of Ottoman, Austro-Hungarian, and Balkan influences. I'll never forget the first time I tried cevapi, a delicious grilled dish of minced beef and lamb, served with freshly baked somun bread and tangy ajvar sauce. The flavors were so rich and savory, I couldn't resist ordering seconds! And that's just the beginning – from hearty stews to savory pies, each dish is a tantalizing fusion of flavors and spices that will leave your taste buds begging for more.
Want to order some yourself? Here are the words and expressions you'll regularly hear from the locals.
Bosnian Restaurant Words
Welcome! – Pozdrav i Dobrodošli!
When you enter a Bosnian restaurant, the first thing you'll want to do is greet the staff and find a table. In Bosnia, it's common to say "Dobar dan" (Good day) or "Zdravo" (Hello) to the staff. You can also say, "Dobrodošli!" (Welcome) to let them know you're ready to eat.
Finding A Table – Stolovi
Once you locate a restaurant, you can come up to the server and ask, "Imate li slobodan stol?" (Do you have a free table?) or "Mogu li sjesti za ovaj stol?" (Can I sit at this table?) if there's a particular table you like. You can also ask for a table by the window, which is "Stol uz prozor."
Ordering Food – Hrana
Once you're seated, we bet you want to order, right? Here are the best words to use.
| | | |
| --- | --- | --- |
| English | Bosnian | Sound |
| Can I have the menu, please? | Molim vas, meni? | |
| What would you recommend? | Šta biste preporučili? | |
| Can I have some bread? | Mogu li dobiti hljeb? | |
| I'm vegetarian | Vegetarijanac sam | |
| Which dishes are vegetarian? | Koja jela su vegetarijanska? | |
| What's the name of this dish? | Kako se zove ovo jelo? | |
| Waiter/waitress! | Konobar/konobarica! | / |
| Can I have another glass of water? | Mogu li dobiti još jednu čašu vode? | |
| May we have the check, please? | Možemo li dobiti račun, molim vas? | |
| It is very delicious! | Jako je ukusno! | |
| What do you recommend? | Šta preporučujete? | |
| Can I have the bill, please? | Molim vas, taj račun? | |
| Thank you very much! | Hvala lijepa! | |
| Welcome! | Dobrodošli! | |
Typical Bosnian Cuisine
As someone who has traveled extensively and tried many different cuisines, I can say with confidence that Bosnian food truly stands out as something special. One of my favorite memories is visiting a small village in the mountains of Bosnia, where I was treated to a traditional home-cooked meal. The dish that really stood out to me was dolma – stuffed grape leaves with a flavorful mix of ground beef, rice, and herbs. It was such a comforting and satisfying meal, made even better by the warm hospitality of my hosts.
Want to know the most common ingredients used in Bosnian cuisine? Check out the table below.
| | | |
| --- | --- | --- |
| English | Bosnian | Sound |
| Tomato | Paradajz | |
| Potato | Krompir | |
| Mashed potatoes | Pire krompir | |
| Onion | Luk | |
| Garlic | Bijeli luk | |
| Bell pepper | Paprika | |
| Cucumber | Krastavac | |
| Carrot | Šargarepa | |
| Cabbage | Kupus | |
| Mushroom | Mushroom | |
| Courgette | Tikvice | |
| Plum | Šljiva | |
| Spinach | Spanać | |
Now, let's talk about the most important part of the restaurant experience: the food! Bosnian cuisine is known for its hearty, meat-based dishes and delicious baked goods. Here are some of the most common types of Bosnian dishes you might find on the menu:
Ćevapi: Grilled minced meat (usually beef or roasted lamb) served with onions and flatbread.
Burek: A flaky pastry filled with meat, cheese, or spinach.
Sarma: Cabbage leaves stuffed with a mixture of meat and rice.
Sogan dolma: An oriental dish that was adopted by the people in Bosnia and Herzegovina when the Ottoman Empire arrived.
Pljeskavica: A grilled beef patty served with onions and bread.
Bosanski lonac: A stew made with meat and vegetables.
Pita: A type of pie made with phyllo dough and filled with meat, cheese, or vegetables.
Sour cream, or kajmak: A common side dish to add an extra zing to your main dish.
Baklava: A deliciously sweet pastry that is the perfect way to end your meal. Add some whipped cream for an extra special treat.
Bosnian Cuisine Flavors
Flavoring your dishes with some coarse salt or perhaps some black pepper and spices might be your thing, so here are some useful terms related to flavors.
Dishes And Cutlery
Did the server forget to put the knife and spoon on your table? Use these words below!
| | | |
| --- | --- | --- |
| English | Bosnian | Sound |
| Cutlery | Escajg | |
| Fork | Viljuška | |
| Spoon | Kašika | |
| Knife | nož | |
| Plate | Tanjir | |
| Glass | čaša | |
| Cup | šoljica | |
| Mug | šolja | |
Ordering Drinks – Piće
Of course, no meal is complete without a drink to wash it down. In Bosnia, you'll find a variety of alcoholic and non-alcoholic beverages to choose from. Here are some common drinks you might see on the menu:
Turkish Coffee: A good, strong coffee. The perfect end to a meal in a Bosnian restaurant
Rakija: A fruit brandy that's a popular Bosnian spirit
Kafa: Bosnian coffee, which is strong and usually served with sugar
Čaj: Tea, which is often served with lemon and honey
Sok: Juice, which is usually made from local fruits like apples or plums
Pivo: Beer, which is a popular drink in Bosnia
To order a drink, you can say, "Mogu li dobiti kafu?" (Can I have coffee?) or "Imate li pivo?" (Do you have a beer?) But if you want to order other drinks, do check out the table below.
| | | |
| --- | --- | --- |
| English | Bosnian | Sound |
| Water | Voda | |
| Mineral water | Mineralna voda | |
| Sparkling water | Gazirana voda | |
| Still water | Destilovana voda | |
| Juice | Sok | |
| Juices | Sokovi | |
| Beer | Piva | |
| Wine | Vino | |
| Champagne | šampanjac | |
| Cocktail | Koktel | |
| Milk | Mlijeko | |
| Cocoa | Kakao | |
| Coffee | Kahva | |
| Tea | čaj | |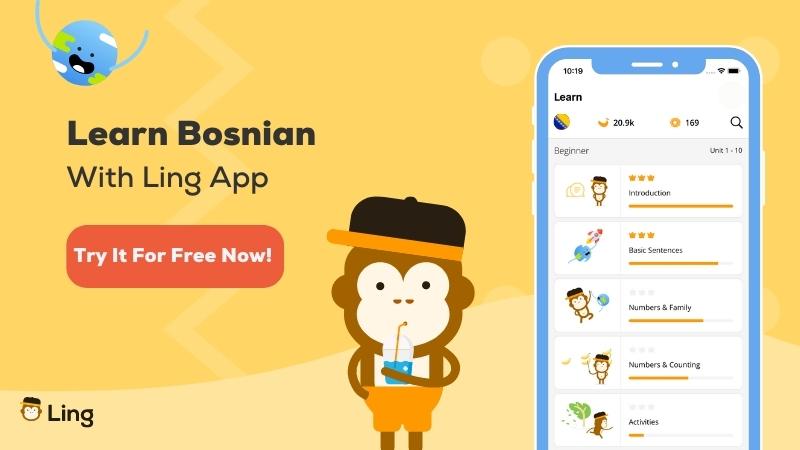 Add More Ingredients To Your Bosnian Vocabulary With Ling
Want to learn Bosnian and speak it like a native speaker? Now is the time to master it using Ling!
Ling is a fantastic educational resource built for language enthusiasts like you! From in-depth lessons to challenging quizzes, it's impossible not to gain proficiency in your target language by using the app alone. But hey! Don't just take our word for it! Download the Ling app at Google Play and App Store today to start learning Bosnian and 60+ other languages!