Are you intrigued by the allure of Bulgaria, the oldest country in Europe, with its enchanting landscapes, vibrant culture, and rich history? If you're planning to explore this captivating destination, then learning the Bulgarian language is an exciting endeavor that will improve your experience.
Whether you're a beginner or looking to brush up your skills, the digital age has ushered in an array of language learning apps to learn Bulgarian. Join us as we unveil the top 10 apps to embark on your journey of learning Bulgarian and unravel the beauty of its language!
Is Bulgarian Easy To Learn?
Learning Bulgarian can be challenging, especially for English speakers, due to its unique Cyrillic alphabet and Bulgarian grammar rules. While some similarities may exist for speakers of other Slavic languages, Bulgarian has its own set of complexities.
Where Is Bulgarian Spoken?
Bulgarian is the official language of Bulgaria and is spoken by approximately 8 million people. It also has presence in parts of neighboring countries, such as Romania, Ukraine, and Greece.
Why Should You Learn Bulgarian?
Mastering Bulgarian offers a gateway to exploring the rich culture, history, and traditions of Bulgaria. Its unique grammar and vocabulary also provide a rewarding linguistic journey for enthusiastic language learners.
What's The Best App To Learn Bulgarian?
Mondly and Ling are some of the excellent Bulgarian learning apps for beginners, offering dynamic and engaging courses to help you get started on your Bulgarian language journey.
Is Bulgarian On Duolingo Or Babbel?
Unfortunately, there is no Bulgarian on Duolingo or Babbel. However, you can explore other alternatives like Mondly, Ling, or BulgarianPod101 and more, all of which are listed in this article, for effective language learning.
What's The Best Way To Learn Bulgarian?
Begin by familiarizing yourself with the Cyrillic alphabet, and then explore a combination of resources such as apps, books, and online communities. Embrace the guidance of tutors and practice consistently to make steady progress in your Bulgarian language skills.
Best Apps To Learn Bulgarian
| App | Price Starting At | Best For |
| --- | --- | --- |
| Mondly | $9.99/ month | Wholistic Learners |
| Bluebird Languages | Free | Improving Pronunciation & Listening Skills |
| Simply Learn Bulgarian | Free | Travelers |
| Preply | $11/ hour | Upper-Beginner Learners To Practice Conversational Skills |
| Italki | $8/ session | Face-To-Face Speaking Practice |
| BulgarianPod101 | $3/ month (For 24-month Subscription) | Beginners & Audio-Visual Learners |
| Clozemaster | Free | Building & Extending Vocabulary |
| Memrise | Free | Learning With Spaced Repetition |
| Bulgaro | Free | Learning Quick Conversational Phrases |
| Ling | $6.67/ month for 12 months | Improving All Primary Language Skills In A Fun Way |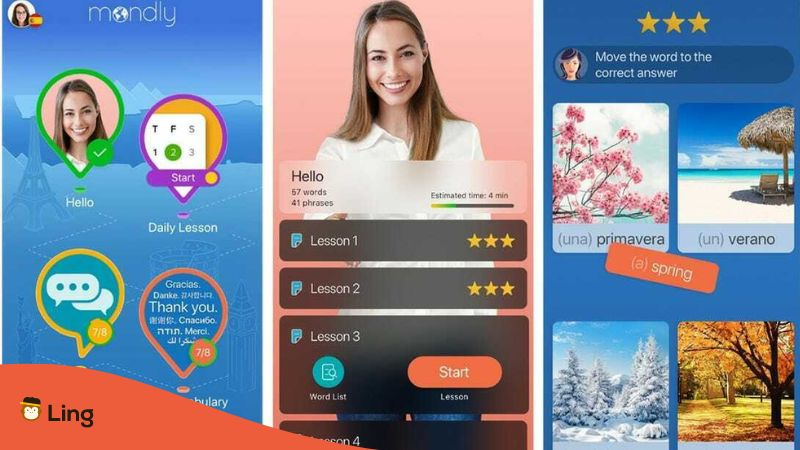 1. Mondly Bulgarian: Unveiling The Language's Secrets
Discovering the intricate nuances of a new language becomes an exhilarating adventure with Mondly Bulgarian. This app caters to learners of all levels, from novices to proficient speakers. By offering gamified vocabulary, grammar, and speaking courses, Mondly ensures a seamless and enjoyable learning experience. Dive into dynamic lessons and ignite your competitive spirit with the app's statistics and multinational leaderboard. Why not make language acquisition a thrilling challenge?
Key Features
Short and dynamic lessons.
Beginner, intermediate, and advanced levels.
High-quality audio with a hands-free format.
Price
Mondly offers a free lesson a day. Mondly premium offers more content and features at varying prices.
Best For
Beginners and intermediate learners looking for an interactive and competitive learning experience.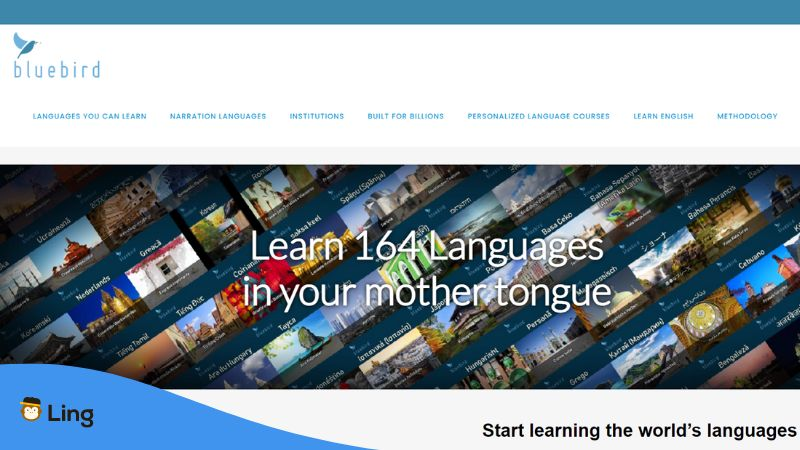 2. Bluebird Languages: Improve Your Pronunciation Skills
Finally, perfect your pronunciation with Bluebird Languages. With a vast library of pre-recorded lessons, this app aids in perfecting your listening and speaking skills. While it may lack the depth of a full course, its focus on pronunciation makes it an essential tool for language learners.
Key Features
Builds vocabulary and basic grammar.
Audio recorded by a native Bulgarian speaker.
Has lessons and quizzes.
Price
The app is free! In-app products start at $9.99/item.
Best For
Improving pronunciation and listening skills with a focus on essential vocabulary.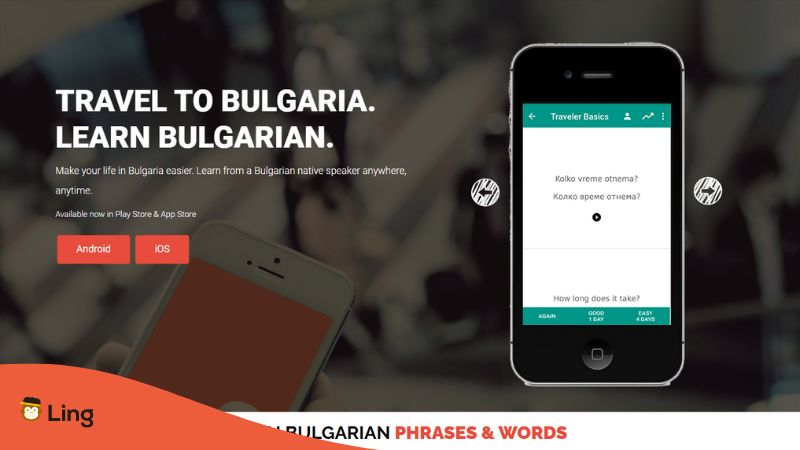 3. Simply Learn Bulgarian: Your Essential Phrasebook
For travelers and students seeking to build their Bulgarian vocabulary, Simply Learn Bulgarian is an invaluable tool. This user-friendly app introduces you to essential phrases and words, presented in both phonetic and original Bulgarian writing. Listen to native speaker recordings, save useful phrases, and even slow down audio for better comprehension. Although more academic in nature, this phrasebook perfectly complements beginner lessons.
Key Features
300+ Bulgarian words and phrases.
Test yourself with flashcards and a Bulgarian quiz.
High-quality audio.
Price
Basic lessons are free. In-app purchases start at $0.99/item.
Best For
Travelers and beginners looking to build their basic vocabulary and communication skills.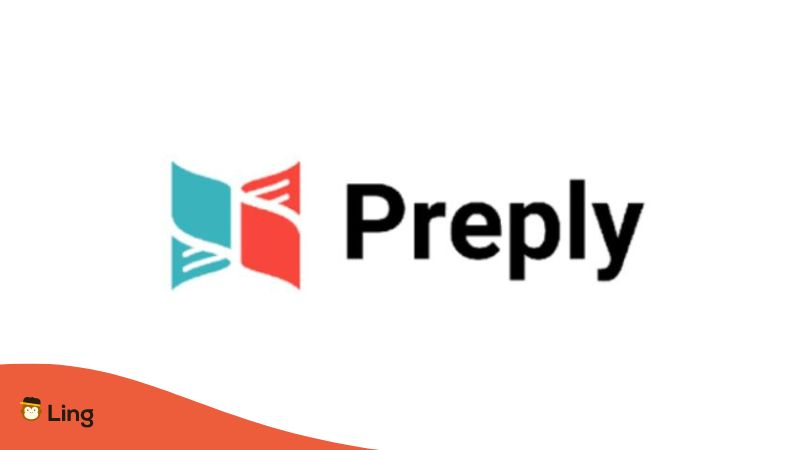 4. Preply: Elevate Your Skills Speaking With A Native Speaker
Practice makes perfect, especially when guided by someone whose native language is Bulgarian! Preply provides a platform to engage in regular online sessions with skilled tutors, offering personalized lesson plans and conversation practice. Don't worry if the first lesson doesn't meet your expectations—Preply offers a tutor replacement guarantee to ensure a rewarding learning journey.
Key Features
Wide selection of tutors and rates.
Hold sessions in the Preply Virtual Classroom.
Tutor replacement guarantee.
Price
Bulgarian lessons with Preply start at $11/hour for 6, 12, or 20-hour packages.
Best For
Intermediate and advanced learners seeking personalized instruction and conversation practice.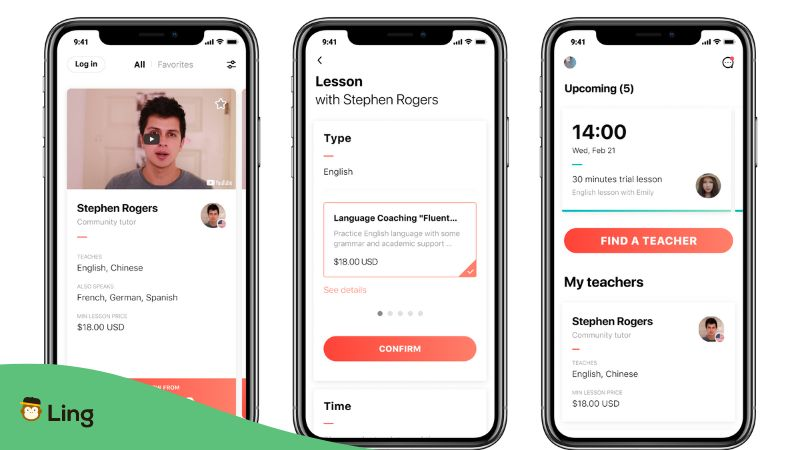 5. Italki: Your Path To Proficiency With Personalized Lessons
Enter the world of affordable rates and personalized lessons with Italki. Choose from an array of professional and community tutors to hone your colloquial Bulgarian skills. Engage in 1-on-1 online sessions, allowing you to perfect your conversation and listening skills. Embrace the flexibility and accessibility of italki's platform as you embark on your Bulgarian language adventure.
Key Features
Has community and professional tutors.
Personalized 1-on-1 online lessons.
Pay as you go.
Price
Rates start at $8/lesson. New users get discounted trial lessons.
Best For
Learners seeking personalized instruction and conversation practice from native speakers.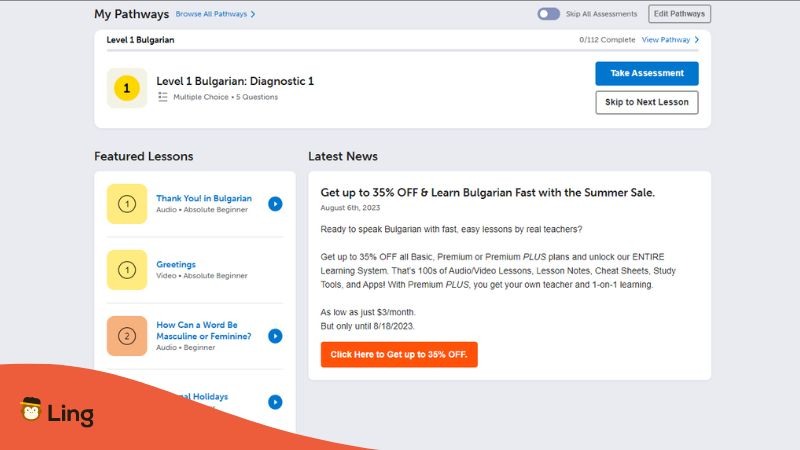 6. BulgarianPod101: Immerse Yourself in Audio-Visual Learning
If you're an audio-visual learner, BulgarianPod101 is your ideal companion. Dive into audio and video lessons recorded by Bulgarian tutors, enabling you to refine your pronunciation and comprehension. Access high-quality video lessons, study with supplemental vocabulary lists, transcripts, and notes. Learning Bulgarian has never been this immersive.
Key Features
Stream high-quality video and audio lessons.
Complete beginner and advanced lessons.
Supplemental vocabulary lists, transcripts, and notes.
Price
BulgarianPod101 Premium starts at $180 for a 12-month plan.
Best For
Audio-visual learners looking to improve listening and pronunciation skills.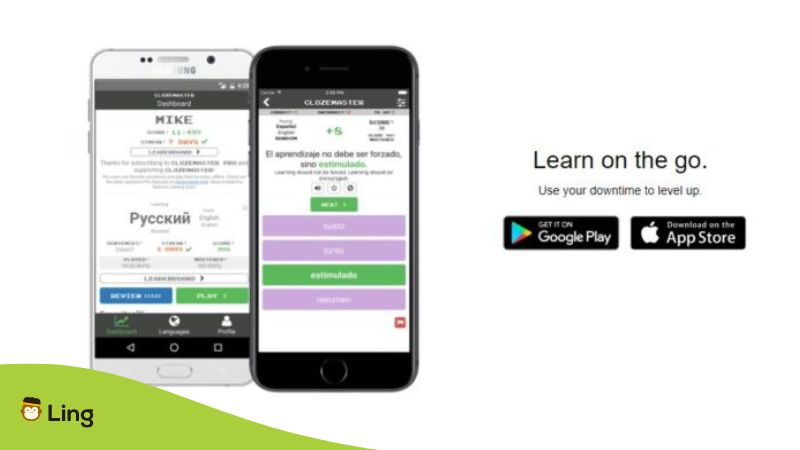 7. Clozemaster: A Stimulating Approach To Language Learning
Break free from traditional learning methods with Clozemaster. Engage in games, quizzes, interactive exercises and media that provide a real-life context for Bulgarian language acquisition. Designed to enhance your language comprehension skills, Clozemaster offers a refreshing intervention for those moments of learning fatigue.
Key Features
Learn Bulgarian in a real-life context.
Play by yourself or compete with friends.
Engaging UI with leaderboard.
Price
Play games on Clozemaster for free! Clozemaster Pro is priced at $8/month.
Best For
Gamification enthusiasts looking for an immersive and context-rich learning experience.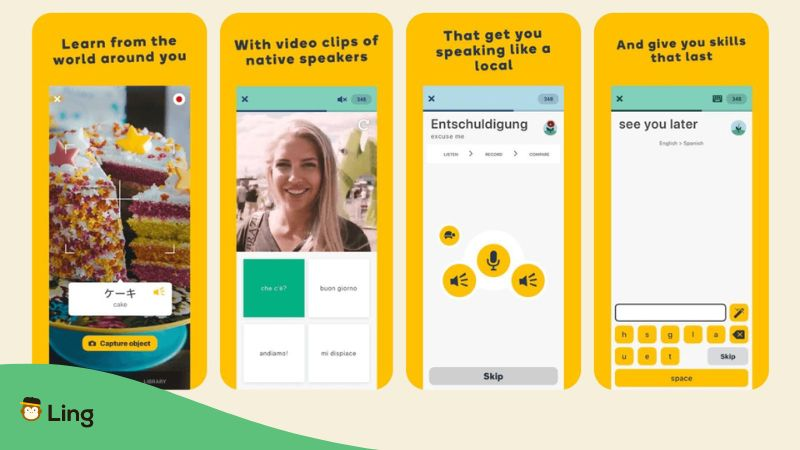 8. Memrise: Mastering Bulgarian With Spaced Repetition
Utilize the power of spaced repetition with Memrise, a platform that aids in recalling and refining your Bulgarian language skills. Navigate through a diverse range of tutorials based on different study modes and fluency levels. While Memrise doesn't offer an official Bulgarian course, user-generated courses are available to bolster your vocabulary and grammar.
Key Features
Full access to courses, games, and flashcards.
Great place to build vocabulary.
Contains audio and video content.
Price
Courses on Memrise are free. Memrise Pro is available at $8.49/month.
Best For
Vocabulary-building and spaced repetition enthusiasts seeking varied study modes.
9. Bulgaro Learn Bulgarian: Embrace The Power Of The Phrasebook
Discover the convenience of the Bulgaro app, where you can effortlessly learn the Bulgarian alphabet, vocabulary, and listening skills. Boasting over 9,000 words and phrases, this platform covers an array of learning categories and assessments. Test your skills with the quiz game and reinforce your language proficiency in a short and simple format.
Key Features
Bulgarian phrasebook with high-quality audio.
Available for offline use.
Supports 32 languages.
Price
Learn Bulgarian is free with some ads. In-app products are priced at $2.99 per item.
Best For
Quick and practical learning of essential Bulgarian phrases and vocabulary.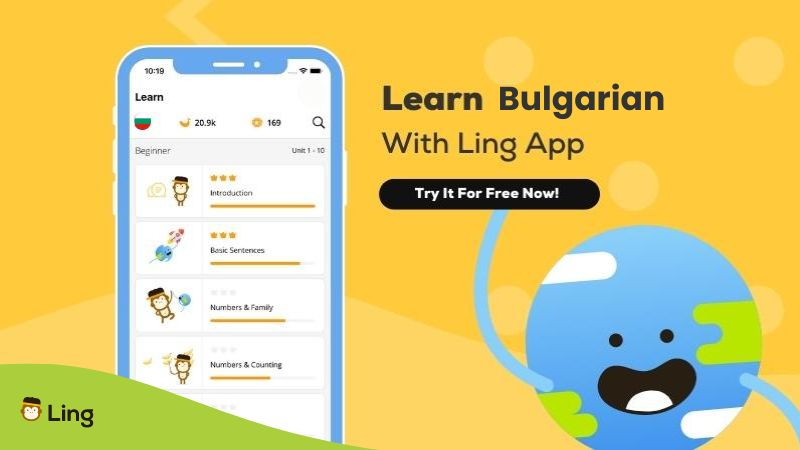 10. Ling: Fun & Interactive Learning Made Easy
Ling is an all-in-one language learning app perfect for beginners. Ling proves that learning Bulgarian can be both fun and accessible. Packed with interactive word quizzes, flashcards, and grammar lessons, this app takes you on a comprehensive journey from beginner to advanced levels. You will engage in lively conversations with the AI chatbot to practice real-life conversational skills, match pictures to words to recall vocabulary, and revel in an array of interactive exercises. Learning Bulgarian has never been this fun and simple!
Key Features
Offers 60+ foreign language courses.
Courses for all fluency levels.
Fun and interactive mini-games.
Practice conversation with its built-in chatbot.
Price
Learn Bulgarian with Ling priced at $8.99/month, and $6.67/ month for an annual subscription.
Best For
Beginners and intermediate learners who enjoy interactive and game-like learning experiences.
How To Choose The Best Bulgarian App For Yourself?
All of the apps mentioned above are designed for different purposes. And that's why before selecting a language-learning app, you should be aware of your learning needs. For that, try to answer these questions below:
Why do I want to learn this language?
How much can I dedicate to learning the language?
Am I a complete beginner?
What language skills do I need to improve?
How do I learn the best?
What proficiency level do I want to achieve?
Answering these questions will help you significantly to discover what kind of a language learner you are. And in the end, you will select the best language-learning app that meets your learning needs and expectations.
So, without wasting time, get started on learning Bulgarian with these apps!