Want to try delicious food in Thailand but want to avoid burning your mouth on spicy food? Check out this article to learn how to say no spicy in Thai!
Tourists who visit Thailand but fail to see the country's renowned temples, colorful tuk-tuks, and grand elephants are frequently viewed as having never visited Thailand. But seriously, Thailand is a dream come true if you enjoy delicacies.
All sorts of exotic Thai food can be found here, from five-star restaurants to food trucks at the local night market!
Are you now staying in Thailand but eating at McDonald's every day for lunch because you cannot handle spicy food? If so, keep reading this article, as we will help you practice saying "no spicy" in Thai to the waiter at Thai restaurants.
Many Ways To Say "No Spicy" In Thai
You've found a table at the Thai restaurant and are ready to place your order, but you'd like to avoid anything too spicy. There is more than one method of saying the phrase "no spicy" in Thai. For example, you can tone down the chilies in a recipe.
So, mention these phrases when ordering food, so you don't put your mouth on fire because of the spiciness.
| English | Thai | Pronunciation | Sound |
| --- | --- | --- | --- |
| Spicy | เผ็ด | Pèt | |
| No spicy | ไม่เผ็ด | Mâi pèt | |
| Don't add chili | ไม่ใส่พริก | Mâi sài prík | |
| Add only one chili | ใส่พริกเม็ดเดียว | Sài prík mét diao | |
| Mild spicy | เผ็ดนิดหน่อย | Pèt nít nɔ̀ɔi | |
| Medium spicy | เผ็ดปานกลาง | Pèt bpaan glaang | |
| Is this spicy? | อันนี้เผ็ดมั้ย? | An níi pèt mái | |
Why Do Thai People Eat Spicy Food?
Spicy ingredients, like chiles, spices, and garlic, are common in Thailand because of the country's tropical climate. So, Thai cuisine is typically spicy because it uses some of the world's hottest chilies and seasonings.
In addition, Thai people say they will feel more energized and have better blood flow after eating these foods.
On the other hand, not everyone, including some Thais, likes spicy food. So there is always an option to ask for less or no spicy.
For those who love spicy, Thai restaurants often provide a separate cup of chili to add more spiciness.
Are Most Of Thai Food Spicy?
Thai food offers a wide variety of mouthwatering dishes. Everything from rice to curry, noodles to Thai BBQ, is available. Not every Thai food is indeed spicy; some, like Thai rice noodles, are prepared without chili and allow you to add it to flavor.
Now, then, let's take a look at both spicy and non-spicy Thai dishes together!
Spicy Thai Dishes
Since hot taste is the key to the deliciousness of many Thai dishes, let's explore some of the most popular Thai dishes below.
Tom Yum Goong – ต้มยำกุ้ง (Dtôm Yam Gûng)
The most well-known Thai food to have been borrowed for the title of a Thai action film. This authentic broth is both hot and sour, created by the inclusion of numerous herbs and, of course, fresh and dried chili.
Although "goong" refers to shrimp, other types of meat, including chicken, pork, and seafood, are available at the restaurant upon request.
Papaya Salad – ส้มตำ (Sôm Dtam)
Papaya salad is the most delightful dish and much healthier than you might think. It offers many types, including ตำไทย (dtam tai), ตำซั่ว (dtam sûa), ตำปลาร้า (dtam bplaa ráa), and more.
One bite can be extremely painful to your mouth and stomach, but you can try saying "ใส่พริกเม็ดเดียว (sài prík mét diao)" or asking for a non-spicy papaya salad.
Stir-Fried Thai Basil – ผัดกะเพรา (Pàt Gà Prao)
What do you constantly come up with for lunch when you can't think of anything?
ผัดกะเพรา (Pàt Gà Prao) is a popular Thai food choice during lunchtime. This is because the preparation and cooking time is minimal. The strong taste of Thai food comes from the combination of chilies, fish sauce, an abundance of garlic, and a handful of Thai basil leaves. In addition, most restaurants offer it with a fried egg and a garnish of cucumber slices.
You can make similar requests when placing an order as you would when ordering papaya salad. So, you must prepare to say: "ไม่ใส่พริก (mai sai prik)" and "ไม่เผ็ด (mai ped)," if you can't handle the spiciness.
Non-Spicy Thai Dishes
Avoiding painful tongue and mouth burns is easy with Thai fried rice, but that's not your only option. Here, you'll find some of the best Thai cuisines you've ever tasted without being anxious about the spiciness.
Pad Thai – ผัดไท (Pàt Tai)
Does the food name "ผัดไท (pàt tai)" sound familiar? It's one of Thailand's most well-known dishes. Noodles stir-fried in a sweet-and-sour tamarind marinade. This is authentic and filled with a juicy taste!
Thai Rice Noodles – ก๋วยเตี๋ยว (Gǔai Dtǐao)
A bowl of rice noodles in a hearty soup is like a warm hug in a bowl. The typical ingredients are meatballs, morning glory, meat pieces, and bean sprouts. Don't forget to ask for "clear soup," called "น้ำใส (náam sǎi)" in Thai, a non-spicy broth-based soup.
Stir-fried Chinese Broccoli – บรอกโคลีจีนผัดกุ้ง (Bɔɔn òk Koo Lîi Jiin Pàt Gûng)
And finally, this is the best option if you desire some non-spicy stir-fried vegetables to go with steamed rice. It has a satisfying chewiness from the broccoli, freshness from the prawns, and savory soy sauce!
Ready To Tell The Chef "No Spicy" In Thai?
Saying "no spicy" in Thai to the chef at Thai restaurants is an excellent way to get by until you're ready to master more complex phrases in the Thai language.
Then, you can avoid getting a burned mouth and a hurt stomach from drinking too much water to reduce the spiciness. If you want to make the most of your trip to Thailand, remember to speak Thai using the phrases we shared!
Looking for a language learning app that brings learning Thai to your fingertips because you're tired of traditional Thai language learning resources that drag on and on before you can know anything?
So, get your phone out and download the Ling app right now!
Learn Thai With The Ling App Now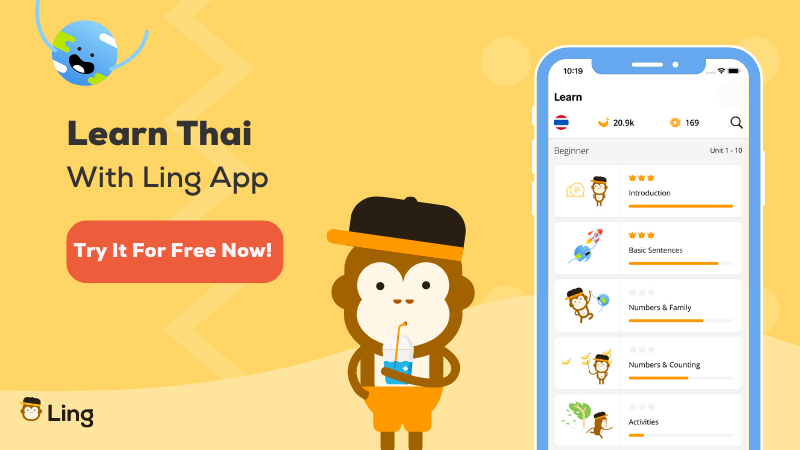 The Thai language should be fun and valuable in everyday contexts, from making restaurant reservations to dealing with health emergencies. You can rely on us because we give you comprehensive word lists that include all the situations you might encounter in the country.
Most Thai learners chose the Ling app to help them succeed, so why not join them? Download the Ling app from Google Play Store or App Store now, and prepare to be fluent in Thai soon!