Whether you're an aspiring Instagrammer or a die-hard architectural enthusiast, we're confident that your next vacation to Thailand will not be complete without stopping at famous temples in Thailand!
There is no way to visit Thailand without seeing some of the country's most renowned temples. In addition, many of Thailand's distinctive artistic practices—including mural painting, sculpture, and architecture—originate in Thai temples. That's why it shouldn't come as a surprise that famous temples in Thailand are a top attraction for visitors worldwide.
Then, with so many, you must have difficulty deciding which temple to visit. As such, we've narrowed it down to the top 10 most famous Buddhist temples in Thailand, including several that aren't in Bangkok city.
10 Famous Temples In Thailand With Pronunciation
Some of Thailand's most famous Buddhist temples and words related to the temple are listed here!
| | | | |
| --- | --- | --- | --- |
| English Word | Thai Word | Pronunciation | Sound |
| Temple | วัด | wát | |
| Buddhist monk | พระ | prá | |
| Sermon hall in a monastery | ศาลาการเปรียญ | sǎa laa gaan bpà rian | |
| Worship | ไหว้ | wâi | |
| Pagoda | เจดีย์ | jee dii | |
| Wat Phra Kaew | วัดพระแก้ว | wát prá gɛ̂ɛo | |
| Wat Pho | วัดโพธิ์ | wát poo | |
| Wat Arun | วัดอรุณ | wát à run | |
| Wat Paknam Phasi Charoen | วัดปากน้ำ ภาษีเจริญ | wát bpàak náam paa sǐi jee rin | |
| Wat Rong khun | วัดร่องขุ่น | wát rɔ̂ɔng kùn | |
| Wat Chedi luang | วัดเจดีย์หลวง | wát jee dii lǔang | |
| Wat Mahathat | วัดมหาธาตุ | wát má hǎa tâat | |
| Wat Sri Suphan | วัดศรีสุพรรณ | wát sǐi sù pan | |
| Wat Thum Suea or Tiger Cave Temple | วัดถ้ำเสือ | wát tâm sʉ̌a | |
| Wat Chaiwatthanaram | วัดไชยวัฒนาราม | wát chai wát naa raam | |
#1 วัดพระแก้ว (Wát Prá Gɛ̂ɛo) – Wat Phra Kaew
Located within the walls of the Grand Palace in Bangkok, Thailand, it goes by the more lengthy name of วัดพระศรีรัตนศาสดาราม (wát prá si rát dtà ná sàat sà daa raam). Built during the reign of King Rama I, construction in Bangkok began in 1782 and continued until 1784. The emerald buddha is what draws the most visitors.
#2 วัดโพธิ์ (Wát Poo) – Wat Pho
Reclining Buddha Temple, or วัดพระเชตุพนวิมลมังคลาราม (wát prá chee dtù pon wí mon mang klaa raam) in its full Thai name. It was constructed between 1168 and 1703, during Ayutthaya kingdom period, and hence has a very long history.
#3 วัดอรุณ (Wát à Aun) – Wat Arun
This temple dates back to the time of the Ayutthaya dynasty. It was once known as วัดมะกอก (wát má gɔ̀ɔk) but later adopted its current name วัดแจ้ง (wát jɛ̂ɛng). After that, during the reign of King Rama II, the name was renamed once more, this time to วัดอรุณราชธาราม (wát à run râat taa raam). Finally, in the reign of Rama IV, the temple was reconstructed, and its name was once again renamed to วัดอรุณราชวรารามราชวรมหาวิหาร (wát à run râat wá raa raam râat wɔɔn má hǎa wí hǎan). Located on the banks of the Chao Phraya River in Bangkok, this temple is often regarded as among the city's most stunning.
#4 วัดปากน้ำ ภาษีเจริญ (Wát Bpàak Náam Paa Sǐi Jee Rin) – Wat Paknam Phasi Charoen
Another Bangkok temple is conveniently located next to the Chao Phraya. A massive Buddha statue dominates the main hall of this temple complex. It's also where the Dhammakaya tradition got its start.
#5 วัดไชยวัฒนาราม (Wát Chai Wát Naa Raam) – Wat Chaiwatthanaram
Now we'll visit Ayutthaya, Thailand, a major tourist destination. The historical significance of this temple cannot be underestimated. Located in the center of Ayutthaya, one of the royal temples in Ayutthaya Historical Park. The royal family then would make regular daily and funeral visits to this temple. Besides that, it has been designated a UNESCO World Heritage Site.
#6 วัดมหาธาตุ (Wát Má Hǎa Tâat) – Wat Mahathat
Ayutthaya is also home to this temple. The landmark of this place is where the Buddha statue's head, which is at least 100 years old, rests quietly in the middle of a tree root. People thought the Buddha's head could have fallen to the ground during the Burmese-Siamese War in 1765–1767.
#7 วัดร่องขุ่น (Wát Rɔ̂ɔng Kùn) – Wat Rong Khun
A legendary Thai artist by the name of เฉลิมชัย โฆษิตพิพัฒน์ (chěe lim chai koo sìt pí pát) created this magnificent white temple in Chiang Rai, the northern Thailand region. It was built in 1997, making it far more recent than the other temples we suggested above.
#8 วัดเจดีย์หลวง (Wát Jee Dii Lǔang) – Wat Chedi Luang
We are still in the northern Thailand region. Within the bustling metropolis of Chiang Mai stands this sacred temple. Dating back to the Lanna monarchy, about 1385–1402, it has been around for quite a long time.
#9 วัดศรีสุพรรณ (Wát Sǐi Sù Pan) – Wat Sri Suphan
This first-ever silver temple in the world was created in Chiang Mai and dates back at least 500 years. It was soon recognized as the city's premier temple and a key draw for visitors.
#10 วัดถ้ำเสือ (Wát Tâm Sʉ̌a) – Wat Thum Suea
The temple is also known by its English name, Tiger Cave Temple, located in Kanchanaburi, which is in western Thailand. The Mae Klong River can be seen in front of the temple, and it is encircled by rice paddies. The site features both Chinese pagodas and Thai temples.
Dos & Don'ts When Visiting a Buddhist Temple
Bonus! While we want you to have a wonderful time at Thailand's most revered temples, we also want you to respect their sacred rituals and observe their customs.
| Do | Don't |
| --- | --- |
| Shoulders and knees are covered by proper long pants and shirt | Wearing very short skirt, shorts, tight jean or legging, and tank tops |
| Take off your shoes before entering | Take a selfie with Buddha statues |
| Speak to your friends in a low volumn | If you're a women, so don't touch a monk |
| | Pointing your feet to buddha statues |
Ready To Travel To Famous Temples In Thailand?
You won't just be able to take great pictures of the temple, but you will know how to act respectfully toward Thai Buddhists and their religion. It helps to ensure that you and the locals enjoy a peaceful and enjoyable experience at the temple. Thai temples are stunning, and some have a wealth of history to uncover. Additionally, we must uphold the country's religious traditions. If you visit enough temples filled with original works of art, you'll be inspired to expand your Thai vocabulary.
Consequently, we offer the most effective method for learning Thai, regardless of your current skill level.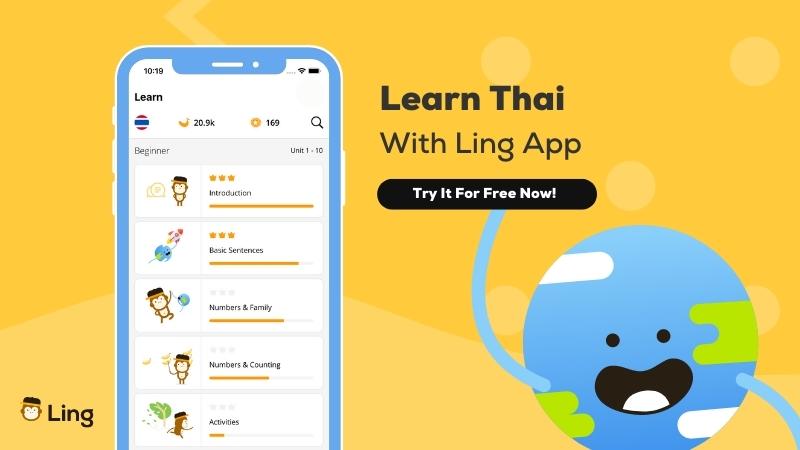 Learn Thai With Ling Now!
If you find that studying a new language is more effective when you sometimes shake things up, our app is made for you. Therefore, you can now learn Thai on your mobile device using Ling, which is compatible with Android and iOS. We also include a large lexicon for your study and memory; you are encouraged to use this language in your regular conversation. And if that weren't enough, we've got fun tools like a chatbot, quizzes, and puzzle games to help you learn the language quickly!
Most Thai learners chose Ling to help them succeed, so why not join them? Download the Ling app from Google Play Store and Apple App Store now, and prepare to be fluent in Thai soon!