A decade ago, Glastonbury – festival of contemporary performing arts – welcomed its first act from Nepal to perform at the festival. These were not musicians, but acrobats with Circus Kathmandu. So, in the light of this information, we will be looking at a handful of Nepali words for the circus in this blog.
Circus Kathmandu was formed by a group of young people as a way of helping others. The group hopes to share its acrobatic talents with the rest of the outside world. Learning Nepali words for the circus is a great way to boost your Nepali vocabulary because the words are often associated with colorful images and vibrant action.
Circus-Related Words In Nepali
Let's take a look at our list of favorite Nepali words associated with the "Big Top". And in case you are not aware, '"Big Top" refers to the main tent in a circus.
The Circus – Sarkas (सर्कस)
Starting with the most obvious word: सर्कस (Sarkas), Circus, meaning everything to do with what goes on in, under, or around the circus tent. This word sets the stage for our exploration of the rich circus culture in Nepal. Just like in many other parts of the world, the circus in Nepal is a place of excitement and wonder, where people come together to witness extraordinary feats. The word suggests a comically frenetic, disorganized disturbance which in the English language makes perfect sense for a carnival atmosphere inhabited by a traveling company of clowns, acrobats, and trained animals.
Magician – Jadugar (जादूगर)
Magic is an integral part of the circus, and any Nepali dictionary will tell you magicians are known as जादूगर (Jadugar). These talented performers dazzle the audience with their sleight of hand, illusions, and tricks. In Nepal, magic has deep-rooted connections with traditional folklore and mystical practices, making it even more enchanting for those in the audience seats.
Tightrope Walker – Tantuk (तान्तुक)
The tightrope walker is a symbol of balance and precision in the circus and the Nepali word for tightrope walker is तान्तुक (Tantuk). Nepali tightrope walkers often perform daring feats high above the ground, showcasing their incredible skill and focus. This word reflects the fearless nature of these performers.
Clown – Jōkara (जोकर)
Clowns are universal comic figures in the circus and a circus isn't really a circus without its clowns. Known for their comedic antics and colorful costumes, in the Nepali language, they are called जोकर (Jōkara). Nepali clowns bring their unique humor and cultural references into their acts, making spectators laugh while highlighting local customs and traditions.
Juggler – Juggal (जुग्गल)
Juggling is a mesmerizing skill that requires incredible hand-eye coordination, and in Nepal, jugglers are known as जुग्गल (Juggal). Nepali jugglers often use traditional objects or shapes like balls, clubs, or even flaming torches to showcase their talents, adding a touch of local flavor to this classic circus act.
Acrobat – Ekrobet (एक्रोबेट)
Acrobats are the daredevils of the circus, performing breathtaking stunts that leave audiences in awe. In Nepal, acrobats are called एक्रोबेट (Ekrobat). These performers often incorporate Nepali dance and gymnastics elements they have learned into their routines, creating a fusion of art and athleticism.
Elephant – Hāttī (हात्ती)
The Asian elephant, a tourist favorite for trips into the jungle, has a special place in Nepali circus culture. In Nepal, elephants are known as हात्ती (Hāttī). These gentle giants play a central role in circus performances, demonstrating their strength and intelligence through a variety of tricks and routines. There are an increasing number of circuses, not just within Nepal but around the world, that are cutting animal acts from the lineup due to concerns over welfare.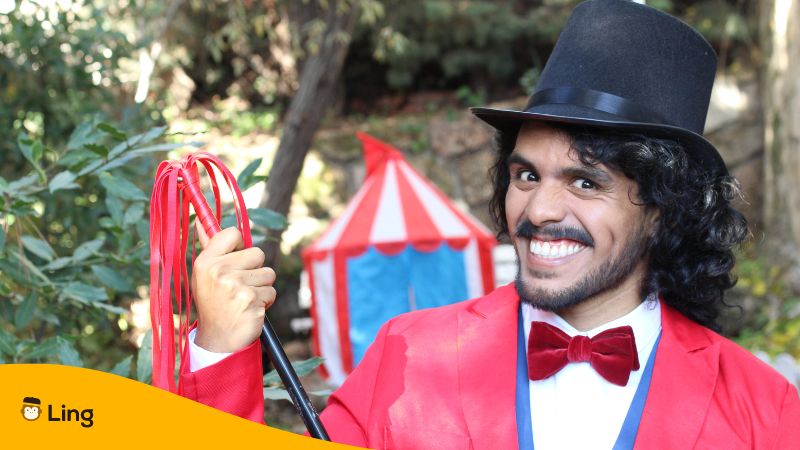 Ringmaster – Ringmastar (रिङ्मास्टर)
The ringmaster is the charismatic figure who guides the audience through the circus spectacle. In Nepal, the ringmaster is known as रिङ्मास्टर (ringmastar). This word reflects the leadership and showmanship required for this role.
Tiger – Bagh (बाघ)
Tigers are another iconic part of the Nepali circus. In Nepali, they are called बाघ (Bagh). While tiger acts are becoming increasingly rare due to conservation efforts, trained animals remain a powerful symbol of strength and beauty in Nepali circus history.
Wheel Of Death – Chakra (चक्र)
The Wheel of Death, a heart-stopping acrobatic act, is known in translation as चक्र (Chakra). This act involves performers defying gravity as they balance and spin on a giant rotating wheel, creating a mesmerizing display of skill and courage that can take a lifetime to learn.
Festival – Utsav (उत्सव)
A circus performance is like a festival of entertainment, and the word उत्सव (Utsav) captures the festive spirit of the event. Circus shows in Nepal are often accompanied by colorful decorations, food stalls, and a sense of celebration.
As we celebrate these words and the circus culture they represent, we also acknowledge the dedication and skill of the performers who bring the magic of the big top to life in Nepal and when troupes like Circus Kathmandu show their extraordinary set of skills to amazed audiences around the world. So, the next time you attend a circus performance in Nepal, remember these Nepali words and the cultural richness they embody and let yourself be carried away by the enchanting world of the Nepali circus.
A Quick Recap Of Nepali Words For The Circus
| English | Nepali | Transliteration |
| --- | --- | --- |
| Circus | सर्कस | Sarkas |
| Clown | जोकर | Jōkara |
| Ringmaster | रिङ्मास्टर | Ringmastar |
| Acrobat | एक्रोबेट | Ekrobet |
| Trapeze | ट्रेपीज | Trapeze |
| Juggler | जुग्गल | Juggal |
| Tightrope | टाइटरोप | Tightrope |
| Magician | जादूगर | Jadugar |
| Lion | सिंह | Sinh |
| Elephant | हात्ती | Hāttī |
| Tent | पाल | Pāla |
| Ticket | टिकट | Ticket |
| Audience | दर्शक | Darshak |
| Fire-breather | आग पुकार्ने | Aag Pukarne |
| Cannon | तोप | Tōpa |
| Balloon | गुब्बा | Gubba |
| Popcorn | पप्कोर्न | Popcorn |
| Cotton Candy | कटन क्यान्डी | Katan Kyaandi |
| Ferris Wheel | फेरिस व्हिल | Ferris Wheel |
| Merry-Go-Round | मेरी-गो-राउंड | Merry-Go-Round |
Roll Up, Roll Up For More Nepali Learning With Ling
If you are looking for an easy way to get to grips with Nepali, then the Ling app is the perfect tool for you. With more than 60 languages, Ling is a proven resource for those looking to improve their linguistic skills. All of its courses are created by native speakers, and each course is crammed with interactive games and quizzes to keep the learning process entertaining. Try Ling today by clicking on Google Play or the App Store.