Have you ever smiled all day because someone randomly complimented how beautiful your hair looks or how gorgeously your dress fits you? Well, who doesn't like getting compliments and being praised for the efforts that they put into their outfit and personality?
If you want to make someone special smile just like that in the Bosnian language, you have just landed in the right place. With all the exciting compliments in Bosnian like Tako si lijepa (You are so beautiful) and related Bosnian phrases, you are going to make your partner fall in love with you in no time.
In today's post, you will discover all the common compliments in the local language that will help you make bonds more robust and pure with your friends in Bosnia. Moreover, we cannot deny that compliments are a great way of starting a conversation with someone, especially when you meet for the first time.
Once you go through today's post, you are sure to make hundreds of friends in Bosnia and blend in with the locals smoothly with your skills. If you are already on your journey to learn and speak Bosnian, the Bosnian words below will further improve your vocabulary and bring fluency to your speech. So, if you are interested, continue reading!
How To Say Compliments In Bosnian
Before we start with anything, it is essential to know how to pronounce the word "Compliment" in Bosnian. "kompliment" is the Bosnian word for "Compliment," and it sounds alike. It is, therefore, easy to remember and nothing too tough to learn.
Bosnia is a warm and welcoming country. The locals love when foreigners visit their country and experience their culture. Especially when outsiders compliment and appreciate their local habits and customs, they feel obliged and happy. So, once you land in the country, never forget to compliment the locals for their hospitality and culture. It will only help you show respect and love for their traditions and country.
However, it is important to be careful while praising someone or something. Always praise enough and not too much. While love words and praises can bring a smile to their faces, doing it too much can bring suspicion of you being fake, bringing a negative impression. So, always read the room and compliment genuinely when you see fit.
Also, always remember to compliment from your heart. Never make your compliments sound forced, making the other person wonder if they are worth such words. The sole reason for praising someone is to make them feel good and recognize their beauty inside and out. So, if you are praising someone, you must use the correct words, body, language, and tone.
Lastly, always receive a compliment with a smile. Acting too arrogant and prideful will not take you anywhere. Since you are traveling to a new country, be humble and act generous at all times.
Basic Compliments In Bosnian
Now we will go through some basic Bosnian compliments that you can use on general occasions with your friends and partner. Read them thoroughly, as they can mark a great start for small talk and new conversations.
1. You Are So Beautiful
Translation: Tako si lijepa
The first and most common compliment that you must know by heart is this. Be it your friend, new mate, or even your lover, this compliment will work on anyone. Nobody hates being complimented on how they look, and doing so will make you sound very friendly and approachable. Especially if you are trying to impress a girl in Bosnia, this is the best compliment you can stick to without worrying about anything else. You can also use the praise with elder people or your family members.
2. You Look So Handsome
Translation: Izgledaš tako zgodno
If the first phrase works brilliantly with ladies, this one is for your male friends and partners. If you are on a date and want to impress your partner with a nice comment, this is the one you should go for. Easy and basic, nothing too much, nothing too less. You can also use this to compliment all your male friends, family members, and elder people without any issues.
Although Bosnian people speak English and are well reversed with basic compliments in English, these Bosnian phrases will help you serve a different impression of your skills and personality.
3. You Have Beautiful Eyes
Transation: Imaš prelijepe oči
If there is one thing that can make ladies go crazy for you, it is a compliment on their beautiful eyes. The language of love is always better understood from the language of eyes. So, if you want to catch someone's attention real quick but avoid a cheesy pickup line, this compliment is all you need. Not only will your desired partner feel flattered and blush, but it will also make them feel comfortable and start a new bond between you two.
4. I Love Your Sense Of Humour
Translation: Volim tvoj smisao za humor
If you want to go a little out of the box and compliment something that goes beyond the skin, this is the right comment for you. Nowadays being funny is a new cool personality that most guys die to have. So, if you think someone has given you such a vibe, you can immediately compliment them with this phrase and bring a wide smile to their face. Moreover, it is a very casual comment that is not too flirtatious and romantic. So, if you are trying to converse with a friend, this line will work best for you.
5. You Are An Amazing Friend
Translation: Ti si neverovatan prijatelj
Another compliment for your friends that you can casually utter to make them realise how good a friend they are is this. It is easy to say, and your friends will surely love to hear such things from you. Moreover, if you are making new friends and want to keep them, this phrase will help you create stronger bonds and develop the relationship emotionally.
6. You Did A Great Job
Translation: Uradio si odličan posao
In case you want a few words that praise someone for their work and recognise their hard work, this compliment is all you need. From your colleagues to friends, you can use this on every occasion to show appreciation for their work. It is a generous way of congratulating someone and motivating them for further success. Especially in Bosnia, never forget to appreciate people for their work. They love to hear praises when they put in the effort and will give you warm responses and love in return.
7. You Sound So Smart
Translation: Zvučiš tako pametno
Sometimes, it is not just about the looks or outer appearance. If you compliment someone for how smart or well-behaved they are, it can make a huge difference. Especially if you are meeting someone of importance or from your office, the best possible compliment is this. It sounds personal but not flirtatious. It will help you gain attention from new friends too, and create closer bonds.
Compliments On Someone's Looks
| | | |
| --- | --- | --- |
| Englsih | Bosnian | Sound |
| You look amazing in that outfit | Izgledaš neverovatno u toj odeći | |
| Your hairstyle looks cool on you | Tvoja frizura ti stoji super | |
| She has a cute nose | Ona ima sladak nos | |
| I like your makeup today | Sviđa mi se tvoja šminka danas | |
| The color compliments your personality | Boja upotpunjuje vašu ličnost | |
| You have beautiful hair | Imaš prelepu kosu | |
| Your hairstyle is so unique | Tvoja frizura je tako jedinstvena | |
| You have a nice figure | Imaš lepu figuru | |
Compliments On Someone's Personality
| | | |
| --- | --- | --- |
| English | Bosnian | Sound |
| You are beautiful inside and out | Prelepa si iznutra i spolja | |
| I like your personality | Sviđa mi se tvoja ličnost | |
| You are very smart/ interesting | Veoma ste pametni/zanimljivi | |
| He sounds like a gentleman | Zvuči kao džentlmen | |
| You are so kind | Tako ste ljubazni | |
| I love spending time with you | Volim provoditi vrijeme sa tobom | |
| You sound so caring | Zvučiš tako brižno | |
| You act very mature | Ponašaš se veoma zrelo | |
Compliments On Someone's Work
| | | |
| --- | --- | --- |
| English | Bosnian | Sound |
| You are very good at this | Vrlo ste dobri u ovome | |
| You work very hard | Radite veoma naporno | |
| You hard work has paid off | Vaš trud se isplatio | |
| That is very creative | To je vrlo kreativno | |
| You are a master at this | Ti si majstor u ovome | |
| I appreciate your creativity | Cijenim tvoju kreativnost | |
| Your work is unique | Vaš rad je jedinstven | |
Wrapping Up!
Are you ready to make someone smile in Bosnia? With all the phrases above, you are sure to make many new friends and create amazing memories with them. Using them will also bring regular practice and improve your Bosnian vocabulary. Moreover, if you use these lines often in your conversations, it will bring fluency to your speech too.
However, this lesson is just a stepping stone for your Bosnian journey. If you are a language enthusiast and want to learn more, download the Ling app now from the App Store or Play Store and get an excellent language learning guide for yourself.
Learn Bosnian With The Ling App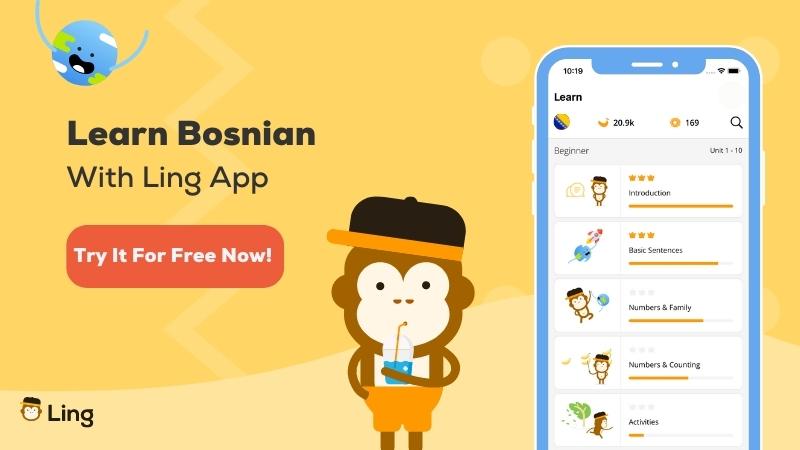 Ling is one of the most revolutionary language-learning apps that teaches not just Bosnian but 60+ foreign languages. It has hundreds of trusted users, and most of them have loved their experience with Ling, especially with the audio lessons where native speakers give their input on accents and pronunciations. It hires expert writers who offer blog posts on various topics like love words, travel phrases, food, quotes, and many more to learn basic phrases like Kako se zovete? (What's your name?), Gdje je WC? (Where is the toilet), Nema na čemu! (You're welcome!), etc., in detail with proper translations.
The best part of the app is the AI chatbot that offers conversational exercises, enhancing your communication skills. So, even before you land in Bosnia, you will start conversing in the Bosnian language and make a habit of it. Thus, if you want to learn Bosnian more and become a pro speaker, don't wait and download the app right away!