Are you looking out for a perfect guide to make your trip to Bosnia and Herzegovina smooth sailing? Then you have reached your destination. Traveling to a new country can be frustrating and confusing if you have zero knowledge of the language. Sometimes, even the simplest words can help you communicate and make things easier. So, to help you with the Bosnian language, this blog is prepared with all the Bosnian travel phrases that you will need once you land.
Learning the language will make communication easy and allow you to engage with the locals without any doubts in your mind. Moreover, if you want to pursue the Bosnian language, the tables filled with different Bosnian phrases below will only be of great help. From greetings to mealtime questions like zdravo, kako si and Treba mi sto, you will learn all the sentences that will let you enjoy your trip without barriers. So, if you want to learn more, continue reading.
Bosnian Travel Tips
Before we hop into some common Bosnian words and phrases, here is a list of tips that will help you during your trip.
The amazing thing about Bosnia is that there is no one perfect season for tourism. No matter the time of year, you are most likely to have the best experience. It is hot during summers and cold during winters with snowfall. So, depending on your needs, you can book your tickets and opt for your preferred activities.
Another interesting fact about traveling to Bosnia is that they have the cleanest tap water. So, don't be surprised if a waiter at the coffee shop brings you tap water. It is free of any foreign substances and safe to drink. You don't have to worry about hygiene when it comes to clean water in Bosnia and Herzegovina.
When it comes to currency, Bosnia accepts BAM, Convertible Mark. It is pegged with the Euro, which means it has a fixed exchange rate of 1 Euro= 1.955830 BAM. It is recommended that you carry Euros if possible because they have fixed rates and you will save time by not looking around for the best rates.
If you are thinking of credit cards, you might have some difficulties in the country. While some places accept cards like American Express, Visa cards, and more, there is no certainty that they will be accepted everywhere. So, it is best to carry cash whenever it is possible.
If you are worried about the language barrier, the blog is ready to help. Nevertheless, you will find younger crowds well acquainted with the English Language. So, in case you feel completely blank, try to reach a younger person who might be familiar with the English language. It is less likely with an older crowd whatsoever. So, today's blog is a must-have guide that will help you throughout your Bosnian journey.
Bosnian Travel Phrases
Now we will get started with the Bosnian vocabulary that will help you get along with the locals in the country. The tables below have different phrases for different occasions so that you can quickly go to the required tab. So, if you are all set to learn Bosnian, let's get started.
Greetings In Bosnian
This section will walk us through some common greeting phrases that will help you connect with the locals once you arrive at your destination. It is especially helpful if you are meeting someone for the first time and want to start a conversation. Bosnians are very friendly, and they would love to see you put in some effort.
| | |
| --- | --- |
| English | Bosnian |
| Hello! How are you? | Dobar dan! Kako ste?/ Zdravo! kako si |
| I am fine, thank you | Dobro sam, hvala |
| Good morning/ good afternoon | Dobro jutro/ Doh bahr dahn! |
| Good night/ Good evening | Laku noć/dobro veče |
| What is your name? | Kako se zovete?/ kako se zoveš |
| My name is…/ I am… | Yah sahm |
| Where are you from? | Odakle si? |
| I am from… | Ja sam iz |
| Pleased to meet you | Drago mi je |
| Do you speak Bosnian/ English? | Govorite li bosanski/engleski? |
| I don't understand that | Ne razumijem! |
| I understand | Razumijem |
| Where's the toilet? | Gdje je WC?/ gdyeh yeh VEH TSEH? |
| Thank you/ You're welcome | Hvala/ Nema na čemu! |
| Sorry/ excuse me | žao mi je (zhao mee yeh)/ Izvinite |
| Please | Molim te |
| Goodbye | Doviđenja! |
Mealtime Basic Phrases In Bosnian
Being in a new country, you will have a lot of questions when it will come to food. From wondering what to order and how to order, you are likely to fall into a trap. But we are here to save your trip. With the basic food phrases below, you will get acquainted with all the sentences and questions that will help you have a delightful meal in Bosnia.
| | |
| --- | --- |
| English | Bosnian |
| Do you have free tables? | Imate li slobodnih stolova? |
| Can I get the menu, please? | Mogu li dobiti meni, molim? |
| What is today's special? | Šta je danas posebno? |
| I am vegetarian | Ja sam vegetarijanac. |
| I don't eat pork | Ja ne jedem svinjetinu |
| I don't eat beef | Ja ne jedem govedinu. |
| Do you have any recommendations? | Imate li kakvu preporuku? |
| I don't eat spicy food | Ne jedem ljutu hranu |
| I need a bottle of water | Treba mi boca vode |
| Do you serve beef? | Služite li govedinu? |
| Is this vegan? | Je li ovo vegan? |
| The food is delicious | Hrana je ukusna |
| I need one more, please | Treba mi još jedan, molim |
| Would you take…? | Da li biste uzel…? ( dah lee BEES-teh oo-ZEH-lee…? ) |
| Thank you for the food | Hvala ti za hranu |
Directions In Bosnian
Apart from food and greetings, the most important questions that arise are about direction. Where to go, which side to take, and where to leave, there can be a lot of chaos. However, we are here to make Slavic languages easy for you with common direction phrases.
| | |
| --- | --- |
| English | Bosnian |
| Directions | Upute |
| I think I am lost | Mislim da sam izgubljen |
| Where is…? | Gdje je…? |
| Which way? | Na koji način? |
| where am I? | Gdje sam? |
| Turn left/ Turn right | Skrenite lijevo/ Skrenite desno |
| East/ West | Istok/Zapad |
| North/ South | Sjever/ jug |
| Can you direct me? | Možete li me uputiti? |
| Which turn should I take? | Kojim skretanjem da krenem? |
| Is the place far/ close? | Da li je mjesto daleko/blizu? |
| Which road is this? | Koji je ovo put? |
| Where are you? | Gdje si ti? |
Transportation Phrases In The Bosnian Language
Just like directions, you will need help with transportation if you are willing to take public transportation. So, although most staff members in stations and transports speak English, learning some Bosnian words in the official language will help.
| | |
| --- | --- |
| English | Bosnian |
| Transportation | Transportation |
| Vehicle | Vozilo |
| Is the bus/ train delayed? | Kasni li autobus/voz? |
| I want a ticket for… | Želim kartu za… |
| Where is the bus/ train station? | Gdje je autobuska/željeznička stanica? |
| I want to book a taxi | Želim da rezervišem taksi |
| Can I cancel my ticket? | Mogu li otkazati kartu? |
| What is the price for one ticket? | Koja je cijena jedne karte? |
| Can I get a ticket to… | Mogu li dobiti kartu za… |
| I would like to buy a return ticket | Htio bih kupiti povratnu kartu |
| Is the bus/ train on time? | Je li autobus/voz na vrijeme? |
| What is the arrival/ departure time? | Koje je vrijeme dolaska/odlaska? |
| Can you please show me the ticket window? | Možete li mi pokazati izlog za karte? |
Bosnian Shopping Phrases
How can we not talk about shopping when it comes to vacations? To get the best deals and engage in a good bargain, here is a list of phrases in Bosnian.
| | |
| --- | --- |
| English | Bosnian |
| How much is this? | Koliko je ovo? |
| Can you reduce the price? | Možete li smanjiti cijenu? |
| Do you have this in a different color? | Imate li ovo u drugoj boji? |
| Do you have this in my size? | Da li imate ovo u mojoj veličini? |
| I want something cheap | Želim nešto jeftino |
| Show other designs, please | Pokažite druge dizajne, molim |
| Do you accept card payments? | Da li prihvatate plaćanje karticama? |
| I don't have cash | Nemam gotovinu |
| It is too expensive | Preskupo je |
| It is very cheap | Veoma je jeftin |
| Do you have any discount? | Imate li neki popust? |
| What is the last price? | Koja je zadnja cijena? |
| I want these | Želim ovo |
| I don't want a bag | Ne želim torbu |
Emergency Bosnian phrases
Emergencies can arrive at any point. It can be the need for a doctor or the search for a mechanic. If you give the below phrases a good read, you will have no problem.
| | |
| --- | --- |
| English | Bosnian |
| Somebody help me! | Neka mi neko pomogne! |
| Can you please assist me? | Možete li mi pomoći? |
| I need a doctor | Trebam doktora/ Treba mi doktor |
| Call the ambulance | Pozovite hitnu pomoć |
| Where is the nearest hospital? | Gdje je najbliža bolnica? |
| Do you know a mechanic? | Znate li mehaničara? |
| Take me to the pharmacy | Vodi me u apoteku |
| Call the police | Zovi policiju |
| Catch the thief | Uhvatite lopova |
| Please help them | Molim vas pomozite im |
| Can I borrow your phone? | Mogu li posuditi tvoj telefon? |
| Do you have… | Imas li… |
Wrapping Up!
Well, that was a lot to take in. But once you get used to it, nothing can stop you from being a pro speaker and enjoying your journey like a native. However, this is only a stepping stone toward learning Bosnian. If you want to get a deeper understanding of the language, we have the best app for you.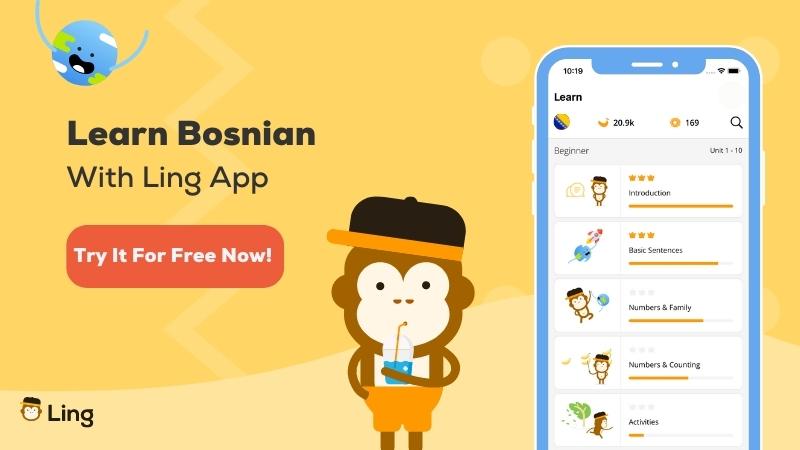 Learn With The Ling App
Ling App is one the best apps that you can use to learn Bosnian professionally. The app hires expert content writers and native speakers to produce content on different topics like love words, basic phrases, culture, and more in 60+ languages. So, if you feel like learning other languages, you can easily do so with Ling.
Moreover, the app has an AI chatbot that offers interactive lessons which improve your communication skills and helps you develop a regular practice routine. So, if you think Ling can fulfill your wish for Bosnian courses, download the app from App Store or Play Store and become a pro speaker in no time!