Does your interest in Japanese partly come from your desire to meet your favorite Japanese actors? We are the same!
If you want to find even more heart-stoppingly good-looking and skillful Japanese actors, join us in this complete list of Japanese male celebrities.
But first, let's take some time to learn the correct Japanese term for "actor."
How To Say Actor In Japanese?
Before diving into a list of famous Japanese actors with their full names, it's a good idea to brush up on some of the language's most common words. If you're having trouble staying motivated to practice writing Japanese kanji, this article can help!
English
Japanese
(Kanji)
Japanese
(Hiragana)
Romanji
Sound
Actor (male)
男優
だんゆう
Danyuu


Actor/actress
俳優
はいゆう
Haiyuu


Actor/actress
役者
やくしゃ
Yakusha


Famous actor
名優
めいゆう
Meiyuu


Movie actor
映画俳優
えいがはいゆう
Eiga haiyuu


Leading actor
主役
しゅやく
Shuyaku


Voice actor/actress
声優
せいゆう
Seiyuu


Who Are Most Handsome Japanese Actors?
The Japanese entertainment industry has a broad selection of drama and film styles. The production demands a wide diversity of talented actors with varying personalities and acting styles since some films are adaptations of anime, and others are pretty dramatic.
Further, there is no single accepted definition of "handsome" in Japanese. For example, a V-shaped face isn't necessarily the most attractive facial shape.
As a result, we've compiled a list of the best Japanese actors working today, including every age range.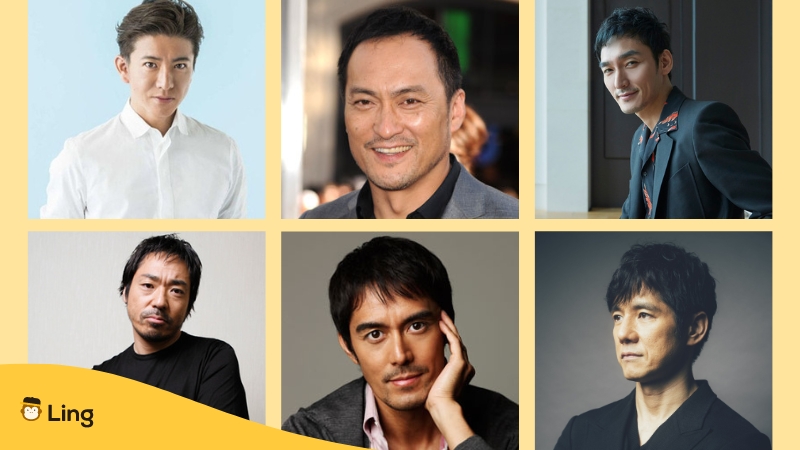 Japanese Actors Over 50
Let's start with the legends of the Japanese entertainment industry. They're all-time superstars who began an acting career young, with some singing careers. The talented actors and their achievements are shown here.
#1 Kimura Takuya (木村 拓哉)
Kimura Takuya, born November 13th, 1972, is a well-versed talent. He first gained fame as a member of SMAP, one of Asia's highest-grossing boy bands. Many institutions have honored him with the Best Actor award.
In addition to his acting career, he is well-known as a musician and radio host in Japan, earning him the status of a cultural icon.
#2 Kagawa Teruyuki (香川 照之)
He received his bachelor's degree in social psychology from the prestigious University of Tokyo in Japan and made his acting debut in the 1989 drama Kasuga no Tsubone.
The Japanese Academy Award, an equivalent of the Oscars, has recognized his exceptional talent by nominating him twice for Best Supporting Actor.
#3 Watanabe Ken (渡辺 謙)
Watanabe Ken's birthday is October 21st, 1959, and he is well-known among English-speaking audiences for his many appearances in foreign films. His first Hollywood debut was in 2003's The Last Samurai, and later films include Inception and Memoirs of a Geisha.
#4 Abe Hiroshi (阿部 寛)
On June 22nd, 1964, Abe Hiroshi was born. He has appeared in over a hundred different movies and TV series. In 1988, he made his acting debut in a Japanese film titled Haikarasan ga Tōru.
Abe's efforts in Still Walking and Aoi Tori earned him the title of Best Actor at the 63rd Mainichi Film Award. A few films later, he appeared in I Wish as one of the supporting characters, directed by the Japanese legend film director Hirokazu Kore-eda.
#5 Kusanagi Tsuyoshi (草彅 剛)
Tsuyoshi Kusanagi was born on July 9th, 1974. Along with Kimura Takuya, he is a former SMAP member. He was in everything: movies, TV shows, and commercials. Plus, he's a Japanese voice actor who's worked on dubs for Robots, Strings, and Mutafukaz.
#6 Nishijima Hidetoshi (西島 秀俊)
Hidetoshi Nishijima, one of Japan's top actors, was born on March 29th, 1971. He has starred in everything from blockbuster fiction to indie art films.
He won the Japan Academy Film Prize for Best Actor in 2021 for his leading role in the highly acclaimed film Drive My Car.
Japanese Actors Over 40
Actors in their forties from Japan. Most of them began their careers at a young age, and despite starting families, they maintained a prolific film and television schedule.
#1 Matsumoto Jun (松本 潤)
Member of the boy band Arashi, Matsumoto Jun was born on August 30th, 1983. Japanese pop star who also acts, hosts radio shows, directs concerts, choreographs dances, and models for fashion magazines.
At age 12, he signed up with the Japanese talent agency Johnny & Associates, where he began his career in the entertainment world.
#2 Oguri Shun (小栗 旬)
Oguri Shun, born on December 26th, 1982, is a Japanese actor and voice actor. Among his many Japanese movie credits are roles in Lupin the 3rd, Crows Zero, and Gintama. A fun fact: his father is a theater director; thus, he got his start as a stage actor.
#3 Takahashi Issei (高橋 一生)
The Japanese actor and musician Takahashi Issei was born in Tokyo, Japan, on December 9th, 1980. His career began in 1990, and in 2018, he won the award for Best Supporting Actor at the 31st Nikkan Sports Film Awards.
#4 Takayuki Yamada (孝之 山田)
On October 20th, 1983, Takayuki Yamada was born into the world. He was in many Japanese films and broke out internationally with the Crows Zero movie series. And the most recent surprise and entertaining Netflix series, The Naked Director, has become a worldwide smash.
#5 Mukai Osamu (向井 理)
Mukai Osamu was born on February 7, 1982. Once featured in Tokyo Graffiti, he was encouraged to become an actor and quit his job as a full-time bartender.
#6 Miyano Mamoru (宮野 真守)
He is a highly great voice actor, and he is a Japanese actor. He has dubbed so many anime series that received the Best Voice Actor Award, but his most outstanding work is Death Note with a burst of evil laughter. He also appeared in numerous live-action films.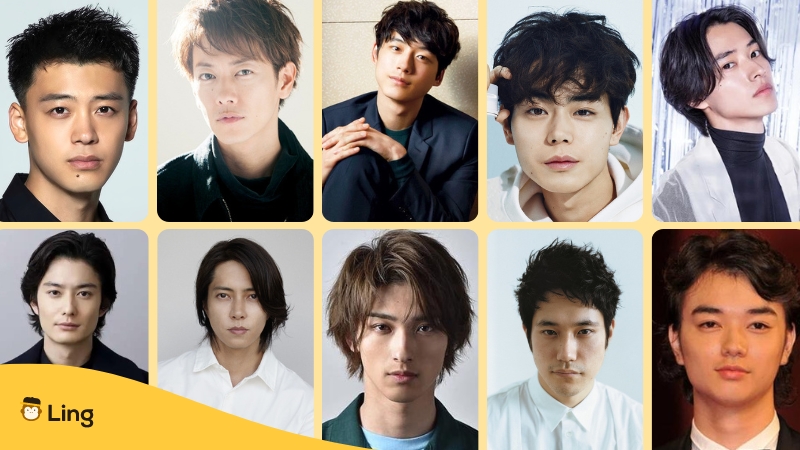 Japanese Actors In Their 20s And 30s
The thirties are a regular time of great success for artists, and Japanese actors are no exception.
See stars on the rise in their 30s are listed below.
#1 Satoh Takeru (佐藤健)
It's no secret that Takeru Satoh's starring role in Rurouni Kenshin has made him a rising star.
He started as a child actor and became a lead role in the Kamen Rider Den-O series. And if you love his work, you shouldn't miss out on his newest Netflix original series, First Love, which is fantastic.
#2 Yamashita Tomohisa (山下 智久)
The name Yamapi has become synonymous with him. At age 11, he signed with Johnny & Associates, a Japanese talent agency, and later, he was parted from the NEWS boy band.
There are many films and TV shows he's been in, but the one getting the most buzz is the second season of Alice in Borderland on Netflix.
#3 Matsuyama Kenichi (松山 ケンイチ)
He is well-known in Japan as an actor who enjoys playing offbeat characters. But, because of his portrayal as L in the film Death Note, he is most recognized on the international market.
#4 Sometani Shota (染谷 将太)
His breakout performances as the lead characters in Himizu and Parasyte have made him a superstar. At the 2011 Venice Film Festival, he was honored with the Marcello Mastroianni Award for Best New Young Actor. After that, he won several more awards.
#5 Okada Masaki (岡田 将生)
He is well-known for his role as Sekime Kyogo in the TV drama Hanazakari no Kimitachi e, a Japanese romantic comedy series.
#6 Suda Masaki (菅田 将暉)
His real name is Sugō Taishō (菅生 大将), while Masaki Suda is the name used in the entertainment industry. Recognizing his outstanding performance in a leading role, he was awarded the Japan Academy Film Prize.
#7 Sakaguchi Kentaro (坂口 健太郎)
He has been working as a model and actor in Japan. 2017's The 100th Love with You marked his debut in a lead role.
#8 Yamazaki Kento (山﨑 賢人)
Kento is a highly skilled actor who's tackled many challenging roles, including "Good Doctor," which led him to win Television Drama Academy Award.
His current most prominent piece is Alice in Borderland, a Netflix series that you should start watching now!
#9 Yokohama Ryusei (横浜 流星)
His golden good looks make him an endearing attraction. Hajimete Koi wo Shita Hi ni Yomu Hanashi, a 2019 romantic comedy-drama, made him famous for portraying the pink-haired Yuri Kyohei.
#10 Takeuchi Ryoma (竹内 涼真)
His real name is Takeuchi Ryo (竹内 崚), a Japanese actor, television personality, and model.
Ryoma started his acting career in 2014 in Kamen Rider × Kamen Rider Drive & Gaim: Movie War Full Throttle.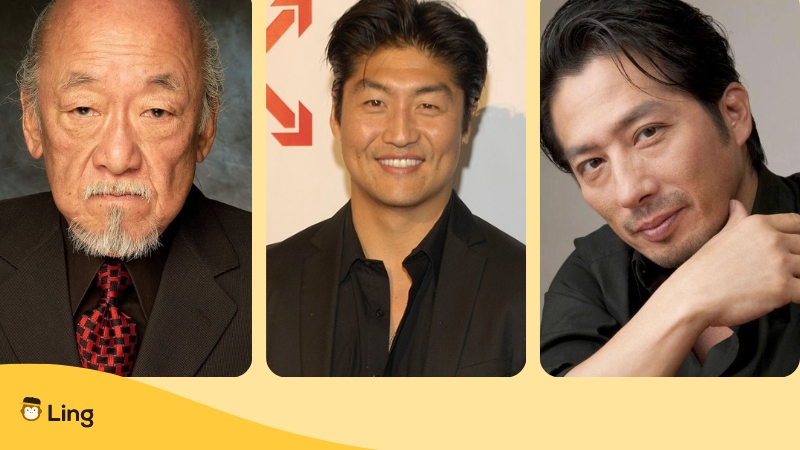 Japanese Actors In Hollywood
If you've ever wondered if any Japanese actors are working in Hollywood, we've got a short list of their names to get you started on some fantastic movies and TV shows!
Sanada Hiroyuki (真田 広之)
Hiroyuki was born in Japan and trained in martial arts. He is well-known worldwide for his parts in films like The Twilight Samurai, The Last Samurai, The Wolverine, 47 Ronin, Avengers: Endgame, Army of the Dead, and many more.
Brian Tee
Tee is a Japanese American actor who was born in Okinawa. His real name is Takata Jaebom (高田 ジェボム). You may recognize him from his roles in films like The Fast and the Furious: Tokyo Drift, Jurassic World, and The Wolverine.
Pat Morita
Morita Noriyuki is his given name. He's an American comedian and actor. Because his parents had migrated to California from Japan, he was born in America. In addition, his performance in The Karate Kid film series earned him a nomination for Best Supporting Actor at the 1985 Academy Award.
Do You Have A Crush On Anyone Here?
It's safe to assume that a fascination with Japanese actors is one of the motivations for some people to study the language and culture. There is a wide range of fascinating cultural practices in Japan to discover, from modern to ancient.
Seeing that you're into Japanese pop culture and adore Japanese stars, why not learn the language in a fun way using the most fabulous app we can recommend?
Learn Japanese With The Ling App
The Ling app gives a colorful lesson that helps you memorize new words and allows you to become familiar with native pronunciation through audio.
Moreover, since you can study whenever and wherever suits you best, you no longer have an excuse for putting off learning the language!
Most Japanese learners chose Ling to help them succeed, so why not join them?
Download the Ling app from Google Play Store and Apple App Store now, and prepare to be fluent in Japanese soon!