Learning a new language can feel like embarking on a thrilling adventure. The prospect of mastering a foreign tongue opens up a world of opportunities and enriches our understanding of different cultures. However, let's face it, the language-learning journey can also be a bit challenging at times. But fear not! With the right tools by your side, the path to fluency in several languages can become remarkably smoother, and that's where this FunEasyLearn review comes into play.
In this article, we'll dive into an exciting review of an app that will have you speaking beyond "Hola," "Bonjour," or "你好" (Nǐ hǎo) in no time! FunEasyLearn offers a user-friendly language learning experience that combines fun and ease with effective techniques. Whether you're a beginner or looking to brush up on your language skills, this app promises to make the process engaging, interactive, and enjoyable. So, grab your virtual passport, and let's explore the world of language learning with FunEasyLearn!
What Is FunEasyLearn?
FunEasyLearn is a language-learning app designed to make the process of acquiring a new language enjoyable and effective. With its user-friendly interface and comprehensive features, FunEasyLearn caters to learners of all levels, from beginners to advanced speakers. The best part about this great app is that at the beginning of the onset, you can enter the age group you belong to in order to get a tailor-made, age-appropriate learning process.
One of the app's standout features is its extensive language library. FunEasyLearn offers a wide range of languages to choose from, including popular options like English, Spanish, French, German, Italian, Korean, Hindi, Chinese, and many more. The app employs a combination of interactive exercises, vocabulary building, and audiovisual aids to engage learners. Each language course is divided into various topics and subtopics, covering essential aspects of grammar, vocabulary, listening, speaking, reading, and writing skills. The content is meticulously curated and structured, providing a well-rounded language-learning experience.
FunEasyLearn's gamified approach adds an element of excitement and motivation. The app incorporates quizzes, games, and challenges to reinforce learning and enhance retention. This interactive aspect not only keeps learners engaged but also helps them practice in a fun and immersive way. Moreover, the app's speech recognition technology enables users to improve their pronunciation by comparing their speech to that of native speakers. This feature allows learners to refine their speaking skills and gain confidence in their ability to communicate effectively.
Furthermore, the premium version of the app provides offline access to its content, allowing users to learn languages anytime and anywhere, even without an internet connection. This feature is especially beneficial for travelers or individuals with limited connectivity. The app's progress tracking system and personalized learning recommendations help learners stay organized and focused on their language goals. Users can monitor their achievements, review completed lessons, and receive tailored suggestions to support and optimize their learning experience.
What is it for: Learning some of the most popular global languages, of the 61 listed in the app.
Who is it for: Everyone. The learning process is categorized into 5 age groups – under 13, 14 to 17, 18 to 24, 25-44, 45 & above.
Level: Beginner to Advanced level.
Languages Offered: 34 languages.
| | | | |
| --- | --- | --- | --- |
| English (British) | English (American) | German | Spanish |
| Arabic | Bulgarian | Catalan | Chinese (Simplified) |
| Chinese (Traditional) | Croatian | Czech | Danish |
| Dutch | Finnish | French | Greek |
| Hebrew | Hindi | Hungarian | Indonesian |
| Italian | Japanese | Korean | Norwegian (Bokmål) |
| Polish | Portuguese (Brazil) | Portuguese (Portugal) | Romanian |
| Russsian | Slovak | Swedish | Thai |
| Turkish | Ukrainian | | |
How Does FunEasyLearn Work?
To start using the app, download it either from the Google Play Store or App Store. One needs to create an account to be able to log into the app. The next step is to select your age group, your target language, and your native language. The good thing about this platform is that you can choose more than one language to learn simultaneously. Moreover, you can set your daily learning goal by deciding to spend either 5 minutes, 10 minutes, 20 minutes, or 30 minutes per day on the app.
You can also set reminders according to your schedule to set aside some spare time for your learning process. At the next step, you are asked whether you would like to register with the app in order to save your learning process, just like any other game app. You can register via your email or through popular platforms like Gmail, Facebook, Apple, Microsoft, Yahoo, or Google Play.
Once done, you are given two options – either to start as a beginner or test your level if you have any previous knowledge of your target language. As a beginner, you are taken to the 'Learn' page with 'Words' being the default lesson, along with 'Alphabets' and 'Sentences.' Thus starts your language-learning journey on the FunEasyLearn app. For completing every lesson successfully, you earn flowers that you can use to buy hints from the store. If using a free version, you can also use these flowers to buy a subscription, but it takes a long time to collect those many flowers because with every mistake or wrong answer, you lose them.
What Are Its Pros & Cons
| Pros | Cons |
| --- | --- |
| Offline mode | A limited number of languages offered |
| Hands-free mode & deaf-mode | Not challenging enough for advanced learners |
| Video tutorials to navigate the app | Only a 7-day free trial as compared to other apps |
| Option to change your native-language mid-way | |
| Option to reset the tutorials | |
| Review and search features | |
| Alphabet and reading rules | |
FunEasyLearn User Interface & Design
The FunEasyLearn app boasts an authentic and intuitive user interface, designed to create a seamless and enjoyable language-learning experience for users of all ages and proficiency levels. Upon launching the app, users are greeted with a visually appealing and clutter-free home screen, showcasing the extensive library of available languages. The Bumblebee mascot looks cute enough to be the face of the app.
The app's user interface is thoughtfully organized, allowing learners to navigate effortlessly through various language courses and topics. Each language is neatly categorized, making it easy for users to find their desired course with just a few taps. Whether you're a beginner or an advanced learner, the app accommodates all skill levels, ensuring everyone can start their language journey at the appropriate stage.
The lessons themselves are presented in a visually engaging and interactive manner. The use of vibrant colors, playful animations, and clear icons adds an element of fun to the learning process. However, compared to some other language-learning apps like Duolingo or Ling, these animations and illustrations might pale in comparison. Nevertheless, the user interface is designed to provide a consistent experience across all language courses, ensuring learners can focus on the content without distraction.
Within each lesson, learners can access comprehensive study materials, including vocabulary lists, alphabet writing, reading rules, and audio recordings by native speakers. The app's well-structured layout and user-friendly design make it easy to switch between different lesson components, encouraging users to explore and reinforce their understanding.
The incorporation of gamified elements further enhances the user experience. Quizzes, games, and challenges are seamlessly integrated into the lessons, encouraging active participation and knowledge retention. The progress tracking feature, though paid, allows users to monitor their achievements, motivating them to stay on track and reach their language-learning goals.
Overall, FunEasyLearn's user interface and design create an authentic and engaging language-learning platform. The app's seamless navigation, visually appealing layout, gamified elements, and speech recognition technology all contribute to a well-rounded and user-friendly experience.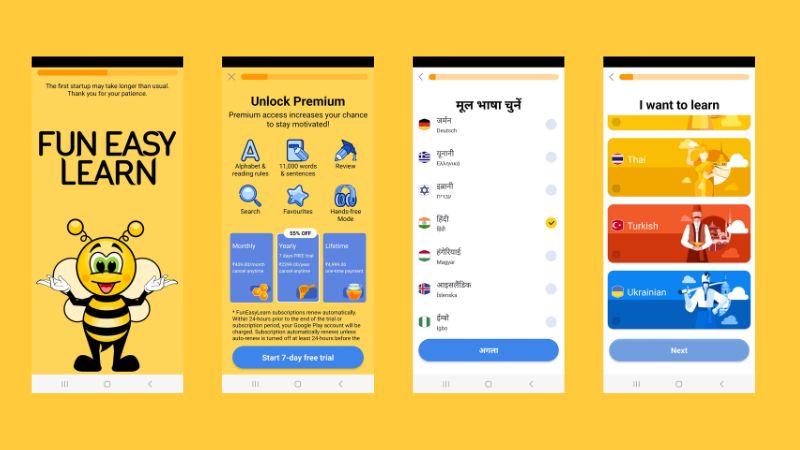 FunEasyLearn App Features
FunEasyLearn offers a range of prominent features to facilitate language learning. From its extensive language library and comprehensive content to interactive exercises, gamified learning, speech recognition technology, and native speaker audio, the app aims to provide a well-rounded and engaging language-learning experience for learners of all levels. Other features include vocabulary-building tools, offline access, progress tracking, and personalized recommendations. Let us take a look at these features in detail.
#1 Extensive Language Library
FunEasyLearn offers a wide range of languages to choose from, including popular options like English, Spanish, French, German, Italian, Chinese, and many more. This comprehensive language library ensures learners have access to the language they desire to study.
#2 Comprehensive Content
The app provides a structured language-learning experience with well-divided courses, topics, and subtopics. It covers essential aspects of grammar, vocabulary, listening, speaking, reading, and writing skills. Each lesson is designed to teach and provide a well-rounded understanding of the language.
#3 Interactive Exercises
FunEasyLearn incorporates interactive exercises to engage learners actively. These exercises involve tasks such as 'Translate Phrases,' 'Listen & Choose,' 'Listen & Write,' and 'Find the Image.' One of the best features I found was learning to write the alphabet. By interacting with the content, learners reinforce their knowledge and improve retention.
#4 Gamified Learning
The app employs gamification techniques to make the learning process fun and engaging. Quizzes, games, and challenges like 'Match Phrases,' 'Find the Mistake,' 'Fill in the Blanks,' and 'Write the Word' are integrated into lessons, allowing learners to test their knowledge, earn points, and unlock achievements. This gamified approach enhances motivation and encourages active participation.
#5 Speech Recognition Technology
FunEasyLearn's speech recognition feature enables learners to practice their pronunciation. By comparing their speech to that of native speakers, users can improve their accents and fluency. This real-time feedback helps build confidence in speaking and ensures accurate language production.
#6 Vocabulary Building
The app emphasizes vocabulary acquisition through word lists, flashcards, and audio recordings. It boasts 6000 words and 5000 phrases or sentences (in popular languages). Learners can study and review vocabulary in a structured manner, enabling them to expand their language proficiency and communication skills.
#7 Offline Access
FunEasyLearn premium allows offline access to its content, enabling learners to study and learn, even without an internet connection. This feature is particularly useful for travelers or individuals with limited connectivity, ensuring language learning remains accessible at all times.
#8 Progress Tracking
The premium version of the app includes a progress-tracking system that allows learners to monitor their achievements and track their learning journey. Users can review completed lessons, track their overall progress, and receive personalized recommendations for further study.
#9 Personalized Learning Recommendations
FunEasyLearn provides tailored suggestions based on learners' performance and preferences. Once notifications are turned on, these recommendations in the form of 'Tips' guide users toward relevant lessons and topics, optimizing their language-learning experience.
#10 Native Speaker Audio
The app incorporates audio recordings by native speakers, ensuring learners receive authentic pronunciation and intonation examples. Hearing the language spoken naturally enhances listening comprehension and helps users develop a more natural speaking style.
How Much Does The FunEasyLearn App Cost?
The FunEasyLearn app offers different subscription plans to cater to the diverse needs of language learners. The pricing structure may vary depending on factors such as region and platform. Here are the general subscription plans that FunEasyLearn offers.
Free Version: FunEasyLearn provides a free version of the app, allowing users to access a limited selection of lessons and basic features. This option is a great way to explore the app and get a feel for its interface and content before committing to a subscription. And if you really wish to keep on using the free version, you have the option of collecting enough flowers to buy a subscription plan from the store.
Monthly Subscription: The monthly subscription plan grants users access to the full range of features and content within the app for a month. This $3.99/month plan is suitable for those who prefer a shorter commitment or want to try out the app for a limited period while learning only one language. To add more than one language to the cart, one needs to shell out $6.99/ month.
Semi-Annual Subscription: For learning one language, the semi-annual or 6-month plan costs $14.99 instead of its original plan of $23.94, thanks to a 40% discount being offered. This breaks down to $2.49/ month. But if you wish to learn more languages simultaneously, you need to spend $29.99, which breaks down to $4.99/ month. This price has been slashed from $41.94.
Annual Subscription: The one-year subscription plan offers a more cost-effective option for long-term learners. Subscribers enjoy unrestricted access to all features and content for a year, providing ample time to progress through multiple levels and courses by paying a subscription fee of $21.99 for one language and $44.99 for more languages. This works out to $1.79 and $3.69 per month, respectively.
Lifetime Subscription: FunEasyLearn also provides a lifetime subscription option, which grants users unlimited access to the app's features and content for as long as the app is available. This plan is ideal for dedicated language learners who are committed to long-term language acquisition and want ongoing access without worrying about recurring payments. To access this version, you need to shell out $49.99 for learning one language and $99.99 for multiple languages.
Note: Pricing and subscription options may be subject to change, so it's recommended to refer to the most up-to-date information provided by FunEasyLearn.
How Did I Use FunEasyLearn: App Review
I tested the app by choosing two foreign languages and one native language: Hindi, my mother tongue, French, in which I have CEFR B1 proficiency (or Level 6 – Advanced 1, according to the test result by the app), and Korean as a complete novice.
What I liked
A daily challenge similar to Wordle for guessing a new word every day. It works to keep you hooked.
Learning to write Korean letters by tracing them on the screen. I liked the emphasis given to getting the shape correct.
Allows you to take a test to ascertain your language level. But to start at an advanced level, you need to buy the premium plan.
I could make changes to my goal settings and increase or decrease the number of lessons per unit.
I could choose to increase the speed of the game by shortening the time between the exercises.
The search option (in the premium mode) allows you to search from a huge list of glossaries. You can also add words and sentences to your Favorites to go back to them later.
The option to work on the offline mode.
The freedom to use my own system keyboard.
Areas Of Improvement
Tracing alphabet exercises can do well with much more room for allowing errors in tracing the shape with your fingers, particularly for kids as well as individuals with finger movement issues.
Alphabet learning could be allowed as an unlocked feature in the free version. That way, the learner would be able to recognize and learn the entire alphabet at the start when it comes to non-Latin script languages like Korean or Hindi.
Advanced learners may find that the app's interactive exercises and gamified features are more focused on beginner or intermediate levels. As learners progress to more advanced stages, the app's interactive elements may become less challenging or engaging, potentially leading to a less dynamic learning experience.
Users interested in studying lesser-known languages need to seek alternative resources or platforms to fulfill their language-learning goals.
Review Round-Up
In my opinion, FunEasyLearn is a powerful app that combines a user-friendly interface, comprehensive content, gamified exercises, and interactive features to make learning a new language both enjoyable and effective. It has quickly become one of my favorite apps for learning languages like Korean or Traditional Chinese with non-Latin scripts. Whether you're a beginner or an advanced learner, this app is designed to accompany you on your language-learning journey and help you achieve fluency in a fun and engaging way.
Learn 60+ Languages With Ling
FunEasyLearn is one of the best language apps out there. However, it does fall short when it comes to offering a wider variety of options to choose from. Here steps-in the Ling app – a total game changer, especially when it comes to learning lesser-known languages like Khmer, Malayalam, Urdu, and so on.
The Ling app is truly an innovative app that transforms the way you can learn languages! With its gamified interface, language acquisition becomes an immersive adventure, keeping you motivated and engaged throughout your journey. Explore over 60 languages at your fingertips, from popular choices like Spanish and French to fascinating languages like Thai and Swahili.
The learning comes in bite-sized, easily digestible learning modules. Our lessons are designed to fit seamlessly into your busy lifestyle, allowing you to learn anytime, anywhere. And to make learning even more enjoyable, we've incorporated fun quizzes that challenge your skills and track your progress. Prepare to level up and become a true language maestro!
But it doesn't stop there. Ling understands that language is meant to be spoken, so we've included audio exercises featuring native speaker voices. Immerse yourself in authentic pronunciation, fine-tune your accent, and feel confident speaking like a local. Whether you're a beginner or an advanced learner, Ling is your personalized language tutor, guiding you toward fluency with ease and joy. Our user-friendly platform caters to all levels and adapts to your unique learning style.
Don't miss out on the chance to unlock a world of new words, connections, cultures, and opportunities. Download the Ling app now from either Google Play Store or App Store, and embark on your language-learning adventure today. Seize the moment, expand your horizons, and let Ling be your passport to linguistic success!