Step onto the sun-kissed shores of Kerala, India, with Malayalam words for the beach in your basket —you're in for a beachy paradise that's as refreshing as a splash of coconut water on a hot day! Imagine golden sands that beg for your footprints, waves that waltz to their own rhythm, and lush palm trees swaying in the breeze like they're at a beach party. Each stretch of coastline brings its own flavor to the sandy table, whether you're chilling at the ever-popular Kovalam Beach or planning to travel to Varkala Beach.
Meaning to say, learning the lingo of the local beach scene isn't just about scoring points for linguistic style. It's your golden ticket to join the beach bonanza with the friendly folks around and dive headfirst into the coastal culture. So, grab your shades and flip-flops, and let the waves of Malayalam carry you to a beach adventure like no other!
Essential Malayalam Words For The Beach
Things To Bring
To make the most of your beach getaway, it's time to pack smart. Grab that sunscreen to battle the sun's rays, pick out your coolest swimwear, and top it off with a stylish wide-brimmed hat for that perfect shade. Get the lowdown on these must-haves and dive into the beauty of Kerala's beaches while giving a high-five to Mother Nature.
| English | Malayalam | Pronunciation |
| --- | --- | --- |
| Sunscreen | സൂര്യനിറവ് | Surya niravu |
| Beach towel | കടൽ പൊന്നു | Kadal ponna |
| Swimsuit | സ്വിംസൂട്ട് | Swimsuit |
| Hat | തൊപ്പി | Toppi |
| Sunglasses | സുന്ദരഗ്ലാസ് | Sundaraglas |
| Beach bag | കടൽ പുര | Kadal pura |
| Water bottle | വെള്ളം പാത്രം | Vellam pathram |
| Snacks | നാലുപ്പടി | Naluppaṭi |
| Beach umbrella | കടൽ ഛായ | Kadal chāya |
| Beach chair | കടൽ കുരിശ് | Kadal kurishu |
| Extra clothes | അധിക വസ്ത്രങ്ങൾ | Adhika vastrangal |
| Flip-flops | ഫ്ലിപ്പ്-ഫ്ലോപ്പുകൾ | Flip-flops |
| Beach toys | കടൽ പിള്ള | Kadal piḷḷa |
| Cooler with drinks | പാനീയങ്ങൾ ഉള്ള കൂലർ | Pānīyaṅṅaḷ uḷḷa kūlār |
| Camera | ക്യാമറ | Kyāmaṟa |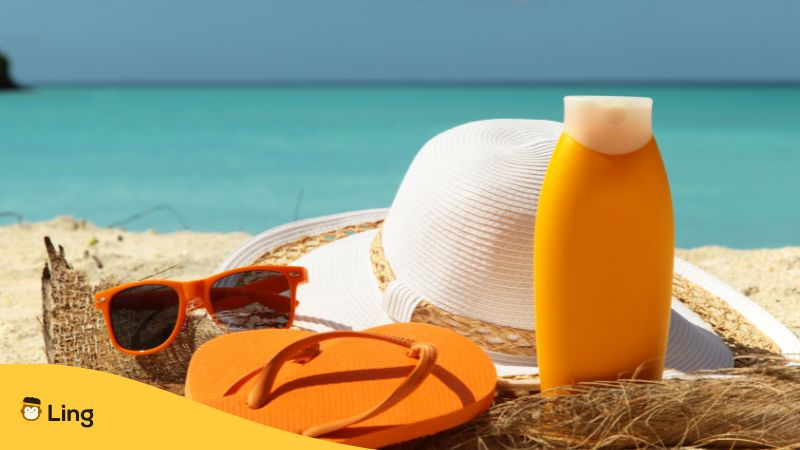 Outfits To Wear
With Kerala's mix of nature and culture, nailing the outfit game is key. Think light, comfy cotton outfits that let the ocean breeze in, splash-ready swimwear, and chic cover-ups for that beach-to-cafe transition. And hey, cultural respect is cool too! Opt for modest attire when wandering beyond the sands. Slip into flip-flops or sandals for that easy-breezy vibe.
| English | Malayalam | Pronunciation |
| --- | --- | --- |
| Swimsuit | സ്വിംസൂട്ട് | Swimsuit |
| Swim trunks | സ്വിം ട്രങ്കുകൾ | Swim trankukaḷ |
| Bikini | ബിക്കിനി | Bikkini |
| Board shorts | ബോർഡ് ഷോർട്ട് | Bōrd shoṟṟṟṯ |
| Rash guard | റാഷ് ഗാർഡ് | Ṛāṣ gārḍ |
| Cover-up | കവർ-അപ്പ് | Kavar-app |
| Sun hat | സൂര്യഹാട്ട് | Sūryahāṭṭ |
| Sunglasses | സുന്ദരഗ്ലാസ് | Sundaraglas |
| Flip-flops | ഫ്ലിപ്പ്-ഫ്ലോപ്പുകൾ | Flip-flops |
| Beach sandals | കടൽ സണ്ണലുകൾ | Kadal saṇṇalukaḷ |
| Beach cover-up dress | കടൽ കവർ-അപ്പ് ഡ്രസ്സ് | Kadal kavar-app ḍrass |
| Hat with a wide brim | പരമ വിളിയുള്ള ഹാട്ട് | Param viḷiyuḷḷa hāṭṭ |
| Light and breathable clothing | കൊളുത്തുമാത്രം എളുപ്പത്തിൽ വസ്ത്രം | Koḷuttumāṟṟaṁ eḷuppatiṟṟil vastram |
| Beach sarong | കടൽ സരോങ്ങ് | Kadal sarōṅṅ |
| Loose shorts | പൊന്നാനകൾ | Ponnaānakaḷ |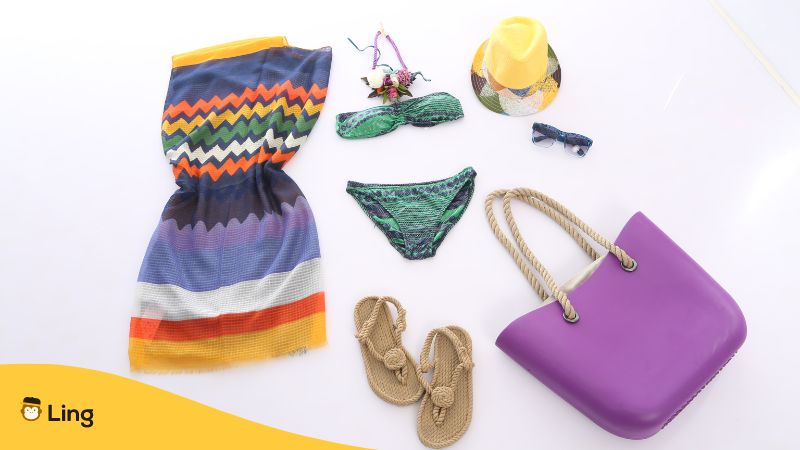 Activities In The Beach
Discovering the awesome activities to enjoy along Kerala's coast is like unlocking a hidden treasure chest. Imagine sunrise beach strolls that'll soothe your soul or wild water sports that'll give you an adrenaline rush like no other. Knowing these terms would ensure that your time in Kerala's beach paradise becomes an unforgettable whirlwind of experiences.
| English | Malayalam | Pronunciation |
| --- | --- | --- |
| Swimming | സന്ദര്‍ശനം | Sandardhanam |
| Sunbathing | സൂര്യപ്രാര്‍ഥന | Sooryaprarthanam |
| Building sandcastles | മണ്ണ് കുട്ടികളും നിര്‍മ്മിക്കുന്നത് | Mann kuttikalum nirmmikkunnathu |
| Beach volleyball | കടൽ വോളിബോള | Kadal vōḷibōḷ |
| Frisbee | ഫ്രിസ്‌ബി | Frisbi |
| Picnicking | പിക്‌നിക്ക് | Piknikku |
| Beachcombing | കടൽ കുട്ടികൾ | Kadal kuttikal |
| Snorkeling | സ്നോർക്കലിങ് | Snōrkkaḷiṅ |
| Surfing | സർഫിംഗ് | Sarphing |
| Jet skiing | ജെറ്റ് സ്കിയിങ്ങ് | Jeṟṟṟ skiiyiṅṅṅ |
| Beach photography | കടൽ ഫോട്ടോഗ്രാഫി | Kadal phōṭṭōgrāphi |
| Beach yoga | കടൽ യോഗ | Kadal yōga |
| Beach bonfire | കടൽ ബോൺഫയർ | Kadal bōṇphayar |
| Beachside strolls | കടൽ പാതയിലൂടെ നടക്കുക | Kadal pāthayilūṭe ṉaṭakkuka |
| Beach games | കടൽ ആടുകൾ | Kadal āṭukaḷ |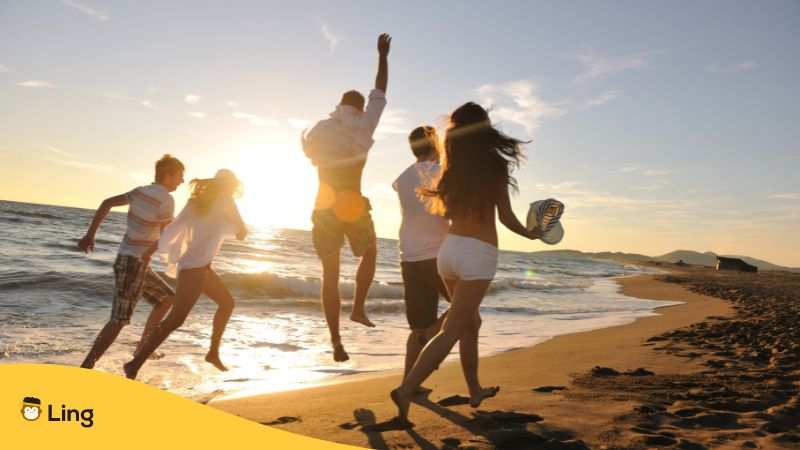 How To Have An Amazing Beach Experience?
Embrace the Kerala beach symphony – fun, sun, and memories in every ripple with these tips!
Choose the Right Beach: Kerala's coastlines offer a buffet of beaches! Seeking action, serene vibes, or a splash of adventure? Take your pick from the likes of Kovalam, Varkala, Cherai, and Marari.
Visit During the Right Season: Ride the perfect wave of weather! October to March is your golden ticket for sun-soaked days and calm seas, tailor-made for swimming and beach frolics.
Sun Protection: Outsmart the sun's rays! Slather on sunscreen, rock a snazzy hat, chic shades, and breezy attire to strut your stuff without the burn.
Stay Hydrated: Stay cool, stay quenched! Pack a refillable water buddy to beat the heat and keep the good times flowing.
Comfortable Clothing: Let comfort take the stage! Slip into comfy cottons, flaunt stylish swimsuits, cover-ups, and your fave flip-flops – the beach is your runway.
Respect Local Customs: Embrace the chill while being a respectful thrill. Respect local norms, don modest attire off the beach, and sync with Kerala's spirit.
Try Local Cuisine: Get a taste of coastal delights! Kerala's seafood fiesta awaits, so savor fish curry, appam, and munchy banana chips from beachside hangouts.
Responsible Tourism: Be a beach hero, not a litter culprit. Toss trash smartly, consider lending a hand in beach cleanups, and be the eco-warrior the sands adore..
Cultural Experiences: Unearth local gems! Tune in to beachy beats with traditional tunes, dances, and festivals that add a dash of culture to your getaway.
Relaxation: Make zen your beach BFF. Let the waves serenade you, book in hand, stress out the door – ultimate beach therapy.
Photography: Capture life's brightest moments! Frame the stunning panoramas, vibrant locals, and spellbinding sights, sealing memories for eternity.
Learn The Malayalam Language With Ling!
Now, let us introduce you to your next language-learning ally—Ling! This linguistic wizardry comes packed with features that are as captivating as the golden hues of a beach sunset. Imagine interactive lessons that nudge you to dive into practice, making learning feel like an exhilarating beach game. Ling doesn't just stop at Malayalam; it's your gateway to a treasure trove of languages and educational goodies.
So, don't let this chance sail by—grab Ling from the Google Play Store or the App Store, and embark on a linguistic voyage that's as enchanting as a stroll along the shores of knowledge. Let the language waves carry you to fluency shores. Happy learning!