Ready to jazz up your Halloween with an unexpected twist this year? How about delving into a treasure trove of Lithuanian words for Halloween that are as spine-tingling as they are intriguing? These aren't just any random words—these are 60+ cool, somewhat chilling Lithuanian expressions specially tailored for All Hallows' Eve.
In Lithuania, Halloween festivities plunge you right into the heart of a timeless yet evolving custom. Before you know it, you're immersed in celebrations that uniquely blend the traditional and modern, echoing age-old beliefs while resonating with global trends. Let's get to know more about this in the sections below!
Halloween In Lithuania
While not traditionally celebrated, the recent years have seen a surge of Halloween festivities ("Helovyno šventės") among the younger generation influenced by global cultures. Children and adults alike embrace the spirit of "Helovynas," diving right into the fun of trick-or-treating and costume parties. The urban streets often come alive with carved pumpkins, and cafes shake up their menus with Halloween-themed treats.
But it isn't all borrowed traditions. The Lithuanians have their special touch! Some observe ancient Samhain customs by lighting bonfires and sharing ancestral tales, keeping an age-old candle lit in the midst of contemporary trends.
Lithuanian Words For Halloween
Common Words During Halloween
Trick or Treat! Have those words sent chills up your spine yet? If not, get ready as we delve into the universe of "Common Words During Halloween." This journey delivers the best kind of spooky vibes! Right from fluttering bats to eerie graveyards, Halloween offers a vibrant lexicon as assorted as the assortment of candies in one's trick-or-treat bag.
In the spirit of this frightfully delightful occasion, we've concocted a neat little list to arm you with Halloween lingo. Before you know it, you'll be chatting about ghouls, witches, and mummies like a seasoned Halloween linguist.
| English | Lithuanian |
| --- | --- |
| Pumpkin | Moliūgas |
| Jack-o'-lantern | Šviesuolė |
| Costume | Kostiumas |
| Witch | Ragana |
| Ghost | Vaiduoklis |
| Bat | Šikšnosparnis |
| Spider | Voras |
| Web | Tinklas |
| Haunted house | Vaiduoklių namas |
| Candy | Saldainiai |
| Trick-or-treat | Šmaikščioji arba mielės |
| Skeleton | Skeletas |
| Zombie | Zombis |
| Vampire | Vampyras |
| Werewolf | Vilkolakis |
| Broomstick | Šluota |
| Cauldron | Kotlas |
| Black cat | Juodasis katinas |
| Full moon | Pilnatė |
| Tombstone | Kapų akmuo |
Creepy-Related Words
While Halloween isn't a long-standing Lithuanian tradition, the ghostly vibes are spreading like wildfire among locals and explorers alike. Amp up the fun by learning how to describe ghostly stories like "šiurpulingas" (spooky) and "šalčiantis kraują" (chilling). It's not just vocabulary – it's a passport to spine-tingling conversations and chilling festivities!
| English | Lithuanian |
| --- | --- |
| Eerie | Bauginantis |
| Spooky | Šiurpulingas |
| Macabre | Makabriškas |
| Sinister | Nuodėmingas |
| Haunting | Siaubo keliantis |
| Creepy | Baisus |
| Ghoulish | Gadynės panašus |
| Petrifying | Apakintis nuo baimės |
| Chilling | Šalčiantis kraują |
| Menacing | Grasinantis |
| Gruesome | Šlykštus |
| Mysterious | Paslaptingas |
| Ominous | Pikto ženklo |
| Shadowy | Šešėlinis |
| Uncanny | Keistai žavus |
| Supernatural | Viršnatūralus |
| Cursed | Prakeiktas |
| Freaky | Išgąsdinantis |
| Monstrous | Pabaisas |
| Frightening | Gąsdinantis |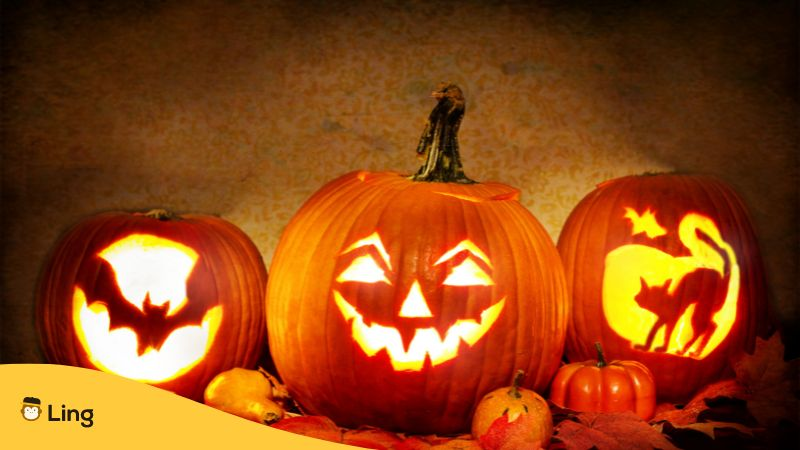 Lithuanian Phrases To Use For Halloween
As a ghoul on a haunting spree, knack for snide remarks at a ghostly gathering, or simply a Halloween enthusiast, you can never have too many Lithuanian phrases up your sleeve. So, let's unearth more perfectly haunting Lithuanian expressions to add to your spellbook. Remember, say them with an attitude that adds an eerie twist to every syllable.
Trick Or Treat
Gyvai arba ką tik nori: This phrase, translating to "Alive or anything you want," puts a thrilling Lithuanian spin on the classic Halloween catchphrase. Toss around these words for a spooky surprise!
Happy Halloween
Linksmų Helovyno: Throw around this gleefully ghoulish expression to wish everyone a spirited Halloween that's bursting with both fright and fun!
Beware Of The Witch
Sausi ragana: Use this fun phrase to caution your friends about the witch lurking in the shadows. Remember, it's all 'wrapped' up in good, spooky fun!
Watch Out For Bats
Žiūrėk į šikšnosparnius: Whether you're exploring a haunted house or taking a stroll in moonlit streets, keep this phrases handy—after all, you never know where those bats hang out.
Night Of Goblins And Ghouls
Naktis goblinų ir pabaisų: Bring a mystical touch to your Halloween story-telling with this enchanting phrase. You can feel the thrill in every word!
Eerie Winds Are Blowing
Niūrus vėjai pučia: Set the spooky scene with this chilling phrase—it'll give everyone the goosebumps they crave on Halloween night!
Beware Of Haunted Pumpkins
Saugokitės apsėstų moliūgų: A funny, quirky phrase to remind everyone that not all Halloween pumpkins are as innocent as they seem.
Cursed By The Full Moon
Prakeiktas pilnaties: Use this glamorous phrase for an extra dash of drama whenever you speak of the iconic Halloween full moon!
Remember: it's not just about the words. Infuse them with a playful spirit, an ominous twinkle in your eyes, and a wicked grin on your face as you embark on these linguistic adventures. Enjoy the ride and keep your Halloween vibe alive (or undead) with these quintessential Lithuanian phrases!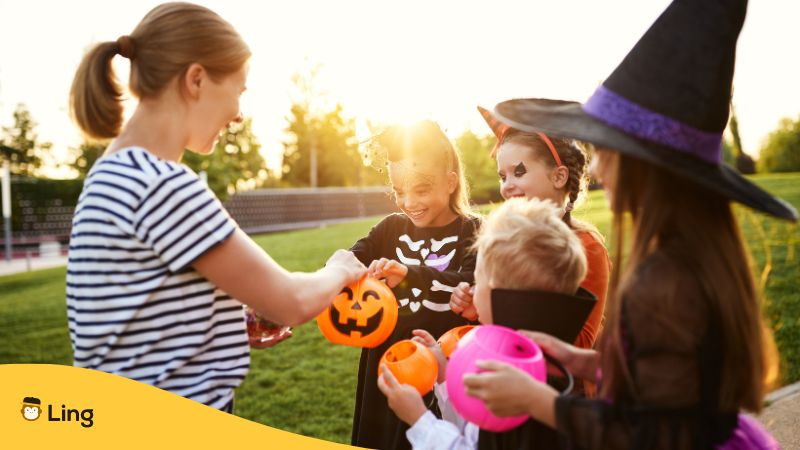 Learn The Lithuanian Language With Ling!
Delving into Lithuanian Halloween lingo and feeling a shiver of excitement? Quench your language thirst – embark on a journey wrapped in the intriguing blend of language and culture with the Ling app! Its interactive games aren't your average jack-o'-lanterns; they penetrate language barriers and transmute learning into an adventure as enthralling as a haunted hayride.
From hair-raising phrases to audible treats with a supernatural twist, Ling wields sorcery to transform language learning into a captivating experience. With just a smidgen of time invested daily, you'll evolve into a linguistic wizard, enchanting natives with your fluency.
Whether you're nestled in your cobwebbed study with your desktop or wandering through a labyrinth of tombstones with your trusted mobile companion, Ling is that phantom presence that seamlessly weaves into your routine. Plunge into the coven now? Download the Ling app today on Google Play and the App Store today.