Are you considering trying the computers from Laos? Maybe you may also find it challenging to ask for help whenever a problem occurs with your internet and can't think of a Lao word to express it. Phew, that must be tough! So grab your phone and get ready for the notes app, as this blog will dive into the tech-tastic world of Laos and discover technology words in Lao for you to use when chatting with the locals!
Technology In Lao
Being fluent and able to communicate technology words in Lao may be necessary and enjoyable. The usage of technology, simply translated as "ເຕັກ​ໂນ​ໂລ​ຊີ​" (tek on ol si) in Lao, is present everywhere, especially throughout the world. Therefore, learning and expressing technological concepts to adapt to these changes would be beneficial.
Today, it has one of the top telecommunications sectors that develops and connects the nation to promote commerce, accessibility, and sustainability. So if you have ever wondered about making a tour of the beautiful land of Laos, then you need to know that even while it is well known for its traditions, the country is also embracing modern technologies. Their digital ecosystem is developing rapidly due to increased internet usage and the number of IT firms.
At the same time, the nation's commitment to inclusivity and preservation of its cultural legacy as they confidently face the future is also equally commendable! You may still enjoy the beauty and great pride in its cultural heritage, which includes the traditions made every holiday, delicious food, ceremonies, and fantastic handicrafts. If you can't get enough, you may visit some of Laos' stunning places to relax your mind from the technology. Isn't that wonderful?
So buckle up as we proceed with the list of technology words in Lao!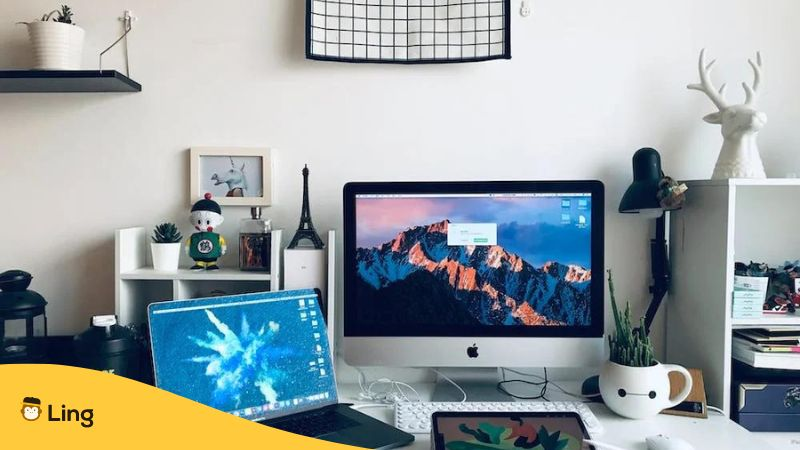 Technology Words In Lao
Computer – ຄອມ​ພິວ​ເຕີ (khom phiv toe)
A computer is known as "ຄອມ​ພິວ​ເຕີ" (khom phiv toe) in Lao and has completely changed the way we live by allowing us to complete a wide range of jobs quickly.
Start – ເລີ່ມ (loem)
You "ເລີ່ມ" (loem) it when you turn on a gadget or start a procedure. We can access a computer's features by turning it on.
Keyboard – ແປ້ນພິມ (aepnphim)
The input tool for typing characters into a computer is called "ແປ້ນພິມ" (aepnphim). Keyboards come in various layouts, facilitating textual input.
Programming Language – ພາສາການຂຽນໂປລແກລມ (phasa kankhian opl aeklm)
Programming languages or "ພາສາການຂຽນໂປລແກລມ" (phasa kankhian opl aeklm) are the means through which we connect with computers. We can develop apps and software using these languages.
Shutdown – ປິດ​ເຄື່ອງ (pid kheuong)
You press the "ປິດ​ເຄື່ອງ" (pid kheuong) key on a computer to shut it down. The system's health is preserved via a proper shutdown.
Laptop – ແລັບທັອບ (laeb thaob)
Laptops offer convenience and flexibility, and the name "ແລັບທັອບ" (laeb thaob) refers to a portable computer that may be used while traveling.
Technology Devices And Accessories In Lao
Smartphone – ໂທລະສັບສະຫຼາດ (othlasab sarad)
The "ໂທລະສັບສະຫຼາດ" (othlasab sarad) or smartphone has evolved into our go-to device for communication and a variety of other uses.
Headphones – ຫູຟັງ (hu fang)
We utilize "ຫູຟັງ" (hu fang) or headphones to listen to sounds quietly. They are available in both wired and wireless varieties.
Mouse – ຫນູ (nu)
In order to navigate the graphical user interface when using a computer, a "ຫນູ" (nu) or mouse is used.
Battery Life – ຊີວິດຫມໍ້ໄຟ (sivid mofai)
The term "ຊີວິດຫມໍ້ໄຟ" (sivid mofai) or battery life refers to how long a gadget can function without using external power. Longer battery life is always desired.
Internet And Connectivity
Internet – ອິນເຕີເນັດ (intoened)
The "ອິນເຕີເນັດ" (intoened) or "internet" has brought people together and given them access to large informational resources.
Router – ເຣົາເຕີ (rao toe)
In order to provide network connectivity and internet access, we make use of "ເຣົາເຕີ" (rao toe) or routers.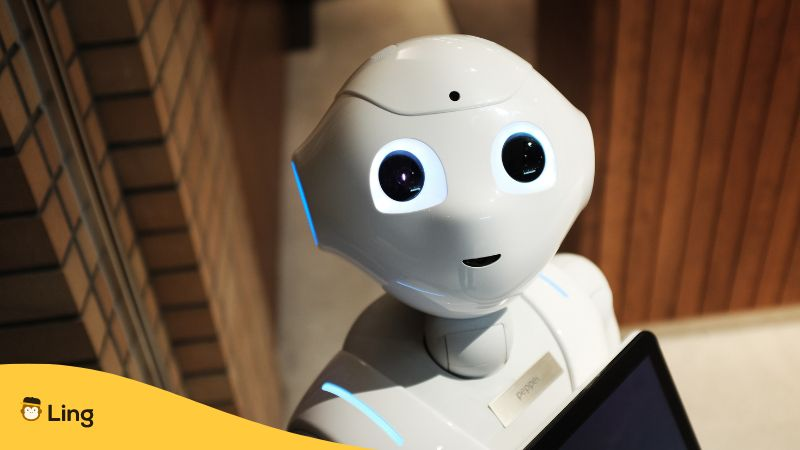 Other Technology-Related Words In Lao
Now that you have learned some of the technology words in Lao, let's explore more examples of them from below:
Transportation-related Machines
Car – ລົດ (lot)
Motorcycle – ລົດຈັກ (lodchak)
Bicycle – ລົດບາງ (lot bang)
Train – ພາລະກິດ (phalaakid)
Household Appliances
Television – ໂທລະພາບ (othlaphab)
Refrigerator – ຕູ້ເຢັນ (tuyen)
Washing Machine – ຈັກ​ຊັກ​ເຄື່ອງ (chak sak kheuong)
Microwave – ໄມໂຄເວຟ (maiokh ve f)
Blender – ເຄື່ອງປັ່ນ (kheuongpan)
Rice Cooker – ຫມໍ້ຫຸງເຂົ້າ (mo hungkhao)
Toaster – ເຕົາອົບ (taoob)
Vacuum Cleaner – ເຄື່ອງ​ດູດ​ຝຸ່ນ (kheuong dudfun)
Air Conditioner – ເຄື່ອງ​ປັບ​ອາ​ກາດ (kheuong pab akad)
Iron – ທາດເຫຼັກ (thad heak)
Industrial Machines
Conveyor Belt – ສາຍແອວລໍາລຽງ (sai aeoualoaliang)
Welding Machine – ເຄື່ອງເຊື່ອມ (kheuongseuom)
Generator – ເຄື່ອງກໍາເນີດໄຟຟ້າ (kheuong koanoed faifa)
Robotics And Automation
Robot – ຫຸ່ນຍົນ (hunnyon)
Automation – ອັດຕະໂນມັດ (adtaonmad)
Aerospace Terminology
Aircraft – ເຮືອບິນ (heuobin)
Rocket – ບັ້ງໄຟ (bangfai)
Satellite – ດາວທຽມ (dauathiam)
Space Station – ສະຖານີອາວະກາດ (sathanioauaakad)
Spacecraft -ຍານອະວະກາດ (nyanoauaakad)
Spaceship – ຍານອະວະກາດ (nyan auaakad)
Medical Equipment
Stethoscope – ເຄື່ອງກວດສຽງ (kheuang mee khawm din)
X-ray Machine – ເຄື່ອງ X-ray (kheuong Xray)
MRI Machine – ເຄື່ອງ MRI (kheuong MRI)
Ultrasound Machine – ເຄື່ອງ Ultrasound (kheuong Ultrasound)
Surgery – ການຜ່າຕັດ (kanphatad)
Defibrillator – ເຄື່ອງດູດເລືອດ – (kheuong dudleuod)
Ventilator – ເຄື່ອງລະບາຍອາກາດ – (kheuong labai akad)
Examples Of Technology Words In Lao Sentences
Want to use the words we covered above in complete sentences? Here are some easy-to-use sentences for total beginners.
| | | |
| --- | --- | --- |
| English | Lao | Pronunciation |
| I use a computer. | ຂ້ອຍໃຊ້ຄອມພິວເຕີ. | khonysai khomphiuatoe |
| The internet is fast. | ອິນເຕີເນັດແມ່ນໄວ. | intoened aemn vai |
| She has a smartphone. | ນາງມີໂທລະສັບສະຫຼາດ. | nangmi othlasab sarad |
| Digital technology is prevalent. | ເຕັກໂນໂລຊີດິຈິຕອລແມ່ນແຜ່ຫຼາຍ. | tekonolsi di chit l aemn aephrai |
| The data is encrypted. | ຂໍ້ມູນຖືກເຂົ້າລະຫັດ. | khomun thuk khao lahad |
| I am connected to Wi-Fi. | ຂ້ອຍເຊື່ອມຕໍ່ກັບ Wi-Fi. | I am connected to WiFi. |
| The camera takes clear pictures | ກ້ອງຖ່າຍພາບທີ່ຊັດເຈນ. | kongthai phab thi sadchen |
| My phone's battery is low. | ແບັດເຕີຣີໂທລະສັບຂອງຂ້ອຍເຫຼືອໜ້ອຍ. | baed toe ri othlasab khongkhony heu nony |
| The software needs an update. | ຊອບແວຕ້ອງການການປັບປຸງ. | sob aev tongkan kanpabpung |
| I visited their website. | ຂ້າພະເຈົ້າໄດ້ໄປຢ້ຽມຢາມເວັບໄຊທ໌ຂອງພວກເຂົາ. | khaphachaodai paiyiamyam vebsaith khongphuakkhao |
Level Up Your Language Journey With Ling
Technology has influenced the world, dramatically improving our quality of life. We may better understand the worldwide impact of technological advances by learning terminology linked to technology in several languages.
So as you've reached the end of this article, we hope you enjoyed reading this collection of technology words in Lao as you continued on your exploration! But wait, do you got some minutes to spare to learn more? We introduce you to the Ling app, one of the best tools for learning languages.
Thanks to its efficient features, you can improve your language abilities without spending too much. Learning a new language can be fun and valuable with the Ling app.
Download it now for free in Apple Store or Google Play Store!