What can be more wonderful than having a superhero figure in our life through having a lovable father, right? Indeed, Father's Day in Lao is the perfect holiday to show gratitude for your dad or someone you know from Lao who deserves such recognition! That's why in this post, we will discuss how Father's Day is observed in Laos, the common Lao words related to this, and how you may creatively make your Dad's Day special.
Father's Day in Laos is typically observed on the third Sunday in June every year to commemorate fathers and other father figures who have significantly impacted our lives. The meaning behind this day, which expresses our love and admiration for the dads, remains the same regardless of the precise date or customs observed in other nations.
Whether you are planning to travel or just learning to speak in Lao, allow us to be your guide on letting your soul's love speak into actions that will genuinely impact his heart. However, always remember that it's not just the big gestures that matter; it's also the tiny things, the subtleties that make all the difference.
So what are you waiting for? Get your notepad ready, as we will finally get started!
What Is Father In Lao?
Oh, my dear buddy, showing your father your love is a lovely and heartfelt trip! Especially if you learn to say it in Lao and mean every word. Just note that the simple translation of father in Lao is "ພໍ່" (pho). Well, isn't that easy?
Example sentences:
My father is my hero and my role model in life. (In Lao: "ພໍ່ຂອງຂ້ອຍແມ່ນຄົນພິຈາກຂ້ອຍເປັນຕົວຢ່າງກັບທ່ານເຕັມ.")
Every year, we celebrate Father's Day to honor and express our love for our fathers. (In Lao: "ເຮືອນພຣະພຸດຂອງພໍ່ພະຍາບພິດສະຫວັນຂອງພວກເຮົາເພື່ອຊື່ທີ່ເຕັມແລະເອື່ອນທານຂອງພວກເຮົາ.")
Despite his busy schedule, my father always finds time to listen and support me. (In Lao: "ຄໍາເຕືອນຂອງພໍ່ມີເວລາມາຍຢູ່ໃນໂລກຂອງຂ້ອຍ, ພໍ່ກຳລັງບໍ່ສົງໃສ່ຄວາມສາມາດກົດເຕັມຂ້ອຍໄດ້ແລ້ວ.")
The Significance Of Father's Day In Lao Culture
Father's Day in Laos carries immense significance and extends beyond being a mere date on the calendar; it holds deep-rooted importance for children as they express their love and appreciation for their fathers. It serves as a cherished occasion to acknowledge and honor the unwavering efforts and sacrifices made by fathers ("ພໍ່" pronounced as "pho") for the well-being of their families and the realization of their children's dreams.
On this heartfelt day, children across Laos take the opportunity to demonstrate their gratitude to their fathers, recognizing their guidance, love, and selflessness throughout the journey of life. Families come together to celebrate this special bond, creating lasting memories and reaffirming the significance of paternal care and support in Lao culture.
Father's Day serves as a beautiful reminder to express love and respect to the pillars of strength in Lao families, symbolizing the profound role that fathers play in shaping their children's lives. It is a day of joy, reflection, and appreciation, fostering stronger connections within families and highlighting the enduring values of love and gratitude cherished in Lao culture.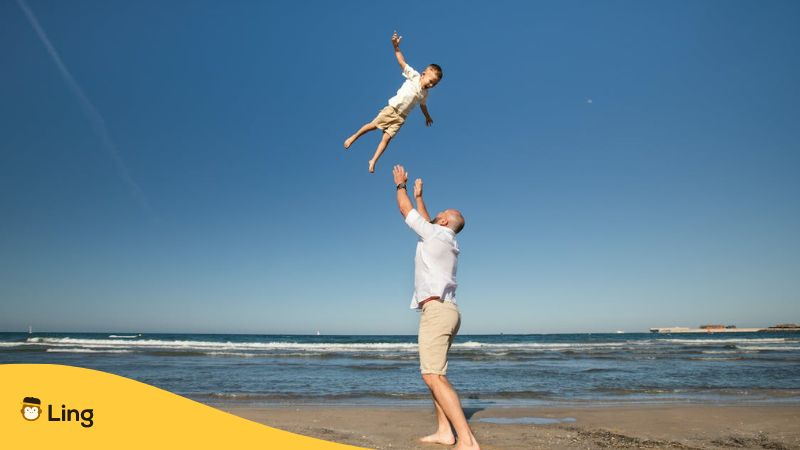 Father's Day Greetings In Lao
Let's start by showing our dads how much we appreciate and adore them! Get ready as we prepare a list to make your Father's Day greetings extra special with some Lao greetings!
| | | |
| --- | --- | --- |
| English | Lao | Pronunciation |
| Happy Father's Day! | ສຸກ​ສັນ​ວັນ​ພໍ່! | suk san van pho |
| You are the best dad in the world! | ເຈົ້າເປັນພໍ່ທີ່ດີທີ່ສຸດໃນໂລກ! | chao penpho thidi thisudnaiolk |
| I appreciate you very much, dad. | ຂ້ອຍຂອບໃຈເຈົ້າຫຼາຍ, ພໍ່. | khony khobchai chao rai pho |
| I am always proud to be your child | ຂ້ອຍພູມໃຈທີ່ເປັນລູກຂອງເຈົ້າສະເໝີ | khony phumchai thi penluk khongchao samoe |
| Thank you for being my father. | ຂອບໃຈສໍາລັບການເປັນພໍ່ຂອງຂ້ອຍ. | khobchai soalabkan penpho khongkhony |
| I love you, dad. | ຂ້ອຍຮັກເຈົ້າ, ພໍ່ | khony hak chao pho |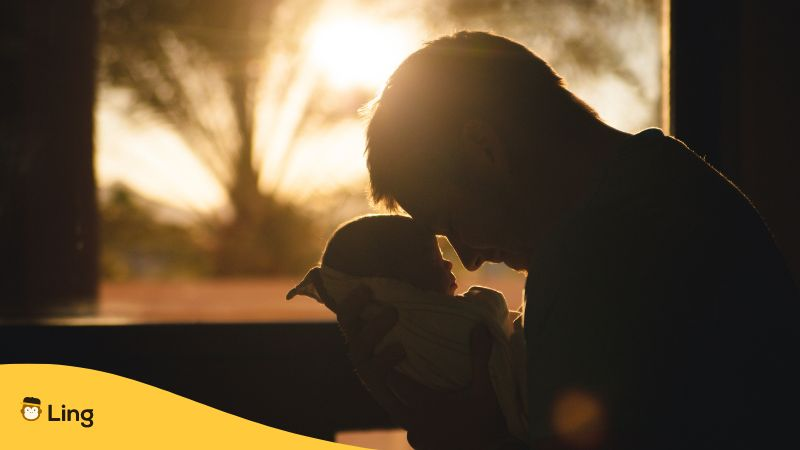 Best Words To Describe Fatherly Qualities
Finding more ways to explore words you can use to expand what you are trying to express? Worry no more! We will now learn to recognize some of our fathers' extraordinary traits. Below are the phrases which consist of characteristics that can flatter their hearts and surely put a smile on their face during Father's Day:
| | | |
| --- | --- | --- |
| English | Lao | Pronunciation |
| Brave | ກ້າຫານ | kahan |
| Caring | ເປັນຫ່ວງເປັນໄຍ | penhuangpennyai |
| Charming | ສະເໜ່ | sa ne |
| Confident | ໝັ້ນໃຈ | manchai |
| Cool | ເຢັນ | yen |
| Funny | ຕະຫລົກ | talok |
| Handsome | ຫຼໍ່ | ro |
| Handy | ສະດວກ | saduak |
| Hardworking | ເຮັດ​ວຽກ​ຫນັກ | hed viak nak |
| Loving | ຮັກແພງ | hakaephng |
| Patient | ຄົນເຈັບ | khoncheb |
| Protective | ປ້ອງກັນ | pongkan |
| Reliable | ເຊື່ອຖືໄດ້ | seuothu dai |
| Responsible | ຮັບຜິດຊອບ | habphidsob |
| Witty | ປັນຍາອ່ອນ | pnaia n |
Preparing For Father's Day Celebration
Choosing the Perfect Gift – Finding the ideal present for your father may be both a fun and difficult endeavor. Think of presents that will appeal to his interests and pastimes. Thoughtful presents make the day memorable, whether it's a book he's been dying to read, a gadget he wants, or something as straightforward as a customized mug with a sincere note.
Writing a Heartfelt Letter – A handwritten letter has nostalgic significance in this digital era. In a sincere letter, jot down your thoughts, recall special moments, and show your thanks. Your father will surely be touched by what you said and remember it for a long time.
DIY Craft Ideas – DIY craft projects can be a great option for people who want to add a personal touch to their Father's Day greetings. Making cards by hand or personalizing a photo frame with priceless images arouses feelings of warmth and love.
Organizing a Family Gathering – Father's Day is a great time for family interaction. Plan a get-together with the extended family and prepare entertaining games and activities. Your Father's day will undoubtedly be a special one because of the happiness of being surrounded by loved ones.
Preparing Special Lao Dishes – In Lao culture, food has a significant significance, so what better way to honor Father's Day than by cooking up a delicious meal? Prepare your father's favorite meals or experiment with authentic Lao cuisine together. The day will be remembered for the combined activity of making and enjoying the food.
Father's Day Traditions In Laos
The core feeling of love and respect for dads is consistent across Laos, despite regional variations in traditions and customs, as with any cultural event. Generally observed in Lao culture with tremendous warmth and deep feelings, families also come together during Father's Day in Laos to socialize and help their fathers have a particular day. Oh, what a lovely time for celebration, getting together, and allowing loved ones to hear sincere messages!
Interested to learn more? Below are some of the traditions practiced by Laotians to celebrate this holiday:
Temples and Monasteries Visits – How about some minutes to spare? Because to make gifts and get blessings for the well-being of their dads, many families also begin the day by visiting temples or monasteries. If you are eager to spend more quality time during Father's Day, consider bringing your dad to the different beautiful places in Laos!
Baci Ceremony – An essential component of Lao culture is the Baci ritual. It entails putting sacramental white threads around the wrists of family members as a sign of protection and good fortune. This ritual is frequently carried out on Father's Day to honor dads and wish them happiness and health.
Expand Your Lao Vocabulary With Ling
After learning about the culture and words you can use to say Father's Day in Lao, it's time to advance your language abilities with Ling. The Ling app is ideal if you're motivated to learn Lao or want to increase your vocabulary with the more than 60 languages it offers! This fantastic app is jam-packed with entertaining activities, interactive tutorials, and even more tongue twisters to challenge your brain.
So, what are you waiting for? download Ling from the App Store or Play Store and start learning the Lao language now!