So you want to know what the lyrics to your favorite Korean song mean or you want to watch K-drama or other Korean TV shows without subtitles or with Korean subtitles? Or maybe you want to learn the lyrics to your favorite K-pop song. Whatever the reason, learning Korean is something we all have thought of once in our lifetimes. In this article, we will tell you how to learn Korean With YouTube. Let's get started!
Learn Korean With Youtube
If you want to learn Korean there are many ways to do it. You can go the traditional route of reading books which takes a lot of patience. There are far better and more innovative ways to learn Korean like taking lessons or maybe using online tutors. The best way is probably to learn Korean through a YouTube channel.
There are many channels that teach the Korean language and are absolutely free to watch. If you are a student who doesn't have the tuition to pay for an extra class or if you just want to learn Korean for fun, YouTube is the way for you.
You can learn Korean on YouTube whenever you want, you don't have to worry about missing a class, and honestly, YouTube videos are more interactive and fun than normal lectures which can get a bit boring.
Not only that, you have more choices when it comes to tutors. If you ever think that it is too hard to learn Korean then you can always quit without any loss. Well now that we have talked a little about the best learning method let's focus now on the best Korean YouTube channels out there that teach the Korean language.
This list is in no specific order so let's get started.
Pinkfong
Pinkfong is a YouTube channel that you might recall because of the song "baby shark" that went viral and the whole world was dancing to it. While it is directed toward a young audience this channel does teach the Korean language.
The animations make it a joy to watch for kids and believe it or not you actually learn a lot. There are fun interactive activities and it is a great way to get your kid interested in learning the Korean language.
With all that said if you are an adult then this channel is probably not for you unless you are bored and want to practice your Korean for fun. It also teaches some Korean alphabet.
If you are looking for an easy and fast way of learning the Korean alphabet then check out the blogpost by Ling App: How To Learn The Korean Alphabet.
Billy Go
Billy Go is a YouTube channel run by a person who is not a native Korean speaker, believe it or not. Korean Billy is an American who is enthusiastic about learning new languages. Do not think just because he is not a native Korean, he wouldn't teach the Korean language well because he is a great teacher.
His videos are always fun to watch and quite motivating. He runs a how-to learn Korean vlog for Korean language learners who have a hard time learning the language. His videos are very thorough and he goes into the intricate details of the grammar and the logic behind sentences and phrases which is great to learn Korean from intermediates to experts. It also teaches some Korean alphabet.
Talk To Me In Korean
As the channel name suggests Talk to me in Korean is a language learning vlog that helps you to learn Korean and be more accurate and fluent in the language. They give very nice insights on how you can get better at the language and personally.
I personally love their tips with lesson videos. Not only that the channel has native speakers who help you become more fluent in speaking the language. This also helps to improve your pronunciation. Their videos are entertaining to watch and not get bored.
Not only that, but they also offer some cultural insights that are always nice to have. You can get fluent in Korean spoken in both North and South Korea. You also learn a lot of new Korean words which help improve your conversational Korean skills.
FluentU
FluentU is a website that helps you learn the Korean language. It is more of a blog but it also has a YouTube channel with really helpful videos. FluentU has very well-made videos with visual effects that are pleasing. Not only that it included references from different movies that keep the audience engaged.
There are no distractions in the videos and the content does genuinely help you learn the Korean language. You can binge-watch their videos because it is listening to practice.
MasterTOPIK
If you are someone who has been preparing for the Korean language proficiency test called TOPIK then MasterTOPIK is the best channel for you. It focuses on all the things you need to score well in the test. Other than that this is also a great resource if you want to learn Korean for fun.
This channel highly focuses on grammar and vocabulary because they are a major part of the test. If you are a college student who is looking for a resource to learn Korean grammar and Korean vocabulary then you might not find a better lecture source. This is the channel for the Korean learners out there if you have Korean as a subject.
Seemile
Seemile is probably one of the earliest channels that started teaching the Korean language on YouTube. Seemile has teachers that teach on board and it actually feels like you are attending a classroom.
They started this YouTube channel with the motto "You are in a real classroom" and it actually does feel like you are in a real classroom taking Korean lessons with proper teachers.
The YouTube videos are arranged in proper order from a complete beginner to Intermediate to expert so that you can start learning at the level you are at and not waste time learning the basics again. The teachers are really nice and every learner can benefit from them.
Conversational Korean
Conversational Korean is a channel that was intended to teach the learners Korean through real conversations instead of Korean lessons. It has videos that particularly focus on the use of Korean in conversations and everyday expressions. If you are someone who is new to Korean and wants to have conversations with the Korean natives or your Korean friends then this is the channel for you.
This channel does not benefit the people who are preparing for the Korean exams because there is not a lot of focus on grammar and vocabulary but it does help a lot in having real-life conversations. It does tell a lot about Korean culture though. Both north and south Korea.
Korean Unnie
Korea Unnie is probably the only channel on the list that is run by a solo Korean girl named Moon So Hyun. She is a Korean girl who teaches the Korean language and tries to promote Korean culture through her videos. She is well known for her cute accent and voice which is fun to watch and learn Korean.
Other than that you do get a Korean girl's point of view and learn about Korean girls through her videos. Being a solo creator she doesn't have full lessons in the Korean language but still one can learn a lot from her way of saying things and her accent. Her accent does sound like more of people from South Korea.
Korean Class 101
Korean Class 101 is a channel that delivers lectures on the Korean language like a classroom. The difference between this channel and Seemile is that Korean class 101 has a more modern approach to teaching while Seemile is like a traditional classroom of video lessons. It not only offers video lectures on how to learn Korean but also offers great quiz videos which are great for retaining the info that you learned.
There are also dialogues that help you make sentences when you are having a conversation let's say about the Korean holidays. By watching this channel you learn how to communicate better and how to synthesize common words while communicating with a person.
Easy languages
Easy languages have a very different approach to teaching Korean than the other channels on this list. The hosts of easy languages go to the streets and ask the native Korean speakers questions. Doesn't that sound fun?
What makes it great is that the people have genuine non-scripted reactions to what the hosts ask which helps you learn how to approach a stranger in Korea and the cultural norms.
Not only that, the natives often have a different way of responding to questions than a YouTube channel that is teaching Korean. This makes watching this channel very fun and exciting to learn Korean.
Jolly
This channel was created by two friends named Josh and Ollie, hence the name Jolly. How cute. Well, this channel is about Josh who speaks Korean fluently because he has been living in Korea, teaching Ollie how to learn Korean because he has never been to Korea and has a very limited Korean vocabulary.
This is honestly one of my favorite channels to watch because of the interactions between Josh and Ollie. Ollie often mispronounces a lot of words which is always fun to watch. Watching the previous videos tells you how far Ollie has come and it does motivate you to be better at the language. If you want a channel that is not all lessons and quizzes then this is the channel for you to learn Korean. They also talk about Korean food quite often.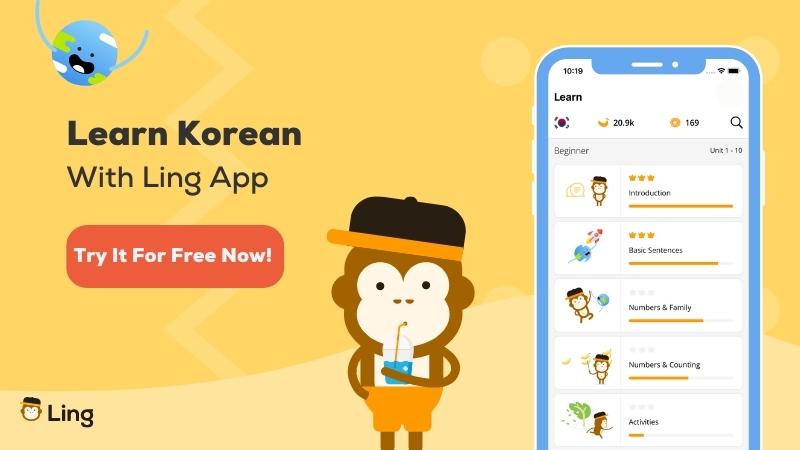 Wrapping Up
So as you can see on this list, everyone has a different approach to how to teach Korean on YouTube which makes learning far more enjoyable and less tedious. If you are more of a visual learner then you can watch channels that teach by using doodles or animations. 
If you are better at memorizing, then maybe watch the channels with the more traditional approach to learning Korean, like in a classroom. Or maybe you like pre-recorded videos because you can always watch them again.
If you are learning Korean for a test, then there are channels that focus on grammar and vocabulary more. All and all Youtube provides all the different aspects of learning. As long as you are committed to learning Korean you will find a channel that supports your needs and your style of learning. 
Ling app provides the best lessons for people of all types. For those who enjoy learning through YouTube as well as those who do not. Our blog posts are full of useful resources for you. You will get an outline in the YouTube videos as well as the details in the blog posts. This makes learning fun and easy.
Also, check out the 15 best apps to learn Korean and 5+ Best Korean Learning Goals To Get You Started.
Download the Ling app to supplement your Korean learning. You can easily sign up for the app on the Play Store or App Store. Happy learning!