While binge-watching K-dramas like Goblin, have you noticed how important flowers in Korean culture are? Today, let's talk about flowers in Korean 꽃 (Kkot).
It's amazing how flowers can symbolize something for Koreans. In Crash Landing On You, the edelweiss given by Captain Ri to Se-ri symbolizes courage. The buckwheat flower given by the Goblin Kim Shin to Eun-tak means a lover, and the evening primrose gifted to Goo Chan-Sung in Hotel del Luna symbolizes youth, eternal love, and memory.
In this blog, we will learn Korean flower names and Korean words, and Korean phrases related to flowers. If you are still new to the Korean alphabet or the Korean language itself, do not worry because there is an English translation for every Korean word mentioned. You can also start learning Korean with the Ling app and see how it can make magic happen.
How To Say Flower In The Korean Language
The Korean word for flower is 꽃 (Kkot). As you may have seen, the word ends with ㅊ(with the "t" sound). This means that when you combine it with an object or a noun that denotes particles, you'll say 꽃을 (kkocheul) or 꽃이 (kkochi).
꽃 (Kkot) – Flower
If you're a beginner, it's not easy to read Korean at first. But, as soon as you have understood the Korean writing system and the pronunciation of every word, you'll realize that Korean is indeed an easy language to learn compared to other East Asian languages like Chinese and Japanese. So, why not learn Hangeul today?
Flowers In South Korea: 8 Korean Flowers And Their Symbolic Meanings
South Korea is undoubtedly one of the most beautiful places, especially during the spring and autumn seasons. Some say that these are the best time to visit South Korea, especially if you want to see flowers blooming or the cherry blossoms 벚꽃 (Beotkkot) during beautiful autumn foliage.
As mentioned above, flowers have a significant role in Korean culture. It is used on special occasions like celebrations and memorials. Since growing flowers isn't that hard because of South Korea's weather, it's no surprise that flowers have always been part of their lives. So, here is a complete list of common flowers in Korean:
1. 무궁화 (Mugunghwa)
English Translation: Rose of Sharon or Hibiscus Syriacus
If you have been wondering which is the most popular flower in Korea, this is it! Our list of flowers in the Korean culture starts with South Korea's national flower: "Hibiscus Syriacus" or the Rose of Sharon (무궁화 Mugunghwa). This beautiful pink-mauve single flower with dark magenta eyes will drive you in by its beauty, but also by its meaning: "Eternal blossom that never fades." In short, this flower symbolizes everlasting life.
If you are a fan of the Korean series Squid Game, you might have heard this because of the song "The Mugunghwa Flower Is Blooming." There's also a train operated by Korail that runs in South Korea bearing the name of their national flower (Mugunghwa-ho).
2. 벚꽃 (Beotkkot)
English Translation: Cherry Blossoms / Cherry Blossom Trees
When we talk about flowers in Korean, it's impossible not to talk about cherry blossoms. Many iconic romantic K-drama scenes have the presence of a cherry blossom that makes everything so romantic. Every April, cherry blossoms bloom down the street, creating a scene that appears exactly like the romance scenes in Korean dramas.
Although cherry blossom is mostly associated with Japan, the blooming of cherry blossoms marks the beginning of spring's arrival in South Korea. There are lots of places in South Korea where you can enjoy cherry blossoms, like in Jinhae during the Jinhae Gunhangje Festival, in Hwagae during the Hwagae Cherry Blossom Festival, and of course, in Winter Sonata's Nami Island (Chuncheon).
3. 장미 (Jangmi)
English Translation: Rose
Roses 장미 (jangmi) are commonly associated with love and romance. It is often gifted as a sign of love or appreciation to someone. But, roses have different meanings according to colors for Koreans. The orange rose symbolizes first love, the pink rose symbolizes happiness or lovers, and the red rose means passionate love.
4. 해바라기 (Haebaragi)
English Translation: Sunflower
Like the name itself, sunflower 해바라기 (haebaragi) symbolizes happiness because it helps brighten someone's mood. For the best view of sunflowers, do not forget to visit Gangwon Province in Guwau Village, the city of Taebaek, during the month of August. You can also experience the Taebaek Sunflower Festival which is being held between July 24 to August 16.
5. 생사초 (Saengsacho)
English Translation: Resurrection Plant (Pyrenean Violet)
This is the flower that you wouldn't want to be found easily in every Kingdom fan. This is a rare purple flower that is said to have the power to bring back the dead to life in the form of mindless, bloodthirsty zombies. But of course, this is all just part of the story.
In reality, the so-called resurrection plant is called Pyrenean violet. It is a kind of violet (제비꽃 jebikkot) flower famous in South Korea. Just like what is mentioned in the series Kingdom, Pyrenean violet survives in its naturally cold habitat, but it can never turn someone into a zombie in reality.
6. 매화 (Maehwa)
English Translation: Plum Blossom
In Korea, plum blossoms are also regarded as one of the first signs of spring. Plum blossoms have a soft and wonderful appeal as a dazzlingly beautiful Korean spring flower. The delicate white or pink petals with golden stamens create a wonderful harmony. Plum blossom is best viewed by the tourists in Gwangyang village during mid to late March.
7. 산수유 (Sansuyu)
English Translation: Cornelian Cherry Flower
The Cornelian cherry flower is one of the famous flowers in Korean culture because it blooms everywhere during springtime. This bright yellow-colored flower means immortality. Koreans also use this in making medicine, tea, and more. Suppose you want to see the beauty of the Cornelian cherry flower. In that case, you can visit Gurye, Yangpyeong in the months of July to September or attend the Gurye Sansuyu Festival and Yangpyeong Sansuyu Hanwoo Festival.
8. 유채꽃 (Yuchaekkot)
English Translation: Rapeseed flower (Canola Flower)
The rapeseed flower is called the queen of Jeju island during the spring season. This flower can turn Jeju Island into a beautiful and romantic scene that relieves stress and makes you feel so wonderful. There are different festivals held for rapeseed flowers, and one of them is the Jeju Canola Flower Festival (제주유채꽃축제 jejuyuchaekkotchukje). If you wanna experience it by yourself, you can visit Jejudo, Daejeo, or Guri from late March to early May.
Other Flowers In Korean
English Translation
Korean
(Hangul)
Romanization
begonia
베고니아
begonia
camellia
동백꽃
dongbaekkkot
orchid
난
nan
daffodil
수선화
suseonhwa
golden bell tree (forsythia)
개나리
gaenari
sunflower
해바라기
haebaragi
poppy
양귀비
yanggwibi
tulip
튤립
thyullib
azalea
진달래
jindallae
violet
제비꽃
jebikkot
lily
백합
baekhab
Vocabulary Related To Flowers In Korean
English Translation
Korean
(Hangul)
Romanization
plant
식물
sigmul
garden
정원
jeongwon
flower garden
꽃밭
kkotbat
a bunch of flowers
꽃 한 다발
kkot han dabal
a flower arrangement
꽃꽃이
kkotkkoji
flower bouquet
꽃다발
kkotdabal
flower pot
화분
hwabun
the smell of flowers
꽃향기
kkocchyanggi
I picked up some flowers for you
너한테 줄 꽃을 좀 꺾었어.
neohante jul kkocheul jom kkeokkeosseo.
The flowers bloomed early this year
올해는 꽃들이 일찍 피었어요.
orhaeneun kkotdeuri iljjik pieosseoyo.
I will plant the flowers today
오늘은 화초를 심을 거예요.
oneureun hwachoreul shimeul geoyeyo.
Flower You Have Heard In K-dramas And Their Meanings
Flowers
Korean
(Hangul)
Meaning
K-Drama Reference
Anemone
아네모네
anemone
Betrayal and Helpless Love, Loneliness
Backstreet Rookie
Aster
과꽃
gwakkot
Precious memories
The Great Seducer
Baby's Breath
아기의 숨결 꽃
agiui sumgyeol kkot
Pure, eternal love
Winter Sonata
Bindweed Flower
메꽃
mekkot
Drawn in slowly and deeply
Cheat On Me, If You Can
Bridal wreath
신부 화환
sinbu hwahwan
Love Affairs in the Afternoon
True Beauty
Buckwheat Flower
메밀꽃
memilkkot
Lover
Goblin
Camellia
동백꽃
dongbaekkkot
I love you more than anyone else
Itaewon Class
China Pink
패랭이꽃
paeraengikkot
Rejection
Backstreet Rookie
Christmas Rose
크리스마스 장미
keuliseumaseu jangmi
I have nothing to give you
Uncontrollably Fond
Chrysanthemum
국화
guk-hwa chrysanthemum
My feelings are sincere
Her Private Life
Cistus
시스투스
siseutuseu
I Will Die Tomorrow
Love in Sadness
Cosmos
코스모스
koseumoseu
I Love You
20th Century Boy and Girl
Cotton Flower
목화
moghwa
Maternal love
Goblin
Dahlia
달리아
dallia
Your Love Makes Me Happy
Tale of the Nine-Tailed
Delphinium
델피늄
delpinyum
I Will Make You Happy
The King: Eternal Monarch
Edelweiss
에델바이스
edelbaiseu
Courage
Crash Landing On You
Evening Primrose
달맞이꽃
dalmaji kkot
Memory
Hotel Del Luna
Forsythia
개나리
gaenari
A deeper love
Touch Your Heart
Freesia
프리지아
peurijia
New Beginning
Good Witch
Globe Amaranth
글로브 아마란스
geullobeu amalanseu
Captivating and Unchanging Love
Move To Heaven
Hibiscus
히비스커스
hibiseukeoseu
Noble friendship
Backstreet Rookie
Hyacinth

Purple Hyacinth
White Hyacinth
히아신스
hiasinseu
Humble love

Purple Hyacinth – Sorry

White Hyacinth – I'm sorry. Please forgive me.
Move To Heaven

Fluttering Warning
18 Again
Hydrangea
(Red Hydrangea)
수국 sugug
I Love You
Devilish Joy
Lily of the Valley
은방울꽃
eunbangulkkot
Return To Happiness
Boys Over Flowers
Lisianthus
리시안셔스
risiansyeoseu
Unchanging Love
Lovestruck in the City
Marigold
금잔화
geumjanhwa
Sad Goodbye/ Love / Happiness Coming One Day
Here Comes Love
Protea
프로테아
peurotea
Gratitude, Thanks, and Sending Sweet Love
Mystery Queen
Rosa multiflora (Wild rose)
찔레꽃
jjillekkot
Longing for family, love between sisters
Prison Playbook
Rose
장미
jangmi
Blue Rose – Miracle

Green Rose – A Noble Love That Only Exists In Heaven

Orange Rose – First Love

Pink Rose – Happiness/Lovers

Light Pink Rose – Only You Know How I Feel

Red Rose – Passion /Passionate Love

White Rose – Respect, Purity

Red & White Rose – Making up
When My Love Blooms
Stock Flower
스톡 플라워
seutog peullawo
Forever Beautiful
Her Private Life (2019)
Tea Bush Flower
차 덤불 꽃
cha deombul kkot
Memories
The Legend of the Blue Sea
Trumpet Creeper
Campsis radicans
능소화
neungsohwa
Wait
Extraordinary You
Tulip
튤립
thyullib
Red Tulip – Confession of Love

White Tulip – Lost Love, Forgiveness, Broken Heart

Yellow Tulip – Unrequited love/Vain Love
Hospital Playlist 2; Record of Youth
Zinnia
백일초
baegilcho
Longing desire, remembrance
Mouse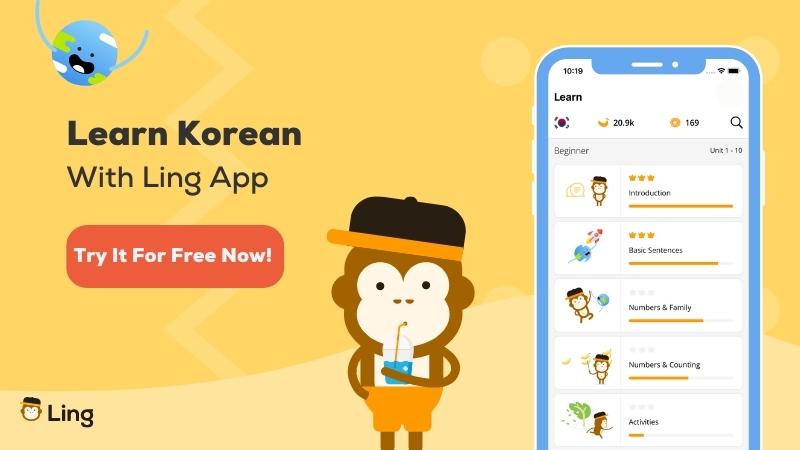 Keep Your Korean Vocabulary In Full Bloom
With the influence of Hallyu (한류 Hallyu) or the Korean wave, many people want to learn Korean. Binge-watching K-dramas or listening to K-pop music might help, but why not take it to the next level and explore language learning apps like the Ling app?
Ling app is a language learning platform where you can learn Korean and other languages using bite-size topics, mini-quizzes, games, grammar tips, dialogues, and even blog posts. For those who can't afford to enroll in language courses or travel to Korea, the Ling app will give you a fantastic language-learning experience.
The journey of learning Korean with the Ling app is like growing flowers. You need to plant your seeds in the form of time and effort, be patient, and soon enough, your Korean language skills will be in full bloom. So, waste no time by downloading the Ling app on the Play Store or App Store and start learning Korean now!