Are you a fashion enthusiast who loves to explore different cultures and their unique styles? Or perhaps you're planning a trip to Bosnia and Herzegovina and want to fully immerse yourself in the local fashion scene? Whatever your reasons may be, learning clothes names in Bosnian can be an incredibly rewarding experience. Let's dive deeper into that in this post, so keep reading!
You may not know this, but Bosnia actually boasts a rich cultural heritage and a diverse fashion scene. By learning the names of different clothing items in the local language, you can expand your fashion vocabulary and gain a deeper understanding of the country's history, art, and culture. Plus, the ability to name what type of clothing you need will make fitting and buying your fashion items easier. If you're up for all that and more, keep reading below!
Traditional Bosnian Clothing
Planning to travel to Bosnia? Here's a tip: Dress up like the locals! Fortunately for you, the traditional clothing of Bosnia and Herzegovina is colorful, vibrant, and intricately decorated. The traditional outfits, similar to Serbian and Croatian costumes worn by both men and women, are often handmade, and each region and ethnic group has its unique style and design. Basically, the traditional folk costumes can be split into three main groups:
Dinaric costumes are worn in the western part of Bosnia Herzegovina
Central Bosnian costumes are to be found in east and central Bosnia
Posavina dress is worn in the northern part of the country
Interesting, right? Now let's go over the more common outfits you'll find in the country!
Sevdah Dress
This costume is one of the most famous of the traditional Bosnian dresses. It is a long, flowing dress with an apron, usually made of silk or other high-quality fabric. The dress is embroidered with intricate patterns and is often worn with a headscarf.
Opanci Shoes
These peasant shoes, sometimes also called putravci, are a traditional part of the Bosnian dress and are made from raw leather. They are handcrafted and have a distinctive design that includes a pointed toe and a wrap-around strap. The shoes are worn with traditional socks that also have a distinctive pattern and are a popular addition to the folk costumes for the rural population.
Fes Hats
The Fes hat is a traditional Bosnian hat worn exclusively by men. It is made of felt and has a distinctive shape that is similar to the Fez worn in other countries. The Fes is usually a bright red color and decorated with tassels and other embellishments.
Gunj
A traditional Bosnian coat that is also worn only by men. It is made of wool, goat skin, or other heavy fabrics and is often embroidered with intricate designs. The coat has a distinctive collar and is usually worn over traditional pants and a shirt.
Posavina Scarf
Another important piece of traditional clothing is the Posavina scarf, a traditional Bosnian scarf worn by women. It is made of cotton or silk and is decorated with distinctive patterns that are unique to the different ethnic groups. The scarf is often worn with traditional central Bosnian costumes and dresses.
Bosnian Weddings And What To Wear
Invited to attend a Bosnian wedding? Don't just slip into your favorite dress or suit! As with other traditional clothing, Bosnian traditional wedding clothes differ between regions, religions, and ethnic groups. However, some common elements can be found in most traditional wedding outfits.
Bosnian Brides
For Bosnian brides, the most important part of traditional clothing is the headscarf, which is called a feredža. The feredža is usually made of silk or satin and is worn over a white dress. The dress is typically long and flowy, with long sleeves and a high neckline.
Another important piece of clothing for women is the apron or fartun. This is worn over the dress and is made of colorful fabric, usually embroidered with intricate patterns and small details. These distinctive aprons are often the most colorful and striking part of the bride's outfit. Again, the design and color of the fartun tend to vary depending on regions and ethnic groups.
In addition to the dress and the headscarf, Bosnian brides usually wear lots of jewelry, including necklaces, earrings, and bracelets. The wedding bling is usually made of gold or silver and decorated with precious stones.
Bosnian Groom
Bosnian grooms also have their own traditional outfits. The groom's outfit typically includes a long coat called the odijelo, which is made of wool or velvet. Underneath, the groom wears a white shirt and a vest, which are usually embroidered with colorful patterns. The groom also wears a traditional fes, made of black or red felt.
Wedding Guests
The guests at Bosnian weddings are also often expected to wear traditional clothes. Women and girls wear long, flowy dresses made of silk or satin, while men wear suits or traditional clothing such as the bosanska nošnja – a traditional outfit that consists of a white shirt, a vest, and pants made of wool. The outfit is usually accessorized with a red sash, a cap, and leather shoes.
Essential Clothes Names In Bosnian To Learn Before You Visit
Now we have learned a bit about traditional Bosnian clothing, let's learn a few words that will come in useful when you are visiting the country and have some clothes shopping to do.
| | |
| --- | --- |
| English | Bosnian |
| Shirt | Košulja |
| Pants | Hlače |
| Dress | Haljina |
| Suit | Odijelo |
| Coat | Kaput |
| Undergarments | Donje rublje |
| Tank Top | Tank Top |
| Leggings | Tajice |
| Jeans | Traperice |
| Shorts | Shorts |
| Vest | Prsluk |
| Blouse | Bluza |
| Hat | Šešir |
| Sunglasses | Sunčane naočale |
| Glasses | Naočare |
| Boots | Čizme |
| Jacket | Jakna |
| Skirt | Suknja |
| Cap | Kapa |
| Scarf | Šal |
| Socks | Čarape |
| Shoes | Cipele |
| Necktie | Kravata |
| Flip Flops | Papuče |
| Watch | Gledaj |
Learn More Bosnian With Ling App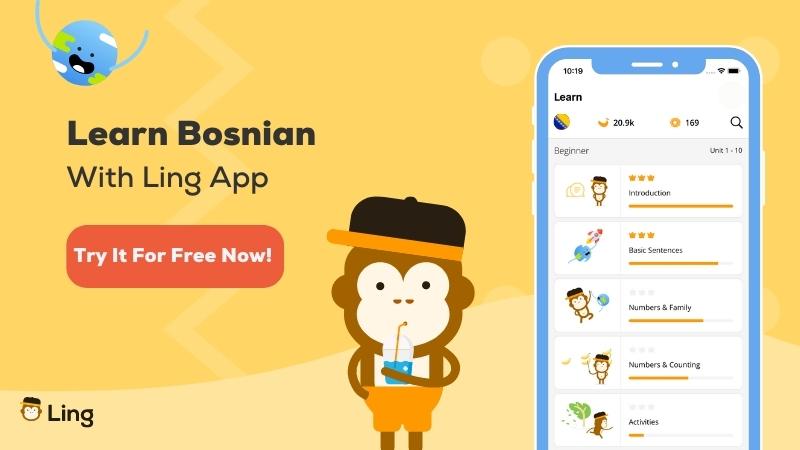 If you have enjoyed this brief foray into the world of Bosnian clothing, there are plenty more fascinating blogs waiting for you on the Ling app. With more than 60 languages at your fingertips, the Ling app is the ideal companion for anyone wanting to learn more. What makes this platform different is that it teaches foreign languages through a range of fun and educational methods, including quizzes and games. Download the Ling app today for FREE at Google Play and App Store to try it out!