Is Rosetta Stone Worth It?
On the hunt for a language learning resource that is worth your time, effort, and money? In today's Rosetta Stone review, we will give an unbiased discussion regarding the quality of core lessons and learning approaches that you can find from this highly popular app. Perhaps you have even heard about Rosetta Stone before as it is undeniably one of the trailblazing apps that have been in the language learning industry for quite a time now—interested to find out more about what it has to offer? Then this post is perfect for you!
When the first wave of the pandemic hit back in the first part of the year 2020, most of us have found ourselves with so much time on our hands as we spent countless days at home due to lockdowns and quarantine procedures. So instead of scrolling through social media non-stop, most of us have started spending more time upskilling professionally and developing a new hobby.
For some, this might mean learning the basics of gardening, crocheting, or mastering a new technical skill. But if there is one skill that has become even more popular, then that would be learning a foreign language. A lot of people have challenged themselves to learn a new language not just because it is a cool thing to do but mainly because many are rethinking their future careers. So you see, having a solid foundation in some of the most popular languages can help you develop a competitive advantage professionally and may even be a springboard for you to land high-paying roles!
Fortunately, anyone can now learn languages without ever having to step foot outside their homes! By using innovative language apps, signing up for online lessons with language schools, or tutoring sessions with a native speaker, you can start learning your target language right away. If you have been doing your research right, then there is a high chance that you probably have heard of the language learning programs offered by Rosetta Stone.
So, is Rosetta Stone worth it? The answer depends on you and how interested you are in trying out this application. But if you will ask us, is it good? The answer from me is no. Since you can get better subscriptions to tons of applications for that same price or even purchase useful textbooks instead. While there is no denying that the correctness of the learning content is superb, there are still parts that look too boring and old for my taste.
Let's get to know more about this app in the section below.
Rosetta Stone Review: What Is This Language Learning Tool All About?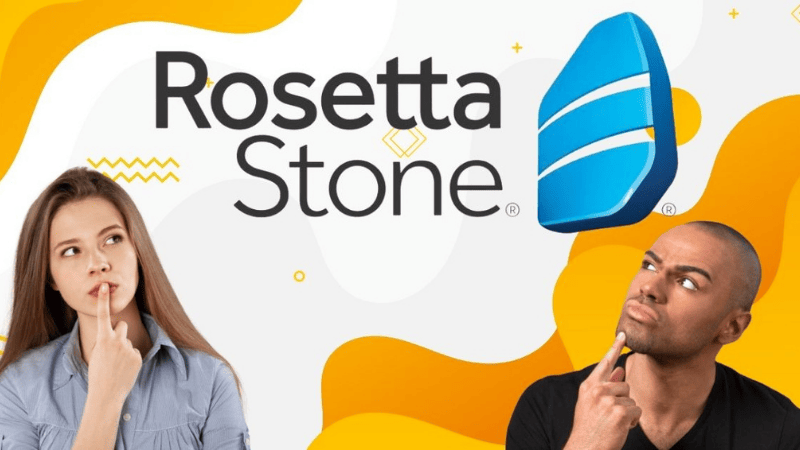 Rosetta Stone is a premium program that comes complete with amazing features that will help total beginners get a good grasp of the features of the languages they want to learn. So, if you are looking to master complex grammar points, memorize a new word or phrase every single day, and get challenging writing, speaking, and reading exercises, the Rosetta Stone platform is worth your look.
Founded in 1992, this American education technology software company has bagged numerous awards, and this is one of the reasons why many recommend Rosetta Stone to passionate language learners. What makes it interesting is that it has well-structured lesson content, which you can easily consume based on your own pace. In addition, by simply signing up for the Rosetta Stone Subscription, you can have instant access to several languages and master them all simultaneously if you want to! So whether you are learning Spanish, Mandarin Chinese, or even Tagalog and Vietnamese, the Rosetta Stone app got you covered.
In my opinion, this is a fantastic option, especially for learners who want to get extended learning resources, several audio companion files for listening on the go, and those who do not want the hassle of getting private lessons for different languages. Moreover, given that it has numerous activities, you can definitely boost your learning process with this app.
Rosetta Stone's Language Package
Planning to get a Rosetta Stone course but unsure of whether it covers your target language? Unlike other platforms, the effective Rosetta Stone language learning software and mobile app will help you learn vocabulary, sentence structure, and basic phrases in over 25 languages including the following:
Arabic
Chinese (Mandarin)
Dutch
English (American)
English (British)
Filipino (Tagalog)
French
German
Greek
Hebrew
Hindi
Irish
Italian
Japanese
Korean
Latin
Persian (Farsi)
Polish
Portuguese (Brazil)
Russian
Spanish (Latin America)
Spanish (Spain)
Swedish
Turkish
Vietnamese
The program teaches quite a lot, right? The Rosetta Stone languages are somewhat in the same range as those you can find from other language apps like Memrise and Busuu. However, it is no match when it comes to the available language lessons that you can find from free learning platforms like Ling App and Duolingo.
How Much Does Rosetta Stone Cost?
Now that we have an idea of how Rosetta Stoneworks, are you planning to get an online subscription but unsure of the prices? In this part, we will discuss the Rosetta STone pricing and give you an idea of how it fairs with other applications.
Rosetta Stone offers a number of subscription plans, including three-month access for $35.97, a 12-month subscription for $170, and the premium 24-month subscription for $249. However, please do note that the 3-month access only allows you to only study one language, so if you want to get all their programs, be sure to check out their one-year and two-year plans.
5 Reasons Why Foreign Language Learners Use Rosetta Stone
Now that we have an idea about what to expect regarding Rosetta Stone let us now draw our attention to why many are saying that they love Rosetta Stone.
Rosetta Stone's courses are pretty solid in the sense that it comes complete with a core lesson, learning modules, and practice exercises. Therefore, the whole app takes on a holistic approach, and you can expect to improve, especially in areas like pronunciation, reading, listening, and grammar.
The app is viewed as a trailblazer (one of the first language platforms ever) as it has been in the industry for almost 29 years now, and they are consistently improving its features. To adapt to the changing needs, they have even created the Rosetta Stone TOTALe, a unique TruAccent® speech recognition feature, and created an app.
The Rosetta Stone has bonus content and built-in games, but there are still some that will need adobe flash installed on your device, so be sure to take note of that before you try it out.
The Platform is simple but may seem repetitive at times, so this will work best with learners who enjoy structure.
The Platform is award-winning which means that the app is guaranteed to help you out no matter what!
Make Language Learning Fun And Exciting With The Ling App
Want to speak not just your native language?
By signing up for a free account in the Ling App by SImya Solutions, you can instantly get access to over 60+ languages, including some of the hardest and easiest languages there is across the globe! Millions have already downloaded it since it has amazing language learning content that you surely do not want to miss! Get to know more about this app here.