Want to start learning the Tamil words for picnics? We can't blame you! After all, picnics in Tamil culture aren't just outdoor hangouts – they're all about togetherness and joy. Knowing Tamil picnic lingo, from munch-worthy eats to outdoor games, proves to be your ticket to seamless convos with Tamil pals on those escapades. Ready to learn more? Let's begin!
Picnic In Tamil
Discover the joy of a Tamil picnic, locally known as "பிக்னிக்" (pronunciation: "piknik"). It's a fantastic outdoor gathering where families and friends unite amidst nature's beauty. Packed with lip-smacking treats like idli, dosa, vadai, and sambar, plus cooling sips of buttermilk or coconut water, a picnic is a culinary delight.
An Indian picnic is as playful as a game of Kabaddi, filled with engaging activities that transcend age groups. From traditional games such as kho-kho or antakshari to modern ones like Frisbee or Cricket, each activity brews camaraderie as potent as the Madurai jasmine's fragrance.
Basic Tamil Words For Picnic
Blanket – போர்வை(Pōrvai)
In Tamil, blanket is "போர்வை" (pōrvai). This blanket isn't just for crumbs—it's a cozy cocoon that transforms your outdoor setting into a relaxed haven for savoring food, friends, and the great outdoors.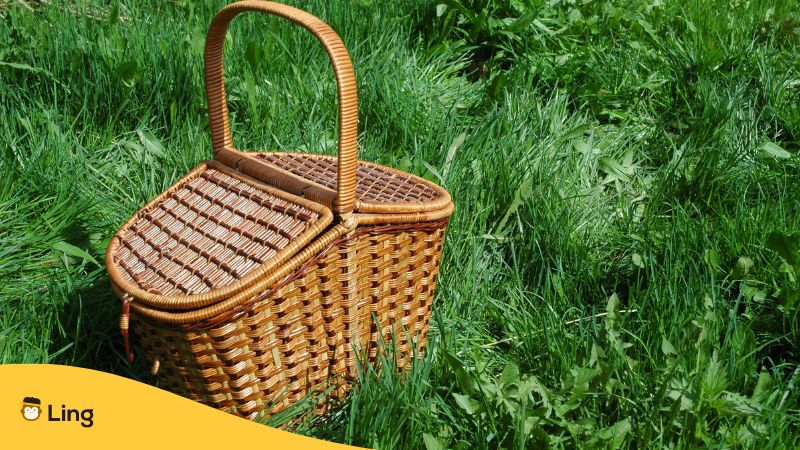 Basket – கூடை (Kūṭai)
When it's picnic time, think of a basket or "கூடை" (kūṭai) as your foodie treasure chest. This isn't your ordinary carrier—it's a moveable feast headquarters, loaded with delicious bites, cool sips, and all the tools you need for a culinary escapade. A picnic basket is like a portable party, letting you pack up outdoor dining excitement and head off on a flavor-packed adventure wherever the great outdoors calls.
Food – உணவு (Unavu)
Picnic food or "உணவு" (unavu) is a scrumptious array of treats, from juicy sandwiches and zesty salads to sweet fruits and crunchy snacks, all picked to wow your taste buds and amp up the outdoor dining thrill. Beyond filling your tummy, this food adds a dash of fun to the picnic vibes, making those shared moments even more delicious and joyful.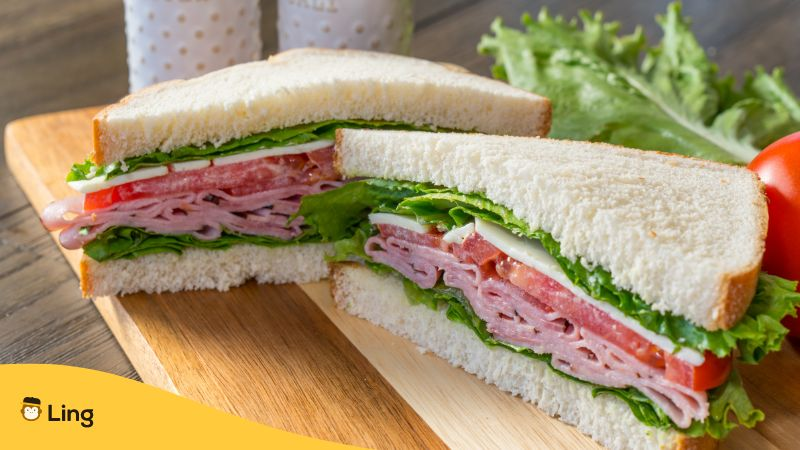 Sandwich – சாண்ட்விச் (Cāṇṭvic)
Picture this: a sandwich or "சாண்ட்விச்" (cāṇṭvic) at a picnic is like a tasty adventure you can hold in your hand! It's a playful combo of flavors, where you stack everything from yummy meats and cheeses to crisp veggies and spreads between slices of bread.
Nature – இயற்கை(Iyaṟkai)
Nature or "இயற்கை" (iyaṟkai) is where lush greens, whispering leaves, and cheerful bird tunes come together for a chill-out concert. Soak up this natural artwork while you munch—it's like adding an extra layer of zen to your outdoor feast, bringing everyone closer to the awesome outdoors.
Drinks – பானங்கள் (Pāṉaṅkaḷ)
Drinks or "பானங்கள்" (pāṉaṅkaḷ) are like flavor-packed adventurers that tackle your thirst and jazz up the fun. Think of zesty sodas, fruity fizzes, and the classic coolness of water—your picnic crew's energy boosters for the ultimate outdoor bash. Want to impress? Don't forget to say cheers in Tamil!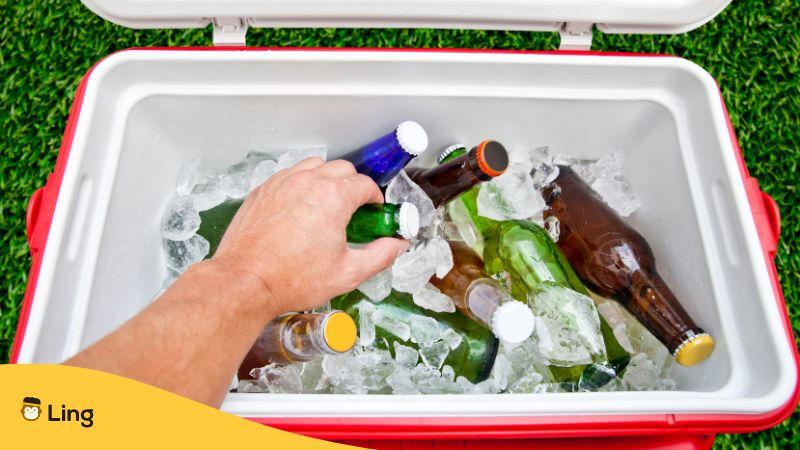 Cooler – குளிர்விப்பான் (Kuḷirvippāṉ)
Packed with insulation and ice packs, cooler or "குளிர்விப்பான்" (kuḷirvippāṉ) is the secret weapon against the sun's sneaky warmth. So, with your cooler buddy, get ready for a flavor-packed and refreshingly cool outdoor escapade!
Utensils – பாத்திரங்கள் (Pāttiraṅkaḷ)
Time to unleash the picnic magic with utensils or "பாத்திரங்கள்" (Pāttiraṅkaḷ) in Tamil! These are like your foodie superheroes—forks, knives, spoons, and more—all set to make your outdoor feast a total joy. No more food struggles, just pure fun, and flavor when you've got the right tools in hand.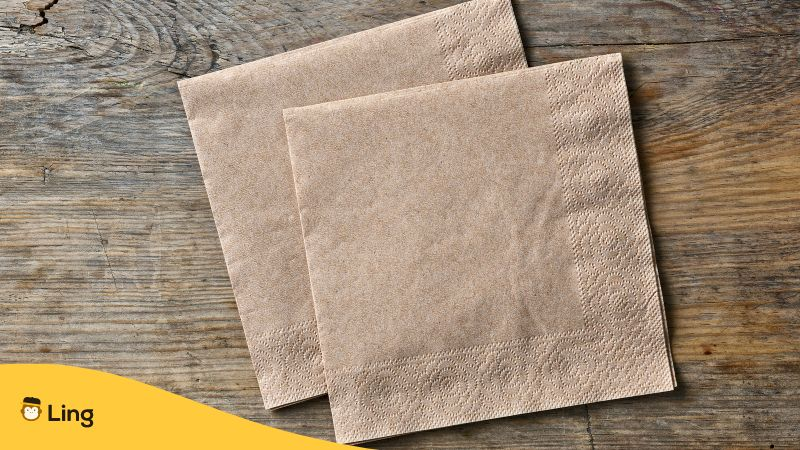 Napkins – நாப்கின்கள் (Nāpkiṉkaḷ)
Need to wipe some dirt on your hand? Well, napkins or "நாப்கின்கள்" (nāpkiṉkaḷ) are here to rescue your fingers, conquer spills, and sprinkle a bit of cozy into your outdoor feast. From messy to marvelous, napkins make your picnic a breeze, making sure every bite is a happy and clean one.
Plates – தட்டுகள் (Taṭṭukaḷ)
You can't just eat on your hands, right? That's why it's super important to pack plates or "தட்டுகள்" (taṭṭukaḷ). Sturdy and ready for action, they make sure your outdoor feast stays neat and fantastic. Grab your plate-passport for a taste adventure where mess is just a myth, and every bite is a masterpiece served in total flair.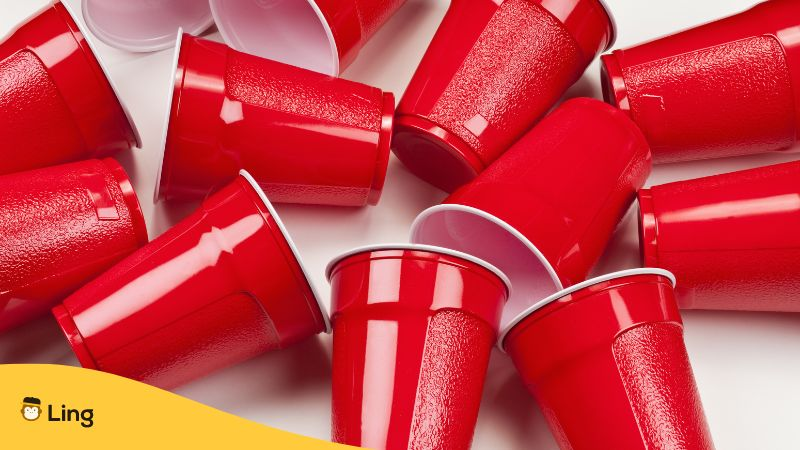 Cups – கோப்பைகள் (Kōppaikaḷ)
Cups or "கோப்பைகள்" (kōppaikaḷ) are the colorful champs keep your drinks handy, spill-free, and totally ready to rock your outdoor shindig. From zesty lemonades to caffeine kicks, cups are your sippin' sidekicks that turn your picnic into a sippable adventure.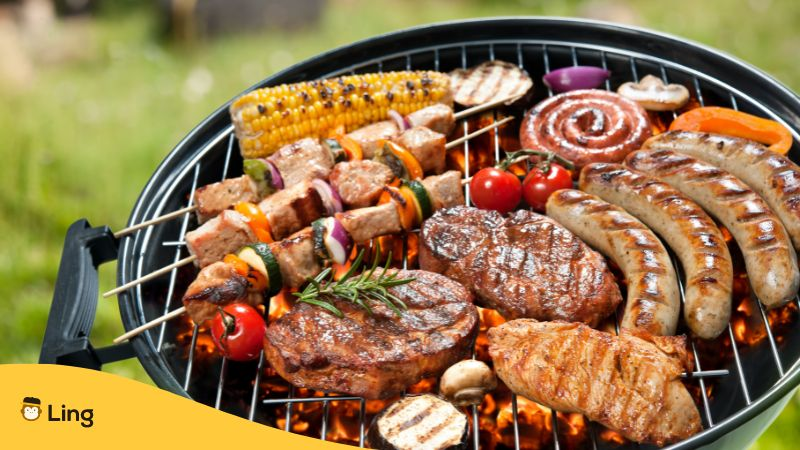 Grill – கிரில் (Kiril)
Get ready to fire up the flavor with a grill or கிரில் (kiril) in Tamil – your picnic's taste maestro! It's like a barbecue wizard that turns ordinary bites into sizzling, mouthwatering delights. Think juicy meats, veggie magic, and that amazing outdoor aroma – with a grill, your picnic becomes a sizzle-filled feast right in nature's yummy embrace.
Picnic Spot – பிக்னிக் ஸ்பாட் (Pikṉik spāṭ)
Picture lush parks, sandy shores, or enchanted forests – that's your picnic spot or "பிக்னிக் ஸ்பாட்" (pikṉik spāṭ) waiting to charm you. Get ready for laughs, bites, and nature's embrace, as this spot turns into your memory-making hub of fun and relaxation.
Other Words Related To Picnic In Tamil
Mastering this picnic-related vocabulary in Tamil isn't just about expanding your language skills – it's a ticket to an adventure! So prepare to jot down some notes!
| English | Tamil | Pronunciation |
| --- | --- | --- |
| Sunscreen | சூரிய திரை | Cūriya tirai |
| Insect repellent | பூச்சி விரட்டி | Pūcci viraṭṭi |
| Games | விளையாட்டுகள் | Viḷaiyāṭṭukaḷ |
| Music | இசை | Isai |
| Relax | ரிலாக்ஸ் | Rilāks |
| Enjoy | மகிழுங்கள் | Makiḻuṅkaḷ |
| Friends | நண்பர்கள் | Naṇparkaḷ |
Learn The Tamil Language With Ling!
Ready to take your Tamil picnic vocabulary to the next level? The adventure doesn't stop here! Try to give a day devoted to learning the Tamil language with the Ling app. It's not just learning – it's playing with languages. Experience interactive lessons that stick, complete with native pronunciations and a guide to the beautiful Tamil script. Plus, you can also chat with a friendly Ling bot for real-life practice!
Get ready to open doors and impress like never before! Download it now in the Google Play Store or App Store!