You can learn a lot about Serbian mentality, lifestyle, and generally about living in Serbia just from watching the movies in Serbian. And this is a great way to learn about the Serbian language. Serbian cinema is very widespread, and there are plenty of movies to choose from. There are various movie genres to choose from – comedy, drama, World war, crime, mystery, etc. So there is something for everyone to satisfy, even the pickiest movie enthusiasts.
Best Serbian Movies
Maratonci Trče Počasni Krug (1982)
Ruffly translation: Marathons are running the last lap – this is a movie classic and a must-see movie. You can find out a lot about Serbian mentality and how life was 40 years ago.
The movie follows the life of Topalović family and all the things associated with them. This is a classic comedy movie with a hint of parody.
Directed by: Slobodan Šijan
Ko To Tamo Peva (1980)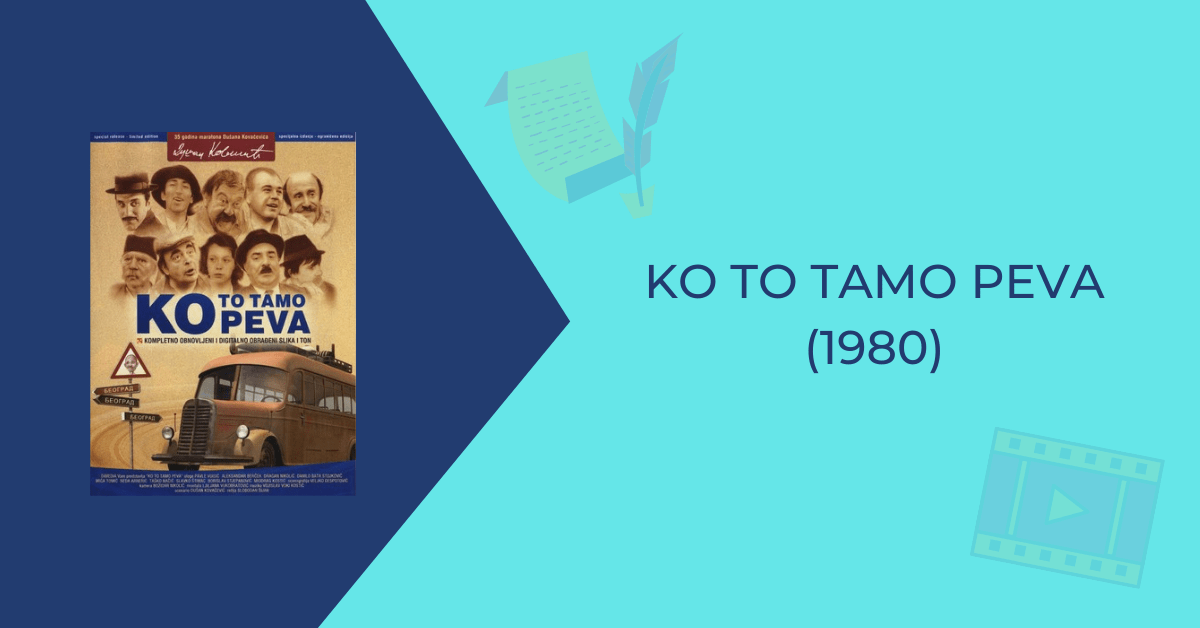 Who is singing over there – It is one of the best Serbian movies of all time. The movie story is taking place in Serbia, near Belgrade, at the beginning of WWII.
It follows the Krstić family – the bus owners – and their passengers and all of the funny situations they get into on their way to the capital, which is bombed on their arrival.
Also, this is one of my favorite movies.
Directed by: Slobodan Šijan
Ivkova Slava (2005)
It can't be translated because we have first to explain what SLAVA is. Slava is a custom that is practicing only by Serbian people. They are celebrating the saint that protects their home and family.
The movie's plot is placed when Serbia and Serbian people free themselves from Turkey, and they were finally free. There is everything you need to know about Slava in this movie about friendship, customs, mentality, and humor.
This is something I would highly recommend for everyone to watch.
Directed by: Zdravko Šotra
Zona Zamfirova (2002)
Zamphir's Zona (daughter) – This is an important romance story, settled in the past, in the time approximately as the previous movie.
The story follows young Zona and Mane, and how they meet and fall in love. But she was from a rich and powerful family, and he was just beginning his trade, and business and her father thought he wasn't right for her.
This film can tell you a lot about living in ancient Serbia, customs and traditions.
Directed by: Zdravko Šotra
Montevideo, Bog Te Video (2010)
A story about the first Serbian soccer team, about who they were, how they were assembled, and their trip to the first World cup, about famous teammates Moša ( famous soccer player) and his new friend Trike.
The film is more about Trike, a young boy who didn't have any soccer training, just playing soccer on the streets with his friends, and makes is on a first trial and placed on a first-team infamous Belgrade soccer club – BSK. After that, he is in a starting lineup for the first Yugoslavian soccer team.
This is a great movie to watch because it is based on actual people and events.
Directed by: Dragan Bjelogrlić
Montevideo, Vidimo Se
It is a sequel to a previous movie. The film talks about young Trike and his friends making it to the first World cup. About difficult journeys across the world to Uruguay, how that trip changed their lives, how they left as boys and came back as a man. And of course about soccer, about games, how they won against favored Brazil, and end it up in third place., and their fans in Belgrade, who were anxious to hear the score.
Also, the movie is based on actual events and people.
Directed by: Dragan Bjelogrlić
Mi Nismo Anđeli
There are three parts in this movie, but the first part we can call classic. The movie talks about the fight between good and evil, an angel and a devil for the soul of a Belgrade playboy Nikola – staring Nikola Kojo- who made a young girl pregnant, and his way of dealing with it.
The second part talks about Nikola's daughter and how he deals with her teen years, dating, and growing up. Again, it is an excellent comedy.
The third part is a whole other aspect and has nothing to do with the first two. Instead, it is about some kid who wants to be a famous musician.
Directed by: Srđan Dragojević
Lepa Sela Lepo Gore
Another great realization by Yugoslav cinema. It is a very emotional movie that talks about the war in ex Yugoslavia, between one people, divided by politicians, between family, friends, and neighbors.
It will give you some insight into how everything was in the war between 1991-1995, how a once-great nation was divided into five countries.
Directed by: Srđan Dragojević
Rane
The war in Yugoslavia is almost over, and the is little or no law in the country, which is a good start for criminal activity. The story follows two high school students, Švaba and Pinki, who want to become criminals, and they are learning the trade from an old gangster shortly after they became notorious Belgrade gangsters and dealers.
The movie ended as all similar stories, but it will give you insight into how everything was in Serbia after the war.
Directed by: Srđan Dragojević
Crna Mačka, Beli Mačor
This is a movie that talks about the life of Gypsies in Serbia. It talks about hierarchy between them, about love and arranges marriages, which are still common in this community.
This movie will give you insight into how life was and still is in this type of community.
Directed by: Emir Kusturica
Underground (1995)
Underground, another outstanding Kusturica achievement, talks about a Group of Serbian socialists who are preparing for the war in a surreal underground filled with numerous parties, tragedies, love, and hate.
Directed by: Emir Kusturica
Parada (2011)
A homophobic, middle-aged Serbian gangster ends up sacrificing himself to protect Gay freedom in his country. RADMILO (35) and MIRKO (30) are young and successful gay couples, and they would be happy couples anywhere else except in – Serbia.
They try to live discreetly but still, every day, the homophobic majority abuses them. Plus, Mirko is a gay rights activist, and his dream is to organize the first successful PRIDE event in Belgrade.
THE PARADE, in a tragicomic way, tells the story about the ongoing battle between two worlds in contemporary post-war Serbian society – the traditional, oppressive, homophobic majority and a liberal, modern, and open-minded minority.
Directed by: Srđan Dragojević
These movies are a great way to learn about Serbia, Serbian mentality and humor, friendship, history, tradition, and just about everything you need to know about Serbia.