Thinking of Thai gifts for birthdays to make your loved one's special day in Thailand an unforgettable experience? We've got you! This is why we prepared a list of Thai birthday gifts for you to choose from. So come and join us as we explore a realm where tradition meets heartfelt gestures, and discover the art of gift-giving in Thailand.
From delicate orchid bouquets symbolizing love and respect to meticulously crafted Thai silk, each gift carries a unique meaning beyond materialism. But hey, Thai gifts aren't just objects; they're tokens of affection that speak volumes. Ready to learn more? Scroll down to begin!
The Significance Of Gift-Giving In Thailand
In Thailand, birthdays, or "วันเกิด" (wạn keid), are more than just "เค้ก" (khêk), or cake, and candles – they're a vibrant celebration of culture and connection. Gift-giving, "ให้ของขวัญ" (H̄ı̂ k̄hxngk̄hwạỵ), is a heartfelt tradition, a way to show appreciation and good wishes.
Imagine beautifully wrapped presents, filled with flowers, perfumes, clothing, or even a touch of cash tucked into envelopes. But what sets Thai gift-giving apart is the thoughtfulness behind it. Each gift is carefully chosen to reflect the recipient's unique tastes and desires, creating a powerful bond between the giver and the receiver. It's not just about the presents; it's about the personal connection that makes Thai birthdays truly special.
The value of giving gifts on birthdays in Thailand goes beyond monetary things to include showing respect, love, and thanks. It is regarded as a way to fortify ties and promote wholesome connections. A gift is more than just providing the object itself; it also involves the thought and kindness that went into it. Thai culture places value on receiving presents with humility and thanks, which promotes the idea of reciprocity and sustains harmonious social ties.
In essence, giving gifts on birthdays in Thailand is a lovely display of love, or "รัก" (rạk), and care, or "การดูแล" (kār dūlæ), that deepens interpersonal bonds and reinforces cultural ideals of respect and appreciation.
Thai Gifts For Birthdays
Thai Silk Products
Thai silk is recognized for its fine quality. Think about giving silk ties, scarves, or even apparel, that is created in Thailand. These goods are available in a variety of hues and patterns.
Traditional Thai Clothing
A stunning traditional Thai garment, such as a sarong (pha nung) made of silk or cotton for women, or a traditional Thai shirt for men, can make a thoughtful and fashionable gift.
Thai Spa And Wellness Products
You can gift a wonderful and soothing experience with Thai spa products, like aromatic massage oils, herbal compress balls, or natural skincare products.
Thai Jewelry
Thai jewelry made by hand that includes precious stones, silver, or elaborate designs can be a beautiful and heartfelt present.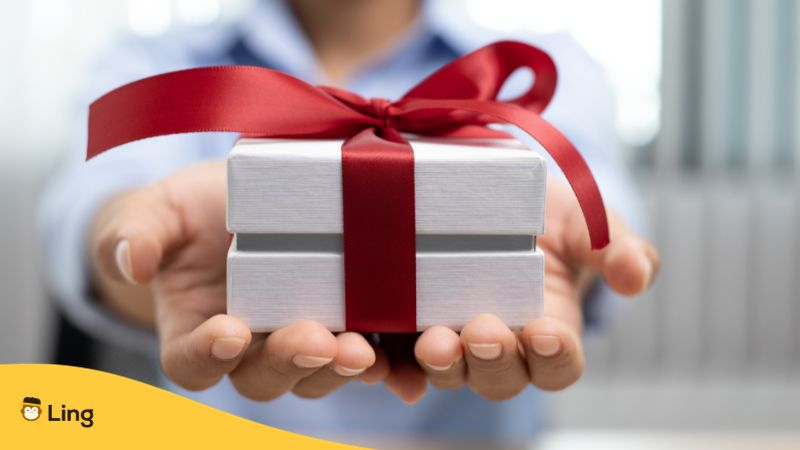 Thai Crafts
Thailand has a long history of excellent craftsmanship. Think about giving hand-carved wooden objects like Thai masks, sculptures, or elaborate boxes as gifts.
Thai Tea Or Coffee Sets
Exceptional teas and coffees are produced in Thailand. A set of Thai coffee or tea, combined with special mugs and accessories, can make a considerate gift.
Thai Food And Ingredients
Thai curry paste, coconut milk, fish sauce, or dried herbs and spices are some examples of real Thai ingredients that can be used to make a gift basket. For a comprehensive package, include a Thai cooking book.
Thai Artwork
Look for artwork or prints that depict Thai scenery, temples, or classic Thai arts like Nang Talung shadow puppets or Klap Ni scroll paintings.
Thai Handicrafts
Thai handicrafts like handwoven baskets, porcelain, or conventional lanterns may lend a touch of charm to any home.
Thai Elephant-Themed Gifts
In Thai culture, elephants have a significant symbolic role. Elephant-themed merchandise includes figurines, artwork, and clothes.
Thai Musical Instruments
Consider a traditional Thai musical instrument like a khim (dulcimer), a ranat ek (xylophone), or a pi phat (Thai gong set) if the birthday person enjoys music.
Thai Cookware
Those who enjoy cooking Thai food would appreciate traditional Thai kitchenware, such as a sticky rice steamer basket or a mortar and pestle (krok) for producing Thai curry pastes.
Thai Incense And Candles
Thai-scented candles and incense sticks frequently come in exotic scents and gorgeous packaging, making them lovely and fragrant gifts.
Thai Amulets
Amulets are frequently worn by Thai people as good luck and safety charms. An authentic Thai amulet can make a sentimental and enlightening present.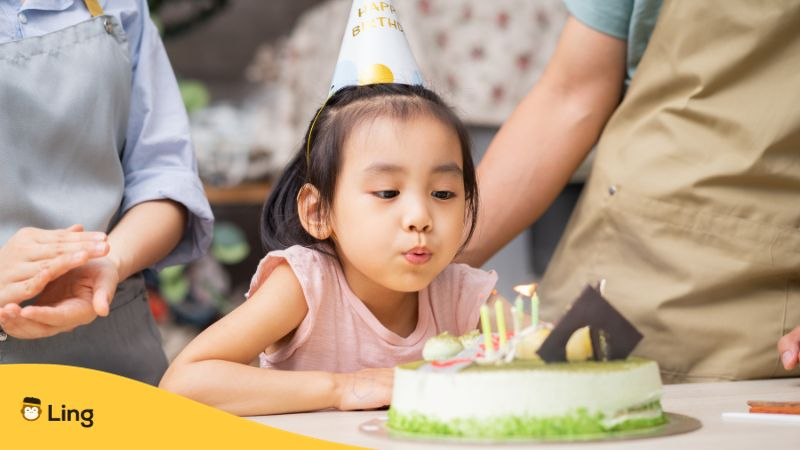 Essential Thai Words For Birthdays
Thai birthdays are a big deal, packed with traditions and excitement. Speaking the local words when extending birthday wishes isn't just polite; it's a passport to deeper connections.
Whether you're cheering up a fellow traveler, surprising a Thai friend, or making a service staff member's day, learning those Thai birthday phrases adds a sprinkle of joy to your journey. It's a small gesture, but it weaves your appreciation into Thailand's vibrant cultural tapestry, making your adventure all the more unforgettable!
| English | Thai | Pronunciation |
| --- | --- | --- |
| Gifts | ของขวัญ | K̄hxngk̄hwạỵ |
| Celebrant | ผู้เฉลิมฉลอง | P̄hū̂ c̄helim c̄hlxng |
| Birthday | วันเกิด | Wan Gerd |
| Happy Birthday! | สุขสันต์วันเกิด! | S̄uk̄hs̄ạnt̒ wạn keid! |
| Cake | เค้ก | Keg |
| Candle | เทียน | Theīyn |
| Party | งานสังสรรค์ | Ngān s̄ạngs̄rrkh̒ |
| Celebration | การเฉลิมฉลอง | Kār c̄helim c̄hlxng |
| Balloon | ลูกโป่ง | Lûuk bpòong |
| Wishes | ความปรารถนา | Khwām prārt̄hnā |
| Singing | ร้องเพลง | R̂xngphelng |
| Friend | เพื่อน | Pheụ̄̀xn |
| Family | ตระกูล | Trakūl |
| Happiness | ความสุข | Khwām s̄uk̄h |
| Joy | ความสุขสันต์ | Kwaam sùk sǎn |
| Greeting | การทักทาย | Kār thạkthāy |
Learn Thai With Ling!
Are you ready for an exciting language adventure that will unlock a world of knowledge? Pack your virtual bags and join us on a journey to linguistic excellence with the amazing Ling app!
So, what makes the Ling app the ultimate choice for language enthusiasts? Well, it's not your typical language-learning app. Forget about boring flashcards and mundane drills—Ling is here to make learning Thai an absolute blast! With engaging quizzes and challenging games, you'll be having so much fun that you won't even realize how much you're learning. Say goodbye to dull study sessions and hello to a world of interactive language learning.
But that's not all! The Ling app doesn't stop at Thai. It offers lessons in more than 60 languages, such as Dutch or Chinese, so you can embark on multiple linguistic journeys simultaneously.
What are you waiting for? Let's now get down to business and download the Ling app from the Google Play Store or App Store!