Want to speak like a total pro as you wish someone a happy new year in Thai? Discover how you can say that with style and get to know its significance in today's post.
We are already in the middle of the year, and in just a few months' time, the "ber" months will be creeping in. Before the day comes, it is better to come prepared with all the seasonal greetings you may say to your Thai friends and colleagues. After all, what better way to practice your Thai language skills than striking up conversations using common phrases, right? In the case of the Thai people, they celebrate one important holiday on a different day than the Westerners. This holiday is known as the traditional new year's day celebration. Discover more about this most celebrated festival below.
How To Say Happy New Year In the Thai Language
Of course, learning how to say happy new year in Thai will definitely boost your chances of being on the good side of your Thai friends or colleagues. Impress them now by saying the phrases below.
| | | |
| --- | --- | --- |
| Happy new year | สุขสันต์วันปีใหม่ | sùksǎn wan pee mai |
| Happy new year | แฮปปี้นิวเยียร์ | happy new year |
| New year's day | วันปีใหม่ | wanb pee mai |
| New year's holiday | วันหยุดปีใหม่ | wanyùt pee mai |
| Toast | ดื่มอวยพร | dùuemuuaiphaawn |
| Fireworks | ดอกไม้ไฟ | dàawkmáaifai |
| Five | ห้า | haa |
| Four | สี่ | sii |
| Three | สาม | sam |
| Two | สอง | song |
| One | หนึ่ง | nueng |
| What are you going to do on this New Year's Eve? | คุณจะทำอะไรในวันส่งท้ายปีเก่านี้ | khuṇ ca thả xarị nı wạn s̄̀ngtĥāy pī kèā nī̂ |
| Do you want to go to a party? | คุณอยากไปปาร์ตี้ไหม | khun yaak pai party mai? |
| I wish you good luck | ฉันขอให้คุณโชคดี! | Cchạn k̄hx h̄ı̂ khuṇ chokh dī! |
| I wish you good health and happiness. | ฉันขอให้คุณมีสุขภาพแข็งแรงและมีความสุข | C̄hạn k̄hx h̄ı̂ khuṇ mī s̄uk̄hp̣hāph k̄hæ̆ngræng læa mī khwām s̄uk̄h |
| I wish you good luck throughout the new year. | ขอให้ โชคดี ตลอด ปีใหม่ ครับ/ค่ะ | K̄hx h̄ı̂ chokh dī tlxd pī h̄ım̀ khrạb/kh̀a |
| I wish you a lot of happiness | ขอให้มีความสุขมากๆ | Kho haï mee kwam suk |
How To Celebrate New Year In Thailand
Are you wondering when is the Thai new year and how people in Thailand celebrate it with family and friends? Or perhaps you are thinking about the most native word or phrase to express a happy new year and wish someone happiness and good health? We will answer all that in today's post.
The new year celebration is truly important for more of us as it signifies the end of a year and the start of a new adventure. It shows hope and the end of
Every country has its own traditions on how they welcome, plan their party, and celebrate the day. For instance, other Asian countries like the Philippines usually welcome new year's day with fireworks to cast off evil spirits and serve 12 round fruits on the table as a sign of good luck and abundance for the year ahead. The same is true for Chinese people who celebrate the end of the year by giving out red envelopes and witnessing the lion and dragon dances.
In the United States, new year's day is usually celebrated with family and friends, where they gather around for a huge happy party with lots of food, music, and alcohol. People are usually much more formal for European traditions, and they usher in the new year with mouthwatering dishes like roasted pork and a premium glass of wine!
The Thai new year is quite different from what other countries usually experience. You see, the concept of "new year" is actually celebrated thrice a year: one in April, known as Songkran, the Chinese New Year in February, and the Western new year, observed every January 1st/last day of December.
Songkran is known as the traditional New Year, which involves water splashing. It marks the start of the Buddhist New Year, and you can expect Buddha images bathed with water mixed with fragrant flower scents and monks sprinkled with water over their heads. What usually happens during this special time is that the families gather to visit temples and give out their offerings and prayers.
Since this traditional new year in Thailand is done every April 13th to 15, another meaningful ceremony takes place, and this is known as รดน้ำดำหัว (Rod Nam Dum Hua). This celebration also honors the elderly, which is why the young Thai pour rose and jasmine-scented water into the palms or the feet of their elders and parents as a sign of love, respect, and admiration to them.
Another notable way by which the Thai people celebrate the new year is by busting out dance moves at the much-awaited Songkran music festivals. For years, the holiday has turned famous streets into a water battleground where people gather for one of the largest parties ever! And when we say party, we literally mean an excellent time since the Thais set up sound systems, stages, and even water/foam machines so that everyone will have a pleasant time.
Get Thai Lessons On The Go With The Ling App
As you reach this part of the post, we hope you are finally feeling ready to belt out any new year-related words and sentences we have shared with you above. If you enjoyed this lesson, then be sure to read our previous posts so that you will be able to connect deeper with the Thai people through saying compliments (especially for women), transportation-related sentences, and weather words.
Also, feel free to share this post on social media so that we can reach more people who would like to learn how to speak the Thai language.
But wait! Would you want to learn a bit more about the Thai language? Search no more because we have the best FREE application that you can use to get more lessons related to this amazing language. Want to know more about it? Read on below!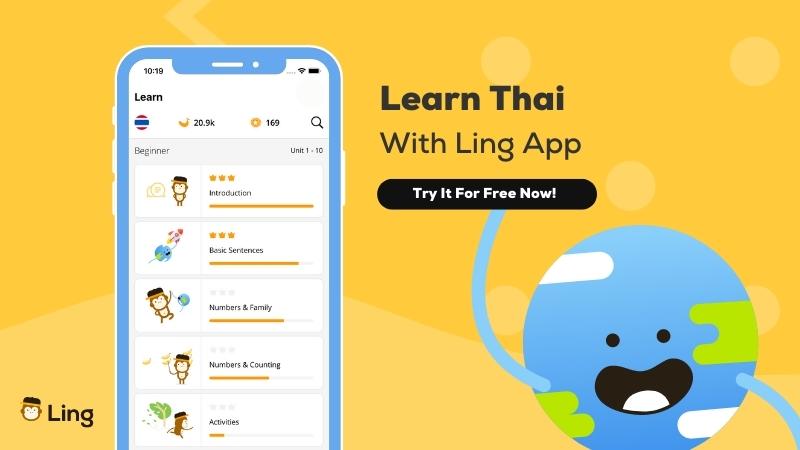 For years, Simya Solutions has continuously sought better ways to support language enthusiasts in learning the most interesting language. With this, the company has perfected a language learning platform known as Ling app, which is available to download for free from the Play Store and App Store. It features a whole range of interactive materials that will make you learn in as short as 10 minutes per session! Aside from giving you vocabulary lessons, it will also touch on certain parts of language topics, including grammar, speaking, and writing (especially if the language has a different script).
It also comes complete with updated English translations so that you can learn better translations. And the best part? The whole content of the app is developed, reviewed, and checked by native speakers, so you can rest assured that you have the correct lesson content. Use Ling app to learn a particular word, phrase, or sentence today without much commitment. Download it today!