Sawatdee Pee Mai! Or should I say 'Happy Songkran!' or even 'Happy Thai New Year!'. However you say it, people will reply with excitement. Songkran Festival (เทศกาลสงกรานต์) is the name given to the Thai new year.
The festival lasts from a few days to sometimes a week. The holiday differs across the different regions of Thailand. Generally, it takes place in mid-April time.
I am sure many people have heard of this famous holiday. It makes for a very memorable experience. For those who want to know more or are preparing to go, here is a look at everything you need to know about Songkran including a glimpse of its history and how it is celebrated.
What is Songkran?
Songkran is the name that was given to the Thai new year, one of the many new years celebrations across the world. Like Tet in Vietnam and the Lunar Festival in China, it is celebrating the beginning of a new year based on their calendar. Songkran was said to have begun upon the death of the Thai deity of good fortune. Its name is derived from the Sanskrit language, where it meant to pass or move into.
This holiday is actually celebrated in other countries too – not just Thailand. Laos, for example, also celebrate a similar holiday. Some parts of Malaysia also join in, especially near the border with Thailand. Even some groups in India celebrate a similar holiday around the same time.
When is Songkran?
For Songkran, it uses the solar calendar and the change of the zodiac to determine the dates. These days, however, it is set to take place each year from the 12th-14th of April, with the 13th being the main day of Songkran. In places like Pattaya however, they like to party hard. There, it generally lasts a whole week.
The true 'new year' in Thailand actually takes place on the 1st of January, like in the West. Songkran can now be seen as the 'traditional' new year, though many celebrate both as an important occasion.
How is Songkran celebrated?
The Thai new year celebrations has been given the nickname 'the water festival' for reasons anyone who has visited during the holidays will understand. Taking place during some of the hottest days of the year, many people celebrate by splashing water at others. Whether using a bucket, water gun or bottle of water, people go out to the streets during the day and splash each other. It is actually quite refreshing in the heat. Just make sure you buy a waterproof cover for your phone and money. You should avoid wearing your best clothes and shoes too. It is better to be safe than sorry!
Of course, there is a lot more that goes on than just the water fights. In the morning, merit-making takes place. Many people will visit Buddhist temples and offer food and other items to the monks. Water still plays a role here, with some people pouring water onto the statues. This, along with splashing others, is meant to represent purification. It symbolizes washing away bad luck. Some also say that the use of water will help to promote plenty of rain over the coming year.
Chalk is also a common element during Songkran. Much like monks use chalk to mark blessings, people smear chalk over others as a way to bless them. It is not uncommon to see people walking around with their face covered in chalk during the festival.
5 Steps to enjoy Songkran
1, Get ready!
Make sure you have everything prepared before the day comes and here is the list :
Get a water gun or a bucket or whatever you can bring to ensure you can splash away the other's bad luck. Water gun is ปืนฉีดน้ำ (bpuen-cheed-nam)
Keep your cash and cards tucked somewhere safe in a plastic sachet and don't even think about carrying unnecessary valuables with you before going out because nothing will be dry in the end of the day. All gun and waterproof stuff is sold all along the city, in any mall or 7/11 with variety colors and different shapes.
It's going to be hot and you're going to get wet, so best to wear something light, but not skimpy or see-through and don't forget sun protection (sun cream, sunglasses …).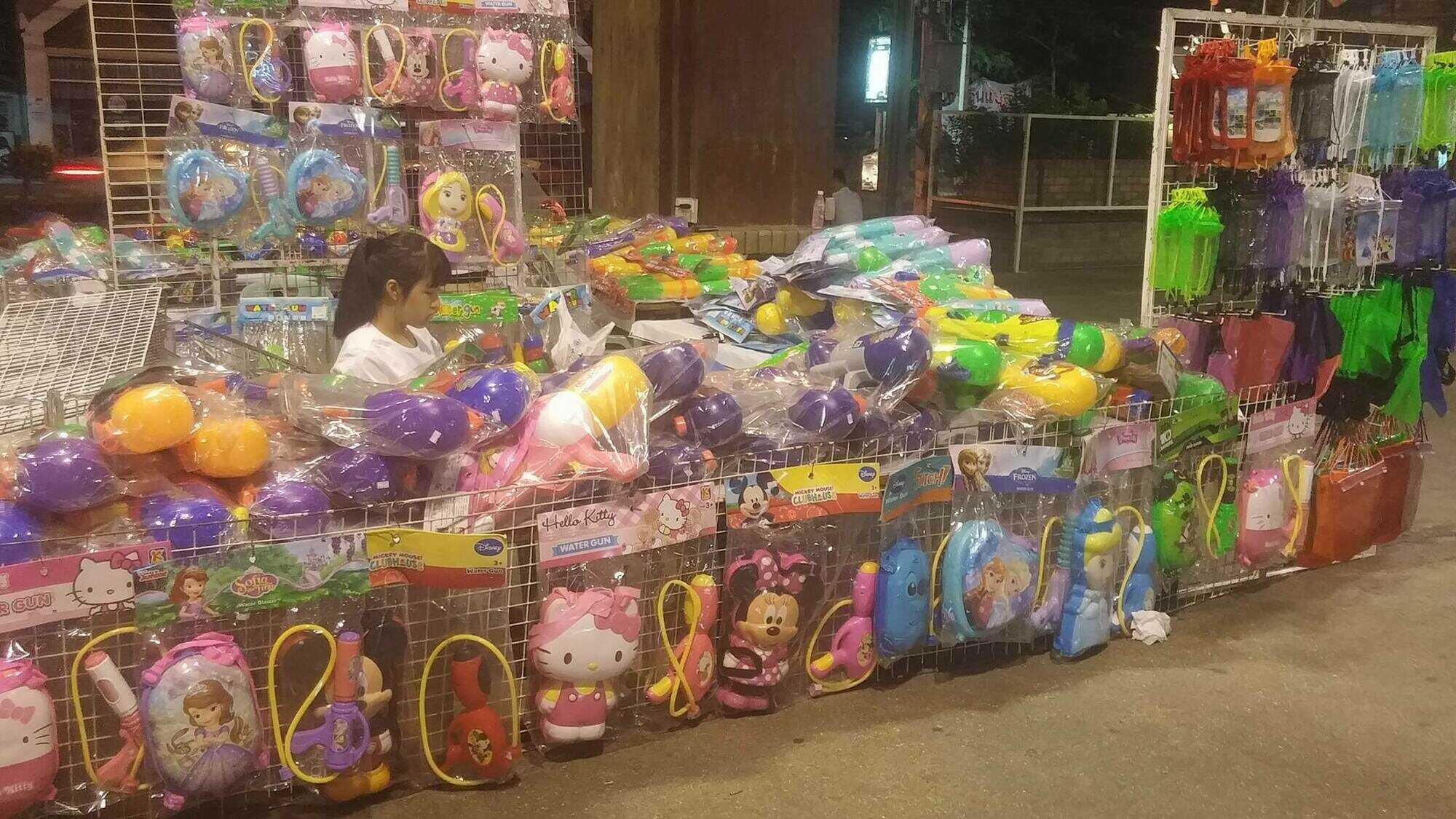 2, It's a war.
So now you got everything in order, it's the time to get out there and get soaked.
The water fight is all over the country. In Chiang Mai, you can be splashed right after 1 step out of the door but most crowded area of course is around the moat of the old city (คูเมือง kuu-mueang). Normally people will walk around the moat and shooting everything is moving on the way.
You must wonder how about the traffic ? Lots of bikes, trucks and cars are driving still, but you'd better walking than joining that flow, it's more safe.
Then what you do next is make yourself be a child again, aim and shoot, have lots of fun !!
3, Time for pool party!
You definitely don't want to miss the pool party in anywhere !
There are DJs, drinks and whatever you need to enjoy the rest of the day, it's normally on 13th. So get wet, drink, and enjoy the incredible sunset by the pool.
4, If you're hungry…
There are plenty of street food around cities in Thailand, lots of choices. For example, not too far from Le Méridien Hotel, Chiang Mai, there's a modern food truck market called "Ploen Ruddee" with a wide variety from Western to Thai food etc is available. They also have live music and lots of drinks or smoothies, definitely worth a visit when you're here.

5, Have fun and show respect.
While having good time during Songkran, you also need to be respectful to their most important religious celebration : Wear appropriate clothes, don't shoot the monks, children or driving people. Try not to drive during these days especially after drinking, the road is wet and slippery everywhere. The week holiday period is commonly called "the 7 days of death" and of course drunk-driving is one of major factors.
Songkran is a great festival to have lots of fun but also a chance to see the more traditional side of Thai New Year, try to wake up early and see Thais going to the temples to make merit, you will know better about the beauty of Thailand.
Some useful Thai words and phrases for Songkran you should know :
The Joy of the Holidays
Songkran is not only a time of purification and rebirth, but also a time for fun and relaxing. The mixture of traditional celebrations with the more modern activities, it is a busy time of year – and a great time to visit Thailand.
However, you should still be respectful of others and think before you splash someone who isn't holding a water gun or who is just going about their day. They may be carrying an expensive laptop or equipment which you will likely end up paying for. Also, be wary that traffic and crime increase over these holidays, so please stay safe. Otherwise, I hope you enjoy your Songkran. Suk san wan song kran! (สุขสันต์วันสงกรานต์ / Happy Songkran day!).
Think you are ready to take part in Songkran? Prepare for the new year by learning Thai using the Ling Thai app. It will help you learn the important words and phrases that will make your stay easier and more enjoyable.