Ah, yes, Mother's Day in Lao is typically celebrated by the people on the 8th of March. Just like many countries, it is equivalent to the day dedicated to the unsung heroes of our lives, the ones who nurture us with unwavering love and shape the essence of who we become. A global tribute that transcends borders and speaks to the universal bond of motherhood. Ready to greet every mother in Laos? If yes, read this epic guide!
What Is Mother In Lao?
Before heading to greeting your mother, you must first know how to say Mother most authentically and correctly: Mother can be translated as "Ээж ээ" (Eej ee) in Lao.
Example sentences:
| | | |
| --- | --- | --- |
| English | Lao | Pronunciation |
| The bond between a mother and child shines even brighter on the beautiful occasion of Mother's Day. | Эх үрсийн баярыг тохиолдуулан эх үрсийн холбоо улам тод гэрэлтдэг. | Ekh ürsiin bayaryg tokhiolduulan ekh ürsiin kholboo ulam tod gereltdeg. |
| On this day, I want to make my mother feel as special and treasured as she makes me feel every day. | Энэ өдөр ээждээ өдөр бүр мэдрүүлдэг шигээ онцгой, нандин гэдгийг мэдрүүлэхийг хүсч байна. | Ene ödör eejdee ödör bür medrüüldeg shigee ontsgoi, nandin gedgiig medrüülekhiig khüsch baina. |
| Happy Mother's Day to the woman who exemplifies love, strength, and grace in everything she does. | Хайр, хүч чадал, нигүүлслийг хийж буй бүх зүйлдээ үлгэрлэн харуулсан эмэгтэйд Эх үрсийн баярын мэнд хүргэе. | Khair, khüch chadal, nigüülsliig khiij bui bükh züildee ülgerlen kharuulsan emegteid Ekh ürsiin bayaryn mend khürgeye. |
The Significance Of Mother's Day In Laos
Mother's Day in Laos holds a profound and heartfelt significance, woven deeply into the nation's cultural fabric. It transcends mere tradition; it's a day when the gentle whispers of gratitude and the unspoken depths of love rise to the surface.
It's a time when families gather to honor the embodiment of selflessness, sacrifice, and unwavering strength that mothers represent. Laos acknowledges the mothers who have weathered life's storms with grace by exchanging heartfelt gifts, sharing cherished memories, and the gentle touch of hands that have held dreams and wiped away tears.
Here are more traditions done during Mother's Day in Laos:
Thread Tying Ceremony – The thread-tying ceremony is a poignant tradition where children tie colorful threads around their mothers' wrists to symbolize protection, love, and unity. The threads are believed to carry good wishes and positive energy.
Offering Alms to Monks: On Mother's Day mornings, families often gather at temples to provide alms to monks as a form of merit-making. This is a way to show respect to mothers and honor their roles in the family and society.
Giving Gifts and Flowers: Families often give gifts and flowers to their mothers as tokens of appreciation and love. To express gratitude, children may offer handmade crafts, cards, or other small presents.
Cooking Special Meals: Many families prepare special meals on Mother's Day to honor their mothers. Traditional Lao dishes and favorite family recipes are often cooked to make the day special.
Paying Respect to Elders: Children and younger family members pay their respects to their mothers and other female elders by performing a traditional gesture called "noy" or "wai." This involves bowing slightly and raising one's hands in a prayer-like position as a sign of respect.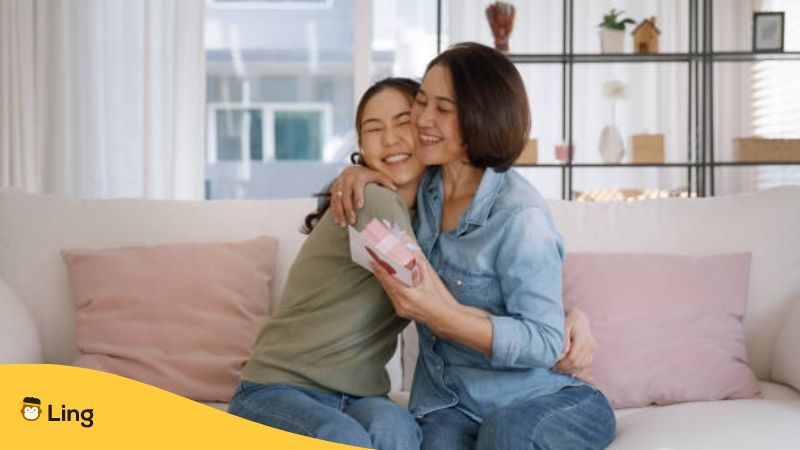 Mother's Day Greetings In Lao
Take the time to send a thoughtful message on Mother's Day to value and cherish the bond you share by using these phrases below:
| | | |
| --- | --- | --- |
| English | Lao | Pronunciation |
| Happy Mother's Day! | Ээжүүдийн баярын мэнд хүргэе! | Eejüüdiin bayaryn mend khürgeye! |
| To the best mom in the world. | Дэлхийн хамгийн сайн ээжид. | Delkhiin khamgiin sain eejid. |
| Thank you for everything, Mom. | Бүх зүйлд баярлалаа, ээж ээ. | Bükh züild bayarlalaa, eej ee. |
| Your love means the world to me. | Чиний хайр миний хувьд ертөнц гэсэн үг. | Chinii khair minii khuvid yertönts gesen üg. |
| Wishing you a day as special as you are. | Чам шиг онцгой өдрийг хүсэн ерөөе. | Cham shig ontsgoi ödriig khüsen yerööye. |
| Mom, you're my hero. | Ээж ээ, чи бол миний баатар. | Eej ee, chi bol minii baatar. |
| Sending you all my love on Mother's Day. | Эх үрсийн баяраар танд бүх хайраа илгээж байна. | Ekh ürsiin bayaraar tand bükh khairaa ilgeej baina. |
| May your day be filled with joy and laughter. | Таны өдөр баяр хөөр, инээд хөөрөөр дүүрэн байх болтугай. | Tany ödör bayar khöör, ineed khööröör düüren baikh boltugai. |
| You make every day better. | Та өдөр бүрийг илүү сайн болгодог. | Ta ödör büriig ilüü sain bolgodog. |
| Happy Mother's Day to the queen of our family. | Манай гэр бүлийн хатан хаандаа Эх үрсийн баярын мэнд хүргэе. | Manai ger büliin khatan khaandaa Ekh ürsiin bayaryn mend khürgeye. |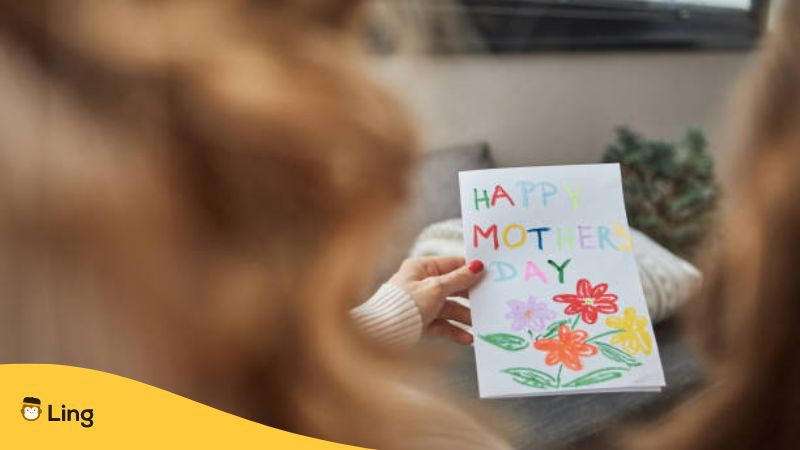 Best Words To Describe Motherly Qualities
Looking for words to compliment and express appreciation, love, and gratitude for everything your mother has done? Good thing we prepared a list that you can use below:
| | | |
| --- | --- | --- |
| English | Lao | Pronunciation |
| Compassionate | Энэрэнгүй | Enerengüi |
| Caring | Халамжтай | Khalamjtai |
| Loving | Хайртай | Khairtai |
| Patient | Өвчтөн | Övchtön |
| Selfless | Өөрийгөө харамгүй | Ööriigöö kharamgüi |
| Supportive | Дэмжиж байна | Demjij baina |
| Kind | Сайхан сэтгэлтэй | Saikhan setgeltei |
| Protective | Хамгаалах | Khamgaalakh |
| Tender | Тендер | Tyendyer |
| Devoted | Чин сэтгэлээсээ | Chin setgeleesee |
| Understanding | Ойлголт | Oilgolt |
| Gentle | Зөөлөн | Zöölön |
| Sacrificing | Золиослол хийх | Zolioslol khiikh |
| Empathetic | Эмпатик | Empatik |
| Reliable | Найдвартай | Naidvartai |
| Affectionate | Хайртай | Khairtai |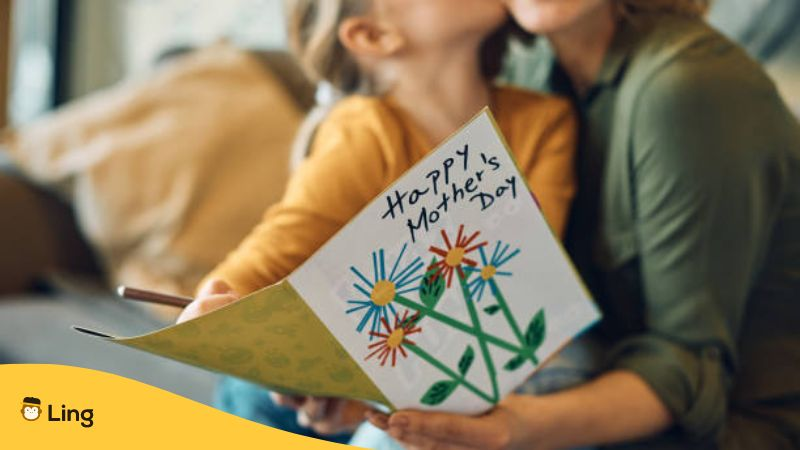 Learn Lao With Ling
Indeed, just having a glimpse of the phrases used during Mother's Day In Lao can make anyone interested and amazed by its language. So if you are also curious about learning more, you'll master Lao in no time with the 200+ lessons that combine speaking, reading, writing, and listening with the Ling app. Trust me – the Ling app is undoubtedly for you if you like taking interactive quizzes and quick grammar, vocabulary, and pronunciation courses.
So what are you waiting for? Get the Ling app away from the Play Store or App Store!