Interested in Thai words for Halloween? We can't blame you! As Halloween (วัน ฮาโลวีน pronounced as wan haa loh ween) approaches, Bangkok and other major cities in Thailand get a playful makeover, embracing the ghoulish spirit of the holiday with a unique Thai twist. Think traditional hungry ghost tales blending seamlessly with contemporary costume parties, creating an unforgettable fusion of eerie and excitement.
If you thought Halloween was all about haunted houses and pumpkin spice lattes, wait till you hear how Thailand gives this spook-tacular holiday its own twist. Get ready to dive into the land of smiles' unique take on Halloween parties and Its 30+ Spook-tacular words in Thai.
Halloween Season In Thailand
Once the calendar flips to the dusky days of October, a certain magic fills the air in countries around the world. The promise of Halloween – a night filled with spooky costumes, sugary delights, and playful scares is something that leaves children and adults alike wide-eyed with anticipation. But what happens when this Western tradition meets the culture-rich landscape of Thailand? Let's find out!
First things first: Halloween, as we traditionally know it, is not a native holiday in Thailand. You won't find carved pumpkins adorning every doorstep, nor is trick-or-treating a widespread tradition. But don't let that be a reason for your Halloween heart to despair! Over the years, with the influence of Western culture and the flourishing tourism industry, Halloween celebrations have come to find a home in Thailand—particularly in urban areas and tourist hotspots.
The Halloween season in Thailand is marked by lively themed parties at nightclubs and bars, especially in cities like Bangkok, Chiang Mai, and Phuket. Expect elaborate decorations, Halloween-inspired cocktails, DJs spinning spooky beats, and of course, a crowd dressed in creative costumes looking for a ghoulishly good time.
For a uniquely Thai take on the season, don't miss the 'Phi Ta Khon' festival or the Ghost Mask Festival. Celebrated in the northeastern province of Loei, this festival is renowned for its ghostly parades featuring locals wearing vibrant, handmade masks and outfits. Though the festival typically takes place during June or July, it exceptionally feeds into the Halloween spirit and makes a thrilling addition to Thailand's seasonal celebrations.
However, remember that Thailand takes its ghosts and spirits very seriously, with various folk tales and legends woven into the fabric of its culture. So, while dressing up and celebrating with abandon, take care to respect these customs and traditions.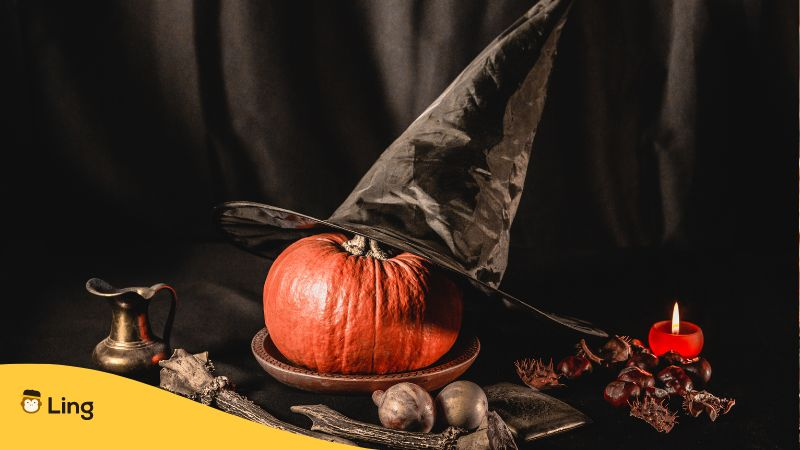 Common Thai Words For Halloween
From the flicker of candlelit shrines to the echoes of ancient tales, Thai Halloween brings a unique lexicon to the table. Just like the diverse candies in a trick-or-treat bag, our assortment of Thai expressions will take you on a captivating ride through the heart of this enchanting celebration. In the spirit of this eerie yet exciting occasion, we've brewed up a collection of Thai Halloween words to arm you with the tools of the trade. Soon enough, you'll be conversing about playful spirits, mystical witches, and legendary creatures like a true connoisseur of Thai Halloween vocabulary.
| English | Thai Script | Thai Pronunciation |
| --- | --- | --- |
| Halloween | ฮาโลวีน | Ha-lo-ween |
| Ghost | ผี | Phi |
| Witch | แม่มด | Mae mod |
| Vampire | แวมไพร์ | Waem-pai |
| Pumpkin | ฟักทอง | Fak thong |
| Costume | ชุดแฟนซี | Chut fan-see |
| Haunted House | บ้านผีสิง | Ban phi sing |
| Zombie | ซอมบี้ | Som-bii |
| Skeleton | โครงกระดูก | Kroeng kra-duuk |
| Trick or Treat | ถ้าไม่ให้ขนมก็ต้องโดนแกล้ง | Tha mai hai khanom kor tong don klaeng |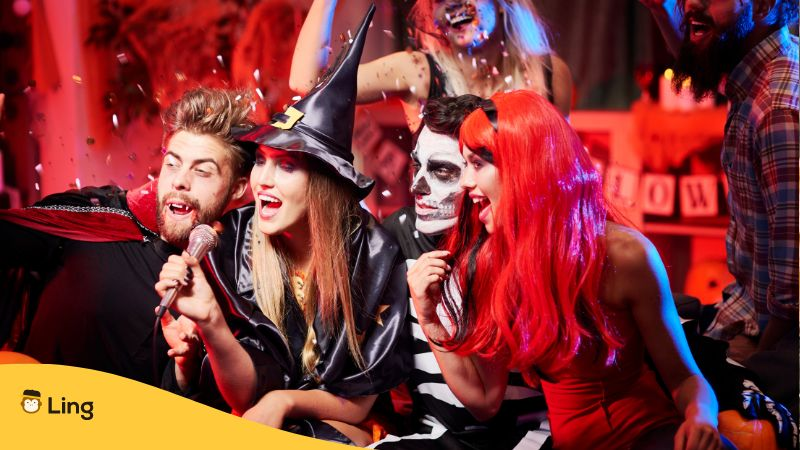 Common Halloween Costumes In Thai
Planning to join a costume party during this time of the year? Then be sure to dress up really well because Thais are super great at it.
| English | Thai Script | Thai Pronunciation |
| --- | --- | --- |
| Mummy | มัมมี่ | Mum-mii |
| Werewolf | มนุษย์หมาป่า | Manut hma-pa |
| Fairy | นางฟ้า | Nang-faa |
| Goblin | โกรบลิน | Grob-lin |
| Pirate | โจรสลัด | Jon-salad |
| Superhero | ซูเปอร์ฮีโร่ | Su-per-hee-ro |
| Princess | นางเจ้าหญิง | Nang chao-ying |
| Knight | นักฆ่าอัศวิน | Nak-ka asawin |
| Alien | มนุษย์ต่างดาว | Manut tang-dao |
| Ninja | นินจา | Nin-ja |
Basic Thai Adjectives For Halloween
Boo! Did we catch you off guard? Get ready to add some spooky sparkle to your Thai vocabulary this Halloween season!
First off, if you've encountered something truly scary and want to explain that in Thai, use 'น่ากลัว' ('naa-glǔa')—your go-to adjective for 'scary' or 'horrifying'. Maybe that intricately carved pumpkin or that realistic zombie costume is scaring the daylights out of you (or out of your Thai friends), and this phrase will come in handy.
But Halloween's not all grim, is it? When you encounter a fantastically creative or remarkably detailed costume or decoration and want to appreciate it in Thai, feel free to exclaim, 'ที่น่าทึ่ง' ('tîi nâa-tʉ̂ng'), which translates to 'amazing.'
Now, let's light up a dark spooky night. You've seen those costumes that glow in the dark or the brightly lit jack-o'-lanterns, right? 'สว่าง' ('sǎ-wǎng') stands for 'bright, lit.'
Last but not least, Halloween would be incomplete without the candy—lots and lots of it! If you find yourself gifted a particularly sweet treat, you could say it's 'หวาน' ('wǎan'), meaning 'sweet.'
Learn Thai With Ling
Enjoyed this post? Embark on an odyssey of learning the Thai language by trying out the Ling app! Immerse yourself in interactive lessons, engaging exercises, and authentic cultural insights. By simply using it for 10 minutes a day, you can start impressing your Thai peers and the local Thai people. Whether venturing into your first foray or ascending the proficiency ladder, Ling offers an intuitive platform for navigating Thai grammar, vocabulary, pronunciation, and dialogues. Join our community of language enthusiasts and embark on a journey of linguistic and cultural submersion.
Download the Ling app today on Google Play and the App Store today to get started!