Sounds of hearty laughter, delicious aromas wafting through the air, and an unmissable zest for life—there's something magical about the lively Punjabi culture that can transform even a regular shopping trip into an unforgettable experience. And guess what? We're here to level up your shopping sojourns in Punjab with this handy list of easy Punjabi words for types of shops. So whether you're exploring the bustling markets of Amritsar or casually strolling down the streets of Chandigarh, we've got you covered.
Shop In Punjabi
Pack your virtual bags, folks, because we're taking you on a delightful trip straight to Punjab! But, don't you worry—this isn't just your typical vacation. We're going on a very 'Punjabi' kind of shopping spree!
So, how do we say "shop" in Punjabi? The answer is simply "ਦੁਕਾਨ" (Dukaan), pronounced as Doo-kaan. But before we go shop-hopping, let's take a moment and immerse ourselves in the fascinating shopping culture of Punjab.
If there's one element that defines the shopping culture in Punjab, it's the unmistakable warmth. No, we're not just talking about the weather or the hearty Punjabi "ਸਤ ਸ੍ਰੀ ਅਕਾਲ" (Sat Sri Akal – Hello) that greets you at every corner. What truly makes shopping in Punjab a joyous affair is the people and their infectious zest for life.
In Punjabi markets, shopping is so much more than just a transaction. It's an exciting exchange of stories and smiles, a rich tapestry of tastes and textures, and a shared celebration of the region's diverse heritage. From the hustle and bustle of the ਕਿਰਿਆਨਾ ਦੁਕਾਨ (grocery store) to the delightful chaos of the 'ਕੁੰਡੀ ਦੁਕਾਨ' (clothing store), shopping in Punjab is like stepping into a whirlwind of vibrant colors, tantalizing aromas, and experiences that, quite simply, will become tales to tell!
And what's more, Punjab's shopping culture is a charming blend of tradition and modernity. Need proof? Look no further than the labyrinthine streets of 'ਬਾਜਾਰ' (Bazaar), where century-old shops selling traditional Punjabi 'ਜੁੱਤੀ' (jutti – shoes) coexist with swanky 'ਬੂਟੀਕ' (boutiques) displaying the latest trends.
And, oh! Don't get us started on the mouth-watering food stalls scattered around every market, where you can relish the famous 'ਚੋਲੇ-ਭਤੂਰੇ' (fried bread and chickpeas) and sip on some lassi, because, hey, you're in Punjab. Shopping breaks mean scrumptious food breaks!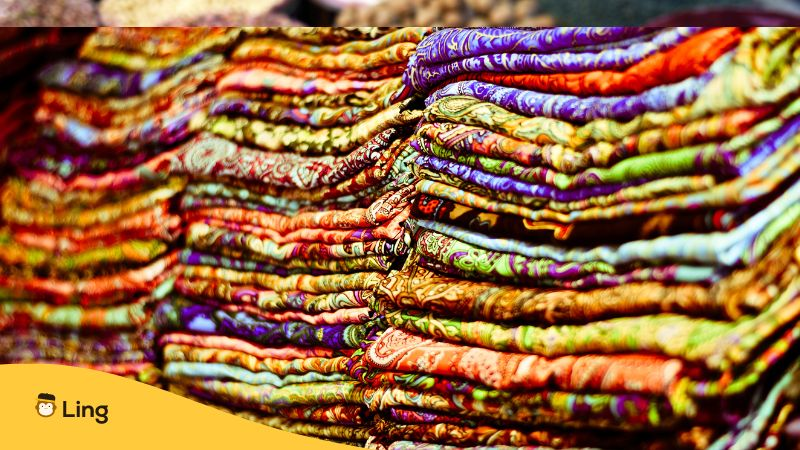 Easy Punjabi Words For Types Of Shops
Punjabi, being the first language of Pakistan, is a vibrant and culturally rich language spoken by millions of people primarily.
| English | Punjabi Script | Pronunciation |
| --- | --- | --- |
| Kirana Shop | ਕਿਰਾਣਾ ਦੁਕਾਨ | Kirana Dukaan |
| Jewelry Store | ਜਵੇਲਰੀ ਦੁਕਾਨ | Jewelry Store |
| Clothing Store | ਕੱਪੜਾ ਦੁਕਾਨ | Kapda Dukaan |
| Bookstore | ਕਿਤਾਬ ਦੀ ਦੁਕਾਨ | Kitaab Di Dukaan |
| Electronics Store | ਇਲੈਕਟ੍ਰੌਨਿਕਸ ਦੁਕਾਨ | Electronic Dukaan |
| Shoe Store | ਜੂਤੀ ਦੁਕਾਨ | Jooti Dukaan |
| Pharmacy/Chemist Shop | ਫਾਰਮੇਸੀ/ਕੈਮਿਸਟ ਦੁਕਾਨ | Pharmacy/Kemist Dukaan |
| Furniture Store | ਫ਼ਰਨੀਚਰ ਦੁਕਾਨ | Furniture Dukaan |
| Hardware Store | ਹਾਰਡਵੇਅਰ ਦੁਕਾਨ | Hardware Dukaan |
| Vegetable Market | ਸਬਜੀ ਮੰਡੀ | Sabji Mandi |
| Fish Market | ਮੱਛੀ ਮੰਡੀ | Machhi Mandi |
| Antique Shop | ਪ੍ਰਾਚੀਨ ਦੁਕਾਨ | Pracheen Dukaan |
| Bakery | ਬੇਕਰੀ | Bekari |
| Fruit Shop | ਫਲਦਾਰੀ ਦੁਕਾਨ | Phaldari Dukaan |
| Stationery Store | ਸ਼ਾਸ਼ਤਰ ਦੁਕਾਨ | Shashtr Dukaan |
Bartering In Punjabi
Bargaining, or as we tastefully like to call it, 'price panga' (price scuffle), is a time-honored tradition in the bustling markets of Punjab. So, let's learn the fine art of negotiation in Punjabi, shall we? Buckle up, folks, because here comes the crash course in Punjab's bartering lingo!
Step 1: The Warm Up
Start your bargaining ballet humbly with a cordial "ਸਤ ਸ੍ਰੀ ਅਕਾਲ" (Sat Sri Akal – Hello) and ask the price of the product you're eyeing. In punjabi, it is, "ਇਹ ਦਾ ਕੀ ਮੁੱਲ ਹੈ?" (Eh da ki mull hai? – What is the price of this?). Now that you've opened the dialogue, let's take the leap.
Step 2: The Showdown
Once you've got the price, don't look shocked, even if it's too high. Maintain control and politely say, "ਇਹ ਤਾਂ ਬਹੁਤ ਮਹਿੰਗਾ ਲੱਗ ਰਿਹਾ ਹੈ" (Eh taan bahut mehnga lag raha hai – This seems pretty expensive). It's a simple, straightforward point―a necessary move in the bargaining ballet.
Step 3: The Counter
Now, here comes the interesting part—making a counteroffer. You could say, "ਕੀ ਇਸ ਦਾ ਮੁੱਲ ਘੱਟ ਕਰ ਸਕਦੇ ਹੋ?" (Ki is da mull ghatt kar sakde ho? – Can you reduce the price of this?). And remember to confidently put across your proposed price.
Step 4: The Drama
If the shopkeeper is playing hardball, it's time to ramp up the drama, politely though. Turn to leave, hinting that you might just walk away from the deal. A tried and tested tactic, it often leads to an immediate price drop!
Step 5: The Closing Scene
Once you've reached a bargain you're happy with, seal the deal by saying "ਠੀਕ ਹੈ, ਮੈਂ ਇਹ ਲੇਹਣਾ ਹੈ" (Theek hai, main eh lehna hai – Okay, I'll buy this).
Remember, respect is essential in any interaction – ensure that the bartering process stays friendly. So now, equipped with these Punjabi phrases, you're ready to haggle like a local in Punjab's colorful ਬਾਜ਼ਾਰ's (bazaars).
Learn Punjabi With Ling
Phew! We've certainly had a wild ride through Punjab's bustling markets, right from their pulsating heart to their vibrant corners. We've learned how to say different types of shops in Punjabi, taken a sneak peek into the region's unique shopping culture, and even dipped our toes into the exciting pool of friendly 'price panga.' And guess what? You've managed to navigate it all like a pro!
But wait, don't board your virtual flight out of Punjab just yet. The party doesn't stop here! This was just a brief glimpse into the rich, lively Punjabi language and culture.
Think about it.
Can you imagine how much more there is to learn and explore about Punjab, its language, and its people? The pronunciations, the dialects, the idioms, and oh, the pun-tastic proverbs! But worry not fellow knowledge explorer, we have just the fix for your curiosity pangs!
Introducing…drum roll please… the Ling app!
That's right! For more fun-filled linguistic adventures and to cudgel your brains around more Punjabi (or hey, maybe any other language that tickles your fancy), hop onto the Lang App. It's your one-stop solution to learning languages in a fun, engaging, and—dare we say—slightly addictive way. Check it out and download it from the Play Store or the App Store right now!