Summertime in South Korea is a season filled with excitement and adventure. From fun activities like camping, fishing, and hiking to cultural experiences like visiting ancient Korean temples and traditional markets, there is something for everyone in South Korea during the hot months. But how do Koreans spend their summer vacations in this beautiful country? In this blog post, we'll be taking a look at some of the unique and exciting ways that Koreans enjoy their summer vacations in South Korea.
Summer Vacations In South Korea
Summer vacations in South Korea can be a great way to relax and spend time with family and friends. Whether it's going to the sandy beach, Jeju Island, hiking, camping visiting family, playing video games, or going on road trips, there are plenty of activities to do in South Korea during the summer. It is always fun and exciting to discover something new and explore different parts of the country.
Going To The Beach
Summertime in South Korea is the perfect time to hit the beach! Many Koreans flock to coastal cities during the summer to cool off and relax in the sun. There are lots of beaches to choose from, ranging from small, secluded spots to bustling tourist hotspots.
No matter where you go, you'll find plenty of activities/sports like swimming, snorkeling, kayaking, and boating to keep you entertained. Of course, a trip to the beach isn't complete without some delicious Korean seafood, so don't forget to sample some local dishes while you're there. Just remember to bring your sunscreen—it can get quite hot during the summer months in South Korea!
Hiking And Camping
Hiking and camping is a popular way for Koreans to enjoy the outdoors during the summer months. South Korea is full of beautiful mountains and trails, making it a great destination for those looking to escape the city and explore the countryside. In addition, many parks, nature preserves, and other outdoor areas provide plenty of options for camping and setting up campfires.
For those interested in a more challenging hiking experience, there are plenty of mountain trails available for experienced hikers to traverse. The Baekdudaegan trail, Nakdonggang National Park, and Seoraksan National Park are all popular hiking destinations. Many of these trails are difficult, but with proper preparation and the right gear, they can be navigated successfully.
For those who prefer a more relaxed camping experience, there are plenty of campsites available throughout South Korea. Most campsites offer amenities such as showers, restrooms, and fire pits, making them perfect for a weekend away. Additionally, many campsites offer activities such as fishing and boating, giving campers a chance to explore the area and its wildlife.
No matter what type of camping experience you're looking for, South Korea has something for everyone. Whether you're a beginner or an experienced hiker, South Korea offers a unique and exciting way to spend your summer vacation.
Visiting Family
For many Koreans, summer vacations are a great opportunity to spend quality time with family. Whether it's visiting grandparents or catching up with distant relatives, visiting family is a popular way for Koreans to enjoy their summer.
Visiting family is often seen as an essential part of Korean culture; it's important for families to stay connected and strengthen the bond between generations. During the summer, it's common for extended family members to gather in one household and celebrate together, either with a barbecue or a traditional Korean dinner.
The visiting family also presents an opportunity to learn about the culture and traditions of Korea and share memories with loved ones.
Playing Video Games
Video games are a popular way for Koreans to enjoy their summer vacation. Whether it's playing a game on a console or PC or downloading an app on their mobile device, there are a variety of video games that are favored by Korean gamers. Some of the most popular video games among Koreans include Player Unknown's Battlegrounds (PUBG), League of Legends, Overwatch, and many others.
Korean gamers often organize tournaments and competitions where they can challenge one another and practice their skills. Many places in South Korea offer gaming centers where players can rent computers to play online games with other gamers.
For those looking to stay inside and avoid the summer heat, video games can provide a great escape and hours of entertainment. As an added bonus, it also helps to sharpen the mind and develop skills such as problem-solving and strategy. So if you're looking to beat the heat this summer, playing some video games might be just the thing to do!
Going On Road Trips
Road trips are a great way for Koreans to experience the beauty of South Korea during their summer vacation. From stunning coastlines and lush national parks to ancient temples and modern cities, there is much to explore throughout the country. There are many different types of road trips one can take in South Korea.
For instance, a popular destination is the East Coast of South Korea, which boasts stunning beaches and an abundance of seafood. Some other popular road trips include driving through the countryside, visiting some of the nation's most beautiful mountains, or touring the historical sites in Seoul.
No matter where you decide to go on your road trip, it's important to plan ahead. This means researching what you want to do and see, booking your accommodations ahead of time, and budgeting accordingly.
It's also important to prepare for unexpected circumstances; ensure your vehicle is well-maintained and carry a roadside emergency kit. Additionally, make sure you have plenty of snacks, water, and other essentials with you when you hit the road.
When going on a road trip to South Korea, be sure to keep safety in mind as well. Keep an eye out for wild animals crossing the road, and abide by all traffic laws. Additionally, make sure to pay close attention to road signs and observe speed limits, as many roads in South Korea are known for their steep hills and winding curves.
For those looking for an adventure this summer, going on a road trip in South Korea is definitely something worth considering. Not only will you get to explore some of the most stunning parts of the country, but you will also get to experience the culture, people, and food that make South Korea so special. With a bit of planning, it can be an enjoyable and memorable experience!
Useful Summer-Related Vocabulary
Here are some words that you should know to talk about enjoying summer vacations in Korea.
| | | |
| --- | --- | --- |
| English | Korean | Romanization |
| Beach | 해변 | Haebyeon |
| Camping | 캠핑 | Kaemping |
| Canoeing | 카누 | Kanu |
| Hat | 모자 | Moja |
| Humid | 습한 | Seubhan |
| Ice Cream | 아이스크림 | Aiseukeulim |
| Lemonade | 레몬 에이드 | Lemon Eideu |
| Picnic | 피크닉 | Pikeunig |
| Popsicles | 팝 시클 | Pab Sikeul |
| Sea | 바다 | Bada |
| Season | 계절 | Gyejeol |
| Shell | 껍데기 | Kkeobdegi |
| Summer Camp | 여름 캠프 | Yeoleum Kaempeu |
| Sunglasses | 색안경 | Saeg-Angyeong |
| Sunshine | 햇빛 | Haesbich |
| Surfing | 서핑 | Seoping |
| Swim | 수영 | Suyeong |
| Tan | 탠 껍질 | Taen Kkeobjil |
| Travel | 여행하다 | Yeohaenghada |
| Waves | 파도 | Pado |
Useful Phrases
Now let's learn some useful phrases that could help you while you are in Korea to spend summer vacations.
| | | |
| --- | --- | --- |
| English | Korean | Romanization |
| Do you like having summer vacations? | 여름 방학을 좋아합니까? | Yeoleum banghag-eul joh-ahabnikka? |
| What do you do in summer vacations? | 나는 이번 여름에 부산에 갈 것이다. | Naneun ibeon yeoleum-e busan-e gal geos-ida. |
| What is your preferred way of enjoying summer vacations. | 아니요, 이번 여름에 할 일이 많아서 아무데도 가지 않을 거예요. | Aniyo, ibeon yeoleum-e hal il-i manh-aseo amudedo gaji anh-eul geoyeyo. |
| Will you go on vacations this summer? | 여름방학에는 무엇을 하나요? | Yeoleumbanghag-eneun mueos-eul hanayo? |
| I will go to Busan this summer. | 여름휴가를 즐기는 방법은? | Yeoleumhyugaleul jeulgineun bangbeob-eun? |
| No, I won't go anywhere as I have a lot of work to do this summer. | 이번 여름에 휴가를 갈 건가요? | Ibeon yeoleum-e hyugaleul gal geongayo? |
Wrapping Up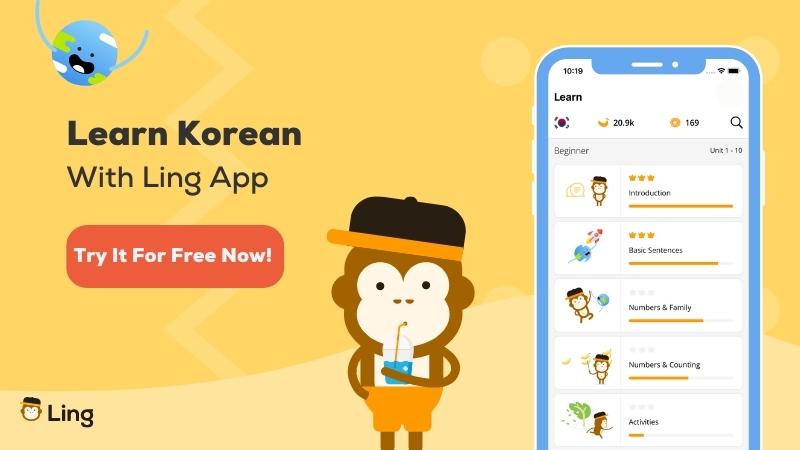 Visiting Korea to spend the summer in natural wonders is one of the best decisions that you can make this year. Check out its Boryeong Mud Festival to experience the morning calm, followed by a perfect summer trip in the round-trip shuttle bus to have the best Korean summer vacation. If you want to check out more fun ways to explore Korea and Korean culture, then check out Ling, as it brings you valuable content every day. You can learn 60+ languages on this fastest-growing language-learning platform.
Stop struggling with learning these languages when such simplistic ways exist, and download Ling App from Google Playstore or App Store to start learning Korean like a pro!