Everyone who has ever been to Thailand before can say without any hesitation that Thai people are very kind and welcoming. I mean, there's a reason they call the country the "Land of Smiles", right? Visitors are quickly enchanted by the natural beauties of Thailand, the Thai language, as well as Thai culture.
In today's post, we will be talking about 15 amazing facts about Thai people. This will help you see if your assumptions and stereotypes about Thai people are true or not. So, let's get started!
Facts About Thai People You Need To Get To Know
1. Thai People Are Hardworking
In Thailand, many people work more than 8 hours a day and, on top of it, they have only one day off per week. Many people even commute to work from far places like the countryside.
But, Thai people don't usually complain because they have gotten used to these working hours.
2. Thai People Tend To Be Late
The time perception of Thai people seems to be a little different from other people.
For example, showing up at the actual arranged time is considered early rather than on time while showing up 15-30 minutes after is considered as being on time, not late. When you appear an hour later than the actual meeting time, then this can be considered as being late for them.
3. Thai Employees Have Very Few Days For Vacation
Thai citizens' vacation time is not regulated by the Thai government; therefore, every company gets to decide how many days off their employees will have.
Generally speaking, most Thai employees have 6 days off for vacation per year. Only after they have worked for 10 years in the same company will they be able to have a vacation for 12 days a year.
Additionally, female employees get 3 months off for maternity leave.
4. Thai People Don't Travel A Lot
Not a surprise considering the number of vacation days Thai people get, but, yes, Thai people don't travel much. But a good quality for most Thai people is that they prefer to use their vacation days to spend quality time with their families.
5. All Thai People Are Like A Family
Thai people have a strong bond with each other and they look out for each other no matter what happens. This gives them the feeling of being a part of a big family.
In addition, they typically use specific personal pronouns related to the family with everyone as a sign of respect. For example, it is not appropriate to call a Thai person who is older than you by their first name.
6. Thai Parents Are Known To Be Demanding
Like every school-age child, Thai kids go to school, but as if that were not enough, they go to private English or math classes after school. When they come home they start doing their homework, study and then go to sleep. This is a typical day for Thai students.
For those students who go to private schools, they go to school on Saturday as well. On Sundays, they might even have to go to music lessons.
Also, most Thai parents try to choose a career path for their kids in advance.
7. Thai People Believe In Many Superstitions
Even though most Thai people practice Buddhism, this doesn't prevent them from believing in superstitions.
These superstitions come from different influences outside of Buddhism. Most superstitions result from animism which has belonged to Thai culture for hundreds of years. Spirit worshipping is also common in other close ancient cultures like Laos and Cambodia.
These superstitions are closely related to particular actions being undertaken on certain days. The Thai people believe that there are specific inauspicious days for some events. They even consult monks before planning a big event to make sure that day is not inauspicious.
8. Thai People Can't Rely On Retirement
Yep, surviving on a monthly pension or retirement salary from the government is nearly impossible.
Some elderly people need to ask their families for help or still need to work to earn more money after they have officially retired. You can see for yourself when you go to Thailand, that there are many elder people working as street vendors on every corner.
9. Thai People Love Food
All Thai people have something in common: the love for food! But, they have a rich and original cuisine which they are so proud of, so can you blame them? Even though they love food, they usually don't prefer to cook at home. They typically order food or eat out.
If you would like to see some of the most delicious Thai food, make sure to check out our other posts!
10. Thai People Prefer To Dress Modestly
Thai people prefer wearing decent clothing. As you can observe yourself, you generally don't see Thai women in miniskirts or mini shorts, or with deep cleavage even though the weather is scorching hot. Traditional Thai clothes are also very modest and cover almost all parts of a woman's body.
11. Thai People Aways Smile
Thai people are just awesome! Every person you come across is helpful and they always greet you with a smile on their face. These big smiles and waves of laughter make life in Thailand much more beautiful and heaven-like.
12. Thai People Love The Lottery
You will know when the lottery day is by looking at any corner in Thailand.
Groups of people stop by to look and purchase ticket boards from different lottery ticket sellers who wander around the streets on bicycles. This is much more than a hobby for Thais because they have a chance of gaining incredible money from hundreds of Thai baht to millions of Thai baht!
13. Thai People Love Sweets
In Thailand, you are likely to drink a coffee that is sweetened with sugar, sweetened milk, and a little bit of sweet syrup. If you ever drink Thai tea or coffee from a street vendor, then you will understand what I'm saying.
If you are not a big fan of sugar, you may need to specify what level you want before they start to prepare your drink.
14. Most Thai People Have A Nickname
It is common in Thailand for people to use nicknames instead of their full names. These nicknames are not shorter versions of their real names, but entirely different names altogether.
15. About 95% Of Thai People Are Buddhist
Although Thailand itself doesn't have an official religion, the majority of the Thai population are practicing Buddhists and there are many Buddhist monks among these people.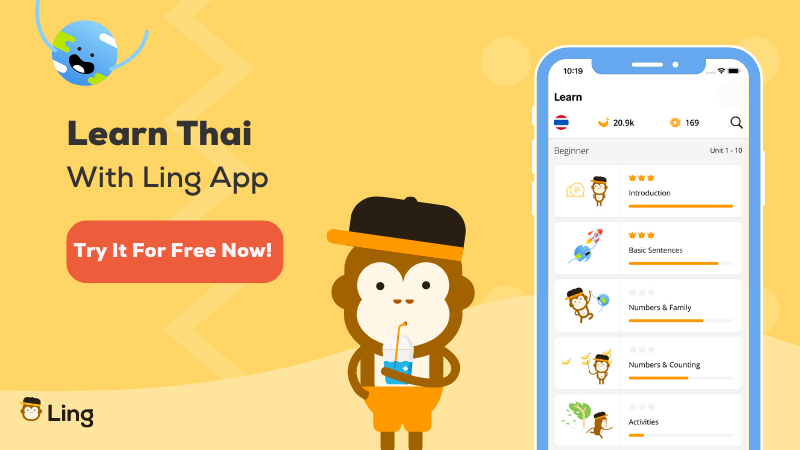 Learn The Thai Language With Ling!
If you are looking for an efficient resource to learn the Thai language, Ling app is here for you! Also, if you want to learn more about Thailand and Thai people, you always check out Ling's free language blog!
To give you more information, the Ling app is a language learning app that has been used and loved by millions of language learners around the world. The app offers lessons in more than 60 languages, including Ukrainian, English, German, and so much more! You can learn any language by using the Ling app for just 15 minutes a day.
So, what are you waiting for? Download the Ling app from the App Store or Play Store to start learning!