Lithuanian traditions ('tradicijos'), are some of the most unique and fun in the Baltic countries of Europe. Most of these traditional holidays and celebrations follow the cyclical nature of seasons, and mark times when Mother Earth is changing.
Along with the natural cycle of a year, the rest of traditional Lithuanian celebrations are Roman Catholic holidays, such as the birth and resurrection of Christ (Christmas and Easter, respectively). Lithuanian literature, folklore, superstitions, Christianity, and Baltic Paganism are just some influences to Lithuanian ceremonies and rituals. This combination makes for interesting, and unique, cultural conventions!
In this article we will go over the top 8 Lithuanian traditions, as well as learn some vocabulary and history from different ethnic groups. Make sure to visit Lithuania during one of these famous traditions and be treated to an entertaining cultural experience unlike anywhere else in the world! Let's begin.
#1 – Midsommar
This summertime Lithuanian tradition happens on June 24th, the summer solstice in the northern hemisphere. Also known as St. Jonas' Festival, the Midsommar festival consists of folklore, romance, and gatherings around the bonfire. 
Some more traditions include:
Singing traditional folk music & dancing until sunset
Enjoying Lithuanian food
Jumping over bonfires
Young women washing their face with fresh dew in the morning
Searching to find the magic fern blossom at midnight

Fun fact: ferns don't actually have blossoms, so this hunt is an excuse for lovers to go on a romantic stroll together!

Floating flower wreaths and garlands on the lake
Watching the sunrise on the second half of the year
Let's learn some Lithuanian vocabulary to do with Midsommar.
| | | |
| --- | --- | --- |
| English | Lithuanian | Pronunciation |
| Summer solstice | Vasaros saulėgrįža | |
| Folk songs | Liaudies dainos | |
| Garland | Garlandas | |
| Bonfire | Laužas | |
| Fern blossom | Paparčio žiedas | |
| Dew | Rasos | |
| Dancing | Šokiai | |
| Midnight | Vidurnaktis | |
| Sunrise | Saulėlydis | |
#2 – September Equinox
Continuing Lithuanian traditions with Mother Nature, this next festival occurs on the September solstice (Autumn equinox). The days are shortening, the winter is coming, and Lithuanians prepare for the dark winter. To celebrate this yearly occurrence, there are bountiful markets selling goods from the new harvest. It is a special time to be in the present moment and give thanks to the harvest for all it has supplied.
There are also huge straw sculptures and fire shows, subsequently as the straw sculptures are burned, the fire shows attract crowds.
Let's learn some Lithuanian vocabulary to do with September Equinox traditions.
| | | |
| --- | --- | --- |
| English | Lithuanian | Pronunciation |
| Winter solstice | Žiemos saulėgrįža |  |
| Harvest | Derlius |  |
| Festival | Festivalis |  |
| Straw | Šiaudai |  |
| Fire | Ugnis | |
#3 – Coronation Of Mindaugas 
Also known as Statehood Day / Coronation Day, this modern Lithuanian tradition is a beloved annual public holiday on July 6th. It celebrates the coronation of Mindaugas in 1253, and represents his sovereignty as the one and only King of Lithuania.
All throughout Lithuania, the locals proudly sing the national anthem at a certain designated time. It is a show of national pride and recognition of the past monarchy. You don't want to miss this extraordinary show of culture and history!
Let's learn some Lithuanian vocabulary to do with Coronation Day.
| | | |
| --- | --- | --- |
| English | Lithuanian | Pronunciation |
| Coronation | Karūnavimas |  |
| King | Karalius |  |
| National anthem | Valstybinis himnas |  |
| Sing | Dainuokite |  |
#4 – Assumption Day
Another summer holiday, Assumption Day is a mix of Pagan and Catholic traditions. If you go deep in the south of Lithuania to the Alytus villages on August 15th, you'll be sure to find every church decorated with flowers. This day celebrates the Assumption of the Blessed Virgin Mary. It is an important festival in Lithuania.
Local people bring flowers and wheat ears as a symbol of the miracle of the new harvest. This holiday starts at the church and is really an important day to spend with family. Though it's based on ancient times, Assumption Day is an important ritual for modern day Lithuanians too.
Let's learn some Lithuanian vocabulary for Assumption Day.
| | | |
| --- | --- | --- |
| English | Lithuanian | Pronunciation |
| Village | Kaimas |  |
| Virgin Mary | Mergelė Marija |  |
| Church | Bažnyčia |  |
| Family | Bažnyčia |  |
| Flowers | Gėlės | |
| Wheat | Kviečiai | |
#5 – Shrove Tuesday
Known as Fat Tuesday or Mardi Gras in other parts of the world, Shrove Tuesday is the Lithuanian equivalent. Celebrating the last day of feasting before fasting for Easter, this holiday is a jolly occasion with merriment and celebrating. In addition to representing a day to celebrate before fasting for Easter, it also symbolizes the end of winter and welcoming of spring time.
The most prominent feature of this festival are the traditional hand carved wood masks. The masks are quite the spectacle, and draw crowds from all over. You're supposed to travel to each neighbor and spend time with each house, stuffing your face with pancakes, potato dumplings, and other delicious treats from Lithuanian cuisine.
The culmination of Shrove Tuesday is with the burning of a straw effigy called More. She represents the clash between winter and spring. Once she is burned, spring can arrive! You really see the Pagan roots influencing this holiday, which is extremely fascinating and unique to this country!
Let's learn some Lithuanian vocabulary for Shrove Tuesday.
| | | |
| --- | --- | --- |
| English | Lithuanian | Pronunciation |
| Feast | Šventė |  |
| Spring | Pavasaris |  |
| Easter | Velykos |  |
| Masks | Kaukės |  |
| Pancakes | Blynai | |
#6 – Palm Sunday
Exactly one week until Easter, Palm Sunday marks the beginning of spring. Lithuanians come out of their winter hibernations and celebrate on the streets! The people take branches of juniper and ornate palms to the church. Once there, they are consecrated, which represents protection from evil spirits and bad luck.
The tradition of making palms from the spruce tree stems back hundreds of years in Lithuania! When Christians first came to Lithuania, the plants which first sprouted in the harvest were honored during the spring feasts. Those plants were weeping willows and osiers, which are still consecrated today on Palm Sunday! This tradition is especially alive in Vilnius, the country's capital. Walk the beautiful streets and witness the thousands of palms on Palm Sunday.
Let's learn some Lithuanian vocabulary to do with Palm Sunday.
| | | |
| --- | --- | --- |
| English | Lithuanian | Pronunciation |
| Palm Sunday | Verbø Sekmadienis |  |
| Protection | Apsauga |  |
| Spruce | Eglės |  |
| Weeping willows | Verkiantys gluosniai |  |
#7 – Easter Granny
Forget the Easter Bunny! In Lithuania, the Easter Granny is the queen of the holiday. Named Velyku Bobute, this sweet old grandma is the one to bring Easter eggs to the children on Easter. Although, she does have some fuzzy bunnies that act as her assistants!
Easter is one of the most important holidays in Lithuania, and the celebrations are extravagant and the food is plentiful. Families gather to share delicious food and decorate Easter eggs. The Easter eggs are a symbol of life and rebirth, so the egg decoration is taken seriously. Not only are the patterns beautiful, but they then eat the eggs for dinner!
Let's learn some Lithuanian vocabulary to do with Easter Granny.
| | | |
| --- | --- | --- |
| English | Lithuanian | Pronunciation |
| Easter | Velykos |  |
| Bunny | Bunny |  |
| Eggs | Kiaušiniai |  |
| Life | Gyvenimas |  |
| Rebirth | Atgimimas | |
#8 – Christmas Eve & Christmas
Though Christmas traditions are important in many countries, Lithuanians have unique rituals and customs that make this the most special time of the year. They seem to sprinkle just the right amount of Christmas cheer into their wonderful traditions.
On Christmas Eve, the people have a very specific dinner meal with traditional dishes. This very specific meal includes 12 vegetarian dishes. Moreover, the family shares the Christmas wafer (received at Holy Communion in church), and enjoy the company of their loved ones. It is a cozy time, awaiting the excitement of the next day. Wishes that are made on Christmas Eve are prophesied to come true.
Christmas Day is a joyous celebration met with gifts under the Christmas tree, and huge feasts with traditional cakes, meats, breads, and other Lithuanian food. Lithuania is a world renowned country known for its Christmas spirit. There are huge festivals, markets, vendors, and concerts annually around Christmas time. If you're in the Baltic region during December, don't miss out on the Christmas merriment in Lithuania!
Let's learn some Lithuanian vocabulary to do with Christmas Eve & Christmas traditions!
| | | |
| --- | --- | --- |
| English | Lithuanian | Pronunciation |
| Christmas | Kalėdos |  |
| Christmas Eve | Kalėdų išvakarės | |
| Wishes | Linkėjimai | |
| Festival | Festivalis |  |
| Market | Rinka |  |
| Christmas spirit | Kalėdų dvasia |  |
Wrapping Up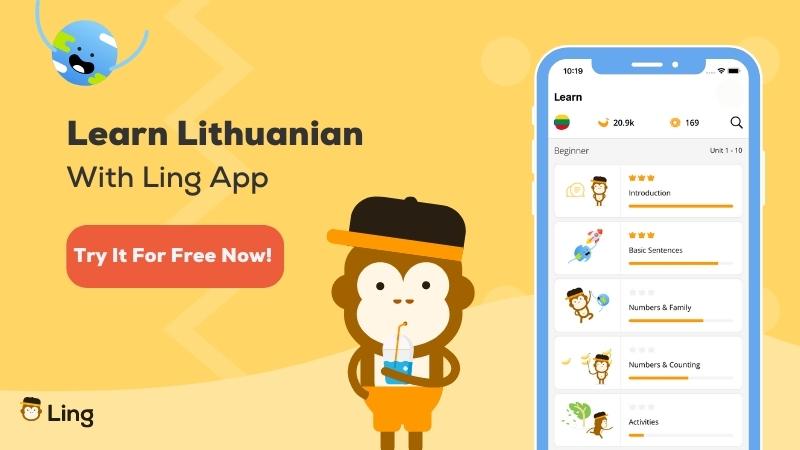 We went through a seasonal journey of Lithuanian traditions today! Spring, summer, fall, and winter all have their receptive holidays and traditions in Lithuania. No matter what time of year you visit, there will always be a cultural spectacle you can enjoy.
The influence of religion, especially Paganism and Catholicism, create nuanced and specific traditions that are based on folklore and history. These culminate into fun, festive holidays year-round. There's always a reason to celebrate in Lithuania!
Want more resources to help you learn the Lithuanian language? Download the language-learning Ling App today from the App Store and Play Store. It is a highly researched app meant for a fun and personalized language-learning experience. Aside from Lithuanian, there are over 60+ foreign languages to learn on Ling. Download it today!
Learn Lithuanian verbs & time and dates for more personalized practice!