The world of fashion is nothing without proper hairstyling, and Korean hairstyles are incomplete without a Korean perm. These perms are the natural-looking curls that most K-pop artists and Korean people go for these days. If you haven't yet been introduced to the magical world of Korean perms in every Korean hair salon, then this blog post is for you.
What Is The Korean Perm?
Every part of the body is important, but the hair holds greater importance, and that is why it is necessary to take care of it. Korean perm is an excellent way of beautifying your hair without doing much damage.
This type of perm is a soft natural wavy hairstyle that is quite popular in Korea. Nowadays, it has gained popularity all around the world. It requires some techniques which make your hair look wavy, curly in a gentle way, and healthier. Most of you would have already seen this hairstyle in many Korean movies and dramas, and you all must have loved it.
Korean perm has a lot of advantages. Korean perm does not damage hair, and it also gives long-lasting effects. Korean perm does not make your hair look frizzy, rough, or dry, but it provides excellent volume to your hair and gives a nice shape to your face.
Korean perm is quite different from traditional perm. The latter makes your hair look less natural and complex. But on the other hand, the perm in Korea gives stunning results.
If you travel to Korea, you will find different perms like setting perm, body perm, curl perm, glam perm, and lovely perm.
Korean Perm VS Digital Perm
There are two major perms to choose from, Korean and Digital. The use of heat is the main difference between Korean perm and Digital perm. Here are some other differences:
Korean Perms
It is considered a hairstyle, while a digital perm requires some techniques.
Sometimes perm in Korea is also created by digital perm, which is why many people get confused.
Perms in Korea are usually noticeable when they are dry.
Korean perm curl size is much larger than digital perm.
They are also quite different from Japanese perms.
Korean perms are primarily focused on the end.
It can last up to 6-10 months. However, it requires constant and proper care and treatment.
Digital Perms
It involves chemicals and solutions and curling rods on high heat.
This perm lasts longer, about 6-12 months, but it also has several disadvantages.
It is comparatively more expensive than Korean perm.
How Much Does Korean Perms Cost?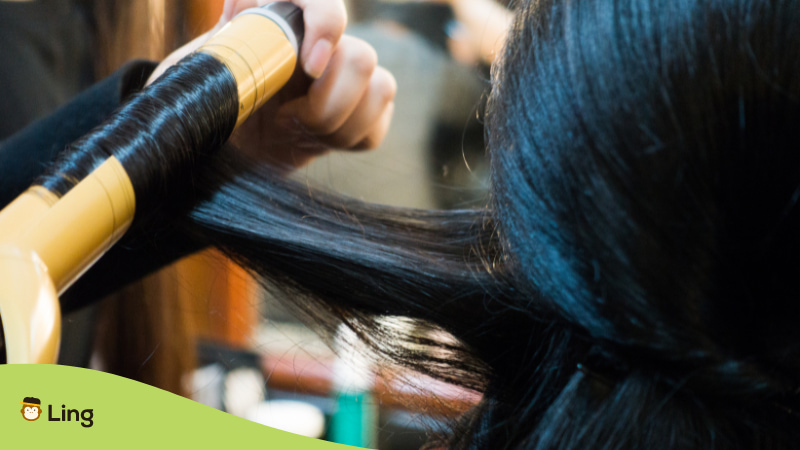 Perm cost usually depends upon the hair's length or the type of perm you want. It may be partial, which is cheaper, or complete, which is more expensive. The cost ranges from 40$ to 200$. And it also depends on hair salons.
Korean perm varies from short hair to long hair and medium hair. They all have different costs. A short hair perm is less expensive than long or medium hair perm because it requires less effort. The price of long or medium hair is a little higher because it requires more effort because of more products.
There is no doubt that a long hair perm looks elegant and beautiful. It looks great, shiny, and noticeable. Long hair perm is not expensive, and it starts from 50$, which is quite affordable. Meanwhile, a short hair perm looks cute!
At some point in life, everyone wishes to have short hair. Short waves give a fresh and appealing look, ranging from 40$ to 100$. Some people also prefer medium hair length as it is easily manageable. Medium hair length is flattering for all face shapes. It starts from 85$ and is also reasonable to some extent.
Durability Of Perms In Korea
Korean perms tend to stay put for around 6 to 10 months. Meanwhile, all the hair products which hair experts usually prescribe need to be utilized to keep the natural-looking waves. Humid weather often tends to destroy the beauty of these beachy waves sooner than expected.
To get more layers or more waves, you would have to go to a hair salon. Proper maintenance is essential because the tight curls may reduce over time. Lack of appropriate care can shorten the durability of your Korean perm, and you might not get the long-lasting effect.
What Are The Types Of Korean Perms?
There are several types of perms in Korea that people get a lot. C- curl, S-curl, and Body Wave, are some examples of Korean curls that are now famous because of their elegant design.
1. C-Curl Perm
These usually appear at the end of the hair like C-shaped waves. The drama Descendants of the Sun has made these C-curl perming quite popular. After it was released, many people wanted to get that haircut!
If you are a massive fan of having a bob style, then you should go for the C-curl perming technique since it looks gorgeous with the C-curls on.
Even if you have long locks, you can still get the c-curl, making your hair look prettier.
2. S-Curl Perm
Unlike the C-curl perm, the S-curl perm is extremely easy to manage and requires less maintenance. The curls in the S-shape are somewhat wavy and flowy, with a more defined S shape at the end of the hair.
If you want an extremely girly, feminine, and effortless look, we suggest you go for an S-curl perm style. You will feel like a princess in the office with that hair.
3. Body Wave Perm
The Korean body wave perm is a modified version of the Korean S-curl perm. It has a more wavy look, making you look slightly formal and giving you that put-together look that you are aiming for. It is one of the great hairstyles for an office/working woman.
All the S-curls in a body wave perm are flowing in one similar direction, thus being symmetrical and tied.
Should You Get A Perm In Korea? 7 Points To Consider
Gone are the days when our grandmas used to make sure that our hair and hairstyles were perfect. We need to do everything for ourselves, which can be pretty hard to do every day. It would be an excellent idea to get a quick fix like rebounding or Korean perm.
If you have decided to get a Korean perm, these are some essential information pieces you should keep in mind. These points are critical to know not only as a hair expert but also as someone who wants to get a Korean perm.
1. Healthy Hair
Before getting any hairstyle or treatment, one should have healthy hair. Healthy hair not only boosts your confidence but also gives you a lovely appearance. Before getting a perm, you should make sure that you have healthy hair.
If you are getting a Korean perm for damaged hair, it may not be the best choice for your hair, as the Korean perm involves using solutions and products that may harm your hair. So it's better to have healthy here before getting a Korean perm.
2. Information About The Products Being Used
Getting information about the products and chemicals should be your priority. As we know, these products may contain various types of chemicals that may be harmful. Some products contain chemicals or substances that may cause an allergic reaction. To be safe, consult with your stylist to find the products they are using.
Most of the time, people want to purchase skincare products that will make them smell like cherry blossoms. You need to make sure that your hair is not exposed to unnecessary and harmful fragrances.
3. Proper Maintenance
Hair maintenance is essential before getting treatment and after getting any treatment. Maintaining hair may be challenging, but trust me, you wouldn't have to worry about hair problems once you regularly do it. Regularly applying prescribed products by your stylists may give long-lasting effects.
4. Right Stylist Or Salon
If you don't want to get a lousy hairstyle, you should find an expert in this job. You can ask people around you or read online reviews about that salon before setting an appointment because you don't want to lose your hair and money. Ensure the salon has every kind of possible service and a good environment.
5. Set Your Expectations
Don't expect too much or too less. It would help if you thought adequately before taking this decision and had a backup plan. Sometimes we may get disappointed, and sometimes we may not.
While scrolling on Instagram, you may see many pictures of Korean celebrities in Korean perm, which may increase your expectations. Don't forget that what you see on social media is not always accurate because of filters, photo editing, and picture cleanup.
6. Styling
Before getting a Korean perm, please make sure what style of perm you want or which type will suit your face. It's also better to make sure that the Korean perm you will get is manageable for you and you can style it properly daily. Different styles of Korean perm may look good on different face shapes.
7. Affordable Price
Choosing the correct cost shall also be considered before getting a Korean perm. Neither you want to waste your money on an overpriced salon, nor do you want to get a lousy hairstyle from a cheap salon. It's better to find an expert or a salon that can provide you with excellent services at an affordable price.
8. Benefits And Harms
It would help if you also considered the benefits and harms before getting a Korean perm. Almost everything has advantages and disadvantages, and one should have proper awareness. Korean perm has many benefits as well as some harms. Please seek information from experts.
9. Hair Types
Hair type is also an essential factor you can consider before getting a Korean perm. Your hair type may be thick or thin, soft or hard, and smooth or rough. It would be great if you have already told your stylist about your hair type so that they don't end up using products that might damage your hair.
What Care Does Your Hair Need After A Korean Perm?
Here are some things to know which can help you after you get your hair permed. We know we just told you that Korean perm is a low-maintenance style. Still, you should know that specific essential steps need to be taken to have incredible Korean perms.
Let's look at those steps now:
1. Not Washing Before 48 Hours
It is essential to know that the proper wash time after a Korean perm is 48 hours. You should not wash your hair before that since it might affect the results of perm treatment. You need to use a light shampoo and rub it on your scalp gently and nicely.
You can also google ways to keep your hair nice and clean but don't entirely rely on that.
2. Switch To A Plush Microfiber Towel
Once you get the Korean perm, leaving your ordinary cotton towel behind and using the plush microfiber towel becomes necessary. It is a great favor that you can do to your hair. It will help keep your hair straight and your curls on point.
3. Fingers Away From Hair
After getting a Korean perm, keep your hands and fingers away from your hair since they can harm the beauty of your curls. It would be best to let them stay the way they are for quite some time.
4. Say No To Curling Irons
It would help if you stayed away from any type of curling irons. Suppose you'd use a curling iron right after getting a Korean perm. In that case, your hair might get damaged since it has already been through many procedures.
Myths Vs. Facts
There are a lot of myths about Korean perm. The most common myth is the misconception of digital perm and Korean perm. Digital perm and Korean perm are entirely different. Digital perm involves the procedure of heating hair, while Korean perm is a hairstyle.
Healthy hair is a must before getting a Korean perm. It is a necessity, yes, but not an absolute must. Some salons even ensure to use the products to make your hair healthier and more pretty.
Women with thick and long hair should prefer a Korean perm rather than a digital perm. Women with any hair can go for a Korean perm.
With time, your hair will be softened and loosened. If you take care of your hair, you will find this is a ridiculous myth.
Specialized conditioners are used to keep the best shape of Korean perm. And that is a fact.
Korean Perms Vs. Other Perms
Besides Korean perm, there are other types of perms like Japanese, Singaporean, etc. Let's learn about the significant differences between each:
Korean Perm Vs. Japanese Perms
The perming process is an integral part of Japanese hairstyles. No matter what they do, it is essential to have some Japanese perms. Each hairstylist in Japan knows how to perm, which is more like a necessity. Both men and women in Japan utilize Japanese perm.
In Japanese perm, a light wave is preferred instead of thick and tight hair curls. In Korean, there are bouncy curls that can be slightly more prominent at times. It goes against the entire idea of subtlety, as seen in the Japanese perms.
Furthermore, in Japanese perms, cold perm methods are utilized so that the hair wouldn't get damaged. Still, Korean perms use heat perming methods, which are traditional.
Korean Perms Vs. Singaporean Perms
Singapore's perms were way more diverse and defined than the Korean perms. Korean perms are wavy but more subtle than Singaporean perms, which have different signature styles and are somewhat more prominent.
There is a wide variety of Singaporean perms, including The Long-Lasting Glamazon Perm, Freestyle Wave Perms, and Rebonding Perm or Volume Rebonding.
Most Singaporean people have flat locks, and therefore there is a need for some perming to increase hair volume. Korean hair salon tends to do less prominent perming because Korean women already have thick locks compared to Singaporean women.
Wrapping Up!
Now you know all about Korean perms. Next time you go to a Korean hair salon, you know what you'd want. To learn more about Korean culture, feel free to look into other blog posts by Ling App. You will find every topic related to South Korean culture, enhancing your knowledge about the country. Learn more about the Korean language. You can also check out Korean Last Names and Korean Manners.
Do more than just learn about Korean vocabulary using your handwritten flashcards. Download the Ling app on the Play Store or App Store to boost your memory recall.
Happy learning!