There's no better way to learn Vietnamese than traveling in Vietnam! For anyone who wants to become fluent in the Vietnamese language, visiting this amazing Asian country should definitely be on their bucket list. Do you know why? Well, it is simply one of Southeast Asia's most exciting places to visit! This country where the Mekong Delta flows is just full of charming people, fantastic food, and a rich history that will draw you in with its depth.
If you want to learn how to immerse yourself in the culture best when you visit Vietnam, this article is for you. Join us as we look at the reasons to visit the country, how the Vietnamese people relate to tourists, and even pick up a few words of Vietnamese along the way!
Why Should You Visit Vietnam?
Vietnam is a beautiful and culturally-rich country located in Southeast Asia. As someone learning the language, Vietnam offers the perfect opportunity to immerse yourself in the language and culture, sharpen your conversation skills, and gain a deeper understanding of the country's colorful history and traditions.
From exploring bustling cities like Hanoi and Ho Chi Minh City to trekking through the lush countryside and tasting delicious Vietnamese cuisine, there is no shortage of experiences in Vietnam. With its friendly people, affordable prices, and stunning landscapes, Vietnam is a must-visit destination for anyone seeking to learn the language and experience a new culture. From Northern Vietnam down to the South, everyone has a lot to see!
How To Get To Vietnam
Visiting Vietnam is easier than you may think! Many tourists come from all over the world, as there are always flights visiting Vietnam from any major city in the world. However, if you live in the United States and want to travel to this destination in Southeast Asia, we have a few tips!
As someone in the United States, there are several transportation options to consider when traveling to Vietnam. The most common method of travel is by plane, with direct flights available from major airports in the US to Ho Chi Minh City and Hanoi. The Vietnamese government welcomes tourists, and you'll likely have no issues getting in!
Another option is to fly to a nearby hub in Asia, such as Bangkok or Hong Kong, and then take a connecting flight to Vietnam. Train travel is also possible, with the Trans-Siberian Railway connecting Moscow to Hanoi via China. Finally, it is possible to travel to Vietnam by cruise ship, with several major cruise lines stopping in ports like Ho Chi Minh City and Da Nang.
For most countries, travel agencies would offer packages that let you tour the entire country and even give you more tips about traveling to Vietnam prior to your trip. So if you want to avoid dealing with the hassle of booking everything from your flights to your hotel room, travel agencies are your best bet.
Is Travel Insurance Essential For Vietnam?
Travel insurance is important for a Vietnam trip because it can cover unexpected medical expenses, trip cancellations or interruptions, and lost or stolen luggage or valuables. With the potential for unforeseen events, having travel insurance can provide peace of mind and financial protection during your trip.
Where To Go In Vietnam
While it's impossible to cover all the great places to visit in Vietnam in a single article, we can tell you some of the greats: a list of locations that we think are worth visiting Vietnam for!
Hanoi
The capital city of Vietnam, Hanoi, is a bustling and vibrant tourist destination. Its historic Old Quarter, beautiful temples and pagodas, and delicious street food make Hanoi a Vietnamese culture hub. Visitors can explore the city's museums and galleries, take in traditional water puppet shows, and shop for handicrafts and souvenirs in the city's bustling markets.
Hanoi is also an excellent base for day trips to nearby attractions like Ha Long Bay and the Perfume Pagoda. With its friendly locals, rich history, and unique blend of French and Vietnamese influences, Hanoi is a must-see destination for anyone!
Hoi An
Hoi An is a charming and picturesque tourist destination in central Vietnam. The city is known for its well-preserved Old Town, which features several historical buildings and temples. Visitors can explore the city on foot or by bicycle, taking in the colorful lanterns and beautiful architecture.
Hoi An is also famous for its tailors, who can make custom-made clothes in just a few days. The city's food scene is also a highlight, with delicious local specialties such as cao lau and white rose dumplings. Hoi An is also close to beautiful beaches and scenic countryside, making it a hub for outdoor activities such as hiking and swimming.
With its unique blend of history, culture, and natural beauty, Hoi An is a must-visit destination for anyone traveling to Vietnam.
Hue
Hue City is a popular destination for tourists learning about the Vietnam War. The city was a significant battleground during the war and many of its landmarks and attractions connected to the war. One of the most famous attractions is the Imperial Citadel, the site of intense fighting during the Tet Offensive in 1968.
Visitors can also explore the abandoned American military bases in the surrounding countryside and visit the Vinh Moc Tunnels, a network of underground tunnels built by the North Vietnamese army to protect civilians from American bombing.
In addition, the city is home to several museums, such as the Ho Chi Minh Museum and the War Remnants Museum, which feature exhibits dedicated to the war. Finally, for a more immersive experience, several companies offer guided tours of the city and its environs, providing a more in-depth understanding of the war and its effects on the area.
Nha Trang
Nha Trang is an exciting coastal city in Vietnam with an energetic party scene for visitors looking for something different. Bars, nightclubs, and beach clubs catering to all types of partygoers abound in the city. Visitors can start the night with sunset cocktails at one of the many beachfront bars, then dance the night away at popular nightclubs like Skylight or Sailing Club.
The city is also famous for its boat parties. These offer a unique party experience on the turquoise waters of the South China Sea. By day, visitors can recover from hangovers on beautiful beaches or participate in adrenaline-pumping activities like jet skiing and parasailing.
Da Nang
Da Nang is a coastal city in the central region of Vietnam that has become one of the most popular tourist destinations in the country in the last few years. With its beautiful beaches, rich history, and delicious cuisine, Da Nang has something for everyone.
Visitors can lounge on white sand beaches, explore ancient temples and pagodas, or indulge in local cuisines such as banh mi and pho. In addition, these bridges offer breathtaking views of the surrounding hills and sea.
Whether you want to relax or explore Vietnam's vibrant culture, Da Nang is a must, with endless opportunities for adventure and exploration.
What To Eat In Vietnam
If you need more reasons to visit Vietnam (besides meeting the Vietnamese people, of course), then the food is something you must try. Vietnamese cuisine is one of the most flavorful and unique takes on fresh food and is definitely a cuisine to be noticed. Unsure what Vietnamese food to try out? Check these out!
Pho
This is one of Vietnam's most famous dishes: a savory broth, rice noodles, herbs, and thinly sliced meat (usually beef or chicken). It's a breakfast, lunch, or dinner staple and a dish you'll likely have a lot of, as they can be had for only a few dollars!
Banh Mi
This is a Vietnamese sandwich that's famous street food. It's made with a crispy baguette filled with pate, meat, pickled vegetables, and fresh herbs. Street vendors are always available to hand out this delectable sandwich.
Bun Cha
This is a grilled pork noodle dish that's a specialty of Hanoi. The pork is marinated in a sweet and savory sauce and served with vermicelli noodles, fresh herbs, and a dipping sauce. If you find your taste buds lonely, this dish will blow them away.
Goi Cuon
These are fresh spring rolls of rice paper filled with shrimp, pork, vermicelli noodles, and herbs. They're served with a peanut dipping sauce that ties the whole bite into a sweet, savory, and fresh experience!
Cao Lau
This is a noodle dish unique to the central city of Hoi An. It's made with thick rice noodles, tender pork, and various fresh vegetables, all served in a savory broth. The noodles in this dish are said to be made with water from a particular well in Hoi An, giving them a unique flavor and texture.
Helpful Phrases For Travelling In Vietnam
If you're looking forward to visiting Vietnam, it's a good idea to learn a few phrases that will help you – and other travelers – while you're there. While most cities have locals who speak English, having these words on hand will help you get out of many sticky situations – and maybe even make a friend!
| | |
| --- | --- |
| English | Vietnamese |
| Hello | Xin chào |
| Thank you | Cảm ơn |
| Goodbye | Tạm biệt |
| Please | Làm ơn |
| You're welcome | Không có gì |
| I don't understand | Tôi không hiểu |
| Sorry | Xin lỗi |
| How much does it cost? | Bao nhiêu tiền? |
| Can you give me a discount? | Có thể giảm giá được không? |
| I want to buy… | Tôi muốn mua… |
| Give me one, please. | Cho tôi một cái |
| Is there free wifi available? | Có wifi miễn phí không? |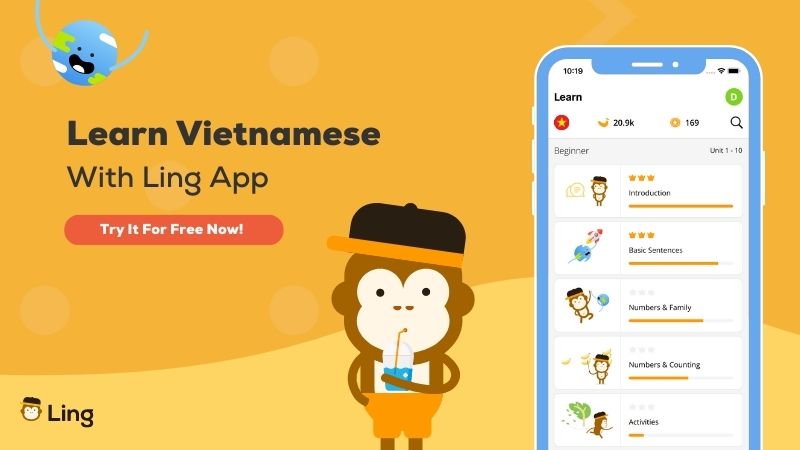 Learn More Vietnamese With Ling App
If you've made up your mind about visiting Vietnam, the next thing you should do (besides applying for a single-entry e-visa) is learning more Vietnamese words! To truly immerse yourself, you'll need more than just xin chao!
Ling app is the platform you need to learn Vietnamese or any of the 60+ languages available on the app. Its lessons are crafted to make learning memorable and exciting, leading to better retention and a learning experience you'll love!
Download the Ling app for free for your Android or iPhone to get started.