The Thai Film Industry remains an underdog outside of Thailand, but that hasn't stopped many women from becoming famous in Thailand. Thailand is still making its mark in the SE Asian entertainment industry, with some films being released internationally.
In recent years, the most famous international release was Bad Genius, which starred as one of Thailand's most popular Thai actresses. Thai cinema and TV style are all about glamour and beauty, and Thai actresses certainly live up to that standard. They are all stunning and talented. Many Thai actresses are superstars within Thailand, highly recognized, and part of the Instagram generation.
So who are the most famous Thai actresses?
The Most Popular Thai Actresses 2022
Yaya Urassaya (ญาญ่า อุรัสยา)
Yaya's original name is Urassaya Sperbund, and she is one of the most popular actresses in Thailand. Yaya is half Thai and half Norwegian, which has given her incredible beauty. She started her career as a model and then moved on to Thai soap operas (lakorns). She made her television debut in 2008 and became a national sensation for her part in Duang Jai Akkanee.
Due to her modeling career and impeccable fashion sense, she was the first Thai celebrity to get featured in US Vogue magazine.
Today, you can see her as the face of campaigns for top global brands like Maybelline and Louis Vuitton. You can also tune into the incredibly popular Thai series, 4 Hearts of the Mountains, for which she has received many awards.
Mai Davika (ใหม่ ดาวิกา)
Mai Davika Hoorne is a popular Thai actress who debuted in 2010 by playing a lead role in a popular TV drama.
She got a taste for success and moved onto to be in hit films such as Heart Attack and Suddenly Twenty.
Her beauty stems from her background as a half-Belgian and half-Thai actress, which has led her to be endorsed by famous international brands like L'Oreal, Michael Kors, Dolce, and Gabbana.
Bella Ranee (เบลล่า ราณี)
Bella Ranee, also known as Ranee Campen, is known for her knack for playing roles in period pieces or period dramas. She has starred in the period drama Look Tard and has also been the lead on Porn Prom Onlaweng, a television drama where her career topped off in 2011.
Bella won many awards in Thailand, such as Popular Female Actress, Top Female Rising Star, and Outstanding Female Actress.
Baifern Pimchanok (ใบเฟิร์น พิมพ์ชนก)
Pimchanok Luevisadpaibul, more commonly known as Baifern is one of the most famous Thai actresses. In 2010, she signed a contract with Channel 7 for six-year to star in various Thai series (lakorns) like Wai Puan Guan Lah Fun, Arsoon Noy Nai Takieng Kaew, and Banlang Hong.
In 2016, Baifern decided to freelance to hone her skills in various genres. Due to her acting growth, she won the Nataraja Award twice in 2017 and 2020, for her roles in Lhong Fai and The Fallen Leaf.
Mookda Narinrak (มุกดา นรินทร์รักษ์)
Mookda is a national heartthrob! She is famous mostly for her looks and her smooth-as-glass skin. Her career was kick-started when she won Miss Teen Thailand in 2011 and joined To Be Number One Idol (a dance competition) in 2012.
She was recruited into the Thai film industry in 2016 when she signed a contract with Channel 7. You can see her acting ob various soap operas and Thai dramas today.
Chompoo Araya A. Hargate (ชมพู่ อารยา เอ ฮาร์เก็ต)
Araya Alberta Hargate is a popular Thai actress, model, and TV personality. Nicknamed Chompoo, Araya is of Thai, British, and Lao descent.
She got her breakthrough in 1998 after winning the beauty pageant "Miss Motor Show Contest." Her role in Channel 7's successful soap opera "Pleng Prai" made her a household name in the country.
Thanks to her beauty, she has been an ambassador for L'Oreal Paris. She has been invited to the Cannes Film Festival and the Shanghai Film Festival numerous times. Araya is also quite popular in China!
You may also recognize her as a host on many Thai TV programs.
Aum Patcharapa Chaichua (อั้ม พัชราภา ไชยเชื้อ)
Aum Patcharapa is a well-known Thai actress who has been the highest-paid actress in Thailand since 1997.
One of the older actresses to still work in Thailand, Patcharapa, aka Aum, is considered one of the hottest women in the entertainment industry, both in appearance and skill.
She entered the beauty and entertainment industry in 1997 and became famous when she won a beauty contest called HACKS.
Later in her acting career, Aum won the 2003 TOP Award for Best Leading Actress for her role in So Sanae Ha.
In addition to acting, she is a strong entrepreneur running restaurants and her own perfume brand. Her perfume was Thailand's first celebrity-branded perfume!
Between 2004 and 2006, Aum was voted the sexiest woman for three consecutive years in the Thai edition of FHM magazine. She has received many other awards in Thailand.
Kimmy Kimberley (คิมมี่ คิมเบอร์ลี)
Kimmy Kimberley (real name Kimberley Anne Woltemas Tiamsiri) is of Thai and German descent. She became famous when she acted 'Nam' in a Thai series called 'Thara Himalaya' in 2010.
The actress is known as a 'sweet, vibrant and bold young actress' and is one of the 'cuties' of the Thai entertainment industry, starring in many TV shows.
Pancake Khemanit Jamikorn (แพนเค้ก เขมนิจ จามิกรณ์)
'Pancake' is a renowned Thai TV actress, a singer, and a model. Like many other famous Thai actresses, Pancake began her career in the beauty contest world and won the Thai Supermodel Contest in 2004. That year she also won Top Model of the World in China!
She is known for her polite and respectful demeanor. She has even been branded as 'an angel on earth' based on a 3 billion women worldwide poll.
You can watch her in many Thai television soap operas and TV commercials. In fact, you can't turn on the TV in Thailand without seeing her!
Mew Nittha (มิว นิษฐา)
Popularly known as "Mew" Nittha Khuhapremkit, formerly Nittha Jirayungyurn, first appeared in a drama called Khun Chai Pawornruj, and she instantly became famous. She became the most sought-after face in Thailand.
Since then, she has appeared in several movies and music videos and lots of commercials and billboard advertisements.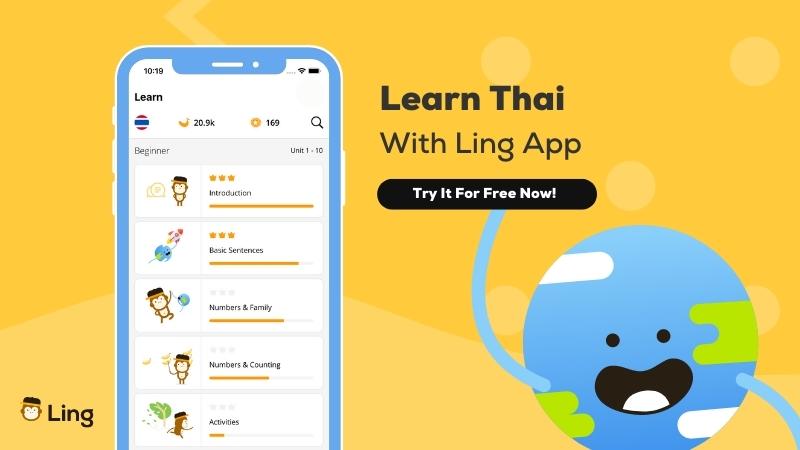 Round Up Of The Most Famous Thai Actresses Complete!
Well, there you have it! That's the list of the popular Thai actresses in Thailand who have greatly contributed to the Asian film industry.
You can find most of them on social media, where they have tens of millions of followers. You're also likely to see their faces plastered all over your television or on billboards.
Check out our round-up of the most popular Thai actors!
Also, if you're interested to learn more about Thailand and the Thai language, you should check out our other popular blogs, such as how to say hello in Thai, how to learn Thai on your own, and the most common Thai words.
If you'd like to learn Thai right now, then Ling is your answer! 
Ling is leading the way in language acquisition and offers over 60 languages with effective lessons. If you want to become fluent in Thai, download the Ling App at the Play Store or App Store and practice your way to fluency!