Thailand is a place where you can get amazing food everywhere – even on the streets. Each region of Thailand has its own unique culture as well as its own food. Today, I will show you my top five dishes of Northern Thailand.
| | | |
| --- | --- | --- |
| 1. Sai Ua | ไส้อั่ว |  Northern Sausage |
Chiang Mai sausage (Sai Ua) is a must-try when visiting Northern Thailand. This perfectly grilled sausage can be found anywhere, from street vendors, markets to restaurants. Inside the casing is ground pork mixed with lots of local herbs and lots of chili. The special ingredient that gives it that unique flavor is lemongrass (ตะไคร้). Sai Ua can be sold by weight or as a dish.
Thai Phrase Tip:
How much for half a kilo?
ครึ่ง กิโลกรัม ราคา เท่าไหร่?
krʉ̂ʉng gì-loo-gram raa-kaa tâo-rài?
| | | |
| --- | --- | --- |
| 2. Khao Soi | ข้าวซอย |  Curry Noodles |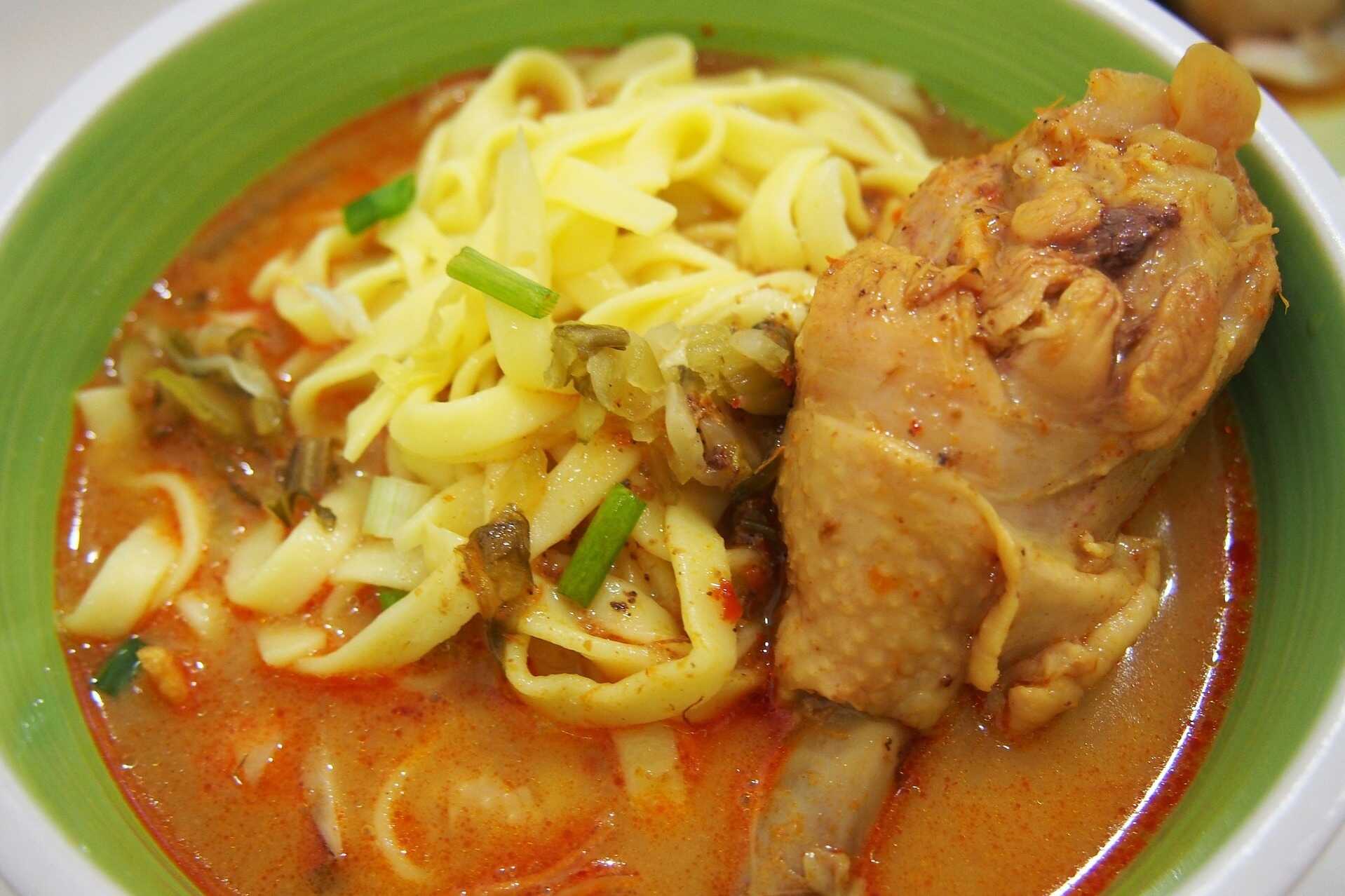 This one-of-a-kind Northern dish is a rich coconut-based soup served with egg noodles and topped with some crispy deep-fried noodles. The protein can vary from chicken, pork, beef to egg. It's best to try it hot and fresh in one of the many markets across Northern Thailand.
I would like to order some food
ขอ สั่ง อาหาร
kɔ̌ɔ sàng aa-hǎan
| | | |
| --- | --- | --- |
| 3. Nam Prik Ong | น้ำพริกอ่อง |  Chili paste |
Nam Prik Ong is a spicy meat and chili dipping sauce that is famous in the North of Thailand. It is usually served with raw or steamed vegetables such as cucumber, cabbage, okra, or carrot. It is often topped off with some delicious crispy pork skin (kep mu).
Nam Prik Ong is bursting with flavors and heat. You might want to ask for a glass of water in Thai:
I would like to have a glass of water.
ขอ น้ำ หนึ่ง แก้ว
kɔ̌ɔ nám nʉ̀ʉng kɛ̂ɛo
| | | |
| --- | --- | --- |
| 4. Som Tam | ส้มตำ |  Papaya Salad |
A daily favorite for Northern Thais is Papaya Salad (Som Tam) which is a refreshing salad made with young papaya, long beans, and tomatoes mixed together with lime juice, fish sauce, and palm sugar. It is usually garnished with some roasted peanuts and dried shrimp. Its heat comes from the dried or fresh chili.
A little spicy please.
เผ็ด นิดเดียว
Pèt nít-diiao
Geang literally means 'curry' in Thai. There are 3 different colors of curry based on what is added to the curry paste. Green and red chilli are used to make the green color and red color, while turmeric is used in yellow curry. Gaeng is usually served hot with plain rice.
Ask for the bill
เก็บ เงิน ด้วย
gèp ngəən dûuai