Ever heard of the songs like Butter, Pink Venom, and Talk That Talk? Whether you're a K-pop lover or not, we bet that you've heard of these iconic Korean songs before as they took the world by storm. Want to discover more about Korean songs? Keep on reading!
Learning a new language can be a challenging but rewarding experience, but it doesn't have to be dull! Incorporating songs into your language-learning journey can add a new excitement level and make it much more enjoyable. The best thing about this resource is that you can listen only to those you like. For instance, you can listen mainly to top artists like Blackpink, BTS, Twice, and more. If you want, you can also stick with the OST of your favorite Kdramas instead.
But before we dive right into the songs, let's first go over these five Korean words related to this topic:
Song – 노래 (nolae)
Music – 음악 (eum-ag)
Melody – 멜로디 (mellodi)
Artists – 아티스트 (atiseuteu)
Idol – 아이돌 (aidol)
Ready to fill your playlist with the best songs? Check out the roundup below!
Best Korean Songs Of All Time
It's wonderful how people from different parts of the world enjoy K-pop songs with Korean lyrics, even if they are not Korean or even if they are not in the same language as their native language. This proves that music isn't about song lyrics. It's about the vibe, the story, and the feelings you get when you listen to a song.
Dynamite -BTS
As the biggest K-pop boy group today, let's start with a phenomenal Korean song from BTS. "Dynamite" is a single by South Korean boy band BTS released on August 21, 2020, by Big Hit Entertainment and Sony Music Entertainment. It is the first English-language single by BTS. It's a disco pop tune that sings of excitement and confidence, giving the global community a new wave of much-needed 'energy.'
Kill This Love – Blackpink
Of course, the list will never be complete without the songs of one of the most popular Korean girl groups nowadays – Blackpink. "Kill this Love" delivers a significant declaration for Blinks worldwide: Blackpink is back to our area with its anthemic, heart-thumping sound and lyrics urging listeners to leave that toxic relationship behind. "Kill This Love" is a happy, upbeat song about empowerment that makes you feel victorious at the end.
Fancy – Twice
The sixth extended play by the South Korean girl group Twice is titled Fancy You. The album's debut track, "Fancy," was released on April 22 by JYP Entertainment. The opening of Fancy has a retro-pop vibe reminiscent of music from the 1980s. But as the song goes on, the synth-pop music becomes more polished and contemporary.
Gangnam Style – PSY
Many songs will come to your mind when we talk about K-pop songs, but Gangnam Style will always have that special history. The song describes "the ideal girlfriend who knows when to be sophisticated and when to get wild." In September 2012, Guinness World Records acknowledged "Gangnam Style" as the first YouTube video to reach 1 billion views.
Haru-Haru- Big Bang
BIGBANG's emotional "Haru Haru" is the group's breakout hit song! With its profound lyrics and moving music video, this song is a significant one that may have propelled BIGBANG into superstardom. It is an emotional song that will live on in the hearts of many fans. Regardless of language or culture, everyone on the globe can identify with this song's expression of grief and heartbreak.
Lollipop – Big Bang & 2NE1
BIGBANG and 2NE1 collaborated on the digital single "Lollipop." The publication date was March 27, 2009. When the two groups come together, the best moments occur. A genuine treat is Key's second verse rap, which features vocals from f(x).
I Am The Best – 2NE1
Remember the historical moment when K-pop artists CL, Sandara Park, Park Bom, and Minzy of 2NE1 reunited at Coachella 2022? The crowd went crazy as they began their hit song "I Am the Best." "I Am The Best" is the fourth single from 2NE1's second self-titled EP. The song's electronic hip-hop style is reminiscent of 2NE1's breakthrough single, "Fire."
Replay – SHINee
"Replay" is Shinee's debut EP, released on May 22, 2008, under the banner of SM Entertainment. Producer Yoo Young-jin gave the opening track, "Replay," a modern, sophisticated R&B vibe and rhythm.
Roly Poly – T-ara
The disco song "Roly-Poly" is by the South Korean girl group T-ara. As instantly recognized as Roly Poly's glitchy 80s throwback, few T-ara tracks are. Like many of their songs, the chorus is easy enough for a five-year-old to learn, but the song starts off strong and is packed with hook after hook from the beginning.
Trouble Maker – Trouble Maker
The debut extended play from the South Korean duo Trouble Maker, which consists of Hyuna from 4Minute and Hyunseung from Beast, is titled Trouble Maker. The fact that "Trouble Maker" defies several K-Pop conventions will ultimately cause people to listen to them and the song.
Sorry Sorry – Super Junior
A K-pop legend in all the best ways, "Sorry Sorry" features an iconic English melody and dance movements that are simple to recreate in large crowds. It has joined the list of K-pop songs that even non-K-poppers are familiar with. In Asia, the "Sorry Sorry" effect was incredible. It became a karaoke hit, played for months in every mall, and inspired innumerable flash mobs of large crowds of people dancing to the song.
Into The New World – Girls' Generation
Girls' Generation's debut single, "Into The New World is part of their historic album "Into The New World." It's a K-pop song whose importance has only increased over time and not only introduced the world to one of the greatest girl groups ever. And more than just being a great song, it will always have a place in the Kpop Hall of Fame.
Nobody – Wonder Girls
With the release of "Nobody" ten years ago, the K-pop girl group Wonder Girls made history by becoming the first Korean act to chart on the Hot 100, forever altering the Korean music scene. Its catchy, slickly produced disco and clap-driven pop tune and simple dance set it up for virality—and for exportation abroad.
Other Korean Songs Worth Listening To
The list above is indeed not enough to compile all the great K-pop Songs. Here are more K-pop songs through time. You can also check out K-pop groups from smaller companies if you want to discover new groups and artists.
| | |
| --- | --- |
| Song Title | Artist |
| Butter | BTS |
| Permission To Dance | BTS |
| Boombayah | Blackpink |
| Ddu-Du Ddu-Du | Blackpink |
| With You | Jimin & Ha Sung Woon |
| DM | fromis_9 |
| Love Dive | IVE |
| Tomboy | (G)I-DLE |
| Run, BTS | BTS |
| That That | PSY & Suga |
| Cheers | Seventeen (SVT LEADERS) |
| GingaMingaYo (The Strange World) | Billlie |
| Nxde | (G)I-DLE |
| Forever 1 | Girls' Generation |
| POP! | Nayeon |
| Antifragile | Le Sserafim |
| Hype Boy | NewJeans |
| Fallin Flower | Seventeen |
| God's Menu | Stray Kids |
| The Sound | Stray Kids |
| Set Me Free | Twice |
| Love Me Like This | NMIXX |
| Polaroid Love | Enhypen |
| Pink Venom | Blackpink |
| Zoom | Jessi |
| Shutdown | Blackpink |
| Attention | NewJeans |
| Lalisa | Lisa |
Want To Learn Korean?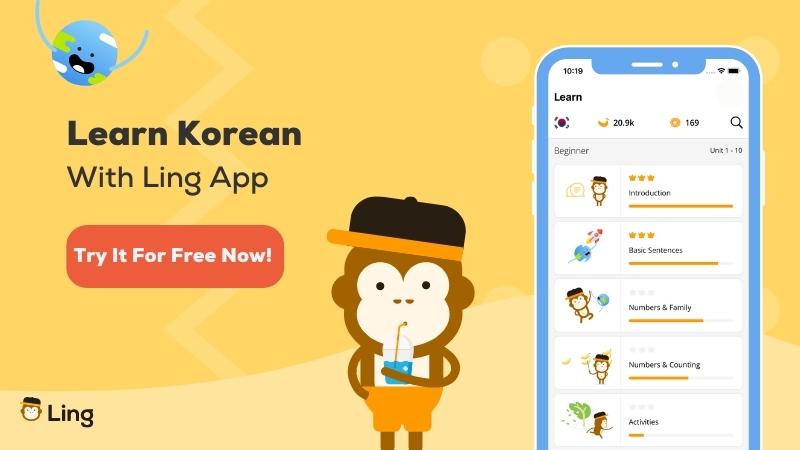 K-pop has taken the world by storm, and even if the songs are not in English, it's still a thrill to know the lyrics by heart. But if you do decide that you want to learn Korean, why not try learning with Ling?
With the Ling App, you can learn Korean just like Korean students do, in a fun and engaging way, no matter where you are. Whether you're a die-hard K-pop fan or simply looking to expand your language skills, the Ling app is an ideal platform to develop your Korean proficiency. From in-depth lessons to engaging games, this tool got you covered!
Ready to try it out? Download it from the Play Store and App Store to start learning Korean and 60+ other languages.