Do you want to have flawless skin like Koreans? In terms of beauty standards, Koreans are always on top when it comes to makeup 화장 (Hwajang) and skincare trends. So, if you want to learn more about this, then our Korean makeup vocabulary guide today can seriously help you out. Read on below to learn more.
K-beauty has become a global standard and trend when it comes to beauty. If there's such thing as perfect skin, IU, Baekhyun, and Jaehyun will be the names you'll put on top of the list. In K-dramas, Koreans never fail to highlight skincare routines and products, aside from Korean culture and Korean food. K-pop idols, actors, and actresses show the world what healthy and radiant skin is.
South Korea is a country famous for mobile phones, K-drama, and K-pop, but there is another thing that they are famous for – beauty and skincare products. Isn't it obvious? By just looking at the flawless skin of their idols, actors, and actresses, there's no doubt that they are bringing up the game for makeup and skincare products. That's why in this blog, we will learn Korean makeup vocabulary.
Don't worry because we will not have an in-depth discussion about Korean makeup because that will take forever. We will just learn Korean vocabulary, their pronunciation, and its meaning. So, brace yourself for a whole blog talking about makeup in the Korean language.
What's The Standard In Terms Of Korean Beauty?
The basic standards of K-beauty have a V-line face, porcelain white and spotless skin, thigh gap, doubled eyelid, heart-shaped lips, high straight nose bridge, and aligned teeth. But, the history of Korean beauty has a long history. As they continue to shape the global beauty standards, they have mastered developing makeup and skincare products to achieve this standard.
If you have watched the Korean drama "Jewel in The Palace" or any other historical K-drama, you'll see how the beauty standards differ from modern times. During the Joseon Dynasty in Korea, the beauty standard of a woman is that she must have clear and bright skin. This means women should have flawless and radiant skin, just like white jade. But, where did this traditional standard come from? The answer is the Confucian philosophy.
Did you know that having fair skin is ideal because it is linked to Confucian philosophy's beauty and purity ideals? But, being beautiful during the Joseon Dynasty is more complicated than you think. It is not simply about being physically attractive; the body and the soul should be pure and beautiful. They believe that a beautiful body will inhabit a beautiful soul. In Joseon, Korea, a beautiful soul means being a good filial daughter, loyal wife, and devoted mother to their children. All these things will require a woman to stay indoors and not spend too much time outside.
Also, in the Korean Joseon dynasty, they have "Qi," a Confucian philosophy that is a vital force behind every living entity. They believe that this vital force is passed down through generations. If you watch traditional K-dramas, you'll see that the women have long hair, fair skin, and minimum makeup. They believe that it is important to preserve the body in its original state of purity. What's more interesting about it is that they consider the body to reflect one's family heritage. So, women with tan skin, freckles, blemishes, pimples, and others are deemed undesirable.
Another Confucian idea related to this is simplicity—wearing too much makeup and materials conflicts with this ideal. During this period, the women who wore makeup were those associated with courtesans and those who were considered "morally compromised."
We can say that South Korean beauty standards have generally changed a lot in this modern time. Although the idea of minimalist makeup, white and flawless skin is still on, preserving the purity of the body has been mostly neglected. With the fast-improving technologies and discoveries, South Koreans are moving steps away from traditional beauty standards. Dying of hair, following the trends on a haircut, and even undergoing surgery have come into fame. But, since South Koreans are still conservative, most people who undergo surgery don't want to admit they did it.
When Did The Change Start?
Surely, you are excited to learn different Korean words related to makeup, but you still have some essential information to learn. If you are wondering when it all started, let's jump back 100 years ago during the Japanese Colonization in Korea. The previously isolated country of South Korea has been forced to open its ports for a commercial treaty.
Western and Japanese beauty products started to enter the Korean market when this happened. Because of its fanciness compared to the traditional homemade Korean cosmetics, these products easily won the hearts of the locals. This leaves Korean-produced products being pushed out of the market. But, while Western and Japanese cosmetics dominate the market, the "Pakgabun" continued to be a bestseller.
The "Pakgabun" is the very first mass-produced Korean cosmetics in the history of K-beauty. It is a face powder that is based on foreign powders. However, in the year 1930, they discovered that lead is not an ideal ingredient for cosmetics.
Aside from beauty products, the Western standards of beauty also entered South Korea. During this time, models for advertisements such magazines depict Japanese and Western beauty standards. This made the traditional Korean features look undesirable. If you think that this only affects a person's physical appearance, you should think twice because it's more than that.
If you are familiar with the history of Korea, the Japanese colonization is one of their darkest periods. It is depicted in some of their K-dramas, like the film Kingdom. So, as an effect of Japanese imperialism, Koreans focused more on improving their physical attributes based on the beauty standards set by the Japanese. They ended up buying products and investing time, money, and effort to fit the standard beauty, where the Japanese benefited a lot.
But, this is already in the past now. This doesn't intend to ignite any fir between these two amazing countries. It's just important to know how Korean beauty standards have changed over time. Today, Korean beauty is being recognized worldwide, and its history of resilience, innovations, and perseverance has been their greatest key.
Korean Beauty Vocabulary: The Basics
Holika Holika, CLIO, Etude House, and TONYMOLY. If you're familiar with just one Korean brand, then it's a sign that Korean makeup products have really made their way to be known worldwide. Before we learn different Korean makeup vocabulary, let's first learn some important Korean words.
화장 (Hwajang) – Makeup
First, we should learn the Korean word for "makeup." Koreans use the word 화장 (Hwajang) to say makeup in the Korean language. One of the latest K-dramas that features beauty and makeup is the "Record of The Youth" although it's not all about makeup, An Jeong Ha, Park So-dam's character, a makeup artist, will share a lot about makeup and skincare.
화장품 (Hwajangpum) – Cosmetics
Another word for makeup is cosmetics. Are you wondering what the difference between makeup and cosmetics is? Basically, all makeups are cosmetics, but not all cosmetics are makeup. Cosmetics are preparations applied externally to modify or improve the beauty of skin, hair, nails, lips, and eyes. Makeup is (uncountable) the composition of an object.
Korean Makeup Products
Korean mostly use almost unnoticeable light makeup. They have this thing called "no makeup" makeup. But, if you'll look closely, you can see that they have very light makeup that makes their faces glow. One great example is Se-ri in Crash Landing On You. When you look at her from afar, you'll think that she has no makeup on, but when you zoom in on her face, she wears a little makeup.
So, here is some Korean makeup vocabulary that you should learn. Don't worry about the Korean pronunciation because it's available, and it's totally easy to learn as it sounds like the English translation. If you want to improve your other Korean skills, check out Ling App.
아이라이너 (Airaineo) Eyeliner
The nature of Koreans' eyes is monolid; that's why eyeliners are very popular among them to make their eyes wider and give the illusion of double eyelids. This is the reason why eyeliner 아이라이너 (Airaineo). There are different kinds of eyeliners. The most commonly used eyeliner for the upper eyelid is the liquid eyeliner, while the pencil eyeliner is mostly used undereye. There are pencil eyeliners and liquid eyeliners.
Fun fact, even male K-pop idols wear eyeliners in music videos and photoshoots, and it looks amazing!
아이섀도 (Aisyaedo) – Eye shadow
For everyday makeup, Koreans have very light eyeshadow 아이섀도 (Aisyaedo), mostly color brown or beige just like the normal skin color. But, for music videos and photoshoots, eyeshadows are made to be dark because when there are lights, makeups become lighter on camera.
A few of the top eyeshadow palettes in South Korea are Holika Holika Lazy & Joy Gudetama Cupcake Eyeshadow Palette, ETUDE HOUSE Play Color Eyes – Caffeine Holic, CLIO Pro Layering Eye Palette – Simply Pink, and 3CE Eye Color Palette – Pinkish Brown Shade Palette.
아이브로우 펜슬 (Aibeurou Penseul) – Eyebrow Pencil
"Eyebrow is life." Are you familiar with this expression? Koreans have naturally thin and short eyebrows. This makes it light for Koreans' white complexion that's why they use eyebrow pencils 아이브로우 펜슬 (Aibeurou Penseul) and eyebrow gels to make their eyebrows prominent and on-fleek. That's it is important to learn this Korean makeup vocabulary on this list.
The top Korean eyebrow pencils are ETUDE HOUSE Drawing Eye Brow Pencil, YRYM HT Tattoo Eyebrow Pen, Rothough Lioele Auto Eyebrow, Holik Holika Wonder Drawing Eyebrow Pencil, PONY EFFECT Sharping Brow Definer. These eyebrows are among the best sellers of eyebrow pencils in South Korea, so expect them to do wonders on one's eyebrow completely.
립스틱 (Ripseutik) – Lipstick
Lipstick 립스틱 (Ripseutik) is also an important Korean makeup vocabulary to learn. There's a lot of popular lipstick with different shades today. There are liquid lipsticks, matte, glossy, sheer, satin, cream, and more. If you're an expert in makeup or even just fond of makeup, you'll know when to use these different kinds of lipsticks.
In South Korea, the top lipsticks for 2021 are Firstfly Crystal Jelly Lipsticks, BBIA Last Lipstick Red Series, Peripera Ink Airy Velvet Lipstick, Clio Rouge Heel Velvet Lipstic, and PrettyDiva Jelly Flower Lipstick. In choosing lipstick, make sure that it is long-lasting and smudge-free. Check with your dermatologist about which kind of lipstick fits you if your lips are sensitive.
블러셔 (Beulleosyeo) – Blush
One of the tips on applying blushes that Koreans made trendy is to make it look natural as possible. There are different types of blush like powder blush which is the most common, cream blush, gel blush, tinted blush, stick blush, soft shine shimmer blush, and more. There are also different ways to apply blushes, and it is based on one's face shape.
Suppose you're looking for a blush to use. In that case, you can try Etude House Lovely Cookie Blusher – Peach Chox Wafers, EGLIPS Cheek Fit Blusher – Pink, Etude House Berry Delicious Cream Blusher – Ripe Strawberry, A'PIEU Juicy-Pang Jelly Blusher, and Holika Holika Lazy & Easy Blusher.
컨실러 (Keonsilleo) – Concealer
One thing that amazes you when Koreans do their makeup is that they really look flawless and smooth. Aside from having good skin, some of them use concealers 컨실러 (Keonsilleo) to hide the blemishes, wrinkles, dark circles, age spots, and pimples when their skin is not in good condition. It is just like foundation but only thicker.
Suppose you decide to try some Korean concealers. In that case, you should try the SAEM Concealer- Clear Beige, Skinfood Salmon Dark Circle Concealer Cream, Etude House Big Cover Skin Fit Pro Concealer, Black Monster Black Erasing Concealer Pen, and LUNA Long-Lasting Tip Concealer.
파운데이션 (Paundeisyeon) – Foundation
Another must learn Korean makeup vocabulary is the foundation 파운데이션 (Paundeisyeon). This is one of the basics that makeup users learn to use. Foundations can be liquid, cream, or powder. It is put to the face to create an even, uniform hue, conceal defects, and, in certain cases, alter the natural skin tone. In applying foundations, make sure to choose the right shade for your skin color. If the color doesn't blend your skin, it will not look good on the face.
The famous Korean foundations in 2o21 are TOUCH IN SOL Advanced Real Moisture Liquid Foundation, Quicksand Air Cushion BB Cream Foundation, Missha M Magic Cushion, CATKIN BB Cream Air Cushion Foundation, and Etude House Face Blur.
하이라이터 (Hairaiteo) – Highlighter
Highlighter has its peak of popularity a few years ago until now. Highlighter is an important Korean makeup vocabulary to learn because it is also a widely used makeup product of Koreans and other people around the world. Highlighters are products that reflect light. There are different forms of highlighters like liquid, cream, and powder. They brighten the skin and give it a dewy glow, as well as make your cheekbones appear more prominent.
The best Korean highlighters are ETUDE HOUSE Play 101 Stick Contour Duo New – Intense, ETUDE HOUSE Secret Beam Highlighter, Superface Multi-Lightful Blush & Highlighter Stick – Gold Rush, Too Cool For School Artclass By Rodin Highlighter, and S.O.N. & PARK Color Cube Highlighter.
Other Makeup Products
| | | |
| --- | --- | --- |
| Hangul (Korean) | Romanization | English Translation |
| 오토 아이라이너 | oto airaineo | automatic eyeliner |
| 베이스 메이크업 | beiseu meikeueop | base makeup |
| 비비그림 | bibigeurim | B.B. cream |
| 쉐딩 | sweding | contouring kit |
| 씨씨크림 | ssissikeurim | CC Cream |
| 쿠션 | kusyeon | cushion compact |
| 구션팩트 | gusyeonpaekteu | cushion foundation |
| 크레용 립 | keureyong rip | crayon lipstick |
| 눈화정/아이 메이크업 | nunhwajeong/ai meikeueop | eye makeup |
| 브로우 마스카라 | beurou maseukara | eyebrow mascara |
| 아이브로우 파우더 | aibeurou paudeo | eyebrow powder |
| 젤 아이라이너 | jel airaineo | gel eyeliner |
| 크레용 아이즈 | keureyong aijeu | jumbo eyeshadow pencil |
| 립글로스 | ripgeulloseu | lipgloss |
| 립틴트 | riptinteu | lip tint |
| 립라이너 | ripraineo | lip liner |
| 립라커 | riprakeo | lip lacquer |
| 립밤 | ripbam | lip balm |
| 마스카라 | maseukara | mascara |
| 메이크업 베이스 | meikeueop beiseu | makeup base |
| 메이크업 팔레트 | meikeueop palleteu | makeup palette |
| 메이크업픽서 | meikeueoppikseo | makeup fixer |
| 프라이머 | peuraimeo | primer |
| 파우더 | paudeo | powder |
| 포인트프라이머 | pointeupeuraimeo | point makeup primer (eye and lips) |
| 톤업크림 | toneopkeurim | tone up cream |
| 트윈케익 | teuwinkeik | twin cake |
| 워터 틴트 | woteo tinteu | water tint |
| 워터프루프 아이라이너 | woteopeurupeu airaineo | waterproof eyeliner |
Korean Skincare Products
Today, the global cosmetic industry is making lots of money. Cosmetics include shampoo, makeup, perfume, deodorant, soap, and cologne, and more. This industry is expected to continue to grow bigger in the coming years. But, you know what kind of cosmetics has a large percentage? The answer is skincare 스킨케어 (seukinkeeo).
Among other cosmetic products, skincare has the largest percentage of annual revenue for the cosmetic industry, and it is expected to grow more. But, what drives people to skincare is wellness and health. A lot of people have been drawn to health and wellness, especially when the pandemic came. When we say wellness, it actually means healthy and clean eating, staying fit, and the no-makeup look. This drives people to have better skin.
The skincare 스킨케어 (seukinkeeo) products are big moneymakers, so the largest companies in the world are producing their own skincare products. But, little did they know that there's one country playing a big outside role for cosmetics – South Korea.
In South Korea, skincare is not just a simple thing; it's actually part of their culture. In fact, the "Skincare -first" philosophy originated from them. This is the reason why almost every Korean, whether man or woman, knows how to take care of their skin.
They are also leading the latest skincare innovations and manufacturing of skincare products. Did you know that there are lots of Western skincare products made and manufactured in South Korea? If you are into K-beauty, you have undoubtedly heard about Jeju Island, which is a popular place in South Korea for cosmetics. It is called the "Hawaii of Korea" because volcanoes and natural resources surround it; there are great ingredients for cosmetics.
There are also have categories that do not exist in the U.S. Indeed, we can say that Korea has made a K-beauty wave which makes consumers be more educated and aware of the ingredients of the products they are putting in their skin.
Suppose you want to know more about Korean skincare. In that case, there are actually a lot of Korean beauty gurus and influencers that you can watch but first, try learning the Korean vocabulary about cosmetics.
얼굴 마스크/팩 (Eolgul Maseukeu/Paek) – Face Mask/Pack
Face masks 얼굴 마스크/팩 (eolgul maseukeu/paek) are one of the most commonly seen skincare products in K-dramas. It is used to hydrate the skin, remove excess oils, and help improve the pores. What makes this more convenient to the consumers is that it is cheap, and it provides a relaxing spa-like experience at home.
Some of the popular face masks in Korea are the Mediheal Tea-Tree Essential Blemish Control Sheet Mask, Dermask Water Jet Vital Hydra Solution, C.N.P. Quick Soothing S.O.S. Mask, Benton Snail Bee High Content Sheet Mask, and the Original Glow Sheet Mask Set.
로션 (Rosyeon)- Lotion
Even before, lotions were one of the widely used skincare products. Beauty gurus suggest that you should put in lotion while you're still young because it will definitely have an amazing effect on your skin when you get older. Lotions hydrate the skin and keep the skin healthy, supple, and soft.
Some of the best Korean lotions are the Somang Milk Body Lotion, Nella Oneday Whitener Magical Whitening Lotion, ILLIYOON Total Aging Care Body Lotion, Nella Oneday Whitener WHITE SNOW Tone Up Body Lotion, and Esthete Aloe Hand & Body Lotion.
선스크린 (Seonseukeurin) – Sunscreen
Sunscreens 선스크린 (Seonseukeurin) are a Korean makeup vocabulary that is important to learn because they are really underrated. Most people, especially the older generations, just use sunscreen when they go to the beach or know that they'll have long exposure to the sun. But, actually, you should be wearing sunscreen more often than that or at least every day.
The sun and different radiations from the gadgets we are using are some of the main factors that ruin our skin. That's why it is important to put on sunscreen more often. In fact, some foundations already have a sunscreen ingredient, so that it will have a double effect on your skin. The most famous Korean sunscreens are COSRX Aloe Soothing Sun Cream, Etude House Soon Jung Mild Defence Sun Cream, IPKN Big Apple Sun Cream, and Suntique I'm Pure Cica Suncream.
토너/스킨 (Toneo/Seukin)- Toner
Using toner 토너/스킨 (Toneo/Seukin) is part of a skincare routine that's why it is an essential Korean makeup vocabulary. After washing your face, toner removes all the remaining dirt, impurity, and grime. It can also smoothen skin and improve skin tone. But, toners should be compatible with your skin type.
The best Korean toners are N.M.F. Intensive Hydrating Toner, THANKYOU FARMER Rice Pure Essential Toner, IOPE Super Vital Softener Facial Toner, Enough Project Face Toner, and A.H.C. Aqualuronic Toner.
클렌저가 (Keullenjeoga) – Cleanser
Cleansers are another important Korean makeup vocabulary that is part of daily skincare routines. If you are familiar with the term "pH levels," cleansers help manage the ph levels of the skin and keep it hydrated. If you don't want your skin to look and feel rough, daily use of a cleanser can help.
Are you wondering what the best cleansers in Korea are? Well, some of the best cleansers are The Face Shop Rice WaterBright Cleansing Foam, Cosrx Low-pH Good Morning Cleanser, Banila Co Clean It Zero Cleansing Balm, Neogen Real Fresh Foam Green Tea Cleanser, and MIZON Snail Repairing Foam Cleanser.
미스트 (Miseuteu)- Mist
A mist is something that Americans call "spray." Mists are face moisture sprays that can be used before or after makeup to prepare the skin, lock in makeup, or treat dryness during the day. Mists are packed with nutrients and minerals that rapidly refresh and brighten the skin in just one spray. So, if your skin feels dry, rough, and fatigued, just grab your mist, and it will instantly make your face glow.
Some of the famous Korean mists are Missha Time Revolution – The First Treatment Mist, SIORIS Time Is Running Out Mist, Glow Recipe Watermelon Glow Ultra-Fine Mist, and I DEW CARE Thirst Things First.
세럼 (Sereom) – Serum
Korean serums are undoubtedly one of the most popular Korean skincare products; that's why it is highlighted as an important Korean makeup vocabulary. Serums 세럼 (Sereom) are popular because it is made of simple yet effective ingredients. Since Koreans have been discovering innovations in the cosmetic industry, they have serums for all skin types. It can treat the skin's main concerns like skin aging, dark spots, wrinkles, and hyperpigmentation.
For the top Korean serums, we have The Face Shop White Seed Brightening Serum, COSRX Triple Hyaluronic Moisture Ampoule, Dear, Klairs Freshly Juiced Vitamin C Serum, Some By Mi AHA-BHA-PHA-30 Days Miracle Serum, and Mizon Snail Repair Intensive Ampoule.
에센스 (Esenseu) – Essence
If you're new in the K-beauty world, you might not know the Korean makeup vocabulary "essence" 에센스 (Esenseu). It is an exclusive term in K-beauty. Essences are similar to serums in a way that the active chemicals are concentrated, but they have a lighter texture. This light texture allows essences to seep into the skin more quickly. To make it simple, just think about a fusion of toner and serum. But, what makes it more powerful is that it can focus on hydration, anti-aging and it can also boost the power of the products layered on top of it.
South Korea's top essences are SeoulCeuticals Korean Essence, TOSOWOONG Green Tea Essence, COSRX Galactomyces 95 Tone Balancing Essence, Jin Jung Sung Soothing Face Moisturizer Essence Serum, and Mizon Snail Repair Intensive Essence.
리무버 (Rimubeo)- Make-Up Remover
Makeup remover is an essential Korean makeup vocabulary because this shouldn't be missed if you love putting makeup on your face. Like every beauty guru says, do not leave your makeup overnight. Remove it at the end of the day. There are different kinds of makeup remover nowadays. There are liquid, cream, oil, foam, wipes, and more.
If you're looking for a Korean makeup remover to use, try the following: BANILA CO Clean It Zero Cleansing Balm Original, SKINFOOD Rice Daily Brightening Cleansing Tissue, I DEW CARE Berry Melting Makeup Remover Balm, PYUNKANG YUL Low pH Pore Deep Cleansing Foam, and Julep Love Your Bare Face Hydrating Cleansing Oil.
Other Korean Skincare Products
| | | |
| --- | --- | --- |
| English Translation | Hangul (Korean) | Romanization |
| acne care (A.C.) | 에이씨 | eissi |
| anti-wrinkle cream | 주름 방지 크림 | jureum bangji keurim |
| ampoule | 앰플 | aempeul |
| aftersun | 애프터선 | aepeuteoseon |
| cream/moisturizer | 크림 | keurim |
| cleansing cream | 클렌징 크림 | keullenjing keurim |
| cleansing foam | 클렌징 폼 | keullenjing pom |
| cleansing gel | 클렌징 젤 | keullenjing jel |
| cleansing lotion | 클렌징 로션 | keullenjing rosyeon |
| cleansing milk | 클렌징 밀크 | keullenjing milkeu |
| cleansing oil | 클렌징 오일 | keullenjing oil |
| cleansing pad | 클렌징패드 | keullenjingpaedeu |
| cleansing soap | 클렌징 비누 | keullenjing binu |
| cleansing tissue | 클렌징 티슈 | keullenjing tisyu |
| cleansing water | 클렌징 워터 | keullenjing woteo |
| eye cream | 아이크림 | aikeurim |
| emulsion | 에멀전 | emeoljeon |
| face oil | 페이스오일 | peiseuoil |
| gel mask | 겔마스크 | gelmaseukeu |
| massage cream | 마사지크림 | masajikeurim |
| modeling mask | 모델링팩 | modellingpaek |
| milk cleanser | 밀크 클렌저가 | milkeu keullenjeoga |
| moisturizing cream | 수분 크림 | subun keurim |
| nose strip | 코팩 | kopaek |
| point makeup remover (eye and lips) | 포인트리무버 | pointeurimubeo |
| peeling | 필링 | pilling |
| peeling pads | 필링패드 | pillingpaedeu |
| peel off pack | 필오프 팩 | piropeu paek |
| sleeping mask | 수면팩 | sumyeonpaek |
| spot treatment | 트러블 스팟 | teureobeul seupat |
| sun lotion | 선로션 | seonrosyeon |
| sunblock | 선블록 | seonbeullok |
| sunscreen gel | 선스크린 젤 | seonseukeurin jel |
| sunscreen spray | 선스프레이 | seonseupeurei |
| sun stick | 선스틱 | seonseutik |
| sun cushion | 선쿠션 | seonkusyeon |
| sun cream | 선크림 | seonkeurim |
| soap bar | 솝 | sop |
| scrub | 스크럽 | seukeureop |
| skin booster | 스킨 부스터 | seukin buseuteo |
| sleeping mask | 슬리핑팩 | seullipingpaek |
| sheet mask | 시트 마스크 | siteu maseukeu |
| toner (skin) | 스킨 | seukin |
| treatment | 트리트먼트 | teuriteumeonteu |
| targeted face mask | 부분 마스크 | bubun maseukeu |
| under-eye patch | 아이 패치 | ai paechi |
| wash-off mask | 워시오프 팩 | wosiopeu paek |
Korean Body Products
Another batch of skincare products that we will learn as part of Korean makeup vocabulary is Korean body products. Here are the words that may come in handy:
| | | |
| --- | --- | --- |
| Hangul (Korean) | Romanization | English Translation |
| 바디로션 | badirosyeon | body lotion |
| 핸드크림 | haendeukeurim | hand cream |
| 네일컬러 | neilkeolleo | nail polish |
| 데오도란트 | deodoranteu | deodorant |
| 바디클렌저 | badikeullenjeo | body wash |
| 바디미스트 | badimiseuteu | body mist |
| 바디에센스 | badiesenseu | body essence |
| 바디오일 | badioil | body oil |
| 바디밤 | badibam | body balm |
| 바디스크럽 | badiseukeureop | body scrub |
| 바디크림 | badikeurim | body cream |
| 바디파우더 | badipaudeo | body powder |
| 데오티슈 | deotisyu | deodorant wipes |
| 핸드마스크 | haendeumaseukeu | hand mask |
| 핸드워시 | haendeuwosi | hand soap |
| 네일리무버 | neillimubeo | nail polish remover |
| 네일영양제 | neiryeongyangje | nail treatment |
| 네일아트 | neirateu | nail art |
| 데오롤온 | deororon | roll-on deodorant |
| 데오스틱 | deoseutik | stick deodorant |
| 네일스티커 | neilseutikeo | sticker nail polish |
| 데오스프레이 | deoseupeurei | spray deodorant |
Cosmetic Surgeries In Korean
Aside from beauty products, South Korea has also discovered and developed different cosmetic surgeries like double eyelid surgery. These surgeries are famous in South Koreans, and foreigners also go to South Korea for these surgeries. So, here are some Korean makeup vocabulary about cosmetic surgeries:
| | | |
| --- | --- | --- |
| English Translation | Hangul (Korean) | Romanization |
| botox injection | 보톡스 주사 | botokseu jusa |
| cosmetic surgery | 성형 수술 | songhyeong susul |
| double eyelid surgery | 쌍꺼풀 수술 | ssangkkeopul susul |
| facelift | 주름 재가 수술 | jureum jaega susul |
| face slimming | 브이라인 | beuirain |
| hair removal | 제모 | jemo |
| liposuction | 지방 흡입 | jibang heubip |
| nose job | 코 수술 | ko susul |
| surgery | 수술 | susul |
Korean Hair Products
Haircare is part of Koreans' cosmetic industry. K-pop idols mostly dye their hair in different colors, so they really have to take care of their hair in the right way. So, here are some Korean words related to hair products:
| | | |
| --- | --- | --- |
| Hangul (Korean) | Romanization | English Translation |
| 린스 | rinseu | hair conditioner |
| 헤어컬러 | heeokeolleo | hair dye |
| 헤어 트리트먼트 | heeo teuriteumeonteu | hair treatment |
| 포마드 | pomadeu | hair pomade |
| 헤어 기기 | heeo gigi | hair electric tools |
| 헤어 마스크팩 | heeo maseukeupaek | hair mask |
| 헤어 미스트 | heeo miseuteu | hair mist |
| 헤어무스 | heeomuseu | hair mousse |
| 헤어 미스트 | heeo miseuteu | hair mist |
| 샴푸 | syampu | shampoo |
Korean Beauty Tools And Equipment
Makeup and beauty procedures will not be possible without equipment and tools; that's why it is also important to learn them as part of Korean makeup vocabulary. Here are the words that you can use:
| | | |
| --- | --- | --- |
| English Translation | Hangul (Korean) | Romanization |
| hair iron | 헤어 아이론 | heeo airon |
| hair dryer | 헤어드라이기 | heeodeuraigi |
| beauty tools | 미용소품 | miyongsopum |
| comb | 빗 | bit |
| concealer brush | 컨실러 브러쉬 | keonsilleo beureoswi |
| cushion case | 쿠션 케이스 | kusyeon keiseu |
| cleansing brush | 클렌징 브러쉬 | keullenjing beureoswi |
| eyelash curler | 뷰러 | byureo |
| eye mask | 아이마스크 | aimaseukeu |
| eyeshadow brush | 아이섀도우 브러쉬 | aisyaedou beureoswi |
| foundation brush | 파운데이션 브러쉬 | paundeisyeon beureoswi |
| hair iron | 헤어 아이론 | heeo airon |
| hairdryer | 헤어드라이기 | heeodeuraigi |
| hair rollers | 그루프 | geurupeu |
| head massager | 헤드 마사져 | hedeu masajyeo |
| hair electric tools | 헤어 기기 | heeo gigi |
| hairbrush | 헤어브러시 | heeobeureosi |
| hair accessories | 헤어도구 | heeodogu |
| hair strengthener | 스트레이트기 | seuteureiteugi |
| makeup brush | 메이크업 브러쉬 | meikeueop beureoswi |
| massage machine | 마사지기기 | masajigigi |
| nail electric appliances | 네일가전 | neilgajeon |
| nose hair scissors | 미니 미용가위 | mini miyonggawi |
| oil blotting papers | 기름종이 | gireumjongi |
| powder brush | 파우더 브러쉬 | paudeo beureoswi |
| round makeup puff | 원형퍼프 | wonhyeongpeopeu |
| sponge | 스펀지 | seupeonji |
Skin Types In Korean
Like what is stated above, before you use cosmetics, make sure to know your skin type. So, here are some words in Hangeul with romanization and English translation about skin types in Korean:
| | | |
| --- | --- | --- |
| English Translation | Hangul (Korean) | Romanization |
| acne | 아크네 / 트러블 (피부) | akeune / teureobeul (pibu) |
| all skin types | 모든피부 | modeunpibu |
| combination | 복합성(피부) | bokhapseong(pibu) |
| dry | 건성(피부) | geonseong(pibu) |
| freckle | 주근깨 | jugeunkkae |
| oily | 지성(피부) | jiseong(pibu) |
| normal | 정상(피부) | jeongsang(pibu) |
| sensitive | 민감(피부) | mingam(pibu) |
| wrinkle | 주름 | jureum |
Other Korean Makeup Vocabulary
| | | |
| --- | --- | --- |
| English Translation | Hangul (Korean) | Romanization |
| apply cosmetics/put on makeup | 화장품을 바르다 | hwajangpumeul bareuda |
| apply makeup with fingers | 화장품을 찍어 바르다 | hwajangpumeul jjigeo bareuda |
| high-quality cosmetics | 고급 화장품 | gogeup hwajangpum |
| cosmetics store | 화장품 가게 | hwajangpum gage |
| cosmetics company | 화장품 회사 | hwajangpum hoesa |
| men's cosmetics | 남성용 화장품 | namseongyong hwajangpum |
| manufactured date | 제조 | jejo |
| expiration date | 까지 | kkaji |
| natural cosmetics | 천연 화장품 | cheonyeon hwajangpum |
| skincare products | 기초 화장품 | gicho hwajangpum |
| skincare | 피부관리 | pibugwanli |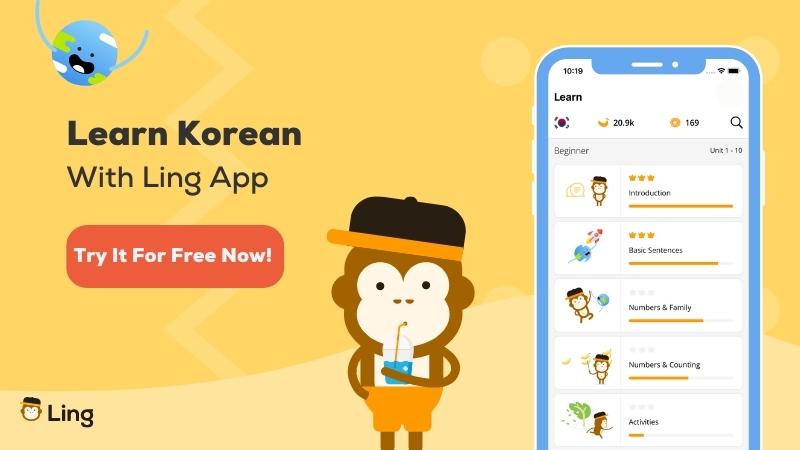 Discover The Beauty Of Learning Korean
Learning a new language opens up your world to different cultures. Imagine how amazing it is to connect with the native Koreans and talk to them about different things. So, why not start your journey in learning Korean? Ling App will help you channel your inner Korean.
Backed with linguistic research and spaced repetition system, Ling app's lessons and activities can genuinely help you improve your language skills like widening your vocabulary, practicing your listening and speaking skills, understanding the grammatical structure, and even learning the culture behind the topics.
Discover what learning Korean can do to your life. Learn Korean with Ling app now! Download it on the Play Store or App Store and start becoming a master of the Korean language!