Are you always up for an adventure to explore beautiful South Korean places? Then, learning about Korean addresses 주소 (juso) might be essential for you.
Just recently, the hit K-drama series Hometown Cha-cha-cha wrapped out filming. After the season finale, lot's of tourists hop into a question of finding the exact location where the scenes were filmed. This is true to every famous time a K-drama series or movie wraps up. Fans are always locating the exact address actually to feel the vibe of the series. Imagine walking on the same land where actors and actresses had walked. It is amazing, right?
Knowing how to Korean read addresses written on maps, business cards, and postal codes is also important to know to avoid getting lost. Also, learning how to do written addresses with the correct address format can help you in business, delivering food, sending packages and letters, and of course, traveling.
That is why in this blog, we will learn the things you should know about Korean addresses. If the Korean language is very different from your native language, do not worry because we will use English translations and romanizations to help you.
Korean Address System
Did you know that South Korea's address system is different from what most of the countries in the world use? If you have seen a written address in South Korea, you'll be confused at first because of the different format. So, before we learn about the Korean Addresses, let us first discover the South Korean address system.
Just a quick fact, in the East Asian System, the administrative divisions characterize a typical building located in South Korea. If the address is written in South Korean, the largest division comes first, followed by the lesser divisions, the building, and lastly, the recipient. If the recipient lives in a multi-story building, include the floor and apartment or suite number.
It's vital to note that in South Korea, the overall arrangement of addresses is the opposite of how addresses are usually written in Western Countries. If you are used to an address written from the smallest unit down to the province, then you have to know that Korean addresses work differently. The order is reversed instead of commencing with the home number and ending with the postal code. Take a look at the examples below.
Old Korean Address System: land-focused; city, district, neighborhood, land lot number
Example: 서울시 마포구 상수동 23-1번지 seoulsi mapogu sangsudong 23-1beonji – Seoul 23-1, Mapo-gu, Sangsu-dong
New Korean address system: building-focused; city, district, street name, and number
Example: 서울시 마포구 와우산로5안길 54-18 seoulsi mapogu wausanro5angil 54-18 – 54-18, Wausan-ro 5-an-gil, Mapo-gu, Seoul
The change of Korean address from lot-based to street-based happened on the year 2014. In the new system, all streets will have names that end in 대로 (daero, big road,) 길 (gil, road) or 로 (ro, road.) Due to the change from the previous system, buildings were given new building numbers. This gained different reactions from the locals. But, this change made it easy for foreigners to travel around South Korea.
In this part, it is also essential to know that this system is not used in North Korea. They have different ways, and it's different from the addresses in South Korea.
Basic Useful Vocabulary About Korean Addresses
Now that we have learned a bit about Korean addresses let us learn some vocabulary that will be useful for this entire lesson.
| | | |
| --- | --- | --- |
| Hangul (Korean) | Romanization | Meaning |
| 도 | Do | province (which are divided into si and gun) |
| 시 | Si | city (broken down into eup, myeon, and dong) |
| 군 | Gun | municipality (broken down into eup and myeon) |
| 읍 | Eup | the center of a municipality (they are divided into ri) |
| 리 | Ri | specific in a neighborhood |
| 면 | Myeon | villages of a municipality (surrounds eup) |
| 구 | Gu | district in a metropolitan city |
| 동 | Dong | area or district within a city or gu (then divided into ga) |
| 가 | Ga | a block |
Writing Korean Addresses
After learning some information about the Korean address system and some basic vocabulary, let us now enumerate and discuss how to write Korean addresses. First, let us learn how to say "address" in the Korean language.
주소 (Juso) – Address
The word 주소 (Juso) is used to say "address" in the Korean language. If you're a foreigner, it is important to know how to read and say Korean addresses so you'll have a smooth journey. It is helpful when you're taking a taxi or just walking down the streets locating for a certain place.
1. Province – 도 (Do)
The first word related to Korean addresses to learn is 도 (Do) or province. In South Korea, there are eight provinces, one special governing province. Each province has a lot of different things to offer. Take a look at the table below:
| | | |
| --- | --- | --- |
| Province | Hangul (Korean) | Romanization |
| Chung-cheong bukdo | 충청북도 | chungcheongbukdo |
| Chungcheongnam-do | 충청남도 | chungcheongnamdo |
| Gangwon-do | 강원도 | gangwondo |
| Gyeonggi-do | 경기도 | gyeonggido |
| Gyeongsangbuk-do | 경상북도 | gyeongsangbukdo |
| Gyeongsangnam-do | 경상남도 | gyeongsangnamdo |
| Jeollabuk do | 전라북도 | jeonrabukdo |
| Jeollanam-do | 전라남도 | jeonranamdo |
Special Self-Governing Province
| | | |
| --- | --- | --- |
| Province | Hangul (Korean) | Romanization |
| Jeju Special Self-Governing Province | 제주특별자치도 | jejuteukbyeoljachido |
2. City – 시 (Si)
The next vocabulary about Korean addresses is the city 시 (Si). The cities of Busan, Incheon, and of course Seoul, the capital city of South Korea, are surely not new to the ears for K-drama fans. These cities are just a few of the cities that are always being mentioned in the K-drama series. Cities and provinces in South Korea have a big difference. For starters, people in rural areas are more conservative than those who live in urban areas.
In South Korea, there are six (6) metropolitan cities, two (2) self-governing cities, and one (1) special city. See the tables below:
| | | |
| --- | --- | --- |
| City | Hangul (Korean) | Romanization |
| Seoul | 서울특별시 | seoulteukbyeolsi |
Metropolitan Cities
| | | |
| --- | --- | --- |
| City | Hangul (Korean) | Romanization |
| Busan | 부산광역시 | busangwangyeoksi |
| Daegu Metropolitan City | 대구광역시 | daegugwangyeoksi |
| Incheon Metropolitan City | 인천광역시 | incheongwangyeoksi |
| Gwangju | 광주광역시 | gwangjugwangyeoksi |
| Daejeon | 대전광역시 | daejeongwangyeoksi |
| Ulsan Metropolitan City | 울산광역시 | ulsangwangyeoksi |
Special Self-Governing City
| | | |
| --- | --- | --- |
| City | Hangul (Korean) | Romanization |
| Sejong Special Self-Governing City | 세종특별자치시 | sejongteukbyeoljachisi |
Take note, between two and four of the aforementioned administrative divisions are used in a Korean address written in the East Asian system.
3. Street – 거리 (Geori) And Street Number 거리 번호 (Geoli Beonho)
Korean streets have names that end in the following:
-daero – 대로 Boulevard (8 or more lanes)
-ro – 로 Street (2-7 lanes)
-gil – 길 Road (1 lane)
Below are the examples of South Korean streets:
Changgyeonggung-ro 04545
Myeongdong 10-gil 04536
Dasan-ro 22-gil 04590
Dongho-ro 12-gil 04607
Eulji-ro 30-gil 04547
4. Building Number (건물 번호 Geonmul Beonho)
As mentioned above, in South Korea, if the person is living in a multi-story building, it is not enough to know just the building number. You must also include the floor and apartment or suite number in writing the address.
5. House number – 집 번호 (Jib Beonho)
When a house or building's number is hyphenated, it signifies it's on a street or lane that's too little or short of its own name apart from the main road it branches off. So what happens when there is the same building number? In this scenario, all of the buildings on this street or lane have the same number, followed by a hyphen and then a separate number.
6. Postal Code – 우편 번호 (Upyeon Beonho)
Postal codes 우편 번호 (Upyeon Beonho) are also an important part of Korean addresses. In South Korea, their postal codes have six digits. It is written as two sets of three and is separated by a dash.
100-011
The first three numbers are determined by the province or town and the zone in a South Korean postal code. The next three numbers are determined by delivery zone or building. The postal code you see above is from Jung-gu, Seoul.
Sending A Post Card In South Korea
You might be thinking, who still rights a postcard in this digital age? Well, it turns out that postcards are still part of Korean culture, especially during holiday seasons. It is used to send greetings to your loved ones. Companies also use postcards to send to their investors, customers, and others. So, do you know what to put in each postcard's address line? It's pretty simple:
Start with the recipient's name. (last name – first name – honorifics)
Write the province
Proceed with street name and street number.
Include the house number.
Add the postal code.
There's another acceptable way to write the address as a foreigner sending a package or post card to Korea.
Add the recipient's name
Add the street number
Add the name of the street
Add the district
Add the city
Add the province
And if needed, include the country: South Korea
Vocabulary Related To South Korean Addresses And Mail
| | | |
| --- | --- | --- |
| Hangul (Korean) | Hangul (Korean) | Romanization |
| 받는 사람 이름 | badneun salam ileum | recipient name |
| 고향 | gohyang | hometown |
| 도시와 농촌 | dosiwa nongchon | town and country |
| 골목 | golmok | alley, side street |
| 동네 | dongne | neighborhood, town, block |
| 싱글 이웃 | sing-geul ius | single neighborhood |
| 대학로 | daehaglo | university street |
| 봉투 | bongtu | envelope |
| 엽서 | yeopseo | postcard |
| 편지 | pyeonji | letter |
| 우표 | upyo | stamp |
| 우체국 | ucheguk | post office |
| 소인 | soin | postmark |
| 소포 | sopo | package |
| 우체통 | uchetong | mailbox |
| 집배원 | jipbaewon | mail carrier |
| 대도시 | daedosi | metropolitan cities |
| 편지를 쓰다 | pyeonjireul sseuda | write a letter |
| 받는 사람 | banneun saram | recipient |
| 보내는 사람 | bonaeneun saram | sender |
| 등기 | deunggi | registered mail |
| 광고성 우편 | gwanggoseong upyeon | junk mail |
| 속달 | sokdal | express mail |
| 우편번호 | upyeonbeonho | zip code |
| 제 주소예요. | Je jusoyeyo. | Here is my address. |
| 제 집주소는 이거예요. | Je jipjusoneun igeoyeyo. | My home address is this. |
| 우체국이 어디예요? | Uchegugi eodiyeyo? | Where is the post office? |
K-drama Filming Sets Addresses
Goblin –Jumunjin Beach Breakwater, 1609 Haean-ro, Jumunjin-eup, Gangneung-si, Gangwon-do, South Korea
Record of Youth – Forest of Wisdom; 145 Hoedong-gil, Paju-si, Gyeonggi-do, South Korea
The King: Eternal Monarch – Dae Jang Geum Park; 25, Yongcheon drama-gil, Baegam-myeon, Cheoin-gu, Yongin-si, Gyeonggi-do, South Korea
Itaewon Class – Seoul Fortress Wall; 622-83 Changsin-dong, Jongno-gu, Seoul
Hometown Cha-cha-cha – Yoon Dental Clinic; 429 Cheongjin-ri, Cheongha-myeon, Buk-gu, Pohang-si, Gyeongsangbuk-do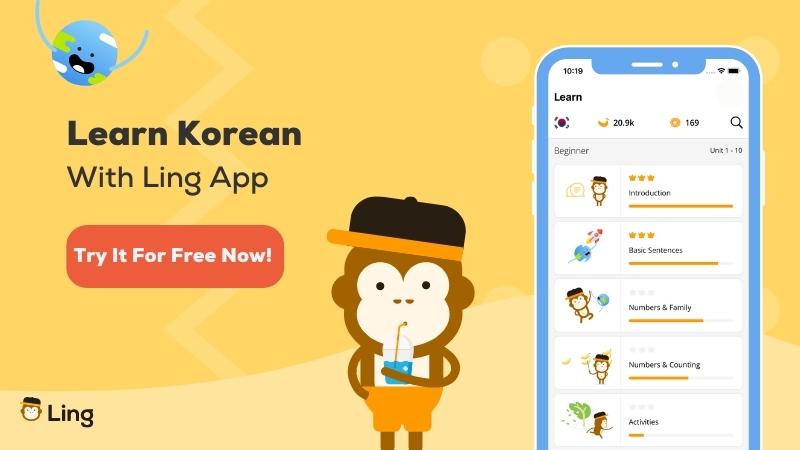 Go Beyond Addresses. Start Learning Korean Now!
Traveling to South Korea is definitely one of the best experiences you'll ever have in your life. But, this trip will not be complete if you don't know how to communicate with the locals. Learning Korean is one of the best ways to show respect in their country and culture. So, if you're looking for a great language learning partner, Ling app will help you.
Ling app will provide you with a variety of topics to choose from. What's exciting is that you can learn these topics in a fun and engaging way because Ling app combines linguistic research, a spaced-repetition system, and gamification to make your language learning meaningful. You'll enjoy learning the words and phrases through smart flashcards with romanizations, English translations, images, and audio recordings from native speakers. You can also practice what you have learned through dialogues and chatbots.
Learning Korean should not be tough. With Ling app, learning can be fun yet meaningful. So, learn Korean with Ling app now! Download it on the Play Store or App Store and start your journey today!