Bosnian cuisine is incomplete without its deliciously sweet and mouth-melting desserts. Bosnian desserts are an integral part of the local's food culture and daily diet, which explains why they have so much variety. However, Bosnian sweets are not for the faint of heart.
While it is easy to eat and enjoy something sweet after a plate full of savory items, Bosnian sweets are a meal in itself. Many desserts are soaked in syrup and are so sweet that it can make your teeth hurt. Nevertheless, that is what makes Bosnian desserts unique and alluring.
So, if you are planning to try out a popular Bosnian dessert anytime soon, you have come to the right place. Today, we will walk through some of the traditional and popular Bosnian sweets that will make you forget your regular ice cream desserts and chocolates. From different kinds of cookies to a variety of pastries, you will find out lists of Bosnian desserts you can try out once you land in the country.
With that being said, it is important to keep in mind that there is a range of sweets in Bosnia with recipes that are hard to find. So today, we will list some of the popular ones found in every corner of the country. If you are interested, continue reading!
Flavors Of Bosnia
Before we head to our exquisite dessert list, let us have a quick peek at the flavors of Bosnian cuisine.
Since the majority of the country's people follow the Islamic tradition, it is safe to confer that Bosnian cuisine is heavily meat-based. However, the most interesting aspect is that traditional Bosnian items are meaty yet sweet. Bosnians love to eat food both light and heavy and healthy and greasy. They have flavorsome item but uses fewer spices than other countries. Hence, you will find that most meaty and heavy dishes are also sweet.
Traditional Bosnian food has similarities with Mediterranean and Turkish cuisine. All the cuisines mentioned make use of lamb meat and beef with halal requirements and slow-cook them in their juices with seasonings. Some typical ingredients of Bosnian cuisine are potatoes, tomatoes, bell peppers, mushrooms, onion, garlic, plums, milk, spinach, paprika, cream, cabbage, carrots, and cucumbers.
As you can see, Bosnians do use spices but in fewer quantities. They also don't have a keen interest in a variety of spices, unlike South Asian countries. Most of their dishes are either boiled or flavored with sauces made from the natural juices of vegetables.
Bosnian food, therefore, to most seems quite bland. However, if you want to know the hint of uniqueness that lies in the cuisine, you must try Cevapi, Burek, Klepe, and Begova Corba. Apart from these main courses, you will know that Bosnia is a champ for sweet desserts. So, continue reading below!
Bosnian Desserts
As mentioned, authentic Bosnian dessert recipes are not easy to find. They are either passed through generations or concocted with fresh ingredients which are hard to find elsewhere. Nevertheless, below are some of the most authentic and popular Bosnian desserts you must try when you visit the country. If you make any local friends, you will only get lucky!
1. Tufahija
Bosnian Tufahija is an authentic fruit-based dessert that the locals are crazy for. It is made from apples stewed in water and sugar. The inside of the apple is stuffed with an almond and walnut cream filling, which is then baked shortly and dipped in sugar syrup. It is a mouthwatering treat that is not only popular in Bosnia but also in Balkan nations like Serbia. It has many different recipes, and most people also make it with peeled apples cooked in Agda (sugary water) and lemon juice. In fact, the search for the correct way of making it makes the dessert one of the most contested ones.
This dessert is consumed chilled with a cup of Turkish coffee. It is served in a glass cup or bowl, garnished with whipped cream and cherry on top. It usually tastes better when cooked a day before consumption.
2. Kadaif
Another must-try dessert of Bosnia is the Kadaif. It is made of a shredded Kadayif dough ball (pre-shredded filo pastry dough) and a rich nut filling. The nuts are usually chopped walnuts. This dessert varies from region to region and has different ways of rolling it. However, it is typically made by placing the nut filling between two layers of butter-coated threads of Kadayif.
After it is baked, Kadaif is submerged in a syrup with lemon juice flavor and enriched with cloves and cinnamon. It is considered one of the signature desserts of Bosnia and is best paired with strong Bosnian coffee. You will find this dessert on a lot of occasions in Bosnia. Although Kadaif first looks like a pasta dish, you will fall in love with the sweetness of the dessert!
3. Orašnica
Another popular fruit-based Bosnian dessert is Orašnica. It uses walnut as its primary ingredient, which is chopped and mixed with butter, egg whites, and sugar. Then it is shaped into a horseshoe. The batter is first prepared, and then the walnuts are gradually added to it. It helps in making the cookie-like dessert crunchy and flavorful.
It is one of the most popular holiday desserts, known as the traditional Bosnian walnut cookie. Although the recipe given above is the standard one, you will find different versions in different households. Most people also sprinkle coarsely ground walnuts on top of the dessert to provide a more crispy and crunchy texture. So, if you visit a Bosnian house, make sure you ask for the walnut cookie.
4. Smokvara
Although true to the land of Bosnia, most desserts, as mentioned above, have Turkish roots. However, Smokvara belongs certainly to Bosnia and Herzegovina. It mainly celebrates the fig tree, which is commonly found in Bosnia. So, Smokvara is made of a dough which contains Fig pekmez, a thick syrup, wheat and corn flour, water, oil, and sugar. Before baking it, the dough is shaped into a round flat disk.
Once done, it is then doused in a thick syrup made of pekmez, sugar, and water. It has a high percentage of sweetness. If you don't have much of a sweet tooth, I recommend you pair it with a strong Bosnian coffee.
5. Uštipci
If you are looking for something that is both sweet and savoury, we have the best item for you. Uštipci is fried dough balls with a unique taste that will act as both your meal and your dessert simultaneously. In Bosnian restaurants, you will find this alongside meat dishes and with a creamy spread.
Although it is mostly considered a savoury snack, the dessert-like sweet ones are sprinkled with powdered sugar. It is popularly consumed during Christmas. It is mostly served with jam or honey while they are hot and crispy. If kept for too long, it can get rubbery. However, you will never taste the same Uštipci twice. Just like Tufahija, it has many correct ways of making and serving it.
6. Gurabija
Another dessert with many twists and turns is Gurabija. There are different variations of this sweet across regions. Typically, these are flat and round shortbread cookies that are prepared with flour, sugar, and oil. It is commonly flavored with vanilla powder, lemon zest, dried fruits, and nuts. Authentically, you will find a sugar cube pressed into the centre of the cookie before baking it.
Gurabija, a sweet speciality, has been an essential part of the Bosnian food culture and its cultural heritage. You will find this in different corners of the country with different variations in recipes. Some also use eggs, baking powder, baking soda, melted butter, cream, yogurt, and milk.
7. Sutlijaš
Are you a fan of rice pudding? If yes, Sutlijaš is the best dessert for you. This tasty dessert has roots in Sulac- milky food, which was popular among nobles throughout the Ottoman Empire. Hence, Sutlijaš is a creamy rice pudding prepared from rice, milk, sugar and vanilla essence. It is usually sprinkled with cinnamon or grated chocolate to add some final touches.
Sutlijaš can be served cold as well as hot. If you are more of a warm dessert person, you can surely try this delicious dessert warm with some vanilla and grated chocolate glaze on top of it.
8. Šampita
If you want to try something extremely sweet that can give you a quick sugar rush, Šampita is the dessert for you. Light, fluffy, and sweet, this dessert is a favourite throughout the Balkan. The speciality of this dessert is that it was created to be easy to eat and make with easily accessible essentials.
Hence, Šampita is made in a simple puff pastry base, which is then topped with whipped meringue. This is the case in most bakeries throughout the country. If you visit someone's house and get offered a homemade Šampita, you will be lucky enough to taste this Bosnian dessert with a twist of lemon-flavored sugar syrup mixed in it. It is truly magical.
9. Ćetenija
Coming to a winter dessert, Ćetenija is a super-sweet dessert of woven sugar and baked flour. Before making this sweet nest, the flour has to be baked dry first and then left to cool overnight. The sugar is then mixed with water and lemon juice and left to cool in the snow. After that, the two ingredients are mixed and hand-pulled by 5-6 people.
As you can see, it is not an easy dessert to make. Hence, the art of making this item, which is very painful, is slowly dying. Nevertheless, if you manage to taste it when you are in Bosnia, you will surely feel the dessert melting in your mouth.
10. Jabukovača
Although America is famous for its Apple pie, the Bosnian dessert, Jabukovača, is no less. It is a traditional Bosnian apple pie from the city of Sarajevo. It is made with filo dough, which is spread and stuffed with chopped apples, ground walnuts or walnuts, and vanilla. It is then rolled and baked in a baking tray.
Once done, it is cut into pieces before serving and doused in a Sherbet- a mix of sugar, honey, and lemon juice. It makes it extra delicious and juicy.
More Bosnian Desserts To Try
Due to the word limit, I could only describe a few. However, here is a list of more desserts that will surely satisfy your sweet tooth.
Tulumba- Deep-fried dough treats
Baklava- Layered pastry filled with walnuts and almonds
Bosanske Hurmašice- Date-shaped biscuits
Slatko- Fig preserve
Makovnjača- Strudel like pastry
Krempita- Custard cream sandwich between layers of pastry
Urmašica- Dough ball filled with dates and walnuts
Šape- Bosnian cookie
Vanilice- Vanilla cookie
Rahat Lokum- Jelly-like sweet (Staple dessert) (Similar to Turkish delight)
Over To You!
Now that you know all the popular Bosnian desserts, nothing can stop you from having a sweet delightful day at Bosnia. However, if you want to know more about the traditional food culture of the Bosnian people and the language of Bosnia, download the Ling app now.
Learn Bosnian With The Ling App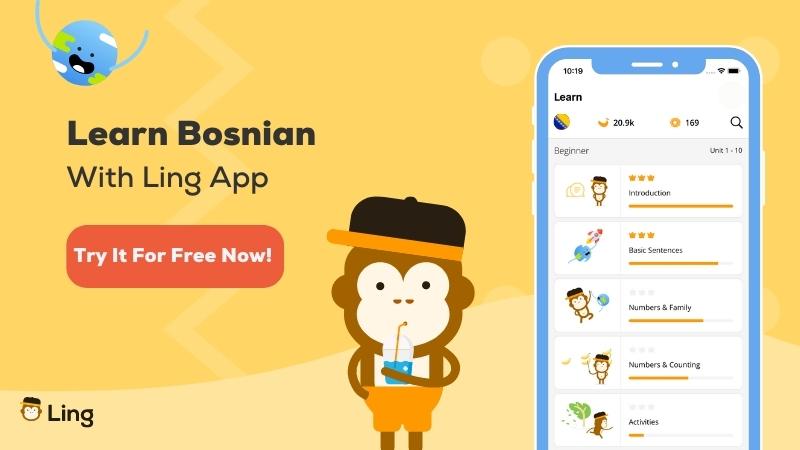 Ling is the best language learning app that covers 60+ languages and provides content on topics like basic vocabulary, travel phrases, food, transportation, and many more. All you need to do is download the app from App Store or Play Store and use it on any device of your choice.
The best part is the AI chatbot that helps with communication skills. You will also get a chance to retain your knowledge with interactive mini-games and puzzles. So, what are you waiting for? Download the Ling app now and start learning Bosnian!