Hi! 你好 (nǐ hǎo)! नमस्ते (namaste)! ¡Hola!
Chances are that more than 40% of you can understand at least one of those languages! That's because English, Mandarin, Hindi, and Spanish are the world's top four most spoken languages.
But, the population is growing every day, and with it, languages are constantly evolving. The way language is used now won't be the same as in 2030, 2050, or beyond.
It's important to understand the changing language landscape and trends. That's why Ling conducted this study on over 2,000 respondents in the United States to document language findings from this year. Our survey answered the following questions:
How many languages do you speak?
If you're only fluent in one language, do you want to learn more languages?
If you can speak more than one language, how many? One or more?
Language Learning Statistics 2023: Key Findings
11.7% of older people over 65 years old can't speak a second language and have no interest in learning one.
 A tiny percentage (2.8%) of people aged 18-24 responded that they don't speak a second language and don't want to learn one. 
A mere 5% of people aged 25-34 speak a second language.
Of the 2000 people surveyed, only 11.9% of respondents can speak a second language.
A higher percentage of females can't speak a second language and don't plan to learn one.
It's time to look at these top findings more in-depth.
How Many Americans Don't Speak a Second Language?
The results are rather eye-opening.
Around two-thirds of Americans cannot speak a second language
Nearly 40% percent of Americans don't care about learning a second language.
Only 23% of Americans speak one-second language.
Just over 1 in 10 can speak 2 or more languages.
Why is it that such a large proportion of Americans don't speak a second language and have no desire to learn a second language? This could be due to diverse cultural and societal conditions, such as a lack of necessity, growing nationalism, or a lack of languages taught in schools. Age and gender may also play a role in language learning trends.
Let's analyze the data further based on gender and age.
American Female VS American Male Language Speakers
While the percent of Americans speaking a second language has more than doubled since 1990, when analyzing our results by gender, we learn that men are more likely to be able to speak and have a desire to learn other languages. 
Compared to males, 22.4% of females reported not being able to speak a second language but expressed interest in learning one. 27% of males, on the other hand, expressed interest in learning a second language even though they currently can't speak one.
This finding is somewhat surprising. Here's why.
When looking at the statistics of U.S. students participating in study abroad programs, 67.4% of U.S. study abroad students identify as female. Given this, we expected that more females would not just speak a second language but be open to learning one. However, that's not what our data showed.
The Most Common Age Range That Can Speak A Second Language
Statistics By Age
Looking at statistics by age, we find that a more significant proportion of the younger generations, between 18 and 44 years old, can speak more than one language. Younger generations are more likely to be interested in speaking more than one language likely due to educational and professional growth, especially within the 25-34 age group.
However, older generations above the age of 45 usually tend to speak only English. Unsurprisingly, this age demographic reported the highest statistics in not wanting to learn another language.
What's The Second Language Most English Speakers Want To Learn in 2023?

Amongst English native speakers, the most popular target language in the United States is Spanish, which is not surprising as more than 43 million people in the United States speak Spanish as their first language.
When looking at the Google search results for 2022, over 840,000 searches have been made about learning Spanish, which is more than any other language.
How Has Language Demand Changed Over Time?
While Spanish has been the most popular language searched by English speakers for the last four years, which other languages have seen growth in online search demand?
Since 2018, there has been an increase in search volume for learning French and Italian. This has caused Japanese and German to drop in rankings within the top 10 most popular languages searched online that people want to learn.
Now, let's look at the research results when analyzing what languages people are interested in learning online.
As of June 2022, Spanish also takes the top spot as the language English speakers are most eager to learn online. It has dethroned French, which now sits in second place.
The high interest in learning Spanish online may stem from the ever-increasing Hispanic population within the continental United States, many of whom don't speak English. This can make it more of a necessity for locals to learn in order to communicate with new immigrants or workers.
Besides Spanish, online language searches in the United States show that a high percentage of people look for resources to learn French, Telugu, German, and Japanese.
The languages with the lowest search volume have consistently been Yoruba, Burmese, Hausa, Azerbaijani, Sindhi, and Oriya.
Which Months Of The Year Do Searches For Online Language Learning Peak?
The beginning of the year, specifically during January, has the highest search volumes for learning a language online. Some reasons for this might be related to New Year goals and achievements set for the following year or that there are many New Year sales offered by language learning tools.
September is another consistently high search volume month. This is likely related to returning to school with students preparing for lessons or researching which language classes they would like to take.
The Impact Of Lockdown On Language Learning Trends
It would be easy to assume that during lockdown, when people had a lot more time on their hands, there would've been an increased interest in learning a new language. However, the data reveals that prior to the Covid-19 outbreak and subsequent lockdowns, search volumes indicating interest in learning languages were significantly higher and sat at over 18 million.
However, since the pandemic, overall interest in learning languages has waned, with 2023 projected to have the lowest interest in language learning in 5 years.
The search volumes for learning a language, specifically online, show a slightly different story. During 2020 when Covid first became a pandemic, there was a 27% increase in search intent to learn a language online, but then you can see people quickly lost interest.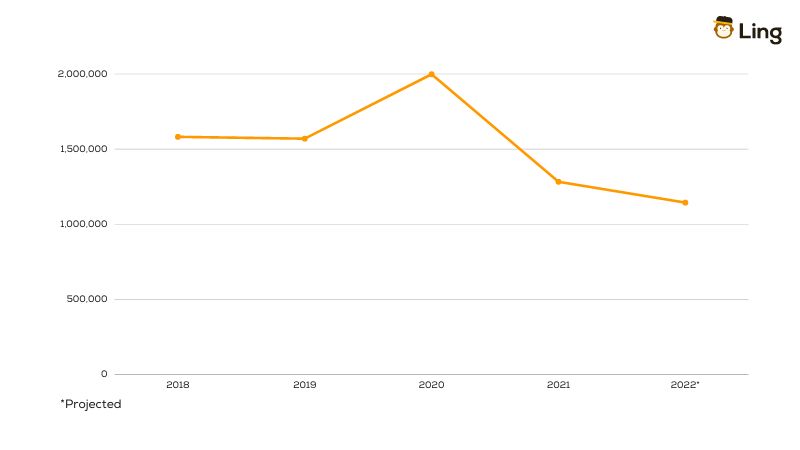 The projected value for 2023 follows the overall trend of people wanting to learn a new language online, which shows a steep decline.
However, when we look at our own data at Ling App, our results contradict Google's search volume intent. In fact, between 2020 to the current time in 2023, Ling App experienced an incredible 7,459% growth in native English speakers using our language blog with the intent to learn a variety of languages.
How Many Children Learn a Language at School?
Learning a foreign language or second language in school greatly increases the chances of a country's population being interested in learning languages. Pew Research conducted a study and compared the percent of primary and secondary students learning a foreign language by country. The results are glaring.
The results reveal that a whopping 92% of European students* learn at least one language in school. Compare this data to the United States, where it's revealed that only 20% of school-aged children (K-12) take a foreign language class.
*Median value
Other Language Learning Statistics
Next up, let's investigate some other interesting language learning statistics. First up, does speaking a second language result in a higher salary? This might give more people an incentive to learn a new language. Then we'll look at expectations for the growth of the language learning market. Finally, we'll round up what we've personally noticed at Ling about our users and user intent.
How Much Do People Who Speak A Second Language Earn?
According to the Financial Post, employees who speak a second language have the potential to earn between 5%-20% more! Knowing at least one foreign language gives one a definite advantage.
In fact, according to Ithaca College, New York,
"The study of foreign languages is a distinct advantage in the professional world. Job candidates proficient in more than one language are extremely valuable and have a competitive edge in the U.S. economy, where a large proportion of jobs involve work with immigrants and/or are the result of trade with foreign countries. Students who have studied foreign languages have more job opportunities available to them both at home and abroad, in an increasingly global society."
Size And Projected Growth Of The Language Learning Market
The online language learning market is projected to be worth $31.81 billion by 2029. This is a projected 20.3% compound annual growth rate (CAGR) from 2022.
As we can see, language learning is a lucrative and growing industry. This makes sense as the world population grows and demands for foreign language speakers increase.
Ling App's own data collection reveals a strong correlation between this growth trend. Our language app and blog have experienced significant growth of 5,462% among users based in the United States alone.
Methodology
We'd like to mention that all data was collected through Google Surveys and Google Data Studio, Google Analytics, and Search Console, as well as all keyword research, which was done with the help of kwfinder.com.
Here's a list of additional sources used in this article: