Happy birthday in Albanian is Gëzuar ditëlindjen. The country of Albania celebrates its birthday on the 28th of November. Dita e Flamurit, or flag day, is the Albanian independence day and has been a national holiday since 1912.
Albania has a few traditions that will be familiar to you and some that will not. So let's take a closer look.
Ways To Say Happy Birthday In Albanian
| | |
| --- | --- |
| English | Albanian |
| I wish you a happy birthday | Ju uroj gëzuar ditëlindjen |
| Congratulations | Urime |
| May you become 100 years old. | U bëfsh edhe 100 vjeç |
| Happy birthday to you | Shumë urime për ty |
Albanian Culture And birthdays
Bad news for those of you planning on traveling to Albania near your birthday. Similar to Asian culture, when it's your birthday, you pay for everybody else. Additionally, Albania is not a country where people 'go Dutch' on a bill. So even if it's not a birthday party, typically, one person pays for everyone, which a different person reciprocates in the future.
Birthdays are not as big in Albanian as in other parts of the world, although that is changing with the younger generations exposed to more western influences.
It isn't easy to identify precisely why this is. First, historically, Albania was a poverty-stricken country, and the average person didn't have a great deal of extra money to stage a party. Secondly, it was an authoritarian communist state, and that meant often subjugating your wishes to the communist party at large. The third factor is that Albania is a majority Muslim country, and birthdays are not celebrated there the same way as they are in the West. Of course, a lot of this is just guesswork, and I'd be interested in hearing your speculations in the comments.
Wishing Someone A Happy Birthday: The Birthday Song
The next part is a little confusing. We already know that the most commonly used phrase for happy birthday is Gëzuar ditëlindjen, but in the happy birthday song(which has the same rhythm as the English one), you sing Shumë urime për ty even though urime translates to congratulations and Shumë into 'a lot of'. The direct translation of për ty is for you but in the birthday song becomes to you.
So technically, the song is 'A lot of congratulations for you.'
In full, the song would go:
Shumë urime për ty,
Shume urime për ty,
Shumë urime për Michaeln,
Shumë urime për ty
Note: my name is not Michaeln, but when you sing happy birthday in Albanian, you add an 'n' sound onto the end of the name.
National Holidays In Albania
Date
English Name
Albanian Name
January 1 – January 2
New Year's Day
Viti i Ri
March 14
Summer Day
Dita e Verës
March 22
Nevruz Day
Dita e Nevruzit
March 27 – March 28
Catholic Easter
Pashkët Katolike
date varies
May 1 – May 2
Orthodox Easter
Pashkët Ortodokse
May 1
Labour Day
Dita Ndërkombëtare e Punonjësve
May 13
Eid al-Fitr
Bajrami i Madh (Fitër Bajrami)
July 20
Eid al-Adha
Bajrami i Vogël (Kurban Bajrami)
September 6
Saint Teresa Sanctification Day
Dita e Nënë Terezës
November 28
Flag and Independence Day
Dita e Flamurit / Festa e Flamurit
November 29
Liberation Day
Dita e Çlirimit
December 8
National Youth Day
Dita Kombëtare e Rinisë
December 25
Christmas Day
Krishtlindjet
December 27
Christmas Holiday
Krishtlindjet
sources: https://www.officeholidays.com/countries/albania/2021 and https://en.wikipedia.org/wiki/Public_holidays_in_Albania
Albania has more public holidays than most other countries in Europe. For example, 14 in the year 2021 compared to England, which only has 8. It is also one of the only countries that celebrate both Christian as well as Muslim holidays.
Albania even celebrates what we would consider a Pagan holiday: Dita e Verës or the summer day (which somewhat confusingly occurs in Spring).
From the beginning of the month, you will see people wearing a threaded bracelet called a velore. After the end of the festival, you hang one from a tree branch and hope that a bird will use it to build its nest. The best place to celebrate the festival is in the town of Elbasan, where there is a carnival-like atmosphere.
Another celebrated holiday is Nowruz, more commonly known as the Iranian new year. Because it celebrates the birthday of Ali Ibn Abi Talib, it is a Shia holiday, but since 1996 all creeds have chosen to celebrate as a showing of religious goodwill.
A List Of Celebration Vocabulary In Albanian
| | |
| --- | --- |
| English | Albanian |
| Holiday | Pushime |
| Wedding | Dasma |
| Happy New Year | Gezuar vitin e ri |
| Gift | dhuratë |
| Party | festë |
| Birthday card | Kartë ditëlindje |
| Anniversary | përvjetor |
How Do You Say Happy Birthday In Different Languages? Learn With Ling
The Albanian language is one of the most interesting in the whole world because it occupies its own branch on the Indo-European language tree. Ling has assembled a comprehensive course to help you understand Albanian and a host of Albanian blogs. Check out how to address those friends and family with whom you'll likely spend your birthday.
From the first sentence to the last sentence, software developers and teachers designed the program to turn you from a language-learning zero to a language-learning hero. The app currently supports beginner, intermediate, upper-intermediate, advanced, and expert learners.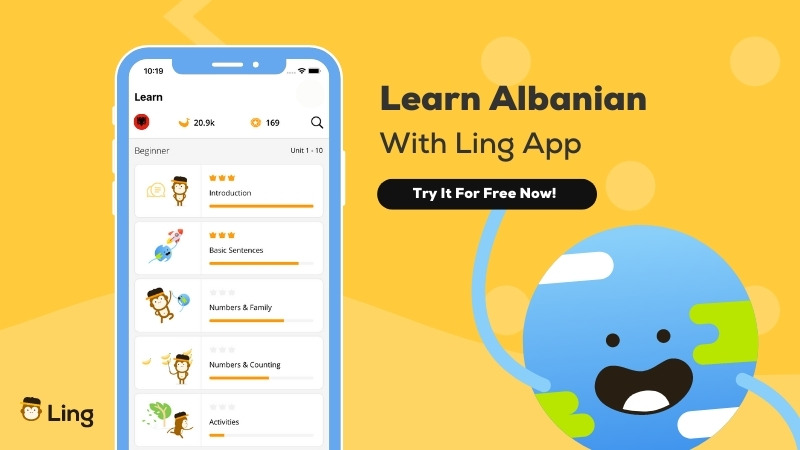 Ling understands the psychology behind learning a new language. It is not just enough to beat yourself over the head with textbooks and audio CDs. You need to feel like you're part of a community, and it does that by updating its weekly leaderboard so you can see where you stand in relation to other Albanian learners.
There is also a reward and points system and live metrics measuring how many days you've done in a row and how many new words you've learned since you started.
The app is particularly effective for learning languages that apps like Duolingo have traditionally shunned, like Lao( a blog also featured on this website). Even if you don't find the listening and flashcard system as effective as you'd like, it is undeniable that learning a new alphabet is most effectively done through a language-learning app.
A language app is not a magic bullet that will have you speaking fluently in 3 months. Still, it is the most powerful tool we have, particularly in a world where travel has become impossible, and we're segregated in our communities.
Until the next time!