Did you just get a job in Albania or an Albanian company that requires you to often get in touch with the locals? Do you want to be prepared beforehand instead of getting hit by cultural shocks and often embarrassing situations because of cultural differences? It's always a great idea to learn about the people of a particular area without moving to that area or working with those people.
To guide you through this process, we brought you a fantastic blog post having all the epic facts and tidbits about the characteristics of Albanian people. So without further ado, let's get right into it!
What Is The History Of Albanians
The history of Albania is ancient, showing multiple backgrounds and empires deeply rooted in this one state, distinguishing it from the outside world, with the Albanian coast playing a significant role. It started in almost the third century BCE when the Illyrians- Indo-European colonies, arrived in the south of this state.
Romans And Byzantines
The Romans and Byzantines invaded in the ninth century and ruled for nearly five centuries. At that time, most of Albania was established with a population of different backgrounds with cultural differences, while the Roman Catholic missionary was run in the entire state.
Expansion Of Ottoman Rule
The Ottoman Empire expanded to Albania in the nineteenth century. The communist period ended during this Ottoman rule, and after the communist regime, Islam was considered the primary religion.
At the time of world war II, many people were killed, families were slain in blood feuding, and they were all in a very tight corner. Young people who threw caution to the wind died in the massive slaughter. This country came into independence in 1912 between northern Greece and Italy.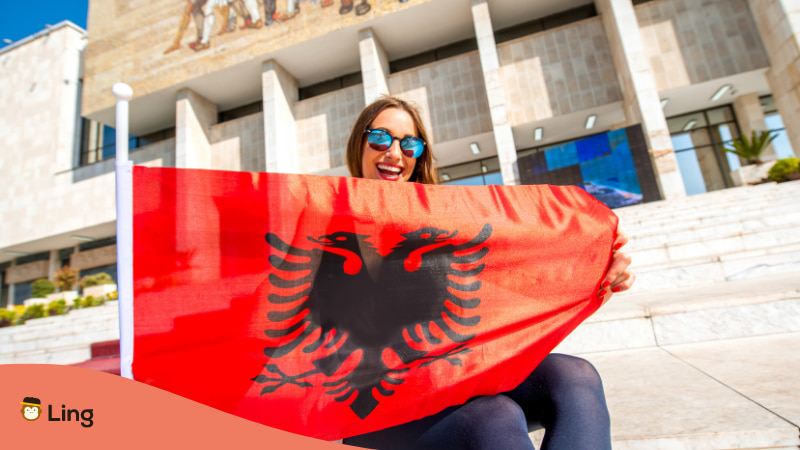 What Are The Characteristics Of Albanian People
Albania is one of the classical and tradition-rich countries. It has been sharing its archaeological beauty with the world since the time of its kingdom. Inhabited by different civilizations and customs throughout the years, this country is known worldwide.
Like its beauty and elegance, Albania is also acclaimed for its natives. They are so generous and down to earth. If you visit Albania, you will surely love that place and its people, adding a remarkable and glorious memory to your life. The people share the same looks as Serbs, Croats, etc. Let's look into some of the most common features of the people.
Albanian Families In Albanian Culture
Every family in this country is held together by Albanian parents who make sure to keep a check on the child's performance from school to a teenager and also support their kids when they are adults. Many people adore every Albanian family because of this characteristic. They are very familial by nature, so the locals have a close-knit community lasting for generations.
Number Of The People
The current Albanian population comprises about 2 million people. This total population has a vast cultural network because there are some with varied backgrounds, like Egyptians, Greek, Romanian, Bulgarian, Macedonian, etc. Mostly the minority is Greek, and there are natives of different beliefs, ethnicity, and religions. Despite the differences, they are living like brothers under the skin, and life there is full of the joys of spring.
Religion Followed By Them
Albania is predominantly a secular state; everyone is free to follow the faith independently. There are two main religions in this country: Islam and Christianity. The Ottomans Empire and the old Albanian kingdom have caused the dominance of these two religions.
One favorite thing of many Albanians is that they are known for is their pride and fidelity toward their belief. Even their legislation has many rules and regulations based on their religious beliefs. They respect their faith and follow it strictly, but they also do not look down on other religions. Other diverse religions are Judaism, Catholicism, Buddhism, etc. There is no hindrance when it comes to practicing your chosen faith if ever you stay in Albania.
Language Of Albanian People
Most of the population follows Albanian (Shqip) as its official language, but it is not in its pure form now. The two basic dialects followed there are Tosk- mainly spoken in the southern part, and Gheg- the northern dialect. They both are derived from the Greek and Latin languages.
Furthermore, the other mother tongue/languages spoken in Albania have mixed vocabulary from Turkish, Italian, and other Slavic languages. Although there are a lot of variations in wording, all the Albanians can still understand each other's languages effortlessly.
Festivals Followed By Albanian People
Due to their diversity, Albanian culture blesses you with a vast range of cultures and festivals. Some traditions are bound to specific communities due to their religious beliefs. Generally, the festivals that every local enjoys are usually related to the country's literature and art.
One of their most popular music festivals is the UNUM festival, which is celebrated yearly and is related to the unity between man, music, and nature. The nights are filled with traditional music at the beach sides to appreciate nature with a musical touch.
Korca Beer Festival is another popular event that is celebrated in August for four days. Thousands of Albanians join there with totally free beer parties. They also have the Kruja mount festival that same month, where people go to the mountain caves to celebrate the miracles that occurred there.
Other Holidays
In addition to all these features, they celebrate their cultural identity by taking note of these holidays:
Independence day
Baram day
Eid holidays
National Youth holiday
Mother Teresa Day
Cultural Dress Of Albanian People
Albanians wear various traditional dresses for all their specific occasions and festivals. Still, most commonly, fustanella is a dress for men, and women wear xhubleta, a bell-shaped skirt with a tight belly and wide frock shape. They also have other unique dressings like Qeleshe – domed-shaped caps for men. Similarly, women wear kapica, which is decorated with beads and pendants.
Traditional Food Of Albanians
Albanians are known all around the world for their hospitality. Many of the tourists have shared their great experiences with Albanians, especially in terms of food preparation. The locals always serve mouthwatering dishes as much as possible to help the tourists understand their cuisine better.
Albania has extensive heterogeneity in the food category. If you ever try their food, it will leave you wanting more. Their food is famous for all flavors, such as sweet, sour, and bitter, and they will never disappoint you.
Famous Dishes
One of the famous foods in Albania is Byrek, a multiple-dough layered recipe, and its traditional ingredients made it worthy. Baklava is a favorite dessert originating from a Turkish recipe, but Albanians cook it traditionally, adding more taste and local Albanian flavors. Speca të Mbushura is also another famous summer food in Albania, and natives love this so much. It is cooked with multiple spicy ingredients and specific vegetables.
Eating Seafood
Albanians love seafood, and they have a collection of many such dishes. One of the best recipes is Tave Peshku- fish in the oven. It is a fried fish recipe you will find in almost every restaurant there, and there are other such fish recipes, too which are decent and worthy of attention. Albanians love their traditional curries, which are cooked using their homemade spices.
Desserts
In sweet-flavored food, Petulla and Shëndetli are the dominant desserts. They are specially cooked on special occasions and are one of the favorite dishes of Albanians.
Businesses That Albanians Love
Most Albanians earn through trade with foreign countries and other businesses. They are famous for supplying all sorts of wear, handmade artistic things, agricultural and other daily life goods.
Albanians have a good name in the world of trade. They have many recognized organizations regarding business reforms, stock markets, and investment programs. They also have developed a good hold on their economy through work.
The natives have agricultural occupations and other sorts of labor work as well. They have farms, and women are primarily involved in handmade crafts with their creative skills.
Politics Followed By Albanians
Albanians follow the parliamentary constitutional system of the state. They have a president at the forefront of the state, and similarly, the prime minister rules over the affairs of the state. They laid their constitutional basis in 1988, still running in Albania.
The executive and legislative powers of the state are involved in the formation and running of the country's legal system. As there are multi-racial communities, the rules and regulations are created, keeping all of them a significant priority.
The supreme court is the highest court for public appeals and other circumstances, while the constitutional court is for private and higher legislation cases. This is an excellent headstart for preparing for any political conversation with the Albanian people.
Learn More Albanian With The Ling App
This article has highlighted many of the traits of most Albanians. Hope they have helped you out in acquiring knowledge about them. If you ever visit there, you will surely enjoy your adventure with all these familiar things.
If you are learning the Albanian language, then the Ling app can be the best option for you since this app offers lessons in around sixty-plus languages. Yes, you heard me right, 60+ languages in a truly unique way. 
On the Ling app, we understand how overwhelming it can be to learn a new language when most people keep reminding you that you can't. Either people will tell you that learning a language is useless or too rigid. In either case, you should not listen to them at all. This is why we try to keep reminding you of why you started learning the language in the first place and how this can benefit you in many ways. 
So download the Ling app from Google Play Store or App Store and start learning the Albanian language like a pro!