Are you a fan of Albanian music? If so, you're in for a treat! In this blog post, we'll explore the top 5 Albanian songs (këngët in Albanian) that have made waves in recent years. From traditional folk songs to modern pop hits, there is something for everyone in the Albanian music scene. We'll look at the artists behind the songs, their stories, why these songs are sung widely, and answer why these tunes are so popular among Albanian music lovers. So buckle up, and get ready to find the hottest Albanian songs of the moment!
Albanian Songs
1) Zemër By Era Istrefi
Era Istrefi is a popular Albanian singer-songwriter, and her single Zemër is one of the most beloved and acclaimed Albanian songs. Released in 2016, the song tells a story of love and loss and has become a staple of Albanian music.
The song's heartfelt lyrics touch on topics such as heartache, longing for a lost love, and being willing to do whatever it takes to find that love again. The song's catchy beat and unforgettable chorus make it a fan favorite for Albanians worldwide.
Additionally, Era Istrefi's powerful vocals have earned her a place among Albania's most celebrated singers. Zemër is a beautiful example of Albanian music and culture and a must-listen for any Albanian music enthusiast.
2) Tutje By Genta Ismajli
Genta Ismajli's song Tutje is one of the most famous Albanian songs. The upbeat, uplifting tune is a hit across the Albanian music scene, with many people singing along with its catchy chorus.
The song was released in 2009, and since then, it has been a fan favorite. Its unique sound stands out from other Albanian songs, and listeners can feel its positive energy worldwide. The song is about being brave and strong and letting goes of any fear or doubt. The music video for the song shows Genta Ismajli performing in an open field with many dancers behind her. It's a vibrant and fun atmosphere, showing off her confidence and strength in the face of obstacles.
The song lyrics are also very meaningful and relate to the power of taking risks and living life to the fullest. This uplifting message speaks to many Albanians, as well as people from all over the world, who can relate to the positive energy of the song.
If you want to experience some uplifting Albanian music, Tutje by Genta Ismajli is a great choice! Its upbeat rhythm, positive lyrics, and vibrant music video make it a must-hear Albanian hit.
3) Gjithmonë By Noizy
Noizy is one of Albania's most popular hip-hop artists, and his single hit Gjithmonë is one of the most-played Albanian songs. The song has a catchy beat, and Noizy's powerful rapping style makes it one of the most well-known tracks in Albania.
Gjithmonë is an uplifting and inspirational song about having faith in yourself no matter what life throws at you. Noizy's lyrics urge listeners to stay strong and never give up, even when things seem impossible. With its positive message and infectious beat, Gjithmonë has quickly become a fan favorite across the Albanian music scene.
If you're looking for some upbeat Albanian music, Gjithmonë by Noizy is worth a listen!
4) Bling By Ledri Vula
Ledri Vula's hit song, "Bling," is a catchy and upbeat track that has become one of the most popular Albanian songs in recent years. Its fun and infectious melody have become an instant classic among Albanian listeners.
The track was released in 2020 and quickly gained fame thanks to its catchy hook and upbeat vibe. The song's lyrics talk about the importance of living life to the fullest and not caring what other people think of you. Ledri Vula's signature sound blends perfectly with the beat, creating a party-ready atmosphere.
The accompanying music video for "Bling" further amplifies the song's message, featuring people living their lives without worrying about what others may think. It is one of the most viewed Albanian music videos on YouTube, with over 12 million views as of 2021.
"Bling" is an excellent example of Ledri Vula's ability to craft catchy and uplifting tunes. It is no surprise that it has become one of the most beloved Albanian songs in recent years. Looking for a great party track to get you moving? Look no further than Ledri Vula's "Bling."
5) A Po Don By Albatrit Muqiqi
One of the most beloved Albanian songs of all time is A po don by Albatrit Muqiqi. This track was released in 2019 and quickly became a fan favorite. It is a slow-paced, romantic song with a gentle melody and heartfelt lyrics. The track perfectly captures the essence of love and has resonated with fans across the country.
The track's lyrical content is beautiful, with Albatrit singing about how he will always love his significant other. He speaks of how their relationship has made him so happy and that he will always remain faithful to them no matter what. His words are incredibly powerful, conveying his unconditional love for his partner and setting a powerful example for others.
A po don's melody is captivating, with its soft synth-pop beats and melancholic guitar riffs. This track is an absolute joy to listen to, and its chorus has become a true anthem for young couples in Albania.
Albatrit Muqiqi's A po don is an incredible Albanian song that captures the beauty of love. Its message is touching, and its melody is truly remarkable. It's one of the top Albanian hits and will surely be remembered for years.
Useful List Of Albanian Songs
Let's now look at the best Albanian songs you must listen to. We bet you won't regret it.
A E Din ( Do you know ) By Elgit Doda
Ale Ale ( Ale Ale ) By Xhensila
Copa Copa ( In pieces ) By Dafina Zeqiri
Corazon ( Corazon ) By DON XHONI
Dale ( Come on ) By Butrint Imeri
Dashnia ( Love ) By ERO
Do Dite ( Every Day ) By Olsi Bylyku
Fryma Ndalet ( The breath stops ) By Olsi Bylyku
Goditje ( blow ) By Meda
Histori ( story ) By Enis Bytyqi
Hotel Mahalla ( Mahalla Hotel ) By Lyrical Son & Mc Kresha
I'm Good (Blue) ( I'm Good (Blue) ) By David Guetta
Japa ( Japa ) By Dafina Zeqiri
Kuku ( oh my God ) By Butrint Imeri
Lem Rahat ( Leave me alone ) By Donjeta Morina
Luj ( Louis ) By Alar Band
Luje Belin ( Play Belin ) By Dafina Zeqiri
Marre ( GET ) By
Me Mungon ( I miss you ) By Nora Istrefi
Mos u kthe ( Do not come back ) By Semi Jaupaj
Mos U Ngut ( Do not hurry ) By Elvana Gjata
Na feat. KAOS ( Na feat. KAOS ) By Dafina Zeqiri
Pike Ne Oqean ( Pike In The Ocean ) By Mimoza Shkodra
Potpuri 2020 ( Potpourri 2020 ) By Savanna featuring Salvador
Rofe ( Robe ) By Dafina Zeqiri
Sa me vjen inat ( How angry I am ) By Shkumbin Ismaili
Sa m'ke mungu ( How I missed you ) By Dhurata Dora
Si dikur ( As before ) By Shkenda Dubova
Thema, Nr. 1 ( Theme, No. 1 ) By Tokio Hotel
Ti Dho Krejt ( You give it all ) By Dafina Zeqiri
Vet E Lype ( You Beggar ) By Dafina Zeqiri
Wrapping Up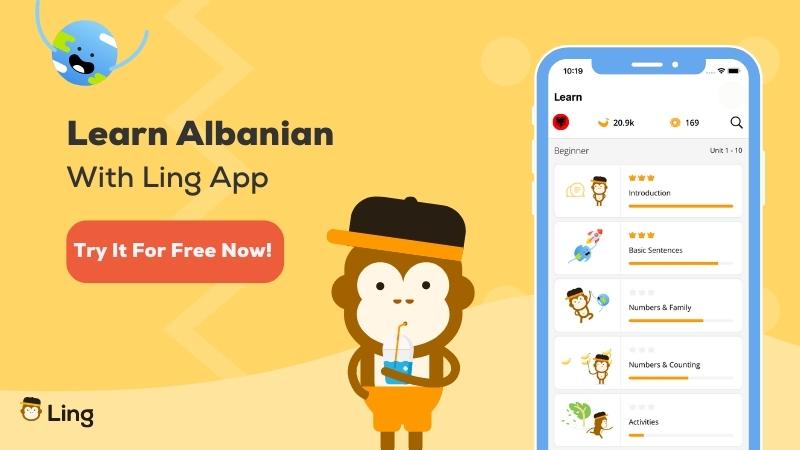 If you are in Albania, then you should listen to these songs with family and friends or a group of your favorite people. To learn more fascinating facts about the Albanian region and language, learn through Ling! Ling is a language-learning platform that can help you learn 60+ languages the easiest way possible. Install the Ling app from Google Playstore or App Store and start learning Albanian now! Happy learning!