Learning Albanian names and nicknames is a great way to discover more about the culture. Names are subject to historical changes, so the most popular names are constantly shifting. For example, in 2021, the most popular first name for a baby boy was Noel and the most popular first name for a girl was Amelia.
How Do Albanian Names Work? In the traditional European way: First name- Surname (Emri- Mbiemri)
10 Most Common Albanian Names For Boys And Girls
Here is a list of Albanian boy names and Albanian baby girl names. Data provided by: Invest-in Albania.
They are slightly unusual spellings compared to English, but you can clearly see the Western Influence.
| | |
| --- | --- |
| Albanian Boy's Names | Albanian Girl's Names |
| Noel | Amelia |
| Aron | Ajla |
| Joel | Aria |
| Roan | Amelja |
| Amar | Leandra |
| Mateo | Ambra |
| Alteo | Klea |
| Roel | Melisa |
| Luis | Amaris |
| Dion | Reina |
How Did First Names Originate In Albania?
The 20th century brought massive changes to Albania and, thus, its naming practice. In the past Albanian names were heavily influenced by religious figures from the Bible and Koran.
When the Communists took power in 1946, there was a campaign to 'Illyrianise' Albanian names or return the people to a perceived golden age of Albania's past when the Illyrian tribe was powerful. When the socialist republic fell in 1992, there was a dramatic swing toward English/Romance names, evidenced by the latest 2021 list.
For a side-by-side comparison, it is interesting to note the difference between ancient Albanian names, Albanian names of the 1970s, and modern Albanian names. When the communist naming policy came into effect, many parents gave their children names that had positive connotations in the Albanian language. For example, the most common names of the period were:
Lindita(f) (dawn)
Mimoza(f) (flowering tree)
Shpresa(f) (hope)
Gezim(m) (Joy)
Where Do Surnames In Albania Originate?
Surnames are slower to change than first names, and many are still based on old Christian names or Muslim names you'd associate with Arabic origin. Sometimes two elements of a name are mixed together so that the first syllable might be Christian and the second part Muslim. It needs to be said that these names aren't explicitly religious. Much like English people have forgotten the roots of their names, so have Albanians. Last names derivating from place names are also common.
A List Of The Most Common Albanian Surnames
Those of you who know Albanian history will see the irony that the most famous Albanian name of all time, 'Hoxha', is actually a Muslim name. (Hoxha was the president determined to Illyrinise Albanian names and bring the people in line with Albanian mythology).
| | |
| --- | --- |
| Surname | Origin/Meaning |
| Hoxha | Muslim |
| Prifti | Christian |
| Shehu | Muslim |
| Dervishi | Muslim |
| Gjoni | Christian(John) |
| Mehmeti | Muslim( Mehmed) |
| Gjoka | Christan( Jacob) |
| Marku | Christian(Mark) |
| Kola | Christian( Nicholas) |
| Hasani | Muslim( Hassan) |
| Kristo | Christian |
| Dibra | Place name |
| Laçi | Place name |
| Shkodra | Place name |
| Delvina | Place name |
Albanian Nicknames And Terms Of Endearment
Like everywhere else in the world, Albanian communities use nicknames for both boys and girls, usually shortening the first name so it has a nicer ring to it. Parents often have sweet names for their kids much the same way in English. You might say 'Dear' or 'Flower' to your dear children.
| | |
| --- | --- |
| Albanian | English Translation |
| Shpirt | Soul |
| Zemer | Heart |
| Zogu | Birdy |
| Qofte | Meatball |
| Flori | Gold |
| Rrush | Grapes |
The last of these is a little strange until you consider the grape as an important part of the Albanian economy.
Bonus! What Does The Name 'Albania' Mean?
As we discussed in our previous blog: introduce yourself in Albanian, Albania has a different name to Albanians, which is Shqipëri. The people call themselves the Shqiptarët, which comes from the verb to 'speak clearly.'
Historically, Albania was unfortunate enough to be beside some of the most dominant empires in world history, including the Byzantine and Roman. The Byzantines called it 'Albanoi', The Romans 'Albanenses.'
The prevailing theory is in a related ancient language, 'Alb' meant Hill, and as we discussed in our article: Sorry In Albanian, Albania is 70% mountainous.
It wasn't until the 14th century that this name became more common with native people, and it was finally solidified in the 17th and 18th centuries.
Learn Albanian With Ling
So there you have it. We've learned Masculine Albanian names, feminine Albanian names, and a little about how the country ended up with its name.
The Albanian word for difficult is 'i vështirë,' and learning Albanian is definitely that. That's why we recommend you take a multi-faceted approach to your learning method.
Picture a pyramid. Ling is the base. That is where you learn the fundamentals. You make your way through the phrases building your vocabulary, listening, and reading skills. Traditionally, language learning apps weren't always best for practicing your speaking, but we feel Ling has changed that with the introduction of the chatbot app.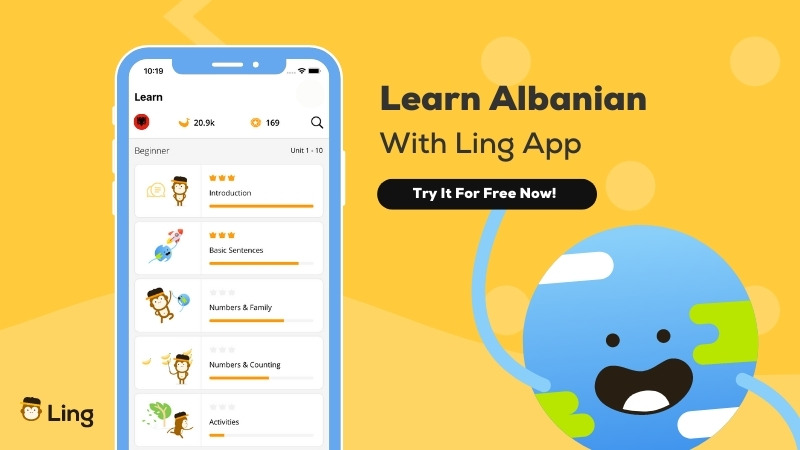 Once you have your base, you can start adding more and more levels to the pyramid. For example, perhaps you subscribe to an Albanian newspaper and commit to reading three new stories a day in Albanian form. Next, you could consider hiring an Albanian tutor on a website like Preply and perhaps even planning a trip to Tirana!
But remember, daily practice with the Ling app is the foundation. Research shows that you'll be far more likely to keep going if you feel like you're accountable for something. Once you start a 100-day streak, it is tough to give it up, and you will force yourself to sign back in and do that 10 minutes of practice.
Download the Ling app on the Play Store or App Store and start learning Albanian today.