Solo-traveling is an empowering and enriching way to see the world and learn about different cultures. Not only is solo-traveling a huge confidence booster, but you can also learn a lot about yourself, and the world, when you get distance from everything familiar. Solo-traveling, especially for women, is on the rise. The more experienced solo-travelers gush about it, the more others are inspired to take the leap.
Why doesn't everyone travel solo? One of the biggest barriers to people solo-traveling is safety. Understandably, it is daunting to travel alone in a completely unfamiliar and foreign place. So, is Lithuania safe to solo travel in 2023?
I am here to encourage you that Lithuania, one of Europe's most underrated countries, is absolutely safe to travel alone in 2023.
What To Know Before Traveling Solo To Lithuania
Lithuania, a stunning Baltic country with a population of 2 million, is on the rise for international tourism. This small but mighty country has everything from serene seaside villages along the coast to a bustling and vibrant capital city.
The country is speckled with lush greenery and stunning natural beauty. More than one-third of it's landscape is covered by dense, green forests! Most importantly, it's affordable, especially for a solo traveler!
The best time to visit Lithuania is the summer months and shoulder season. Consider traveling here May – September to have a pleasant time sightseeing & relaxing in the warm weather.
If you love an icy winter wonderland, however, you may want to consider coming in December – February. The scenery & famous attractions are most always dusted with a beautiful layer of sparkling frosted snow during these months. It is a merry sight to behold, though temperatures are below freezing!
Safety
Lithuania is a generally safe country. It has a high safety index at 79, which is on par to other European countries. They exercise normal safety precautions, and are considered safe for tourists.
Solo female travelers reported feeling especially safe here, even in the capital city of Vilnius. Most people in Lithuania speak perfect English, though some scammers will pretend they don't. So English speakers won't need to feel stressed.
There is a low crime rate. Specifically, there are low reports of terrorism, mugging, and natural disasters. Though there is a scam risk and getting pickpocketed, so just be mindful of your personal belongings when in crowded places, and use common sense. The most reports of theft are in the Old Town of Vilnius, so just be aware! But, overall, it is a relatively safe place.
The one thing tourists need to watch out for (especially if you're going solo) are getting scammed by taxis. For some reason, Lithuanian taxi drivers, even entire taxi companies, are notorious for upcharging 5-10x for tourists. To combat this, try using Uber or Lyft instead if you need a private ride.
Transportation
Thankfully, to balance out the swindler taxi drivers, Lithuanian public transportation is vast, cheap, and accessible.
Besides domestic travel, you can reach Lithuania directly from three neighboring countries using trains, or many more EU countries through stop-overs.
Lithuania has some of the best railways in eastern Europe. Though there are also bus systems in major cities, they can be quite slow.
Your best bet for total freedom and unlimited views is to rent a car. It's much cheaper to rent a car in Lithuania than anywhere else in western Europe, and you'll be sure to gardner epic views through the window.
Solo travel tips: Plus, if you're traveling solo you can choose exactly where you want to detour and you will not be on anyone else's schedule. One major benefit of solo travel is the FREEDOM.
Currency
Lithuania uses the Euro since they are a member of the EU. All major credit cards are accepted, and since it's a developed country, you'll have no problems with taking out currency at banks or ATMs.
Tip Alert: Be on guard with street shops / markets. Most items will not have price tags, and street sellers will try to haggle you & confuse you with how much change they give back. This is why it's important to learn basic phrases & numbers in Lithuanian … so you won't be scammed this way! 

Basic Phrases
Speaking of basic phrases, let's learn a bit of Lithuanian right now! When you're traveling solo, some of the best ways to make friends are to attempt to speak in the destination language.
Not only will locals be shocked (since Lithuanian is a small and niche language to learn), but they will be more inclined to show you the best spots in town. Eime! (Let's Go!)
Basic Lithuanian Greetings & Words
| | | |
| --- | --- | --- |
| English | Lithuanian | Pronunciation |
| Hello | Labas | |
| Hello (to greet a male) | Sveikas | |
| Hello (to greet a female) | Sveiki | |
| Good morning | Labas Rytas | |
| Good night | Labanakt | |
| Goodbye | Viso Gero | |
| Bye (casual) | Sudie | |
| See you later / Until next time | Iki Pasimatymo | |
| How are you? | Kaip gyvuojate? | |
| Have a nice day! | Geros dienos! | |
| Thank you | Ačiū | |
| Sorry / excuse me | Atsiprašau | |
| Please | Prašau | |
| Yes | Taip | |
| No | Ne | |
| How much does this cost? | Kiek Tai Kainuoja? | |
Lithuanian Numbers
Time to learn Lithuanian numbers so you won't be scammed on the streets! Let's go!
| | |
| --- | --- |
| 1 | vienas |
| 2 | du |
| 3 | trys |
| 4 | keturi |
| 5 | penki |
| 6 | šeši |
| 7 | septyni |
| 8 | aštuoni |
| 9 | devyni |
| 10 | dešimt |
Where To Go In Lithuania As A Solo Traveler
#1: Aukstaitija National Park
Are you a nature lover? Do you want to explore national parks like the locals would? Though Lithuania has 5 national parks, the Aukstaitija National Park is the one most worthy of a visit. (with no entrance fee!)
Though this national park is in a remote location in the northeastern part of the country, its rolling hills, pine forests, and over 100 serene lakes are worth the effort. Throughout the national park you'll find high number of charming villages with colorful wooded homes.
This place is a haven for outdoor enthusiasts! If you're embarking on a solo trip, this national park is a peaceful, beautiful place to reflect and be in your own thoughts.
There are plenty of hiking trails to choose from, and you can even go kayaking on the stunning lakes in the summertime.
To get here, you'll need your own car, or a private driver. Base yourself in the scenic small town of Paluse, as this is the starting point for many hiking trails. Highly recommended for those who wish to feel connected to nature.
#2: Curonian Spit
You wouldn't expect to see sand dunes in Lithuania, would you? There have been major efforts to keep this UNESCO world heritage site by the Baltic Sea intact.
The magnificent colors of the water, along with the unique geographical formations, make this a huge tourist attraction for visitors.
For solo travelers, this place is spiritual. Situated in nature, take some deep breaths, smell the fresh air, and enjoy the untouched natural beauty of the Curonian Spit.
#3: Vilnius – Lithuania's Capital
Vilnius is a stunning capital with one of the most impressive historical centers in Europe. When you walk through the Old Town, it's like stepping back in time! Stroll through the cobblestone streets, past the perfectly preserved wooden architecture, and through the beautiful Vilnius cathedral. Plus, the Vilnius international airport is well-connected & easy to find flights!
There is a vibrant cafe scene, with diverse restaurant options all foodies will love. Vilnius has all the best aspects of city life, and it's safe! If you're traveling solo, this may be a good time to book a hostel to get to know other travelers, or meet locals at the bar scene.
Check to see if you're visiting during one of the many Lithuanian traditional festivals. If the timeline works out, lucky you, because you're in for a major cultural treat! 
Tip Alert: Take a day trip from Vilnius (just 30 km from the city), to the Trakai castle. It's a real life fairytale come to life!
Take The Leap!
Take a leap of faith and solo travel to Lithuania for your next adventure.
Lithuania is a cheap, colorful, culturally rich country that is perfect for solo adventuring. There are national parks, sand dunes, and cities to explore, and all for an affordable price. Female solo travellers felt especially safe here!
Lithuania is safe and the locals are kind, so you do not have to worry about being harmed while visiting. What are you waiting for? Go off the beaten path and create your own adventure in the beautiful, and underrated, country of Lithuania.
Learn Lithuanian With Ling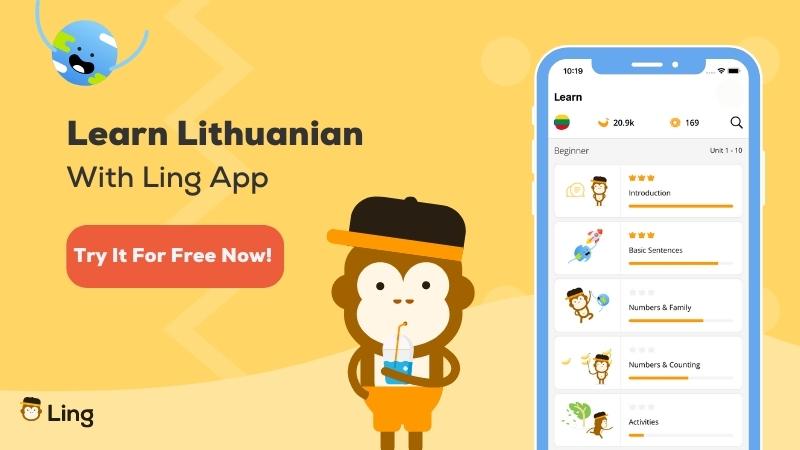 Speaking a new language is the best way to interact with the locals, especially if you are traveling solo and want to meet new people. You never know what adventures await you in Lithuania, and making a new Lithuanian friend could be one of them!

Before your solo trip to Lithuania, download the Ling App to learn basic greetings and phrases in Lithuanian so you have a foundation once you arrive. Ling is the most reliable language-learning app for lesser known languages, and you can download it on the App Store and Play Store for free today!