Wearing their jaw-dropping 옷 | ot (clothes in Korean), Kpop artists, CL and Rosé made history as the first women who attended the Met Gala.
Nowadays, Koreans are also known to be the face of different clothing brands. To give you some, we have Jennie of Blackpink for Chanel, Sandara Park for Burberry, and Blackpink Lisa for Bvlgari. We also have Bigbang's G-Dragon for Chanel, Exo's Kai for Gucci, and Exo's Sehun for Dior. Thanks to these amazing opportunities, people who don't know anything about Korean fashion and culture will discover that there's more in Korea than smartphones and cosmetics.
So, here's a complete list of some basic clothes in Korean to give you a kick start. Don't worry. In learning these Korean words and Korean phrases, the romanized versions and English Translations of the words are available to guide you. There will also be sample sentences that you can use for future conversations.
What Is The Korean Word For Clothes
Before we dive into the basic clothes in Korean, let's first discover the Korean word for clothes. Koreans use 옷 (ot) to say clothes in Korean. It's easy to remember because it's only one syllable. The word remains the same even if you are talking about just one piece of clothing item or more. But, if you want to compliment or say a good word about some else's clothes, you can say the word 옷차림 (otcharim). If you really want to emphasize that you're talking about more than one piece of clothes, you may use the word 옷들 (ot deul).
Since we're talking about clothes in Korean, we all know that Koreans have a vibrant and colorful culture that can also be reflected in their traditional clothes. Now, with globalization and modernization, Korean clothes have changed. But, they always make sure to bring their culture with them.
한달에 보통 의복을 위해서 돈을 얼마나 소비하세요? (handare botong uibogeul wihaeseo doneul eolmana sobihaseyo? ) – How much money do you usually spend on clothes each month?
난 우리 발리 여행 위해 새로운 옷을 많이 샀어. (nan uri balli yeohaeng wihae saeroun oseul mani sasseo.) I bought many new clothes for our Bali trip.
Clothes In Korean Language
Did you know that Vogue has released their top 10 Most Stylish Kdrama Characters? So many well-dressed people in Korean Kdramas are nailing their outfits, making the viewers reconsider their fashion style. Now that Vogue has recognized these Korean characters, there is no doubt that many people from around the world will take these fashion cues from them.
When you watch a Korean drama or even a single music video of a K-pop group, you'll notice that Koreans are not playing when it comes to fashion and trends. Instead, they can make colorful clothes and oversized clothes look good and make them a trend without showing their skin that much.
So, why don't we start learning some basic clothes in Korean? Then, we will learn about different clothes and clothing items in Korean.
한복 Hanbok
There's this scene in the hit K-drama "Love in the Moonlight" when Lee Yeong, the Crown Prince, was stunned when he saw Hong Ra-on wearing a Hanbok (한복)? If you have seen K-dramas like Love in the Moonlight, Empress Ki, and Scarlet Heart Ryeo, you will not just fall in love with the characters. You will also have a glimpse of what Korea is during ancient times. One of the most highlighted parts of these K-dramas is their clothes.
Gazing with elegance and uniqueness, Hanbok 한복 is one of Korean's pride. What makes it special is it is not found everywhere, and their ancestors wore it during ancient times. So, if you are learning Korean words and phrases related to clothes, this should be on your top list because, why not? This is the heart of Korean clothes, which makes Korea unique from all the countries in the world.
Tops
After knowing the Korean word for Hanbok, let's now go with one of the basic clothing items, the tops. If we talk about tops in Korean, we have a perfect character example; it's Seo Dal-mi in "Start-up." Did you see how she rocked that CEO t-shirt to business casual outfits? Yes. She's not your typical CEO who wears formal dresses and suits. Fun fact, she uses outfits from Korean brands which are famous in Korea, like Maison Marais. But of course, there are other global brands like Ralph Lauren that you can see from her OOTDs.
Let's go and learn these words related to clothes in Korean.
| | | |
| --- | --- | --- |
| English Translation | Hangeul | Romanization |
| shirt | 셔츠 | syeocheu |
| t-shirt | 티셔츠 | tee-shyeo-cheu |
| tank top | 탱크톱 | taeng-keu-tohp |
| turtle neck | 터틀넥 | teoteulnek |
| short sleeves | 짧은 소매 | jjalbeun somae |
| long sleeves | 긴소매 | ginsomae |
Bottoms
Pants, mini skirts, and even knee full-length skirts name it! Koreans can pull it off. Take a look at a character named Ahn Jung-Ha in the K-drama "Record of Youth." She nailed every bottom she wore in each episode. So, why don't we learn some Korean words that are related to bottoms?
| | | |
| --- | --- | --- |
| English Translation | Hangeul | Romanization |
| trousers/pants | 바지 | baji |
| skirt | 치마 | chimaskirt |
| shorts | 반바지 | banbaji |
| jeans | 청바지 | cheongbajijeans |
Formal Wear
Let's talk about formal wear. Of course, there's no such thing as a perfect human being, but Song Joong-ki might have forgotten that he's only a human when he played his character in the K-drama Vicenzo. Suits are a very common piece for formal wear and more official purposes but did you notice how he just pulled it off?
Koreans use formal wear, just like other people in the world, on formal occasions like business meetings, workplaces, and even formal gatherings. If you are going to attend these types of events, make sure to bring with you some Korean words and phrases like basic greetings, introducing yourself in Korean, and saying "Thank you."
Now, let's learn some vocabulary related to formal wear in Korean.
| | | |
| --- | --- | --- |
| English Translation | Hangeul | Romanization |
| dress | 드레스 | deureseu |
| wedding dress | 웨딩 드레스 | weding deureseu |
| suit | 양복 | yangbok |
| leather vest | 가죽 조끼 | gajuk jokki |
| vest | 조끼 | jokki |
| uniform | 제복 | jebok |
| school uniform | 교복 | gyobok |
Seasonal Clothes
Korea has 4 seasons, namely Spring, Summer, Autumn, and Fall. During each season, Koreans wear particular cloth or bring particular clothing items to adapt to the season. When we hear about jackets, coats, and sweaters, we can't erase from our minds the romantic scenes in different K-dramas where the lead actor gives their coat or jacket to the lead actress. There's Sun-woo to Bo-ra in "Reply 1988", Captain Ri to Se-ri in "Crash Landing You," and more!
Now let's learn some words and phrases related to seasonal clothes in Korean. Here's some related vocabulary:
| | | |
| --- | --- | --- |
| English Translation | Hangeul | Romanization |
| coat | 코트 | koteu |
| overcoat | 외투 | oetu |
| sweater | 스웨터 | seuweteo |
| sweatsuit | 운동복 | undongbok |
| jacket | 재킷 | jaekit |
| leather jacket | 가죽잠바 | gajukjamba |
| raincoat | 레인코트 | reinkoteu |
| bathing suit | 수영복 | suyeongbok |
Footwear
"Good shoes take you to good places." This is one of the most memorable lines from a Kdrama called "Boys Over Flowers." This scene is when Min Seo-hyun (Ji Hoo's) girlfriend became Jan Di's fairy godmother when she was made fun of by mean girls at the party. So she let Jan Di wear her beautiful shoes and clothes and be Cinderella for a night.
There is also this one scene from "Record Of Youth" when Sa Hye Joon gave Ahn Jung Ha a pair of sneakers as their couple shoes. See how Koreans can simply walk with confidence using different footwear? So, let's discover related vocabulary about footwear.
| | | |
| --- | --- | --- |
| English Translation | Hangeul | Romanization |
| shoes | 신발 | sinbal |
| sneakers | 운동화 | undonghwa |
| sandals | 샌들 | saendeul |
| slippers | 실내화 | silnaehwa |
| high heels | 하이힐 | haihil |
Accessories
Korean OOTD is not complete without accessories that add spice to an outfit. But, again, there's no perfect example of a character for this one other than Jang Man-wol in Hotel Del Luna. Aside from her splendid outfits, she also uses different accessories like hats, rings, necklaces, and more.
Then if you still want more, can you recall the scene where Yoon Se-ri in "Crash Landing on You" visited a place full of Chinese gangsters while wearing glasses and topnotch outfits? See how dramatic she revealed herself? It adds impact and appeal. So, here's a list of accessories in Korean:
| | | |
| --- | --- | --- |
| English Translation | Hangeul | Romanization |
| hat | 모자 | moja |
| bag | 가방 | gabang |
| glasses | 안경 | angyeong |
| necklace | 목걸이 | mokgeori- |
| bracelet | 팔찌 | paljji |
| ring | 반지 | banji |
| watch | 시계 | sigye |
| wallet | 지갑 | jigap |
| purse/handbag | 핸드백 | haendeubaek |
| sunglasses | 썬글라스 | sseongeullaseu |
| scarf | 스카프 | seukapeu |
| stockings | 스타킹 | seutaking |
| socks | 양말 | yangmal |
| cane | 지팡이 | jipangi |
Parts Of Clothes In Korean
| | | |
| --- | --- | --- |
| English Translation | Hangeul | Romanization |
| pocket | 주머니 | jumeoni |
| button | 단추 | danchu |
| sleeve | 소매 | somae |
| collar | 옷 | otgit |
Korean Words And Phrases Related To Clothes In Korean
Did you enjoy learning words and phrases related to clothes in Korean? Here are more Korean phrases and words that you may use in your daily life. If you can't read Hangeul (Korean alphabet) yet, you can try reading first the romanized versions.
| | | |
| --- | --- | --- |
| English Translation | Hangeul | Romanization |
| closet/wardrobe | 옷장 | otjang |
| size | 사이즈 | saijeu |
| style | 스타일 | seutail |
| expensive | 비싸다 | bissada |
| cheap | 싸다 | ssada |
| old | 낡은 | nalgeun |
| new | 새 | sae |
| to put on | 입다 | ipda |
| to take off | 벗다 | beotda |
| to try | 입어보다 | ibeoboda |
| to fit | 딱 맞다 | ttak matda |
| to wear (shoes or socks) | 신다 | sindda |
| to wear glasses / to use | 쓰다 | sseuda |
| to discount | 할인 하다 | harin hada |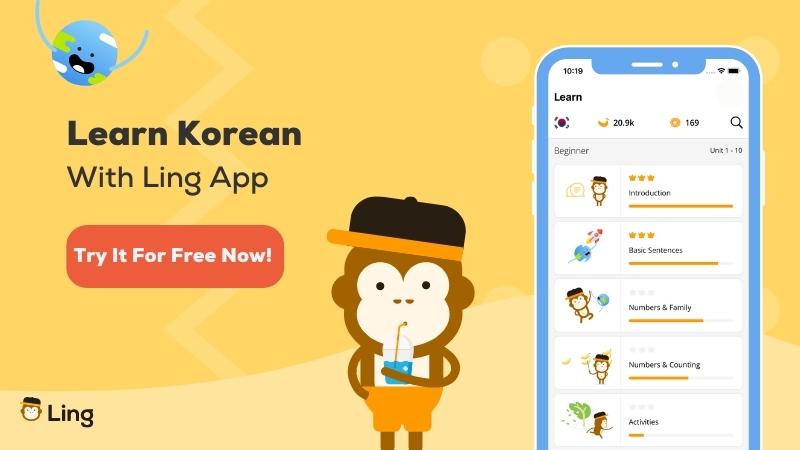 Dress Like A Korean, Speak Like A Korean!
Do you want to speak, write, and read Korean like a native Korean? Then level up your game and learn Korean with Ling app. You've got everything you need, from different topics for vocabulary building, audio recordings for speaking skills, and even games for fun and engagement. There's a lot more to discover and learn in the Korean language. Chanel, the inner Korean in you, and start learning Korean with Ling app now!
Download the Ling app on your Play Store or App Store and start your journey while enjoying a few more words and phrases!