Are you planning a trip to Vietnam or interested in learning a new language? If so, mastering the most common Vietnamese phrases and essential words used in everyday life is one of the best places to start. In this blog, we'll take you through some essential phrases and words you'll need to know to communicate effectively with Vietnamese speakers.
Not only will you learn about the language itself, but you'll also gain insight into Vietnamese culture and pronunciation. By the end of this blog, you'll have the tools needed to have a proper conversation with native speakers, making your experience in Vietnam much more enjoyable. Now, please enjoy this list of basic words in Vietnamese!
Common Vietnamese Phrases | The Vietnamese Language In A Nutshell
Basic Vietnamese Words To Start You Off
Vietnamese is the official language of Vietnam and is spoken by over 80 million people worldwide. The language itself is tonal, meaning that the tone in which a word or phrase is pronounced can change its meaning entirely. By learning some of the most basic words and phrases in Vietnamese, you'll become more comfortable with the tonal aspect of the language and be better equipped to recognize and distinguish the different tones.
Aside from helping you recognize context, learning basic Vietnamese words and phrases can also be extremely helpful in everyday situations. Whether ordering food at a restaurant or asking for directions, knowing a few key phrases can make all the difference in communicating effectively with the locals.
Here's a list of some of the most common Vietnamese words you may encounter. We're going to list down the English translation first, and then show you the Vietnamese pronunciation after:
Greetings And Salutations In Vietnamese
Vietnamese culture places great emphasis on respect and hospitality, and one of the best ways to show respect to locals is by greeting them in Vietnamese. However, greeting someone in Vietnamese is more than just saying hello – it's a way to build a connection and show that you're interested in getting to know them and their culture. You can speak English, for example, but it won't have the same effect!
While most local people speak English, there's something that feels more genuine when a visitor speaks the local language with a native speaker. To that end, here are some useful Vietnamese phrases for greetings and salutations! These phrases will help you show appreciation towards the Vietnamese people, as well as help you understand the context of conversations.
Basic Vietnamese Phrases And Words For The Restaurant
Vietnamese cuisine is a delightful blend of sweet, sour, salty, and spicy flavors that tantalize the taste buds. From savory pho noodles to crispy banh mi sandwiches, the country of Vietnam is home to a wide variety of dishes that are sure to satisfy any foodie's cravings.
Suppose you're planning a trip to Vietnam or just looking to explore the cuisine in your local Vietnamese restaurant. In that case, it's helpful to know these Vietnamese words and phrases related to food and drink. Here are a few essential ones to get you started:
By learning these basic Vietnamese phrases about food and drink, you'll be able to easily navigate menus and order your favorite dishes like a pro. Plus, locals such as restaurant owners and street vendors will appreciate your efforts to speak their language and connect with their culture, making your dining experience all the more enjoyable!
Vietnamese Vocabulary On Health And Body Parts
In the Vietnamese language, it's important to learn how to describe different body parts and express symptoms, especially when seeking medical attention.
Not only will these phrases come in handy in medical situations, but they can also be helpful in everyday life. Whether you're shopping for clothes or teaching Vietnamese phrases to children, having a basic grasp of body part vocabulary is essential. Practice them!
By learning these basic Vietnamese phrases for body parts and emergencies, you'll be able to describe everything from "mắt" (eyes) to "bụng" (stomach) and "đau đầu" (headache) to "sốt cao" (high fever), making it handy for communication with Vietnamese medical professionals.
Learn The Vietnamese Language With Ling App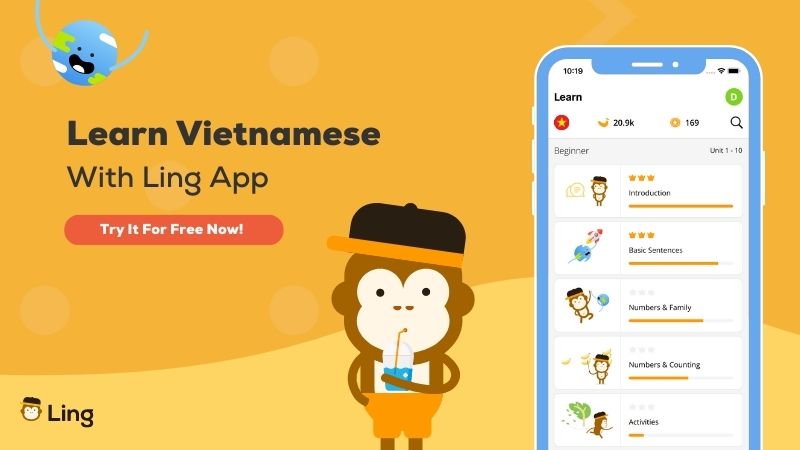 Had your fill of basic Vietnamese phrases? Don't say goodbye just yet! We've got a lot more in store for you, should you wish to continue your Vietnamese language lessons – and you can try it out for free!
Welcome to the Ling app! It is the best resource for learning Vietnamese and 60+ other languages! It is equipped with lessons that can take your foreign language skills from zero to hero in an exciting and memorable way.
Try out the Ling app for free today by downloading it for Android or iPhone.