Hello there! If you've stumbled upon this blog post, then you're probably interested in learning Tamil, one of the oldest and richest languages in the world. That starts with basic Tamil sayings!
What is Tamil and who speaks it?
Tamil is the official language of the Indian state of Tamil Nadu and is also spoken in Sri Lanka, Singapore, and Malaysia.
Even if you are just traveling through Tamil-speaking regions, it's important to know some basic sayings. The people will appreciate it, and you'll get a greater insight into their culture because language is so closely connected to a culture's way of life!
Tamil has a rich and fascinating history which we will explore in this blog. We will also dive into basic sayings every beginner level Tamil learner should know! Think of this as an introduction to the Tamil language. If you take it step-by-step you'll be able to hold a conversation with a native Tamil speaker! Let's go!
History Of The Tamil Language
Tamil is a Dravidian language spoken predominantly in the Indian state of Tamil Nadu, as well as in other parts of India, Sri Lanka, and Singapore.
It originated in the southern part of India and is the official language of Tamil Nadu, Puducherry, and the Andaman and Nicobar Islands. In fact, Tamil is one of the 22 official languages of India and is recognized as a classical language by the Indian government.
Tamil has a rich literary history and has been used as a medium of expression for poets, writers, and thinkers for centuries. You can see this appreciation of arts reflected in its language, which is known for its poetic and lyrical qualities.
The Tamil culture is also incredibly diverse, with its own unique music, dance, cuisine, and festivals. It has influenced the arts and culture of India and beyond!
Now that you know some background information on the Tamil language, are you ready to explore one of the oldest languages in the world? Let's get started learning!
Basic Tamil Sayings You Should Know
Here are 10 basic Tamil sayings you would use day-to-day.
Vanakkam – Hello
Nandri – Thank you
Yen peyar (your name) – What is your name?
En peyar (your name) – My name is (your name)
Neenga eppadi irukeenga? – How are you?
Nalla irukean – I am fine
Podhum – Enough/That's it
Unakku Tamil teriyuma – Do you know Tamil?
Yenakku Tamil theriyum – I know Tamil
Neenga enga irukeenga? – Where are you from?
How To Use These Tamil Sayings In Conversation
Now, I know what you're thinking – "Wow, these sayings are so basic, I could have just googled them myself." But let's put these sayings to the test and see if you really know what you're doing.
Imagine you're walking down the street in Chennai and you see a group of locals gathered around a vendor selling delicious street food. You want to join in on the fun, but you're not sure how to communicate with them. That's where your new Tamil sayings come in!
You walk up to the vendor and say "Vanakkam!" with a big smile on your face. The vendor responds with "Sari." Great, you're off to a good start! You then proceed to order some food.
Feeling confident, you decide to strike up a conversation and say "Unakku Tamil teriyuma?" (Do you know Tamil?) The vendor nods and replies "Enakku Tamil teriyum" (I know Tamil). You then introduce yourself by saying "Ennoda per Gracie" (My name is Gracie) and ask "Neenga eppadi irukkeenga?" (How are you?) The vendor smiles and responds "Naan nalla irukken" (I am fine).
You thank the vendor by saying "Nandri" (Thank you) and as you walk away, you turn back and say "Podhum" (Enough/That's it) with a wave. Congratulations, you just successfully navigated your way through a conversation in Tamil!
More Tamil Sayings
Here are 5 more basic Tamil words, sayings, or Tamil expressions that you may hear in conversations. Try them out yourself!
Maṉam kalandhu vāḻttukkaḷ – This phrase means "congratulations." You can use it to congratulate someone on a job well done, a special occasion, or an achievement.
Viruppam– This word means "like" or "love." You can use it to express your preference for something or someone.
Poṟumaiyāka – This phrase means "excuse me." You can use it to get someone's attention or to apologize for interrupting.
Maṉadhai viṭṭu pōkum – This phrase means "heartbroken." You can use it to describe your emotions when you're feeling sad or disappointed.
Kūṭa solla muṭiyumā? – This phrase means "can I speak with you?" You can use it to politely ask someone for a conversation.
Want Tamil grammar resources to truly learn the language? Check out a Tamil pronunciation guide & Tamil sentence structures.
Wrapping Up
One of the great things about learning Tamil is that it opens up a whole new world of culture, food, and music. Tamil Nadu is known for its delicious cuisine, which includes dishes like dosa, idli, and sambar. Tamil music is also incredibly diverse, ranging from classical Carnatic music to contemporary film songs.
Learning a new language can be intimidating, but don't worry – Tamil is a beautiful language, and with practice, you'll be able to pick it up in no time. One of the best ways to learn Tamil is to immerse yourself in the language by watching Tamil movies or TV shows, listening to Tamil music, or even finding a language exchange partner who can help you practice.
So, there you have it – some basic Tamil sayings to get you started on your language learning journey. Whether you're planning a trip to Tamil Nadu or just want to impress your Tamil-speaking friends, these sayings will definitely come in handy. Happy learning!
Until next time, Nandri and Poyum! (Thank you and goodbye!)
Learn Tamil With Ling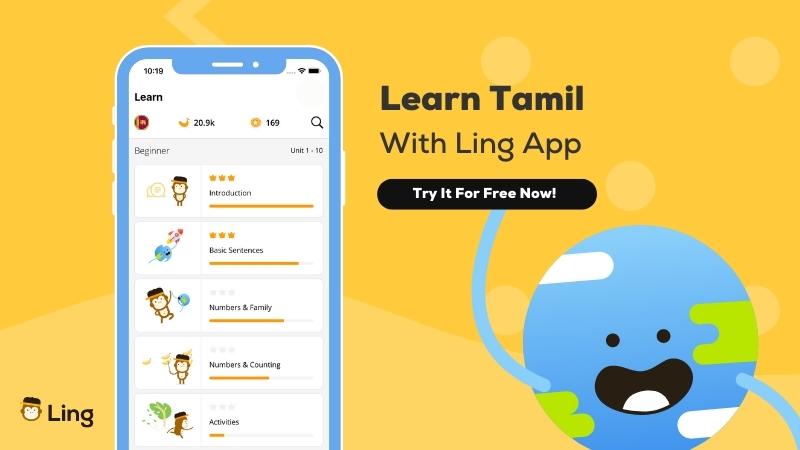 Interested in more cultural & entertaining language-learning resources to learn Tamil? Download the Ling App! It is a user-friendly language learning app with games, quizzes, and interactive features proven to help you learn a new language (and have fun while doing it!) Tamil is a niche language with not many resources, so try approaching learning in a new way and try out Ling today!
You can download it for free on the App Store and Play Store.