Looking for the next Russian food that you should try out? Say no more as we are here to help you! From introducing traditional Russian dishes that embody the Russian culture as well as the commonly eaten Russian snacks, we have compiled the ten best of the best! Read on to learn more!
Russia's Cuisine
And because of several cultural and social influences, Russian cuisine is known to be unique in flavor making their food stand out.
Cross-cultural influences have profoundly changed their cuisine, and at the same time, it became the root of its development.
Other than that, Russian cuisine is very abundant in chicken, fish, meat, and various meals that make up their cuisine to be what it is today and reflects their culture. The variety of ingredients used for their meals makes the food not just very distinct in flavor but also rich in deliciousness too!
Because of its geographical makeup and influences from its neighboring countries, Russians typically eat food that is served hot and warm. From soups to bread, which they love, there is a wide variety of Russian dishes that you can choose from when you have the chance to visit the country. The key ingredient of the dishes will always be diverse – it might be the usage of heavy cream for the dessert, pearl barley to make the soup tastier, or just raw vegetables for garnish.
The Best Russian Food That You Have To Try!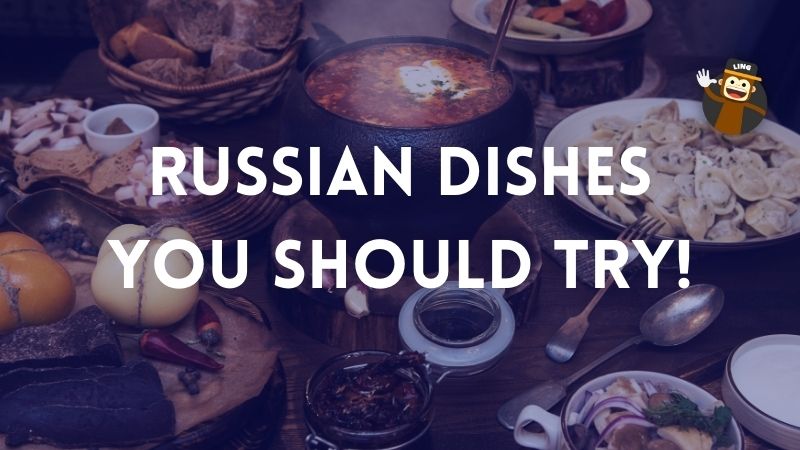 If you find it interesting to know about Russian Cuisine or you are planning to gain more ideas for your next gathering with family and friends, you are in the right place. You will know about 10 Russian Dishes that would be a waste not to try as you read on.
Olivier Salad
You might want to try this out the second you visit Russia or when a Russian restaurant happens to open near you. Known as potato salad or the Russian salad to most people, this Russian staple is widespread and is served in more ways than one.
This salad uses diced boiled potatoes as its main ingredient and then added with eggs, peas, carrots, your meat of choice, and a couple of herbs or a pinch of salt to taste. As for the dressing, you may use your dressing of choice, but they typically use mayonnaise or sour cream. Because this is one of their traditional dishes, this is accessible almost everywhere, even in their homes.
Kasha
Considered to be one of the most common Russian food, Kasha has proven that it is one of the roots of their cuisine. Otherwise known as the Russian porridge, this easy to prepare yet very filling and good in flavor is a must-try!
It is made up of buckwheat groats and then is cooked with milk or water. Depending on what you want, this may be served as savory or sweet. You may even add your favorite ingredients to top it off or mix it with honey to make it sweet but healthy. In a Russian household, this is typically served as their breakfast. However, it varies from person to person because this dish is also very versatile and can be prepared in various ways.
Shchi
This is also called the Russian Cabbage Soup. Since Russians are big soup lovers and have also mastered the art of preparing and incorporating cabbages with their meals, this makes Shchi one of the dishes that people go back to.
Prepared with fresh herbs, boiled potatoes, and other good stuff like beef broth makes the soup very rich in flavor. This traditional dish from Russian cuisine is even considered one of the country's national dishes!
Solyanka
Rich in flavor and hearty taste, Solyanka is a yellowish soup that can be prepared and served in various versions. Made up of broth, like fish broth, or beef broth, that is very rich in taste and ingredients that complement one another like sausages or ham, onions, garlic, and even veggies, this soup is made to perfection. It is even best eaten with regular rye bread or white bread!
Pelmeni
These are called Russian dumplings too! It is filled with flavorful marinated meat and then seasoned with salt and pepper. This traditional dish is stuffed with the ground meat of your choice.
Even with simple seasoning, voila! You have just eaten one of the best dishes Russia can offer. From a delicious filling and soft dough, Pelmeni is the one you don't want to miss!
Blini
If you are looking for the next pastry that you want to obsess over, you might want to try out Blini! This is the Russian version of pancakes usually eaten during an ancient Russian festival, Shrovetide. What sets this pancake apart from other pancakes is that it is way fluffier in flavor and has a thin dough, unlike other pancakes.
You can pair this with whatever you want to – from berries and other fruits to melted butter, caviar, or even sautéed vegetables. Whichever you pair Blini with, it will surely be still rich in taste and will stand out among many dishes in the market.
Syrniki
This sweet and savory food, whichever way you want it, is the same as Blini and the way it is cooked and the way it is prepared – the batter mixed with eggs, sugar, and flour. With cottage cheese to elevate the flavor of this dish, Syrniki could be eaten as your snacks, or maybe your dessert after eating a very filling dinner! This is one of the Russian food staples and a mirror of Russian cuisine.
Sorrel Soup
This is also called Shchavel Borscht, according to the locals. Sorrel soup is a dish made up of vegetarian or chicken broth and then your favorite vegetables and potatoes. Made with Sorrel leaves to give that sour flavor and best served with sour cream, this Russian food is your perfect soup to taste on a cold day or even on a random day when you want to taste something warm and tangy!
Beef Stroganoff
If you don't know what this is, you might be living under a rock. A traditional Russian food that is known all around the world, trying this when you visit Russia only sounds fitting.
A sour cream sauce that is very creamy in texture topped off with creamy mushrooms and a very delicious taste served with tender, chewy and flavorful beef, Beef Stroganoff highlights Russia's culture the influences that it had along the way. This can be served along with a variety of dishes like white rice, mashed potatoes, or your favorite pasta as well!
Pirozhki
This traditional Russian Food is also known as Russian hand pies. Usually stuffed with beef or any meat available before deep drying it into perfection using vegetable oil or olive oil, this is a staple meal in the Russian Cuisine that is perfect for when you need to eat something mid-day or just something that you want to try out on your next visit to Russia!
Now that you are acquainted with a couple of Russian dishes that are not only appetizing in taste but are even adored by everyone, what's next? Well, if this article charmed you in wanting to learn a bit of Russian to make your visit to the country a little easier, then hear us out!
Learn Russian Now!
What better way to make your next trip to Russia more exciting other than food is to know a little bit of their language, right? The Ling App by Simya Solutions is here to help you! Equipped with activities and bite-sized games to make language learning easier, the Ling App is your best friend!
Not only does this app help you learn a new language effectively, but it also introduces you to a wide variety of languages. Even the less-spoken ones like Lithuanian and Albanian. Not just that, but this application is very convenient and easy to use. If you are looking for a language learning application made easy, the Ling App by Simya Solutions is for you!