Before you land in Latvia for your vacation, you must learn some words related to food ingredients in Latvian to explore the cuisine like a local. And if that is precisely what you are looking for, this blog has covered you. You will get to know everything from Latvian kitchen facts to the essential ingredients vocabulary in just one session!
Learning such vocabulary will become an excellent asset for you during your travel, enabling you to enjoy Latvian rye bread and potato pancakes without regret. So, if you want to learn Latvian, continue reading.
The Latvian Cuisine: Facts And Tips
Since we are talking about food ingredients, it is impossible not to learn about the unique Latvian cuisine. From smoked fish and bread soup to delicious dishes like Latvian potato pancakes and fried onions with sour cream, there is so much that we need to explore. Below is the list of some amusing facts and realities of the cuisine that you will find quite interesting.
Although we all love to eat potatoes, like chips, french fries, chili potato, etc., the craze for potatoes in Latvia is on a different level. Potato is the "second bread" for Latvians. No traditional main course or soup is complete without potatoes. Potato pancakes, boiled potatoes with rye bread soup, and potato salad are among the popular dishes you will undoubtedly encounter during your stay.
Pelēkie zirņi ar speķi is the national dish of Latvia. It is a type of stew concocted with grey peas, speck sauce, and fried onions. It is usually served with pieces of dense rye bread and fresh cucumbers and other vegetables on the side. Locals enjoy this item religiously, and you must have a taste of it once you reach Latvia. Such eastern Europe choice of food reflects the unique cuisine of the country. Unlike western dishes filled with deep-fried pizzas and burgers, Latvian food is more about the delicacy of soups, pieces of bread, sauce, and meat mixed with a perfect balance of flavor.
Latvians love dairy products like cottage cheese and milk as you will see a vast population working as farmers, with thousands of herds grazing in the farm fields. Mostly they prefer cow milk, which is reflected in every other dairy dish like pancakes, sweets, creams, sweet whipped cream, and even soups. Other than that, they are also fond of eggs and meat patties. To have a complete hearty meal, you will find that the main course adds boiled eggs, boiled grey peas, dark bread, pork belly dishes, and smoked bacon. So, apart from blended soups, Latvians also love savory dishes with a unique mixture of ingredients different from typical western food culture.
If you are familiar with the Lithuanian food culture, you will notice that Baltic people love cold soup. Aukstā zupa, also known as "pink soup," is the traditional Latvian cold soup with a deep and vibrant pink color. It is basically cold beetroot soup mixed with many healthy ingredients such as eggs, milk sausage, cucumbers, scallions, etc. It is a traditional Latvian food, and to experience Latvian cuisine in a true sense, you cannot miss out on this item.
Ending the line with the potency of the dark rye bread or black bread, it is one of the healthiest kinds of bread that is quite popular in Eastern European countries. You will find all kinds of dishes around this item, from soggy rye bread soup to rye bread pudding. The bread is made of rye flour, malt, and caraway seeds, giving rich health benefits. Thus, it is not only a national food staple but also a healthy lifestyle for the Latvian people.
Best Latvian Dishes To Try Out!
Here is a list of the best dishes in Latvia that you must try out during your stay!
Karbonāde ( Latvian version of Wiener schnitzel made with pork, veggies, eggs, mushroom sauce, and potatoes.)
Rasols (Meat salad with sour cream)
Kartupeļu Pankūkas (Grated potato pancakes)
Kotletes(minced meat patties)
Pelēkie Zirņi ar Speķi (Grey Peas with Lard)
Rupjmaizes Kārtojums (Rye bread arrangement, famous Latvian desserts with dried fruits)
Kūpināta Zivs (Latvian smoked fish, must-eat Latvian foods)
Ceptas Kartupelu Pelmeni (Latvian dumplings)
Skābeņu zupa (Traditional sorrel soup)
Want to learn more? Check out Best Latvian foods.
Food Ingredients In Latvian Food
We will learn some common ingredients that cook in Latvian culture commonly uses. Most Latvian recipes have the following elements in them.
1. Potatoes (Kartupeļi)
As mentioned earlier, most Latvian dishes have potatoes as their main ingredient. From pancakes and dumplings to meat dishes like smoked pork ribs, pork schnitzel, and cold meat, all use potato as a potent ingredient.
2. Garlic (Ķiploki)
No food can be complete without the tiny pieces or paste of Ķiploki in it. Like any other food item, be it pan-fried veggies or Latvian soup dish, Ķiploki will always be necessary.
3. Ginger (Ingvers)
When we talk about garlic, Ingvers or ginger is the next common ingredient that pops up. Most Latvian foods use ginger garlic paste to make their food delicious. Especially smoked fish or pork dishes use ginger and garlic paste as their primary ingredient.
4. Dairy (Piena produkti)
When it comes to baltic dishes, Piena produkti is a must. Many hot or cold items have dairy ingredients like milk, cottage cheese, whipped cream, sour cream, and cheese. Especially with deep-fried food items, these dairy ingredients act as a fabulous side dip.
5. Barley (Mieži)
Another prevalent ingredient that we find in all baltic dishes is Mieži. From smoked pork porridge to Skaba butter with barley groats, many dishes use barley or Mieži to bring out the signature taste of the meal.
6. Salt (Sāls)
How is it possible not to use Sāls in a dish? To make any dish flavorful and tasty, salt plays a significant role. Also, many Latvian items have salty flavors, thus making salt yet another essential and must-have kitchen ingredient.
7. Beet (Bietes)
Although we do not see beet or Bietes as primary ingredients except for some dishes, it is different for Latvians. Beet is commonly added in soups, bread dishes, and even meat items in Latvia and is a must-have for all households. Most of the traditional dishes of Latvia consist of Beetroot.
8. Sugar (Cukurs)
We noticed that Latvian food is somewhat inclined to a sweeter flavor than savory. Thus, to make Latvian cuisine like honey cake, lingonberry sauce, lingonberry jam, cold soup, etc., Cukurs cannot be skipped.
More Ingredients Vocabulary
This section will discover different ingredients under different categories to diversify your skills and enhance your vocabulary. It will make you more aware of the Latvian language and food culture and establish a solid foundation for your exploration.
Condiments (Garšvielas)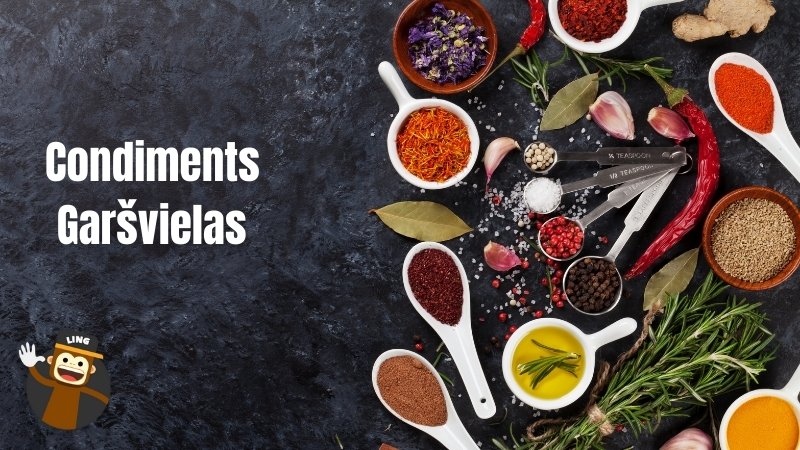 | | | |
| --- | --- | --- |
| English | Latvian | Pronunciation |
| Basil | Baziliks | |
| Black pepper | Melnie pipari | |
| Bay leaves | lauru lapas | |
| Cloves | Krustnagliņas | |
| Chilli powder | Čilli pulveris | |
| Cumin seeds | Ķimeņu sēklas | |
| Fennel seeds | Fenheļa sēklas | |
| Garlic powder | Ķiploku pulveris | |
| Ground cardamon | Malts kardamons | |
| Mustard seeds | Sinepju sēklas | |
| Onion powder | Sīpolu pulveris | |
| Oregano | Oregano | |
| Paprika | Paprika | |
| Thyme | Timiāns | |
Fruits (Augļi)
| | | |
| --- | --- | --- |
| English | Latvian | Pronunciation |
| Avocado | Avokado | |
| Apples | Āboli | |
| Bananas | Banāni | |
| Berries | Ogas | |
| Cherries | Ķirši | |
| Grapefruit | Greipfrūts | |
| Guava | Gvajava | |
| Kiwi | Kivi | |
| Oranges | Apelsīni | |
| Peaches | Persiki | |
| Strawberries | Zemenes | |
| Watermelon | Arbūzs | |
Vegetables (Dārzeņi)
| | | |
| --- | --- | --- |
| English | Latvian | Pronunciation |
| Beans | Pupiņas | |
| Bitter gourd | Rūgtais ķirbis | |
| Cucumber | Gurķi | |
| Carrots | Burkāni | |
| Corn | Kukurūza | |
| Mushroom | Sēne | |
| Onions | Sīpoli | |
| Peas | Zirņi | |
| Potatoes | Kartupeļi | |
| Sweet potato | Saldais kartupelis | |
| Tomato | Tomāts | |
| Yam | Jams | |
Leafy Greens (Lapu zaļumi)
Not only are they healthy, but leafy greens make the food tasty and beautiful. Down below are some of the commonly used greens that you are sure to love!
| | | |
| --- | --- | --- |
| English | Latvian | Pronunciation |
| Arugula | Rukola | |
| Broccoli | Brokoļi | |
| Cauliflower | Ziedkāposti | |
| Cabbage | Kāposti | |
| Celery | Selerijas | |
| Kale | Kāposti | |
| Lettuce | Salāti | |
| Spinach | Spināti | |
| Turnip greens | Rāceņu zaļumi | |
| Spring onion | Lociņi | |
Meat (Gaļa) And Seafood (Jūras veltes)
Nothing beats a dish that has meat or seafood in it. Fun fact, Latvia has a lot of seafood dishes due to the greatness of the Baltic sea. They have various fish items and recipes, which you will love as a non-vegetarian foodie.
| | | |
| --- | --- | --- |
| English | Latvian | Pronunciation |
| Beef | Liellopu gaļa | |
| Bacon | Bekons | |
| Chicken leg | Vistas kāja | |
| Chicken breast | Vistas krūtiņa | |
| Chicken liver | Vistas aknas | |
| Crab | Krabis | |
| Kidney meat | Nieru gaļa | |
| Lobster | Omārs | |
| Lamb | Jērs | |
| Mutton | Aitas gaļa | |
| Octopus | Astoņkājis | |
| Oysters | Austeres | |
| Prawn | Garneles | |
| Pork | Cūkgaļa | |
| Shrimp | Garneles | |
| Salmon | Lasis | |
| Turkey | Turcija | |
| Tuna | Tuncis | |
Healthy Sauce (Veselīga mērce)
Apart from veggies, meat, and spices, healthy sauces can drastically change the taste of the food. Thus, here is a list of sauces we find in regular use in the kitchen.
| | | |
| --- | --- | --- |
| English | Latvian | Pronunciation |
| Apple cider vinegar | ābolu sidra etiķis | |
| Hummus | Hummuss | |
| Kimchi | Kimči | |
| Lemon juice | Citronu sula | |
| Mustard | Sinepes | |
| Olive oil | Olīvju eļļa | |
| Pesto | Pesto | |
| Raw honey | Neapstrādāts medus | |
| Sesame oil | Sezama eļļa | |
Enjoy Your Latvian Feast
Now that you know all the essential ingredients that the Latvians use in their dishes, you can finally order food and scrutinize the ingredients like a real local. From incredibly delicious food like blood sausage with chanterelle sauce and pearl barley dishes to simple pancakes, we are sure that you will have a happy tour of Latvia. However, learning only food vocabulary is not enough. Latvia is a beautiful country with a unique culture that calls for you to know more about other ordinary stuff like culture, music, business, etc. Hence, we created Ling App!
Learn Latvian With Ling
It is time to say goodbye to google translations as the Ling App is here to help! The Ling language learning app is a superb travel guide that provides numerous vocab lessons concerning sports, family, health, and many more. You can download the app from AppStore or PlayStore and use it on any device you like. It has special AI features and lessons that will make you a pro speaker in no day. So, download Ling and start learning Latvian today!