Looking for the best Korean dramas to binge-watch today? Check out this list of Korean shows on Netflix, like Alchemy of Souls, Crash Landing On You, and more!
With the popularity of Korean entertainment, it's no surprise that most people nowadays have already watched any Korean dramas or movies. Now that there are streaming platforms like Netflix, watching these Korean shows is one click away. Whether you're a new Korean shows fan or looking for shows to binge-watch, here is a list of Korean shows on Netflix that will introduce you to Korean culture and talents.
Top Korean Dramas And Films On Netflix
Netflix is truly a gem for K-drama and movie fans. But in case you are wondering where to start, here are the most-watched Korean dramas on Netflix from South Korea.
Starring: Lee Jae-wook (Jang Uk), Go Youn-jung, Jung So-Min (Mu-Deok), Hwang Min-hyun (Seo Yul)
"The star will appear soon. Then those leaving shall leave, and those returning shall return." – Master Lee
How great it would be to be able to switch souls and be whoever you wanna be? A man from a well-known family asks a powerful sorceress in the body of a blind woman to help him change his fate. "Hwanhonsool" changed the way things turned out for these people (the soul of the dead returned to the living).
Starring: Park Ji-hu (Nam On-Jo), Yoon Chan-young (Lee Cheong-San), Cho Yi-hyun (Choi Nam-Ra)
"Whether You're Rich or Poor, Got Good Grades or Bad Ones, Everyone's Equal in An Accident." – Nam So-Ju
How would you feel if the school would suddenly fight for survival, not from school works but from zombies? The Hyosan High School has a viral outbreak, and infected people rapidly morph into flesh-eating zombies. The high school students now have to fight for their lives while trying to escape.
Starring: Ahn Hyo-seop (Kang Tae-moo), Kim Se-jeong (Shin Ha-ri), Kim Min-gue (Cha Sung-Hoon), Seol In-A (Jin Young-Seo)
"I'm not planning to marry you. How can I marry someone I've only met once?" -Shin Ha Ri
A blind date gone wrong? But wait, what if the one that you have gone on a blind date turned out to be the CEO of the company where you work? Business Proposal is a drama about romance in the workplace between a regular worker named Shin Ha-ri and a good-looking CEO Kang Tae-Moo.
Starring: Hyun Bin (Ri Jeong-Hyeok), Son Ye-jin (Yoon Se-Ri), Seo Ji-hye (Seo Dan), Kim Jung-Hyun (Gu Seung-Jung)
"Sometimes, the wrong train takes you to the right station." -Yoon Se Ri
What could be more unexpected and complicated than being a South Korean falling in love with a North Korean soldier? "Crash Landing On You" is an award-winning and one of the greatest Korean drama series on South Korean television. This is about the love story of Yoon Se-Ri, played by Son Ye-Jin, an heiress of a South Korean conglomerate, and Ri Jeong-Hyeok, an army officer from North Korea played by Hyun-Bin.
Starring: Park Eun-bin (Woo Young-Woo), Kang Tae-oh (Lee Jun-Ho), Kang Ki-young (Jung Myeong-Seok)
"If you have a disability, I think merely liking someone is not enough. Because even if I say it's love, if other people say it's not, then it's not." – Woo Young Woo
Whoa, Whoa. When you have a dream, nothing will stop if you passionately pursue it, not even having autism. As a new lawyer at a top firm and a woman on the autism spectrum, Woo Young-woo faces challenges in and out of the courtroom.
Starring: Kim Tae-hee (Cha Yu-Ri), Lee Kyoo-hyung (Jo Kang-Hwa), Go Bo-gyeol (Oh Min-Jung), Seo Woo-Jin (Jo Seo-Woo)
"I thought death was just about leaving this life after making the most of the time God has given me. But I realized this after my death: My life was not entirely mine. Cha Yu-Ri
Death is really inevitable. But, if you had another shot in life, would you choose to go back? Yu-ri is a ghost who refuses to be reborn and has stayed on Earth for the past five years. Yu-ri is given a chance to come back to life, but there's a catch: she must "take her place" with her family within 49 days, or she'll die…again.
Starring: Shin Min-a (Yoon Hye-Jin), Kim Seon-Ho (Hong Du-Sik), Lee Sang-Yi (Ji Seong-Hyeon), Gong Min-Jung (Pyo Mi-Seon), Kang Hyoung-Suk (Choi Eun-Cheol) Kim Ji-hyun (Seon-ah)
"Life isn't so fair for all of us. Some spend their whole lives on unpaved roads, while some run at full speed only to reach the edge of a cliff." – Hong Du Sik
Looking for a feel-good healing drama? Hometown cha-cha-cha never disappoints. Love, family, career, and even life in general -this K-drama would definitely mark your heart.
Starring: Lee Min-ho (Kim Tan), Park Shin-hye (Cha Eun-Sang) , Kim Woo-bin (Choi Young-Do)
"If I fall back, then I fall back. I just have to get up again. If I keep getting up, there will be a day when I don't fall." – Kim Tan
Imagine how great it would be to become an inheritor. But, besides the glamorous future that awaits them, hides the struggles they experience as an inheritor. This is one of the top-rated K-dramas of all time, especially if you're just beginning in the K-drama world.
Starring: Park Seo-joon (Park Sae-ro-yi), Kim Da-mi, Yoo Jae-myung
What I want is freedom. I want my words and acts to have power so no one can mess with me and my people. I don't want to be swayed by anyone or any injustice. – Park Sae-ro-Yi
Life lessons, love, friendship, and career. This K-drama is indeed one of the best in Korean entertainment. But that's not all! It is also a K-drama that is willing to take on social issues such as discrimination against Black people and the LGBTQ community.
Starring: Ha Jung-Woo (Kang In-Gu), Hwang Jung-min (Pastor Jeon Yo-Hwan), Park Hae-soo (Choi Chang-Ho)
"What's the point of just living for the sake of living?" – Kang Ingu
Up for some secret mission not just in Korea but in South America? Narcos Saints will definitely not disappoint you. This story based on real life, tells the story of a normal business owner who joins a secret mission by the government to catch a Korean drug lord in South America.
Starring: Lee Hye-ri, Park Bo-gum, Ryu Jun-yeol
"The year was 1988, a time when it was chilly, but our hearts were fiery, a time when we didn't have much but people's hearts were warm." – Deok Sun
Wanna take a nostalgic trip down to the year 1988? Here's an all-time K-drama favorite that will show you the true meaning of friendship and family. Reply 1988 is about five teenagers and their families who all live on the same street in a Seoul neighborhood called Ssangmundong.
Starring: Lee Jung-Jae (Seong Gi-Hun), Park Hae-soo (Cho Sang-Woo), Oh Young-Soo (Oh Il-Nam), Jung Ho-Yeon (Kang Sae-Byeok)
"You don't trust people because they are trustworthy. You do it because you have nothing else to rely on." — Seong Gi-Hun
Children's game you say? The prize might be tempting but the stakes are quite deadly. Hundreds of players who are short on cash accept a strange offer to play children's games. Inside is a tempting prize, but the stakes are so high that it could kill you.
Starring: Bae Suzy (Seo Dal-Mi), Nam Joo-hyuk (Nam Do-San), Kim Seon-ho (Han Ji-Pyeong), Kang Han-Na (Won In-Jae)
"Does my dream have to be success? Can't it be a person?" —Nam Do San
Dreaming of your own start-up? Here's a story of young entrepreneurs aiming to turn their virtual aspirations into reality and struggling for success and love in the ruthless world of Korea's high-tech business. It is also a love story between Nam Do-San and Seo Dal-Mi. They cheer each other on and help each other grow.
Starring: Nam Joo-Hyuk (Baek Yi-Jin),Kim Tae-Ri (Na Hee-Do), Bona (Ko Yu-Rim), Choi Hyun-Wook (Moon Ji-Woong), Lee Joo-Myoung (Ji Seung-Wan)
"Every day can't be a tragedy just because you lose every day. It's easy to forget after you laugh. You have to forget in order to move on." – Na Hee Do
Can a teenager who is pursuing her dreams and a young man rebuilding his life make their love work? "Twenty-Five, Twenty-One," is a love story between Na Hee-Do a high school student and a member of fencing team, and Baek Yi-love Jin, a rich young man who struggles when his father's business fails due to he financial crisis in South Korea.
Starring: Kim Hye-Soo (Queen Im Hwa-Ryeong), Kim Hae-Sook (Queen Dowager), Choi Won-Young (King Lee Ho)
"The mother of the kingdom? Nonsense. Life as the Queen is extremely hard." – Queen Hwa Ryeong
If you're gonna choose one, would you like to be a queen or a mother? Could you be both? This K-drama is about a strong queen, Queen Hwaryeong who tries to get her rowdy sons to behave so that one of them can become the next king of Joseon.
Starring: Han So-Hee (Yoo Na-Bi), Song Kang (Park Jae-Eon), Chae Jong-Hyeop (Yang Do-Hyeok), Lee Yeol-Eum (Yoon Seol-A)
"What's the problem if I like the other person more? Why would you date them if you're not certain? That's a waste of time."
Do you love seeing butterflies? Well, in this K-drama, you'll be seeing them in the least way you're expected to see them. This K-drama is about the love story of a woman who does not believe in love but would want to date a man who is bored with relationships but enjoys flirting.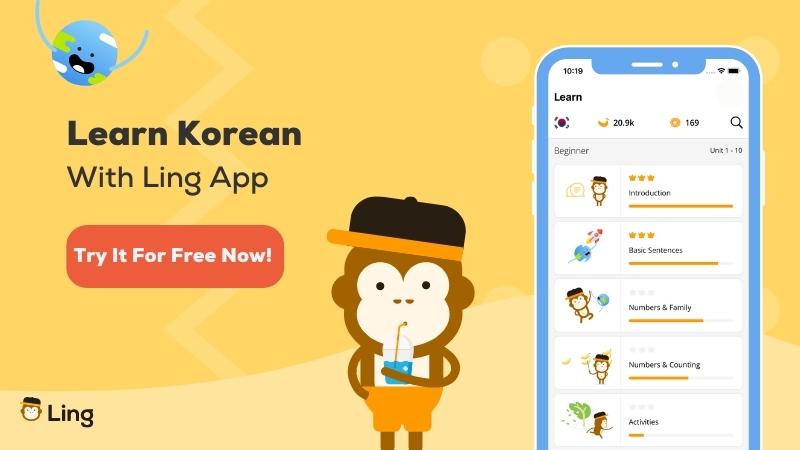 Binge-Watch Korean Shows Without Subtitles Now!
Love watching K-dramas but are you tired of reading subtitles? No need to worry. Start learning Korean with Ling now! If you're looking for a language-learning app to develop your language skills, this app will definitely do the job. You can learn languages anytime and anywhere you want.
So, achieve your no-subtitle K-drama binge-watching. Learn Korean with Ling app now!