Looking for some lesser-known cinematic gems from around the world that offer a respite to the remakes, sequels, and Marvel movies being churned out of Hollywood? Look no further than the movies of Bosnia and Herzegovina! This small Balkan country has produced some incredible films over the years, ranging from war dramas to romantic comedies and, well, more war dramas. To start, here are seven of our picks of the top Bosnian movies that you absolutely must watch today!
Now, you might be thinking, "How can watching a movie help me learn a language?" Well, let me tell you, the benefits are endless. Not only will you be exposed to authentic Bosnian dialogue, but you'll also get a glimpse into the customs, traditions, and history of this fascinating country. And what better way to learn a language than by immersing yourself in the culture that it comes from?
But here's the thing, not all movies are created equal. You need to choose the right ones that will help you learn effectively. That's where our curated selection of Bosnian films comes in. From heartwarming dramas to thought-provoking documentaries, our collection has something for everyone. Let's begin!
Bosnian Movies
No Man's Land (2001)
A powerful anti-war movie that won the Oscar gong for Best Foreign Film in 2002. The film tells the story of two soldiers, one Bosniak soldier fighting for his side and one Serb fighting for his, who find themselves trapped in a trench in the armed conflict zone during the Bosnian War. The pair are initially antagonistic towards each other but manage to find some common ground.
The situation is made more confusing by the presence of another Bosniak soldier who awakes from unconsciousness to find he has a mine buried beneath him. If he moves, the consequences would be lethal. No Man's Land is a haunting, thought-provoking and, at times, darkly humorous film that will stay with you long after you've finished watching.
Grbavica (2006)
This drama is another in the list of Bosnian war movies and deals with the uncomfortable topic of systematic rape. It tells the story of a single mother (Esma) and her daughter (Sara) living in post-war Sarajevo. Sara wants to take part in a school trip, and Esma takes a job as a waitress to try and raise the money needed. Believing her father died as a hero during the war, Sara is told that if she can provide proof, she can go on the trip for free.
Yet all is not as simple as it seems. The film tackles issues of trauma and identity in the aftermath of the Bosnian War. Grbavica is a heart-wrenching movie that will make you appreciate the resilience of the human spirit. Directed by Jasmilla Zbanic and starring Mirjana Karanovic and Luna Mijovic, the movie won the Golden Bear at the 56th Berlin International Film Festival.
Scream For Me Sarajevo (2017)
Scream for Me Sarajevo is a documentary that tells the incredible story of a concert that took place in the besieged city of Sarajevo during the Bosnian War. UN officials decided to invite Iron Maiden's Bruce Dickinson to play a concert at the height of the hostilities, and things quickly descended into madness. The film features interviews with musicians who performed at the concert, as well as survivors who attended. Scream for Me Sarajevo is a powerful testament to the power of language and music and the bravery of all those involved in this insane project. Directed by Tarik Hodzic.
Children Of Sarajevo (2012)
A poignant drama that follows two siblings, Rahima and Nadim, struggling to survive as orphaned brothers in post-war Sarajevo. The film tackles issues of poverty and social inequality in the dingy streets and seedy clubs of Bosnia and Herzegovina's capital. Children of Sarajevo is, at times, a difficult watch but a powerful reminder of the ongoing struggles faced by many in the aftermath of this horrific war. Written and directed by Aida Bejic, the movie was entered for the Best Foreign Language Film Oscar in 2013.
In The Land Of Blood And Honey (2011)
In the Land of Blood and Honey is a war drama written, directed and produced by Angelina Jolie. The film tells the story of a Bosniak woman (Ajla) who falls in love with a Serbian police officer (Danije) when they meet in a club. However, the club is destroyed by artillery fire that marked the beginning of hostilities in 1992, and Danije is among the injured.
Ajla becomes a prisoner in a camp run by Serbian soldiers during the Bosnian War, where she is eventually reunited with Danije, and they reestablish their once-promising connection. However, their own life and troubles have only just begun. In the Land of Blood and Honey is a brutal and uncompromising look at the horrors of war and the human cost of violence.
Halima's Path (2012)
Halima's Path is a heartwarming drama that tells the story of Halima, a strong-willed Muslim woman searching for her husband and son, lost during the Bosnian conflict, who was taken during the Bosnian War. Although the body of her husband is identified because of DNA, Halima is reluctant to provide DNA to identify her son's body.
This is because she does not want to reveal she and her husband had adopted him after failing to have a child of their own. The film is a tribute to the resilience of mothers and the power of love to heal even the deepest wounds. Directed by Arsen A. Ostojuc and starring Alma Prica, Olga Pakalovic, and Mijo Jurisic, the movie was the official submission of Croatia to the Oscars 2014 Best Foreign Language Film category.
Welcome To Sarajevo (1997)
The biggest international hit on our list, Welcome to Sarajevo is a war drama based on the true story of a British journalist, Michael Henderson, who smuggled an orphaned girl, Emira, out of a Sarajevo orphanage during the siege. Welcome to Sarajevo follows the trials and tribulations that follow the illegal taking of an orphan, including Michael having to return to confront Emira's estranged mother in former Yugoslavia, who wants her daughter back. The film is a powerful reminder of the role that journalists and aid workers played during the Bosnian War.
Bosnian Words Related To Movies
Ready to watch and discuss these movies with native speakers? Here are some Bosnian words that will surely come in handy!
| | |
| --- | --- |
| English | Bosnian |
| Action movie | Akcijski film |
| Actor | Glumac |
| Cast | Glumačka ekipa |
| Character | Karakter |
| Cinema | Bioskop |
| Comedy | Komedija |
| Director | Direktor |
| Documentary | Dokumentarac |
| Drama | Drama |
| Entertainment | Zabava |
| Family movie | Porodični film |
| Film | Film |
| Genre | Žanr |
| Horror movie | Horor film |
| Movie star | Filmska zvijezda |
| Plot | Parcela |
| Scene | Scena |
| Science fiction | Naučna fantastika |
| Screen | Ekran |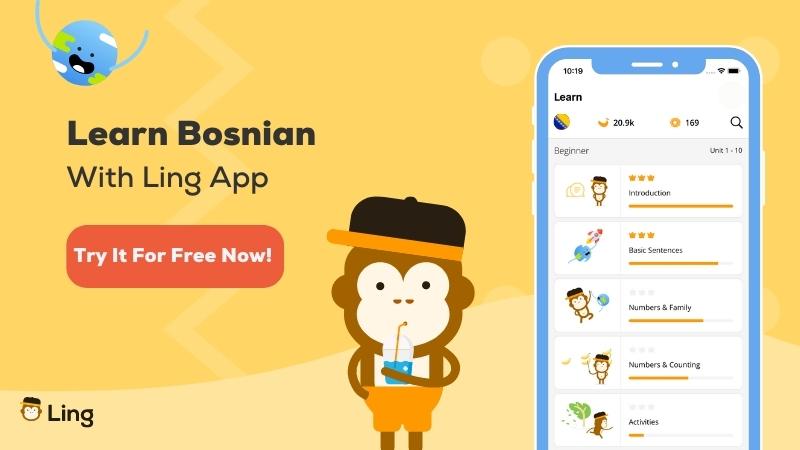 Learn Bosnian With Ling!
The ability to watch movies in the Bosnian language without dubbing or subtitles is a surefire way to increase your enjoyment of these incredible films. If you're a total beginner, though, we highly recommend spending some time learning the foundations using Ling!
Ling is a fantastic application built to help learners master Bosnian and 60+ other languages. It comes with gamified content that'll surely help you level up in your target language in no time! From in-depth lessons, challenging quizzes, and fun games, it's impossible not to learn a thing or two when you use the app for at least 10 minutes. Ready to give it a try? Download the Ling app today at Google Play or App Store and start learning the right way!